For those that are not involved in the freelance art world, they will most likely not fully understand what a freelance artist does.
There is so much more to being a self employed artist than actually doing art all day, but that's the dream isn't it?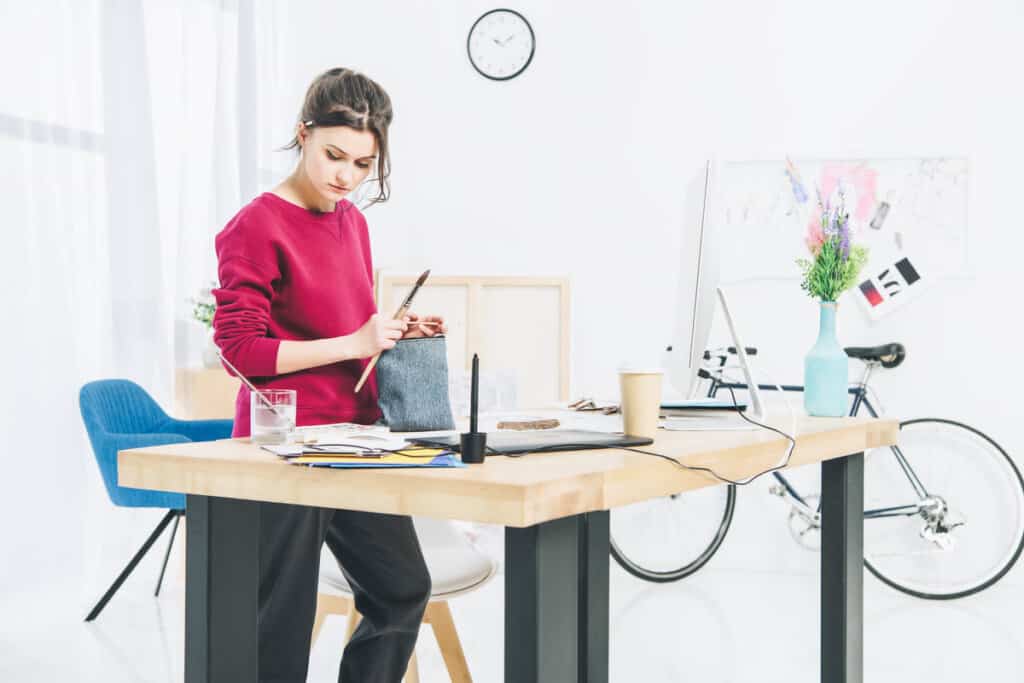 There is so much more to being a self employed artist than actually doing art all day[.]
The thought of making money as an artist might seem like a dream, but it can be a reality if you know the steps to take.
You'll learn what a freelance artist is and what their typical day might look like to help you figure out if this is the right type of freelance work for you.
What is a Freelance Artist?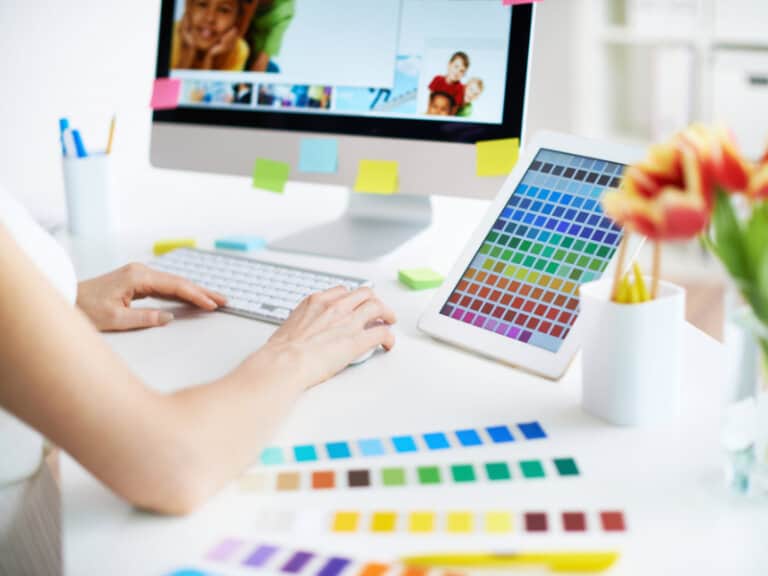 A freelance artist is any type of artist that creates art for clients or to sell to a customer base.
This could include mass produced pieces or custom, one of a kind pieces of artwork.
Examples include:
Logos
Social media graphics
Illustrations
For example, Ashley of Lizner Lane, creates adorable illustrations for kids.
Freelance artists can work from a studio, out in nature, at a co-working space, or just about anywhere they like. For many artists, most of their interaction with clients primarily takes place online.
Their art might serve a specific purpose, such as for marketing a business, or might just be purchased because the client would like to display their artwork.
Depending on the type of art being produced, it might be used for a variety of different reasons. It could be a cover to a bestselling novel, included in an upcoming video game, given to someone as a gift, or displayed in a chain restaurant.
Depending on what type of art the artist specializes in, they are not restricted to where or when they need to work.
In the freelance space, there are a lot of creative type gigs. Among these you can include things like graphic art, music, and other forms of design as art.
A freelance artist isn't just a painter or graphic designer.
Here are just a few different types of freelance artists:
Painters-oil, watercolor, acrylic
Graphic designers
Photographers
Makeup artist
Digital artists
Printmaker
Calligrapher
Resin artists
Fabric artists
Pottery
Illustrator
Drawing artist
As a freelance artist you own your own business, you are self-employed. You need to find your own clients, and handle all of the other business aspects.
What Freelance Artists Do (Other Than Make Art)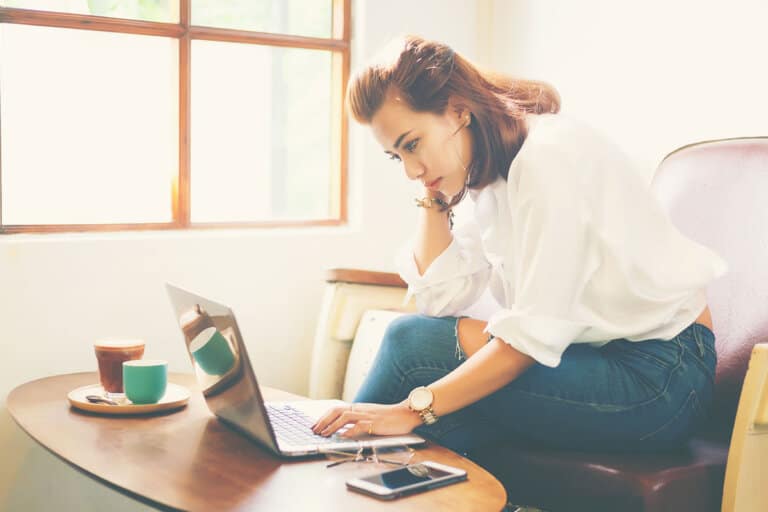 There is a lot that goes into running a successful freelance art business, no matter what type of work you are doing.
While successful artists can hire out things like social media and accounting, when you are just starting out you have to handle all of the business and art things.
While it would be great to get up every morning and go to your workspace and just get lost in the creative flow, there are other things that successful freelance artists need to do in a typical day in order to grow their business.
Here are some of the things that freelance artists need to do other than make art:
1. Find Freelance Clients
If you want to get paid for your art, you need to find clients that are willing to pay you.
Many artists find success by marketing themselves on social media platforms.
However, this again can depend on the type of art you are doing. If you want to design graphics for large companies, you most likely will not find clients on Instagram.
However, if you are a freelance watercolor painter that wants to get your art in the hands of everyday people, then social media platforms like TikTok and Instagram are great marketing tools.
This is what Ashely does over on Instagram!
One of the great things about freelancing is that you can pick and choose your clients and the people that you work with.
2. Customer Service
Whether you like it or not, selling anything requires some level of customer service.
Perhaps you sent out a painting and it was damaged in shipment. You are going to have to work on your customer service skills to be sure that your clients and customers are happy and will want to come back and work with you or buy your art again and again.
3. Social Media
Social media can be indispensable for artists in building up a loyal following.
Artists of all types can use social media to market their products and services. I've seen artists use social media to sell their art even before they've finished it.
While you can promote your art on any social media platform, Instagram and TikTok are great for artists to promote their work.
4. Bookkeeping
Yes, even artists need to pay taxes.
However, just remember that everything you buy to produce and market your art is a tax write off.
Now, I'm not a tax expert (I hire someone for that), but make sure you save those receipts and keep track of your spending and income!
Ways to Find Freelance Art Clients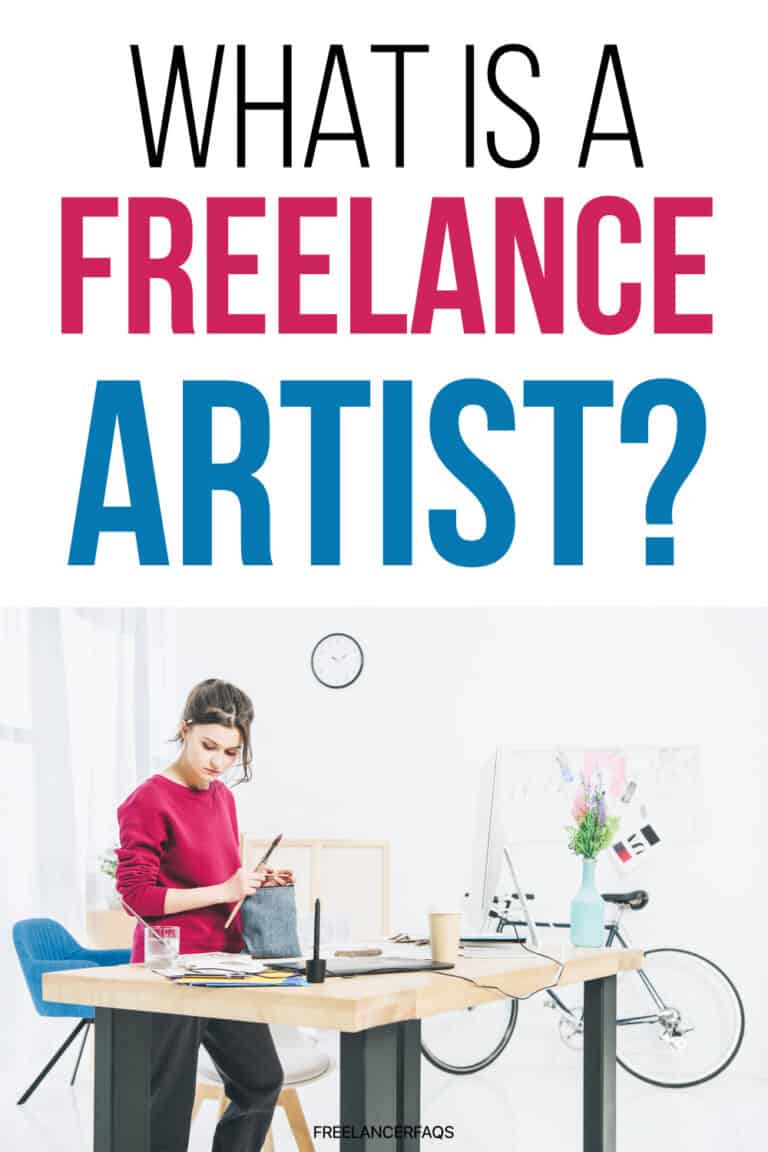 There are so many ways now to sell your art as a freelance artist.
It really doesn't matter what kind of art you love to do, there is an audience out there that wants to buy your art and work with you on a professional level.
Here are a few of the ways that you can promote yourself as a freelance artist and find your perfect clients.
1. TikTok and Instagram
No matter what kind of art you do, you can find an audience and clients through promoting yourself on social media.
Two of the best platforms to use are Instagram and TikTok.
These are both very visual platforms that you can easily make quick videos and beautiful pictures of your art.
As we said before, when it comes to marketing, freelance artists need to be on social media to promote themselves in one way or another.
Artists can easily promote themselves on social media by sharing their process, products that they work with, and of course the end product.
Whether you are a newborn photographer or resin artist, being present on social media is the perfect way to get your art out into the world and get people interested in working with you.
2. Freelance Job Platforms
Freelance job platforms like Upwork and Fiverr are great for certain types of artists.
For those that do things like digital art, illustration, animation, design, photography, videography, and so on, you can find gigs on these platforms for either one-off projects or ongoing work.
The types of art that these might not work very well for would be artists like painters, sculptures, resin artists, and so on.
While there might be clients on these platforms looking for these types of artists, I wouldn't count on it.
3. Etsy
Etsy is a great place to park your art to find clients.
The great thing about Etsy is it's built in traffic. You can list any type of art or handmade items on Etsy and there is the potential for it to be seen by hundreds of thousands of people.
You might need to learn how to sell on Etsy to be successful as a freelance artist!
The Pros and Cons of Being a Freelance Artist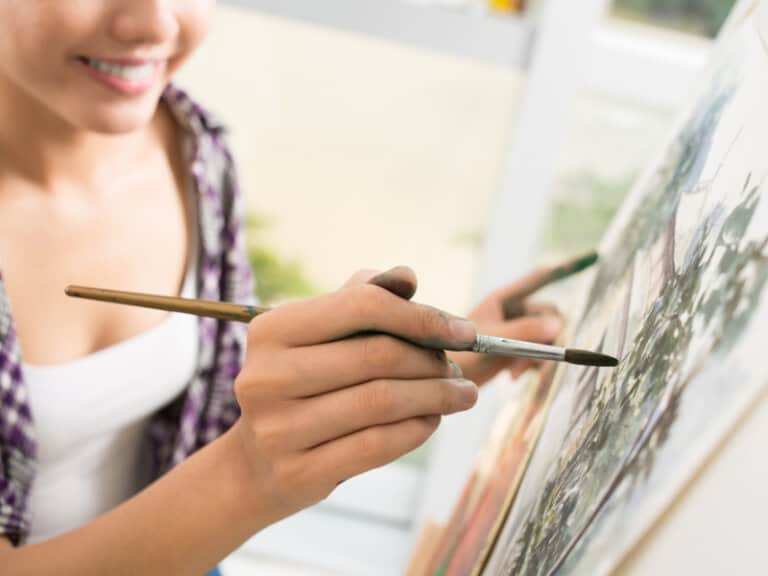 Just as with any other type of freelancing, there are pros and cons involved in being a freelance artist.
1. The Pros
One of the biggest pros about being a freelance artist is you are your own boss.
You can make a great living as your income is only determined by how hard you work.
The more notoriety you gain, the more you can charge for your work and the more clients will seek you out.
You get to make a living doing something you truly love, pick the projects that you work on, and constantly flex your creative muscles.
And, the feeling of touching other people with your art work is truly amazing!
2. The Cons
As with any freelance gig, there are also going to be downsides.
One of the biggest downsides of being a freelance artist is that you might find it difficult to maintain a steady stream of income.
We've all heard the old adage of being a "starving artist," which doesn't have to be true.
The world of freelance art can be a pretty competitive field, depending on the type of art you do.
There is also all the non art stuff that you have to do.
While you might not mind having to do outreach, social media posting, and responding to emails, this also takes time away from you doing your actual art.
Requirements, Education, and Income
The freelance market for artists has expanded exponentially as remote and work from home jobs has become more and more popular.
Unless there are requirements and education required by the client, there is no need for artists to have specific requirements and education in order to become a freelance artist.
Oftentimes freelance artists have some kind of education in an art based degree.
However, there are also artists that start off on a different career path and realize later on in life that they are meant to be an artist and ultimately change their careers.
While income can also greatly vary, according to Glassdoor, the average income for a freelance artist is $20,000-$88,000 per year.
This again will depend on the type of art the artist is doing and if they are creating multiple streams of income from their art.
Other than selling one off art works, there are ways that artists can create multiple streams of income from their work.
This could be an example of a painter that then creates prints from their paintings or distributes their art in multiple forms to build multiple streams of income.
Before you jump into the world of freelance art, be sure that you have a plan for marketing yourself and a solid way to find clients.