Are you handy with web design? Site platforms? Coding? Website management?
Back in the day, delving into web development at home was more of a hobby than an actual job.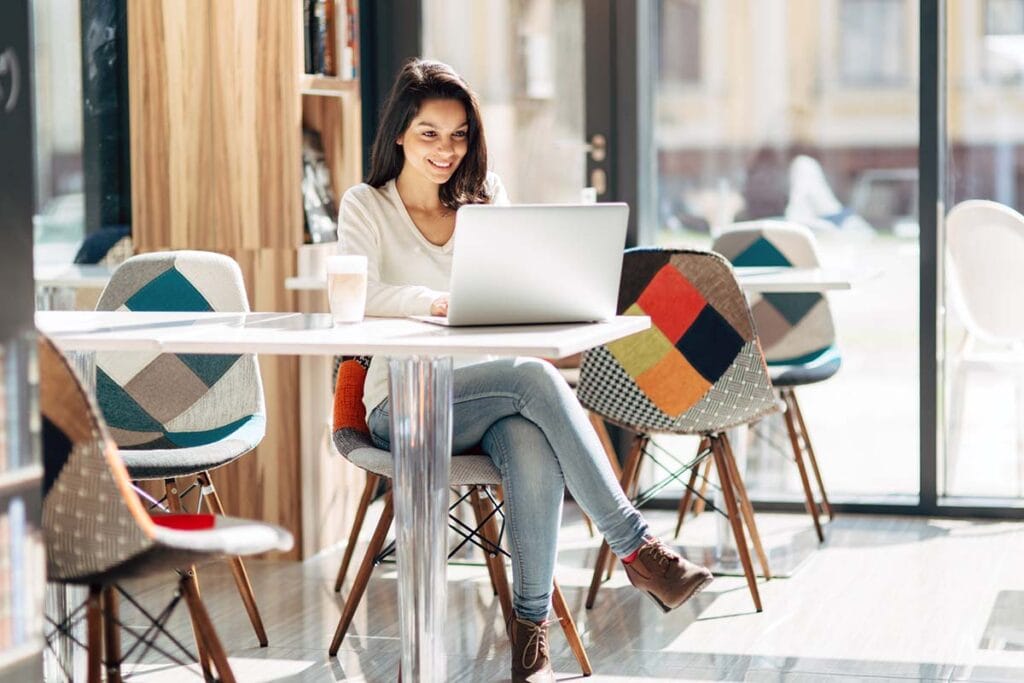 [W]eb developers are finding themselves settling into careers where they can work from home and earn an income doing what they love and are passionate about.
Now, with freelancing becoming more popular now than ever, web developers are finding themselves settling into careers where they can work from home and earn an income doing what they love and are passionate about.
With clients all over the world, including big brands and names, seeking out freelancers to complete web development projects, the market is rife with work opportunities!
But, just as with any freelancing job, you need to know where to find freelance web developer jobs.
Whether you are a seasoned web developer, or just starting out, here is what you need to know about freelance web development and where to find clients and jobs.
What is a Freelance Web Developer?
A freelance web developer is someone who designs and maintains websites for other people.
This means that the web developer creates the website and keeps up with the technical aspects of running the site.
Some of a web developer's responsibilities may include:
Determining the needs and design of a website as per the client's wishes.
Writing code for the website (HTML, XML, PHP, CSS, etc.).
Providing content for the website.
Working with graphics to create the site's layout and design.
Integrating graphics, videos and audio into the site.
Monitoring website traffic.
Updating plugins.
Sorting through and responding to comments.
When it comes to web development, there are two types of web developers: Back-end web developers and front-end web developers.
Back-end web developers handle the technical construction of the website, such as the coding and creation of applications. They also establish the means for others to add new posts or pages to the site.
Front-end web developers figure out how the website is going to look. This includes the site's layout, graphics, applications (check out tools, log-in pages, etc.) and other content that will be experienced by the user or reader.
Do I Need a Fancy Education to be a Freelance Web Developer?
No, you don't.
Now, that being said, the more experience and knowledge you have under your belt, the more you will be able to charge and the more likely you are to snag up clients.
However, getting both doesn't have to involve a lengthy and expensive degree.
If you're interested in becoming a freelance web developer (if you're not already), here are some skills you should definitely brush up on:
Coding languages. There are many coding languages you can learn online for free but the most commonly used ones are PHP, HTML and CSS. You can give yourself a competitive edge by knowing more advanced languages such as JavaScript and Python.
Design and user experience (UX). In order to successfully develop a website, you need to have a strong understanding of user experience. User experience design refers to the process of creating products that provide meaningful and relevant experiences to users.
Website platforms. There's more than just WordPress out there when it comes to building web sites, so it's best to be familiar with other popular choices such as Drupal and Joomla, as well as builders such as Wix, Squarespace and Weebly.
E-commerce platforms. Many businesses want to create purchasing portals so their users can easily make purchases. Some popular ones to know are Shopify and WooCommerce.
If you can demonstrate these skills through an online portfolio or resume, you'll have no problems attracting clients for your freelance web developer business.
But, where do you go to find these clients?
Where to Find Freelance Web Developer Jobs:
1. Hubstaff Talent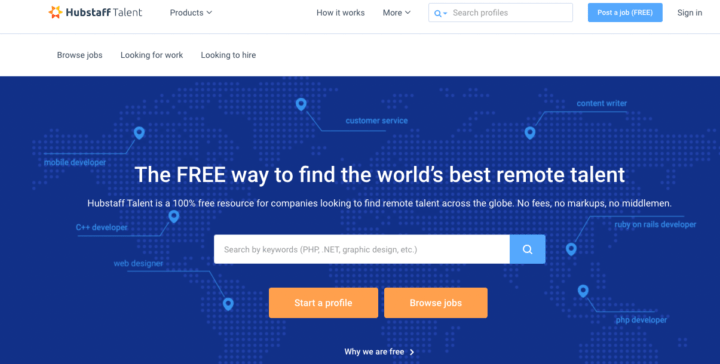 When you do a search on Hubstaff Talent for freelance web developer jobs, you can use their filters to narrow down your search to full-time and part-time work as well as the pay rate and your experience level.
You can also filter between hourly contract positions and fixed-price gigs.
2. Stack Overflow
Stack Overflow is the go-to community when you run into coding and web development issues. The users here are very supportive and helpful when it comes to answering questions.
They also have a job board that you can use to search for web developer jobs. You can filter your search based on "tech tags" that allow you to search for specific coding languages required.
3. CodePen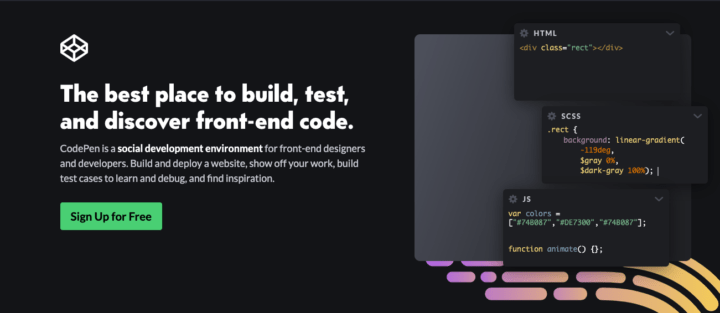 CodePen is another great online resource for those who love to code – it allows you to play around with coding languages and see the results in realtime.
Again, this is another resource site that also features a job board! The postings here are more geared toward front-end developers.
4. Fiverr
If you're just beginning in the world of freelance web development, Fiverr may be a good place to grab up some experience and potential clientele.
Fiverr works by offering "gigs" that people can pay for. Typically these are small and inexpensive tasks but you can certainly offer your full services.
Who knows? A one-time customer may become a full-time client!
5. We Work Remotely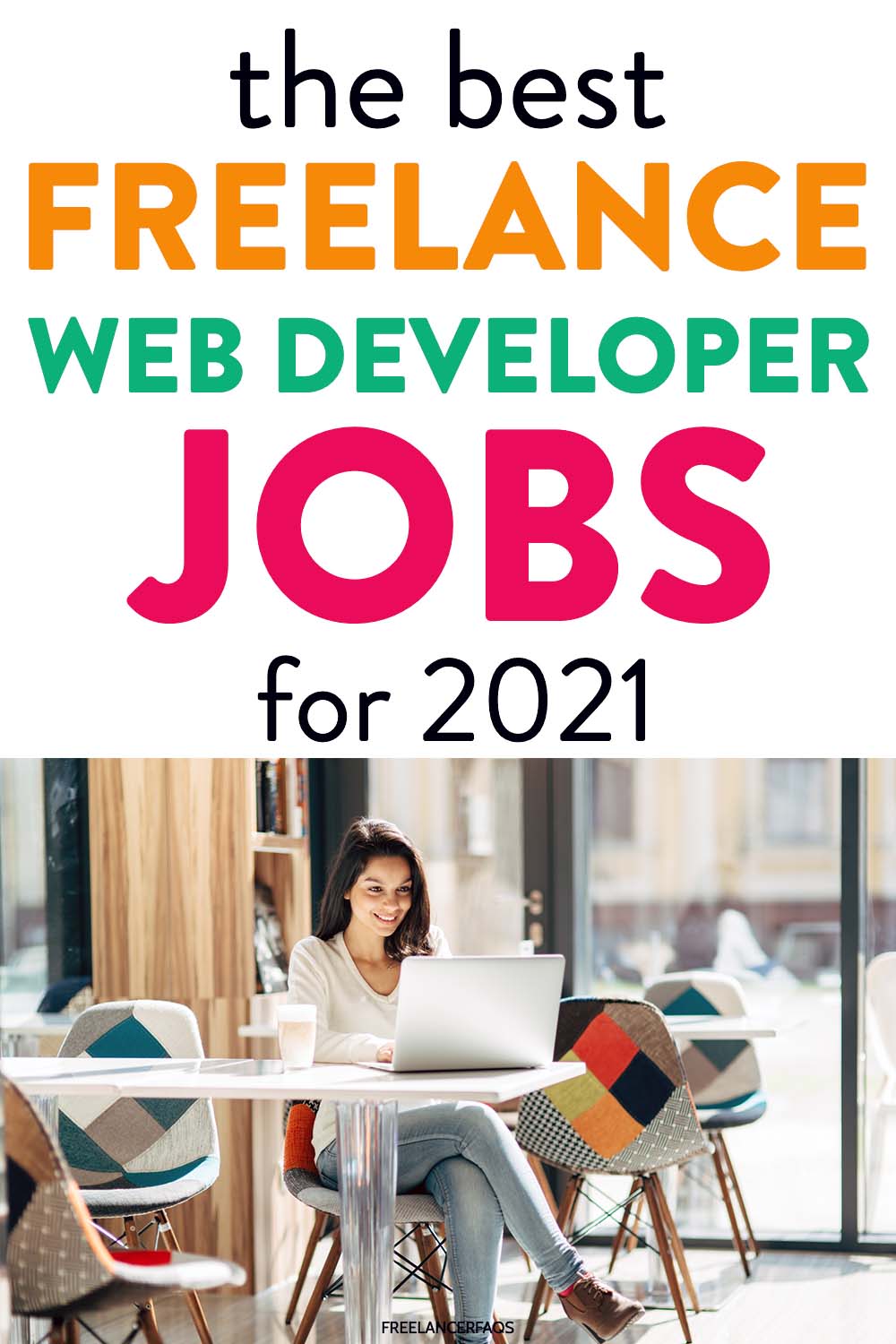 This remote-focused job board offers a variety of job types such as copywriting, marketing and web development.
This job board is updated with new listings every day!
6. GitHub
GitHub is an online resource developed by Microsoft to help developers and programmers learn and collaborate.
Their job board provides links to companies looking for web developers. There's no application process through GitHub – you simply go to the company's site and apply there.
7. RemoteLeads
RemoteLeads is a site focused on curated job leads specifically for freelance web developers.
They gather job postings from individual sources and offer a free subscription service where you can have leads sent to you through email.
8. Freelancer
Freelancer is a job board in which clients post their projects and receive competitive bids from freelancers.
So this isn't a site where you simply apply for freelance web developer jobs – you set up a profile and send proposals directly to clients.
9. Upwork
Upwork has an entire section of their site dedicated to jobs in frontend development.
While they don't have a filtering system for their job postings, each one will tell you the hours required, the duration of the project and the experience level the clients are looking for.
10. People Per Hour
To get started with People Per Hour, you complete an online application to join their community. Once in, you have access to projects posted by clients from all over the world.
This platform allows you to create custom offers that showcase your skills and experience.
11. Guru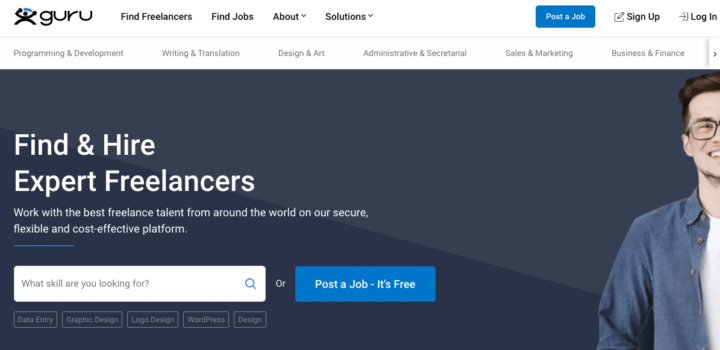 Guru allows you to browse thousands of freelancer jobs and send quotes to potential clients.
You can filter your searches by fixed rate, hourly, location and how many quotes the client has already received – meaning that you can get ahead of the competition by seeking clients who haven't received many offers.
12. Envato Studio
Envato Studio helps connect clients with developers but you do have to apply to become one of their service providers.
However, if you're handy at creating WordPress layouts and templates, you can sell them at the Envato Market (also known as ThemeForest).
13. CloudPeeps
When you sign up with CloudPeeps, you can connect with clients, submit proposals on job listings and promote the services you offer on your profile.
They do only accept applications from residents of certain countries, but this includes Canada and the United States.
14. SheCanCode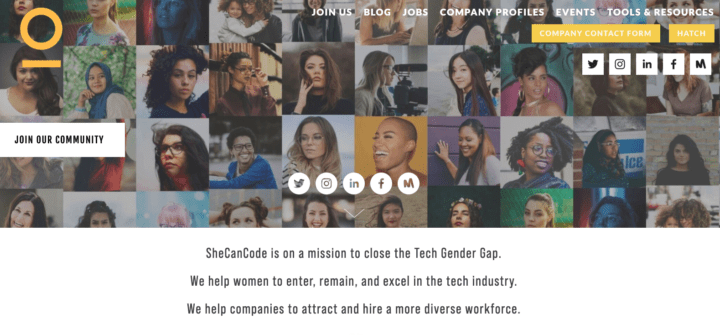 Geared specifically toward women involved in the technology industry, SheCanCode offers a searchable job board where you can find jobs for freelance web developers.
You can also sign up for email alerts and take advantage of their free resources and tools.
15. Twitter
Yes, you can even use a social media platform to find freelance web developer jobs! Many clients will use Twitter to tweet job postings looking for freelancers to work on a project.
Just use Twitter's search function to look for jobs. Use search terms such as "looking for freelance web developer" or "freelance web developer jobs".
Make sure you respond to the job posting as per the client's instructions (i.e., via DM, via an online application, etc.).
The Best Freelance Web Developer Jobs
There you have it! There are many online resources available to you if you're looking for a freelance web developer job.
If you are a freelance web developer, I'd love to hear how you find work! Share your tips in the comments!