Does the idea of working from home as a graphic designer sound exciting to you?
If graphic design is your thing, I bet it does!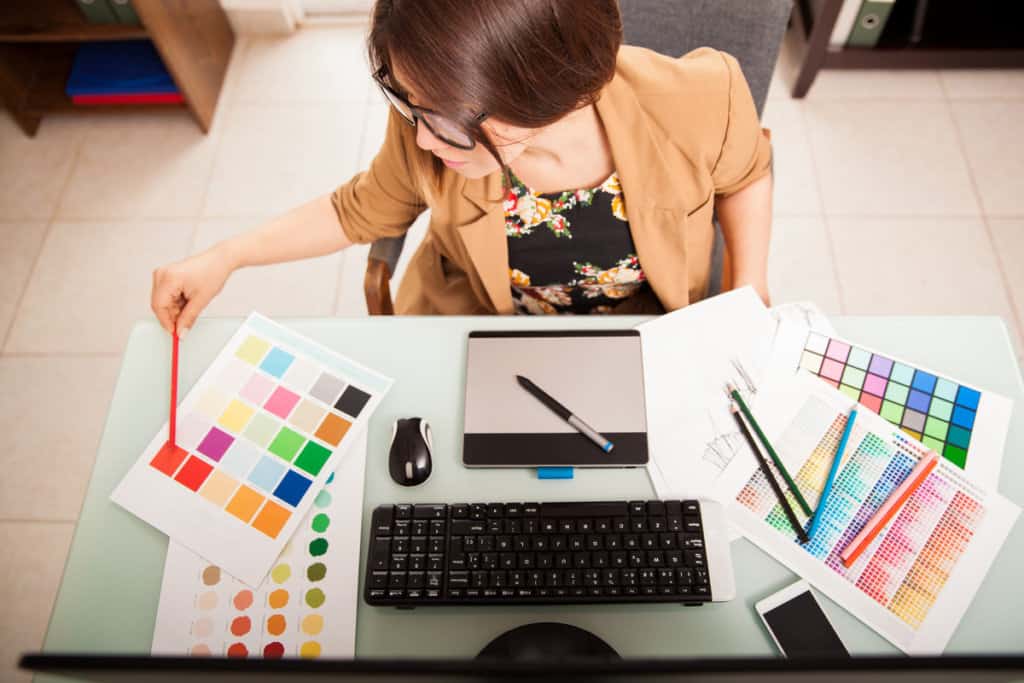 But while you can easily sit down at your laptop and call yourself a graphic designer, you won't make any money if you don't know where to find jobs.
And there's no point in looking for remote graphic design jobs if you aren't properly prepared.
To help you get on track to becoming a successful graphic designer, let's look at the skills you need, the types of jobs available, and how you can find lucrative work.
Ready to get started?
What Do Graphic Designers Do?
Graphic designers create visual concepts representing a brand and communicating a message to an audience, whether they are creating a logo, advertisement, or web graphic.
Graphic designers have to have a good creative eye for things like colors, fonts, and shapes and be able to use computer software or draw by hand (or both!).
Some examples of work that graphic designers can do include brochures, letterheads, book covers, and more.
While some graphic designers have a four-year bachelor's degree in graphic design, many successful graphic designers have no formal training!
Plus, there are a ton of online certificate programs you can take if you want to become a remote graphic designer.
This is a great way to establish yourself as a graphic designer and show clients you have the right stuff to get the job done!
What Skills Do You Need to Become a Graphic Designer?
In order to build a thriving career as a remote graphic designer, you do need a certain skillset, including skills such as:
Because graphic design is a visual field, creativity is perhaps the most essential skill you need to succeed.
Knowing how to communicate with your clients means understanding what they want from a design perspective so you can create a successful product.
A lot of graphic design involves working with text in a way that is legible and visually appealing, so it's important to have an understanding of fonts and how they work.
Branding is a business skill that involves understanding your client's vision, personality, and message.
In order to work remotely as a graphic designer, you have to know how to use design technology and software such as Adobe Illustrator and Photoshop.
We live in a visually saturated world, so graphic design is a highly sought-after service. Having the right skills will help you nab high-paying remote graphic design jobs!
Can Graphic Designers Work Remotely?
They sure can!
However, many companies look for in-house graphic designers that can collaborate with writers, editors, photographers, etc., in order to best represent the company's brand identity.
So, if you really want to work from home as a graphic designer, you should consider joining an agency, picking up freelance work, or creating your own firm.
Many successful graphic designers work remotely, so it definitely can be done! You can easily work as an independent contractor and conduct all of your business online.
It's the 21st century, right? By now, we've all learned that anything can be done at home!
Types of Graphic Design Jobs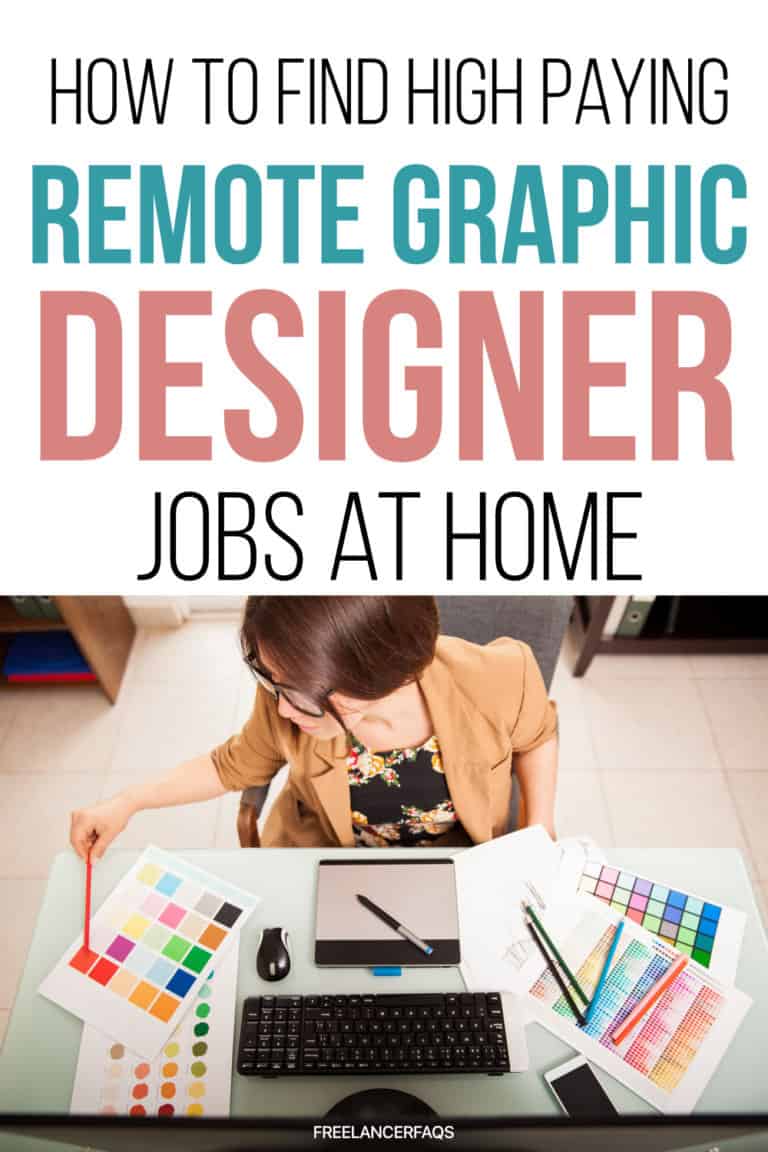 There are many types of graphic design jobs out there!
To give you an idea of what you can do in graphic design, here are a few:
Photo Editor
Photo editors work with images to correct lighting and color and make other adjustments. They may also combine images to create something unique.
This may involve adding a logo to an image or changing the color of a shirt.
While this isn't entirely a graphic design job, it does require knowledge of how to work with graphics and images using programs such as Photoshop.
Clothing Graphic Designer
Clothing graphic designers create original images for clothing, such as hoodies and t-shirts.
When they work for a client, they have to have a strong understanding of the client's brand to make sure their graphics work with the company's image.
Designing graphics for clothing involves combining images and fonts to create unique designs.
Packaging Designer
You wouldn't think a lot of thought goes into a product's box or package, but graphic designers are paid to do this!
Package design includes adding graphics to explain the function of a product and product details using appropriate fonts.
Packaging graphic designers also need to know how to make the packaging look appealing to consumers.
Web Designer
While most web designers employ coding to build websites, graphic designers are needed to design page layouts and develop graphics for the site.
Web graphic designers may also be responsible for designing navigation menus and other important aspects of user experience (how the user interacts with the site).
While having coding know-how is a plus, it's not necessary to become a web graphic designer!
Multimedia Designer
Multimedia graphic designers create animated images and videos using both art and computer programs.
The animations are planned out using sketches, creating scale models, or developing computerized graphics.
These types of graphic designers can work in video game development, film production, and more.
How Do Graphic Designers Find Remote Work?
Perhaps the best way to find remote graphic design jobs is to look on job boards and reply to job ads.
However, it's also worth your while to create a website or online portfolio to showcase your skills.
Either can be used to draw in clients or send along with a job application.
Or, you can cold pitch your portfolio to clients and try to land remote graphic design jobs!
Create a Website and Portfolio to Show Off Your Stuff!
In order to show off what you can do, it's important that you have a portfolio of your work to send to potential clients.
You can create a website or an online portfolio to showcase your unique talents!
Having a personal website can really enhance your business strategy since it allows you to create a portfolio, outline your services, and show your personality.
You can also broaden your website by offering online courses and marketing elements such as a newsletter.
When it comes to your portfolio, you can highlight work you have already done for clients or create examples.
In fact, you can create an imaginary brand as a mock project to highlight what you are capable of when it comes to graphic design.
When you create a portfolio or website (or both), make sure you express your identity by including a bio that includes a profile pic, information about your work, and who you are as a person.
Job Sites for Remote Graphic Design Jobs
Once you have a website or portfolio ready to go, it's time to start sending it out to potential clients!
One way to do this is to respond to remote graphic design job ads posted on job sites.
Here are some of the best remote graphic design job sites you should check out:
Dribbble
Dribbble is a designer-focused site and a perfect resource for finding remote graphic designer jobs!
There are always new job opportunities posted every day, and Dribbble is known for its freelance community – perfect for networking!
TeeFury
TeeFury is one of many online shops that sell t-shirts and hoodies featuring the work of independent artists.
As a graphic designer, you can create and submit your art and earn a commission when your design is sold.
You can also join their affiliate program and bring in more revenue through the traffic you send to their site.
Fiverr
Fiverr is a job site that works like a gig economy. Basically, you post what you are willing to do, and people pay you to do it!
For instance, you can post your services to design logos and wait for people to pay you.
Unlike other job boards, you're not applying for and bidding on jobs. Just post your services and let the customers come to you.
FlexJobs
FlexJobs is a huge remote job website with dozens of categories and tons of job offers added every day.
You can easily find remote graphic design jobs by searching for "graphic design" and checking out the job ads.
You can filter your job search to include flexible jobs, full-time jobs, and freelance contracts.
We Work Remotely
Unlike most job boards, We Work Remotely is dedicated to, well, remote jobs!
In particular, they feature a lot of jobs focused on web design more than graphic design – so it's a great place to go if you are looking for web graphic design work!
Freelancer.com
Freelancer.com hosts job offers from companies and clients looking for freelance workers. This is a great site to check out if you are looking to start a graphic design side hustle.
While you can only bid on 8 job posts per month, using this job board is totally free.
And because it works on a bidding system, the more experience you have as a graphic designer, the better your chances of landing a job!
Cold Pitch Potential Clients to Score Remote Graphic Design Jobs
Cold pitching involves reaching out to clients who aren't necessarily looking for a remote graphic designer.
You may be wondering why you would do this, but sometimes businesses don't even know they need one!
The best way to do this is to start in your community by looking at local businesses and their websites.
Are they lacking a visually appealing design on their site? Is their logo a little lackluster? Are their brochures painful to look at?
From here, you can send them an email offering your services.
To really make your cold pitch impactful, make it personal. Address the person you are pitching to by name and mention something that is significant to them.
For example, if they just started their business, congratulate them! Personalizing a cold pitch really makes it stand out.
Also, be sure to focus on their needs – but don't tell them their graphics suck!
Focus on their business needs and emphasize how your services can help them reach their goals.
Click here for more awesome tips on writing and sending cold pitches to clients!
Finding Remote Graphic Design Jobs
There you go!
If you're ready to become a successful graphic designer, you now have everything you need to get started.
With the right amount of passion and preparation, you'll be well on your way to scoring some awesome remote graphic design jobs!