You wake up and it's a new year. What are you going to do?
With millions unemployed and struggling to find a job, you luckily learned about an emerging market – freelancing.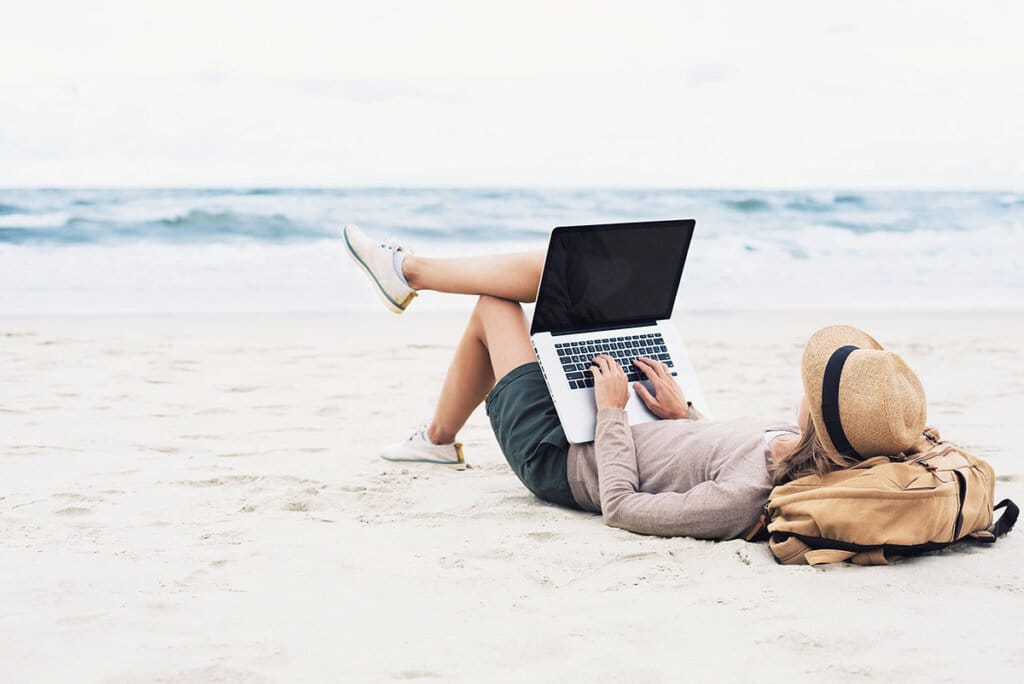 By 2027, the majority of U.S. people working will be freelancing, according to a survey from Freelancing America.
With over 64 million freelancers in 2020 and the rise of COVID, this trend will continue to grow for the next decade.
By 2027, the majority of U.S. people working will be freelancing.
So, you want to learn all about becoming a freelancer and how you can set up an online shop or online website to offer your service. This post will show you a list of freelance sites, freelance job sites and freelance tools to help learn all you need to know about freelancing.
This lists comprises general freelance sites as well as writing/copywriting sites, graphic design sites, proofreading and editing sites. While there are hundreds of different services of freelancing you can do, these four main services are always needed.
What is Freelancing?
Freelancing means you are self-employed and you are not committed to an employer. You might see different names for freelancing like remote work, work at home, telecommuting jobs, or flexible jobs or gigs.
As a freelancer you are responsible for finding work and keeping track of your income and filing your taxes.
A freelancer salary varies but the average is around $67,000/yr.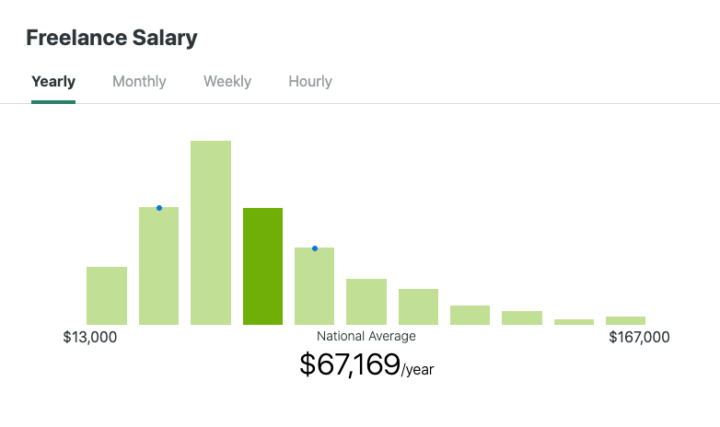 To help you get started freelancing, check out these freelance websites.
Freelance Websites
Freelance websites are blogs and websites that provide freelance advice. They might be more personal on someone's freelance journey, or more like a magazine where you find articles from notable freelancers or a blog where there are guest contributors offering up their best freelance tips for newbies.
1. FreelancerFAQs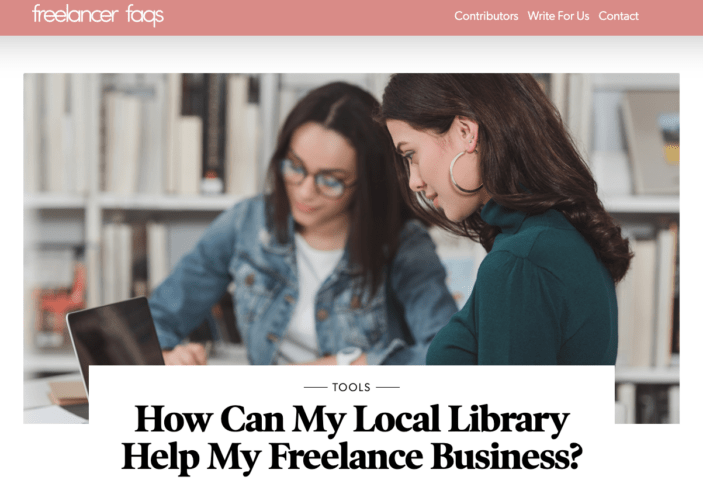 This blog, FreelancerFAQs, is your freelance wikipedia of sorts.
Contributors of this site are highly credible in their field and offer their insights into the freelance industry. From tools, to writing help to business tips and more, this freelance website has everything for you.
Interested in guest posting to FreelancerFAQs? Check out our guidelines and send your pitch!
2. Freelancer Community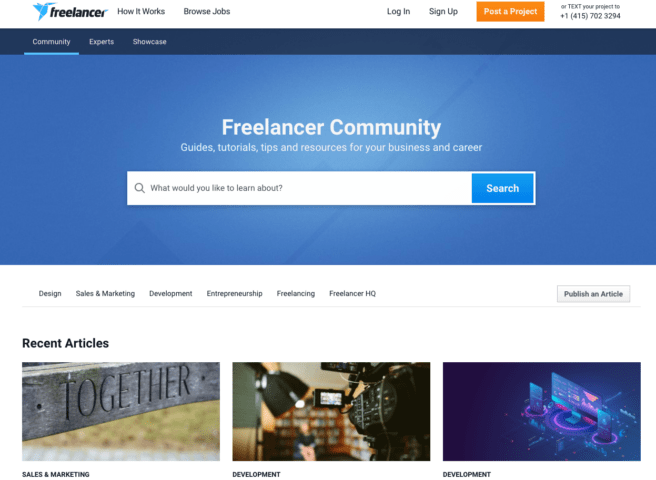 Freelancer is a job site but also a blog filled with valuable blog posts for freelancers. What's also great is they have an expert section where you can ask your freelance question and have others answer it!
Topics cover include design, entrepreneurship, sales and freelancing.
2. Go Daddy Garage
Go Daddy is a domain registration service, but they also have a blog to help freelancers and entrepreneurs. With up-to-date information on how COVID impacts freelancers to amazing content to help you start freelancing, Go Daddy has everything you need to succeed.
They have a lot of content to help web design freelancers and videographers if this is type of service you want.
3. Home Working Club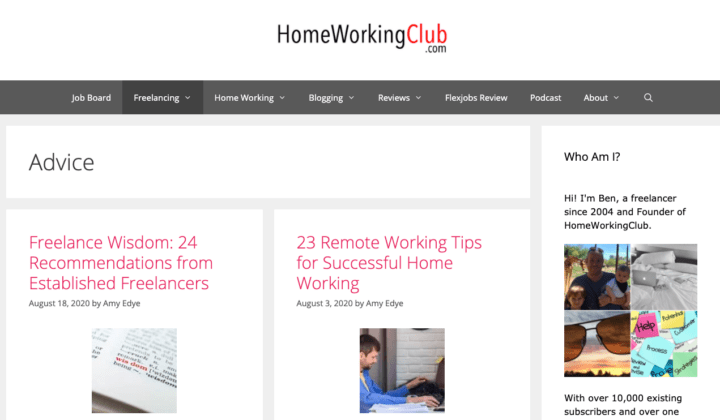 Home Working Club is Ben's blog and he's a freelancer. He created this site to help other freelancers and those wanting to work from home.
With a podcast, you can tune into Ben's episodes while working out or traveling to work.
4. Freelancers Union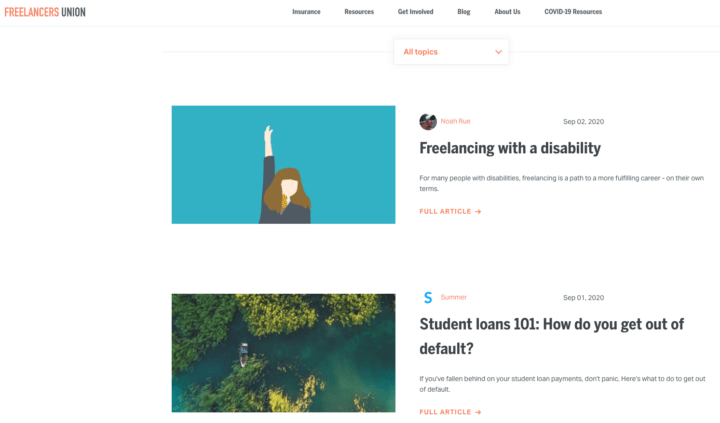 Freelancers Union is a great site to help you learn your role as a new freelancer. This freelance blog focuses on getting access to benefits and knowing what to do if you are sick, have a disability or taxes to pay.
They also spotlight news, discrimination and US laws applicable for freelancers.
5. The Freelancer (By Contently)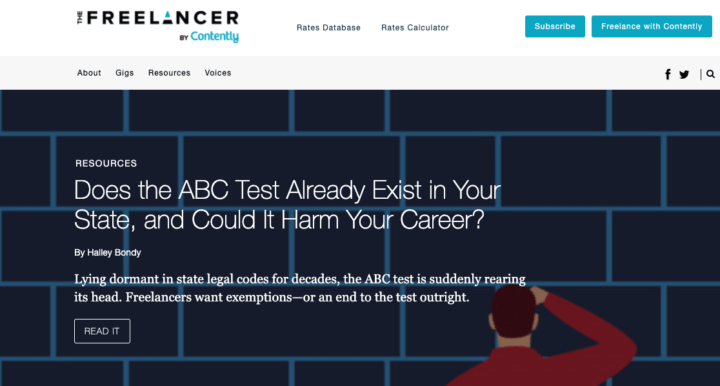 Contently is a content marketing site and a portfolio site to help with the gig economy. With the most up-to-date information affecting freelancers to great statistics about the freelance industry, The Freelancer blog is a great place to hang out.
6. Double Your Freelancing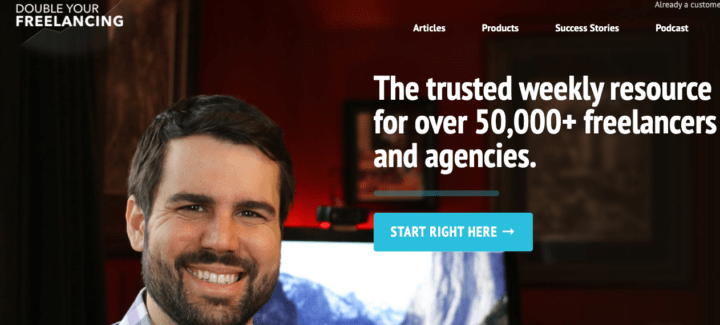 Brennan Dunn is has been freelancing for the last seven years and understands what it takes to scale your freelance business. With a podcast, articles, courses and more, learn about scaling and making money freelancing here.
Freelance Writing Blogs
One type of freelancer is a freelance writer. Freelance writers is probably one of the most popular types of freelance services you can offer. It's highly versatile, flexible and plentiful online.
As a freelance writer, you don't need much experience and you can gain writing jobs quickly. From understanding freelance writing to niching down to copywriting and more, check out these freelance sites for you.
7. Elna Cain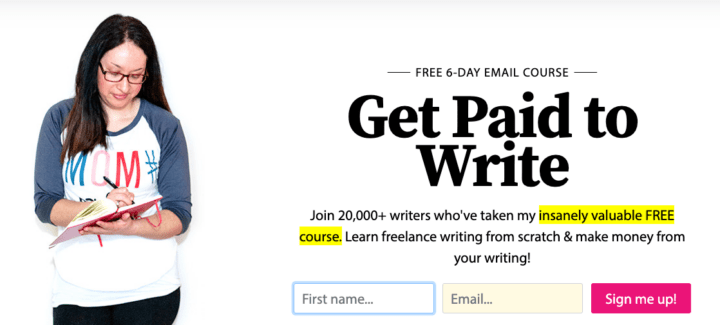 My freelance writing site, Elna Cain, is a popular site to help brand new freelance writers learn how to make money writing and land some amazing high-paying clients.
If you want to get paid to write, check out my site, Elna Cain!
8. Be a Freelance Blogger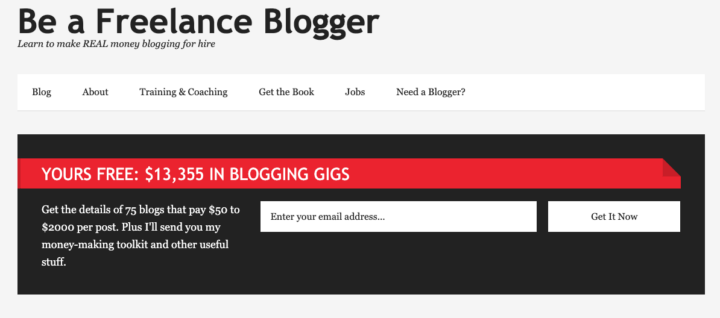 Sophie Lizard is a freelancer and mom and her site, Be a Freelance Blogger is a contributor site like Freelancer FAQs.
Many established freelance writers guest post on her site and when I started out freelance writing, Sophie's blog was one of my go-to blogs.
9. Copy Hackers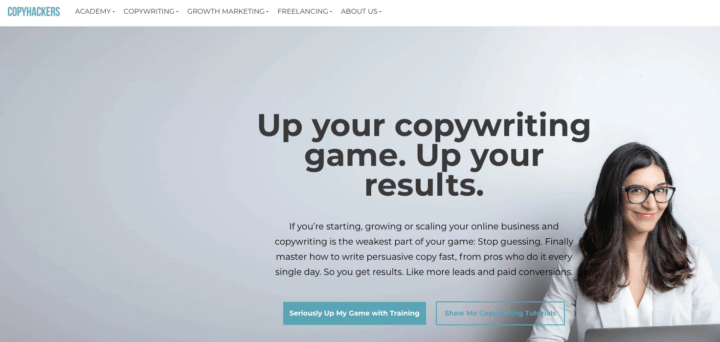 I want to be Joanna Wiebe when I grow up!
Copy Hackers helps freelancers and business owners on how to improve their conversion rates through writing. This is called copywriting and it's a valuable skill to have online.
10. Rob Powell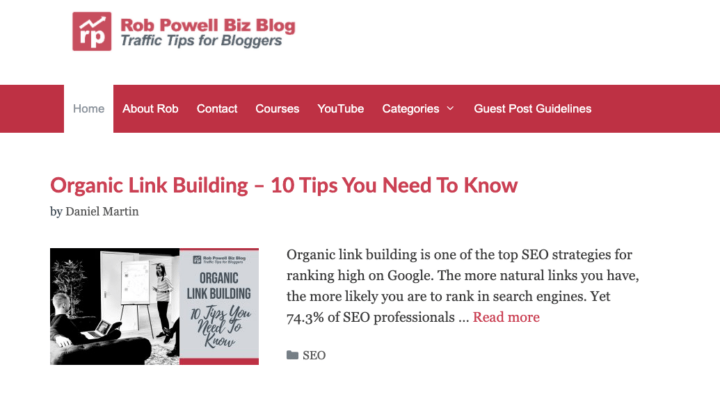 Rob Powell's blog focusses more on SEO content, but he does have some amazing copywriting and storytelling posts to help freelance writers. As well, learning about SEO and how to write SEO blog posts is a great service to offer and you can make more money doing it.
11. Courtney Chaal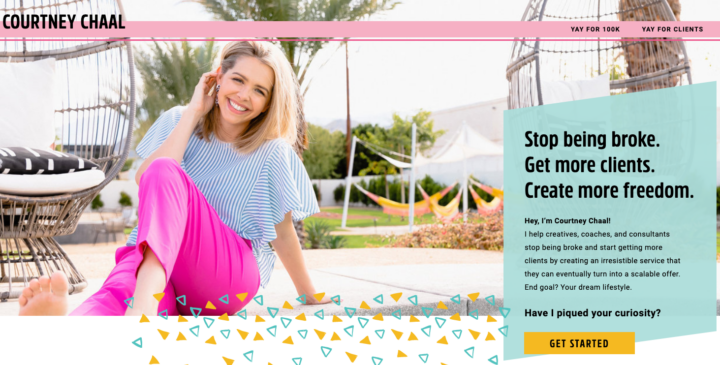 Courtney's blog isn't all copywriting but she is (or was) a copywriter and has done some copywriting for big influencers in the blogging sphere. I love her Youtube channel and devour her copywriting tips.
12. ABC Copywriting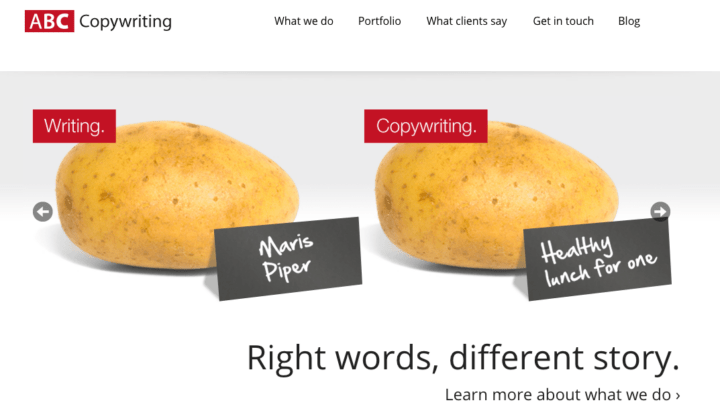 Tom's copywriting blog has some great tips to help you learn all about copywriting. He talks about how to write about products and how to turn your writing into selling.
13. The Freelancer's Year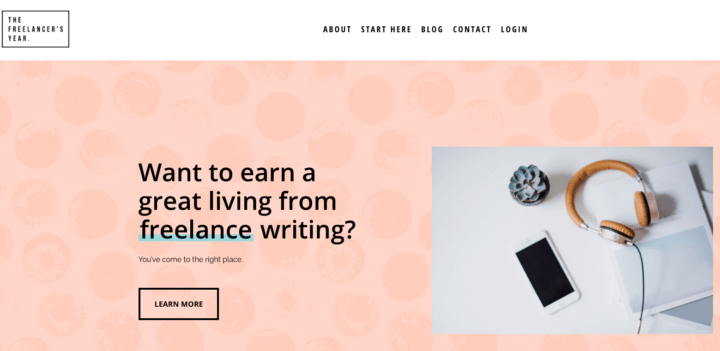 Lindy Alexander is an amazing and high achiever freelance writer. I enjoy her blog content and she's also guest posted on FAQ's too!
Get a personal view of freelancing as Lindy shares her business with you.
14. Underpinned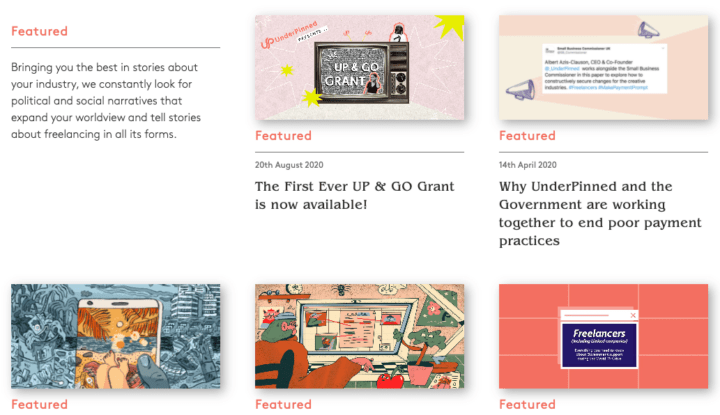 Underpinned is an online magazine and tool to help freelancers manage their business. I was pleasantly surprised by the type of content they produce for their online magazine and found their site highly valuable for new freelancers.
Graphic Design Sites
Another very popular type of freelancer are freelance graphic designers. With millions of websites and businesses online, the job market for web designers are thriving. If you are new to freelancing and web designs, these graphic design sites can help you understand design tools, design features and more.
15. Web Design Depot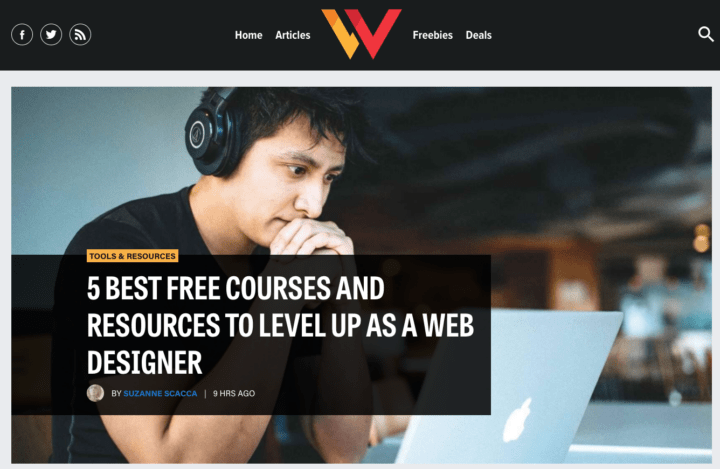 If you want to be a freelance web designer, then the Web Design Depot has articles for you! Learn about coding, latest news, trends and more in design work.
16. 99 Designs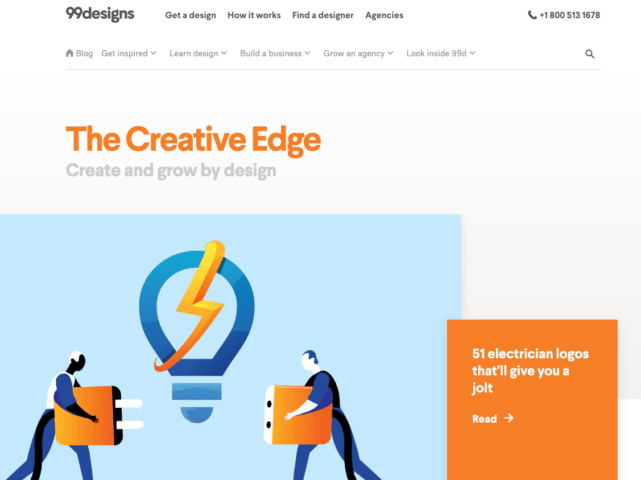 While 99 Designs shares a lot of great freelance tips, they do focus their content towards creative designers. I like that they share list post to inspire designers and cover things like the best logos or landing page designs.
17. Hongkiat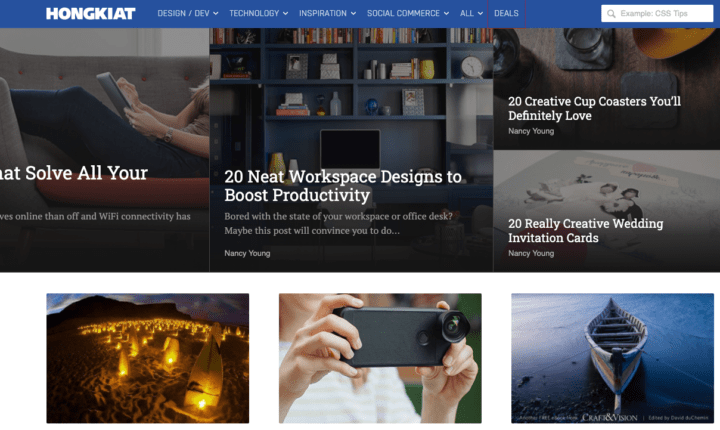 Before FreelancerFAQs was created, I often visited Hongkiat to learn more about online business and freelancing. Since then, they have focussed on tech and design for freelancers, but I'm sure you'll find information for freelancers here!
18. Abdz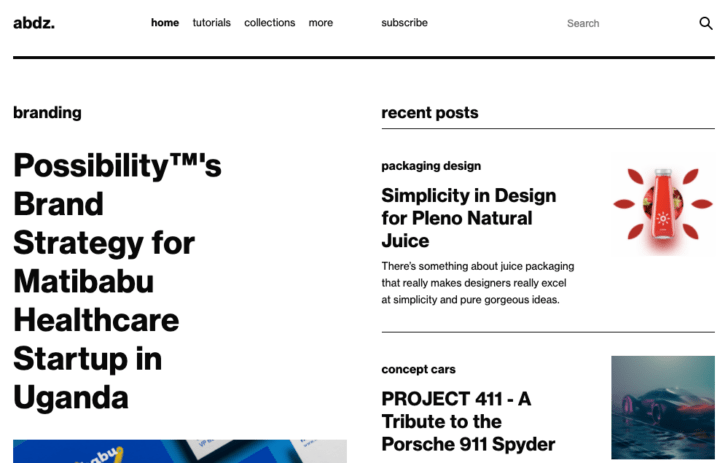 Abdz is a site for photographers, graphic designers and architects.
I like that they have an entire category to tutorials to help designers improve their skills and craft.
19. Create by Adobe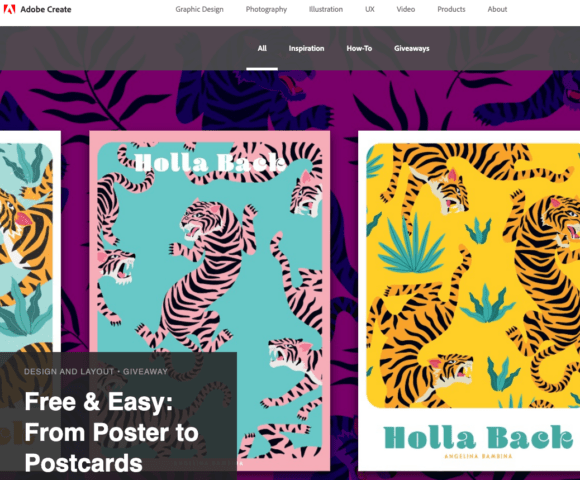 Create by Adobe is an online magazine for graphic designers, UX designers and photographers.
I like their Illustration section where you learn how to use Adobe to create some awesome designs.
20. Dropbox Design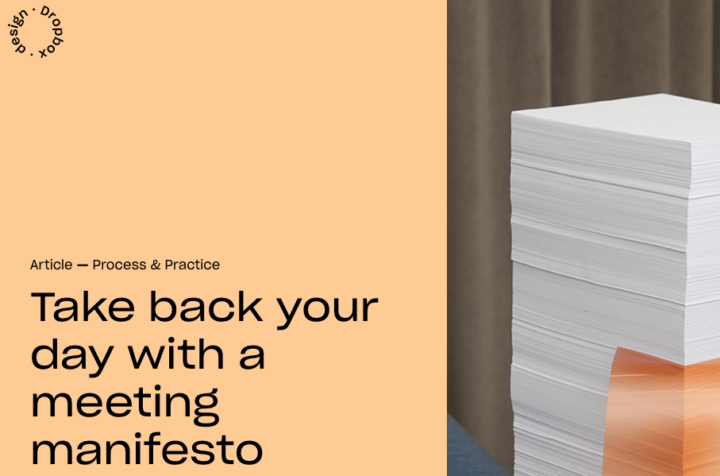 I'm sure you use Dropbox for your online blogging or freelancing, right? Dropbox is not only a service and tool but they also have a blog that covers an array of topics including, branding, writing, product design and UX designg/writing.
21. Identity Design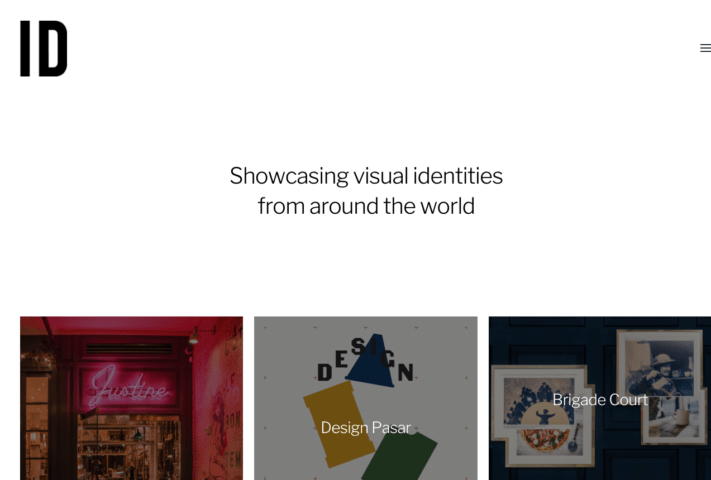 If all you want is inspiration as a graphic designer or web designer, take a look at Identity Design. David shares designs from all around and encourages designers to share their work on his site.
Proofreading and Editing Sites
Did you know that proofreading and editing are services many businesses hire out? If you have a knack for finding mistakes or grammar mistakes, you can offer editing or proofreading as a freelance serive. Check out these freelance sites to learn more about these serivces.
22. Grammarly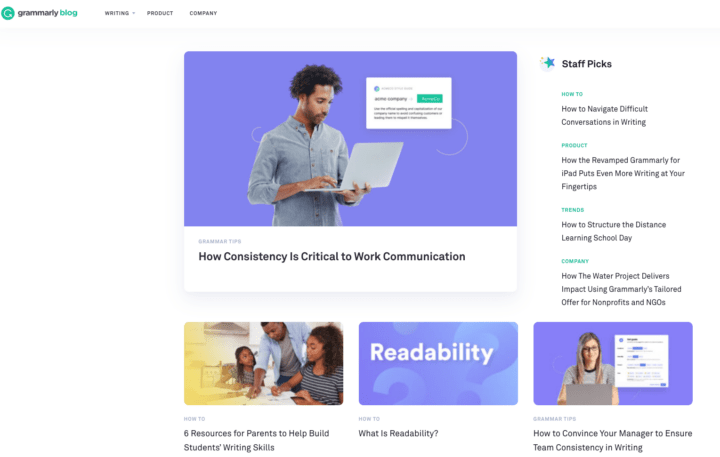 Grammarly is a great tool to have if you're a freelancer or blogger, but did you know they also have a blog?
I love seeing their Tweets and Facebook posts, but if I need proofreading help I can just see what's on the blog to get the right information.
23. Art of Proofreading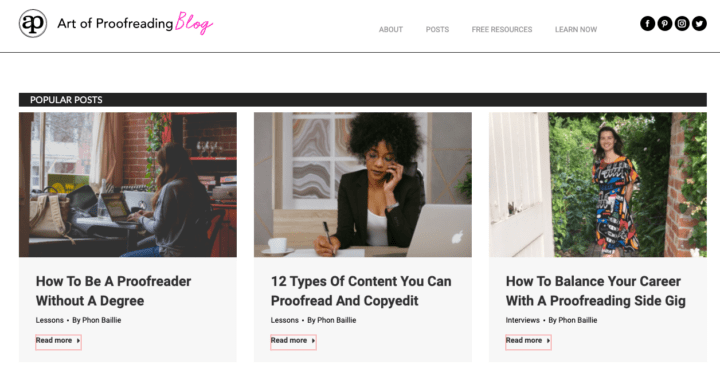 Phon grew up loving proofreading and editing and she made it a mission to be a professional editor and proofreader. Her freelance blog has amazing resources for those interested in proofreading as a legit freelance gig!
24. Louise Harnby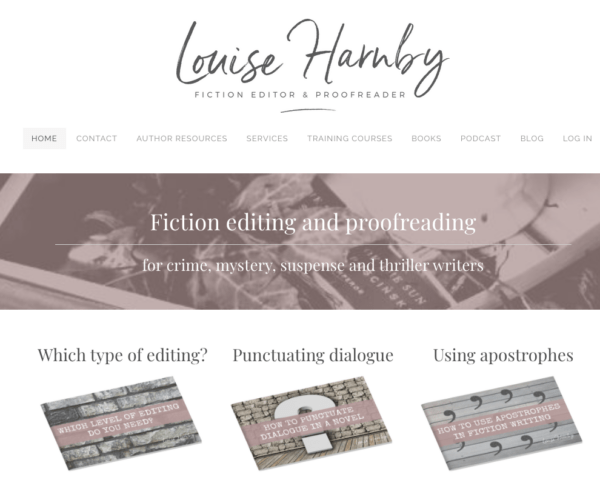 Louise is an accomplished editor and proofreader and primarily works with Indi authors. Her editing blog is filled with content to help authors improve their writing. If you want a more step-by-step approach on aspects of grammar, check out Louise Harnby's blog.
25. Proofread Anywhere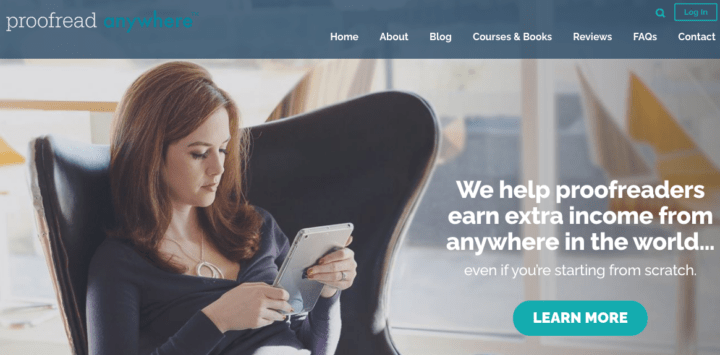 Caitlin Pyle's site, Proofread Anywhere is a popular freelance site to help new proofreaders. What I enjoy the most about Caitlin's blog is her content about making money from home and her spotlights on successful freelance proofreaders.
26. Proofreading Pal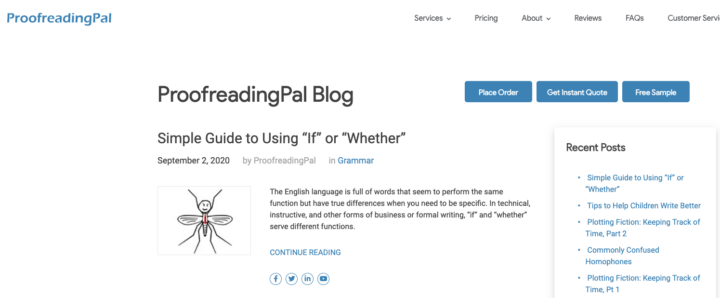 Proofreading Pal is a proofreading service, but they also have an informative blog. Their blog is a no-nonsense approach to proofreading and their graphics are comical and memorable.
Freelance Job Sites
Up until this point I've featured different types of freelance sites and blogs. These are are great to get your education on and to leran from, but where are the freelance sites to help you find a job?
In this next part, we'll explore the best freelance job sites to help you find your first freelance gig.
27. Krop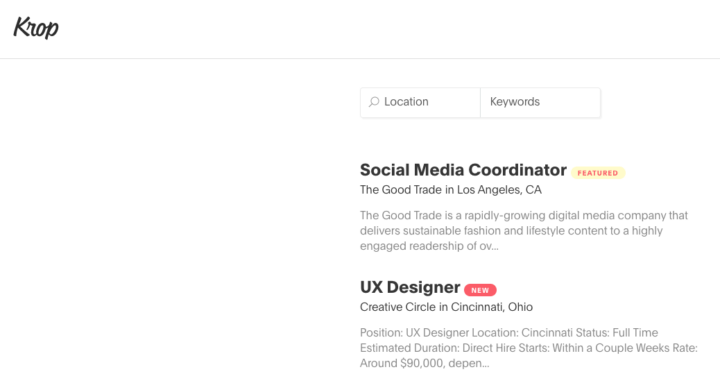 Krop is a freelance job site for creatives and designers. This is site is very streamlined and no frills but they do have great freelance gigs for all different types of freelancers.
28. Robert Half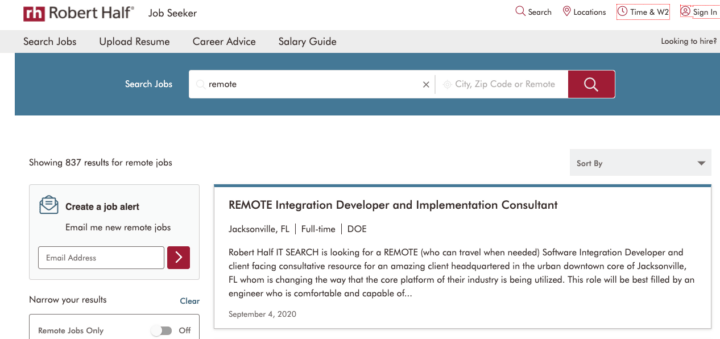 Robert Half is a recruitment website that has remote freelance jobs in all different categories for freelancers. Take your time reading through these jobs and see if you can find the right freelance job for you.
29. Creative Circle

Creative Circle is a recruitment site with a freelance job board.
They offer jobs in all types of freelance industries including social media, development and data, project management, copywriting, and UX product and emerging.
30. Upwork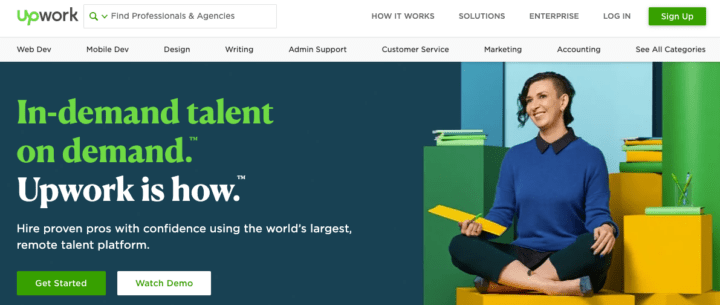 Upwork is probably one of the most popular freelance job sites around. With thousands of freelance jobs in all industries this is a great start for many types of freelancers such as photographers, graphic designers, customer support, virtual assistants, and many more.
Upwork is a bidding freelance site, meaning that you will have to bid for a job and compete with other freelancers.
Learn how to make money using Upwork in these guides:
31. Monster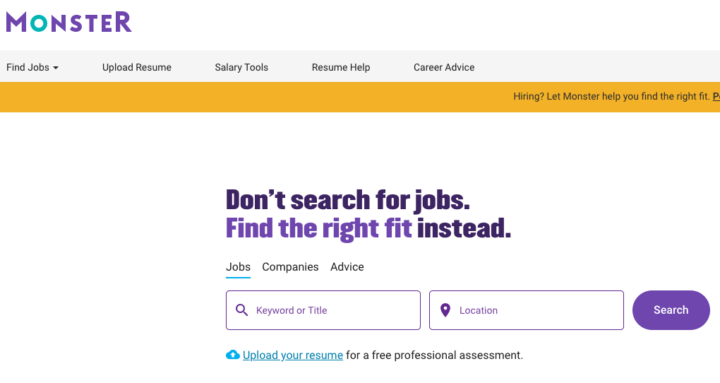 While you might think Monster is a typical job site for commercial types of employment, they do have a big database of freelance jobs and remote work jobs.
So make sure to add this to your list of freelance job websites.
32. Indeed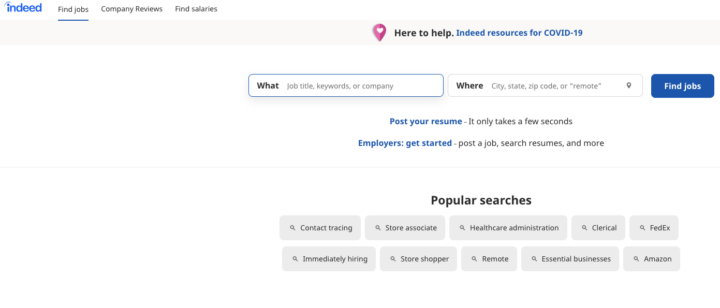 Indeed as another free freelance job website to find work for you. They curate freelance jobs from all around the internet, which helps you find all the jobs in one place.
What's great is that they also have remote work jobs and full-time employment too.
33. Servicescape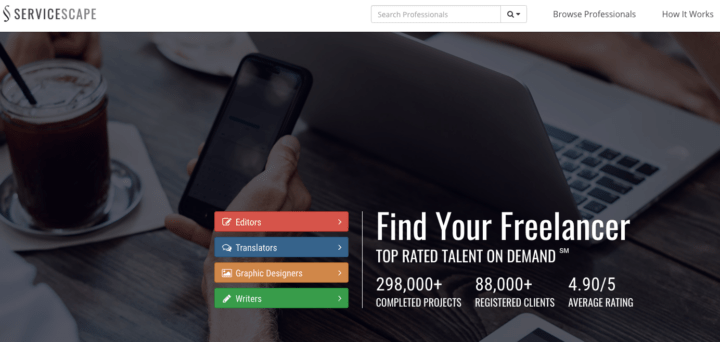 This is a great freelance job site for editors, translators, graphic designers and writers.
All you do is set up a profile and clients can hire you from your profile! It's that easy.
34. Jobspresso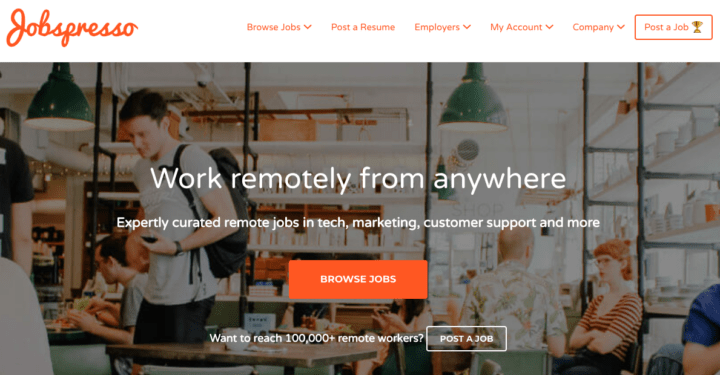 With over 1,000 freelance and remote jobs available, there are no shortage over on Jobspresso. With manager jobs, software engineer jobs, content writing jobs, virtual assistant jobs and design jobs, I'm sure you will be able to find the right gig for you.
35. Glassdoor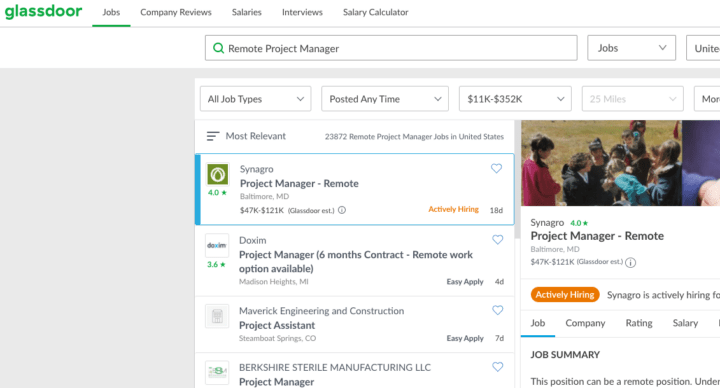 Glassdoor is another great freelance job sites with thousands of jobs in all types of fields. What's great about this job site is that you can research companies and salaries of freelance jobs. This can also help you decide your freelance rate and salary.
36. LinkedIn Jobs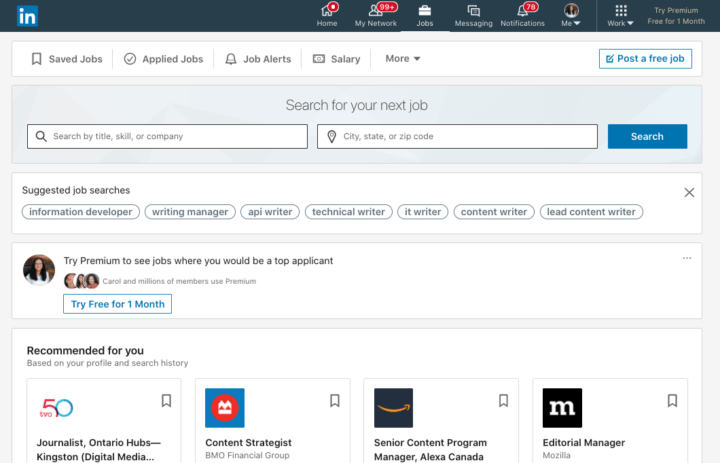 LinkedIn is a social media platform for businesses. It's in your best interest to have a LinkedIn profile so you can connect with potential prospects. One way to find freelance jobs is with LinkedIn Jobs.
37. Pangian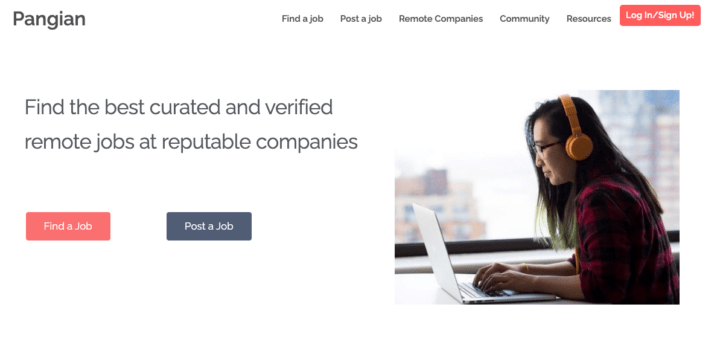 Pangian is large remote job board with over 1,000 fresh jobs daily.
This freelance job site was created by Mag who has been working remotely for over 10 years in Poland. Pangian has freelance jobs for all types of people and services including project managers, writers, graphic designers, web developers and more.
Freelance Sites for Tools
When you start freelancing online, you'll probably have to invest in some online tools and services to help you with your business. To help you figure out what those tools are, check out these freelance sites.
38. Quickbooks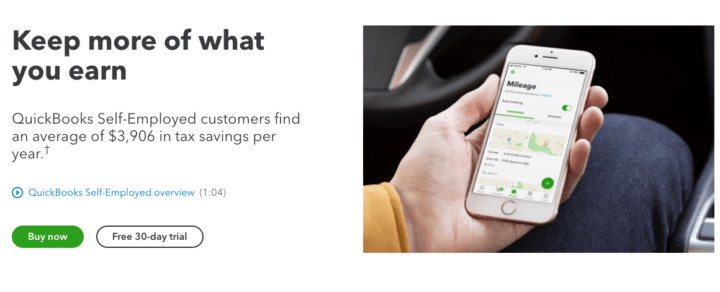 Quickbooks is a popular accounting software that many small businesses use to manage their finances. Luckily, they offer a service specifically designed for independent contractors, sole proprietors and freelancers.
With their freelance program, you can track your income and expenses, capture and organize receipts, invoice and accept payments and run reports.
When it comes to taxes, Quickbooks can help you organize not only what you earn but also what you spend that could be tax deductible – which could include any programs or services you purchase online related to your freelancing business.
Quickbooks Self Employed is available for $5/month for the first six months.
39. MailerLite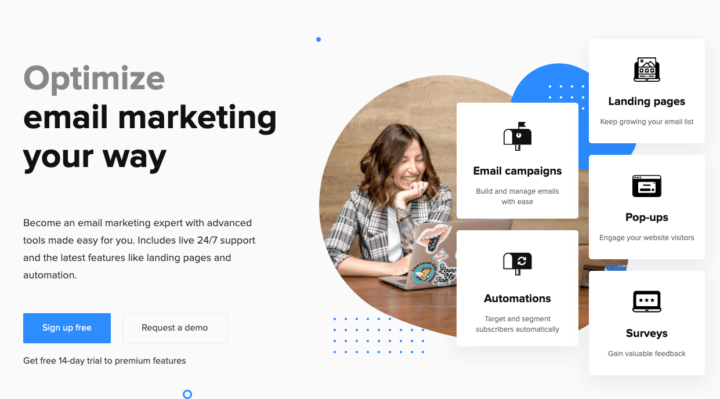 With Mailerlite, you can create email marketing campaigns as well as automated campaigns, landing pages and surveys.
Why is this important for freelancers? Email marketing is a cost-effective tool for building your business. With email marketing, you can reach a wide audience and build connections with potential clients.
This works not by simply pitching your services outright, but by creating a series of emails that guides the reader through the benefits of what you have to offer.
Mailerlite is a free service that features all the tools you need to get started.
40. Contently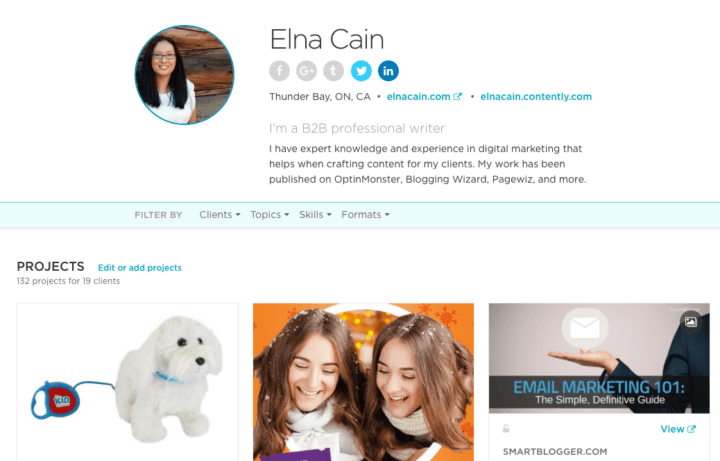 Every freelancer should have a portfolio showcasing their work – especially if you are a freelance writer.
A portfolio is a collection of your best pieces in your niche that you want to use to display your writing skills.
Contently is a content marketing platform that allows you to upload your samples (even in PDF form) and track each piece's social media shares. This can give you a good idea on how engaging your writing is.
You can create a Contently portfolio for free and potentially connect you with some of the world's top brands.
41. Grammarly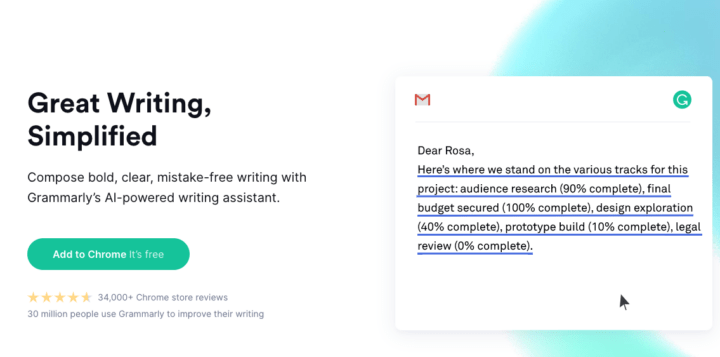 Yes! I'm mentioning Grammarly again but for a different reason.
Even writers get it wrong sometimes when it comes to spelling, grammar and punctuation.
Grammarly is available as a free Google Chrome extension that can help catch common writing mistakes, cutting down on the time you spend proofreading and ensuring that you are delivering top-notch work.
Being a freelancer is all about time management, so the less time you spend editing your own work, the more time you can spend researching and writing.
Besides the basics of the free extension, Grammarly also offers paid plans that extend its capabilities to include plagiarism detection, fluency, word choice and tone adjustment.
42. Canva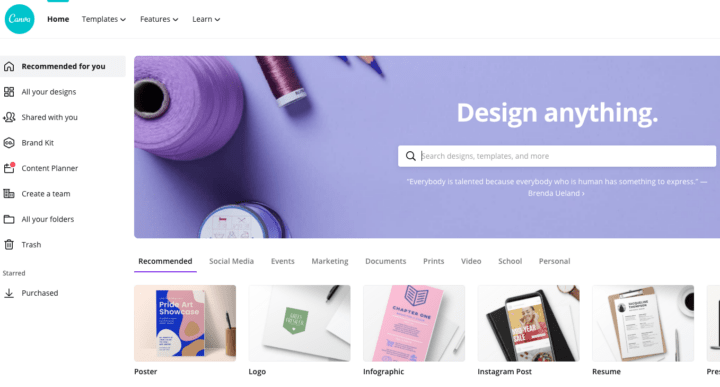 Canva is an online graphics tool that allows you to create professional looking images for social media, articles, blogs, etc.
As a freelance writer, you can use Canva to create images for your writer's website and share them across social media platforms such as Pinterest and Facebook.
As a freelance designer, you can use Canva to create templates, logos, web images, presentations and more.
Canva offers a free service that provides an adequate selection of pre-made templates, graphics and fonts.
However, their premium membership allows you access to even more graphics, images, fonts and backgrounds.
43. Google Workspace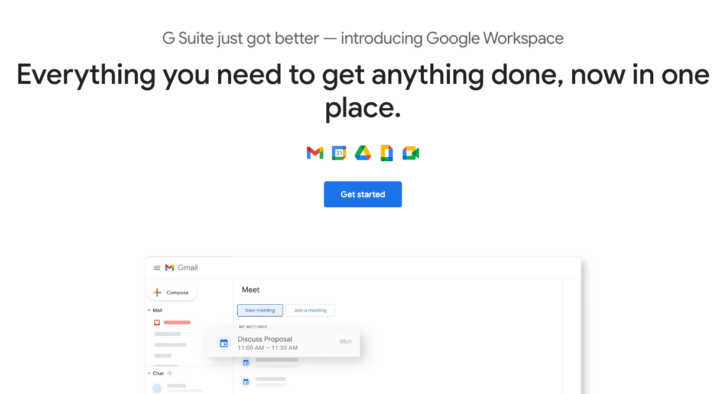 Formerly known as G-Suite, Google Workspace is an online service that includes the following Google services:
Mail
Meet
Calendar
Chat
Docs/Sheets/Slides
Keep
Sites
Forms
Currents
It's a great way to keep your freelancing business organized all in one place.
For instance, you can use Google Docs to write your content, Google Calendar to track orders and Google Sheets to manage your invoicing.
Google Workplace is a paid service but it allows you to integrate all aspects of your freelancing business into one platform.
44. Ubersuggest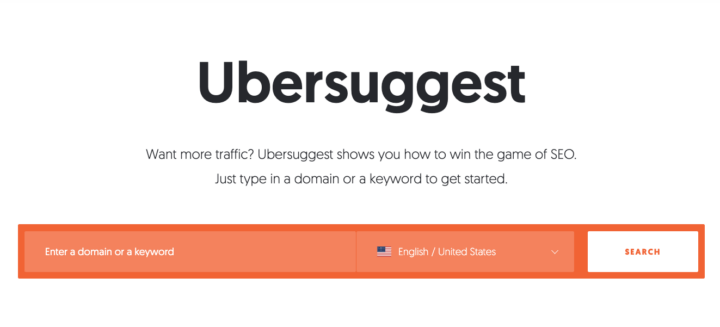 When you're using a writer's website to attract prospective clients, it's important to know how to play the SEO game in order to gain traffic from search engines.
Ubersuggest is a free tool that allows you to search keywords to see how popular they are as well as get ideas for related keywords.
Keywords are, well, the key to optimizing your content for SEO. Using popular keywords and phrases in your content makes it possible for people to search your site via search engines.
Not only is this important in gaining traffic to your site, but it will also help you create SEO optimized content for clients, thus adding value to the services you provide!
45. Who Pays Writers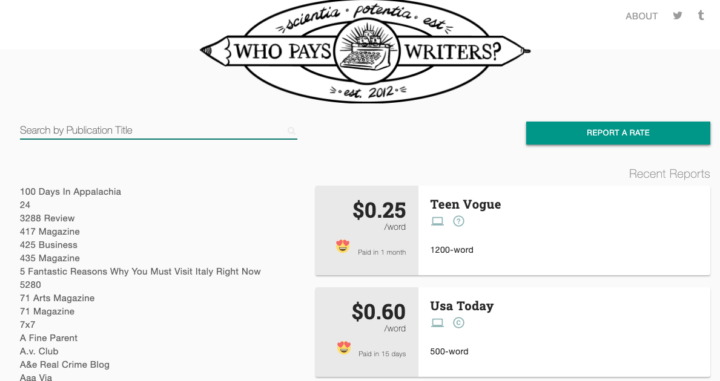 Who Pays Writers is an anonymously crowd-sourced list of publications that will pay freelance writers and how much each publication pays.
Rates are reported as well as any comments regarding a writer's experience with the publications.
This is not a job board of any kind – it simply lists popular publications who pay freelance writers for content.
Instead of going to Google to search for writing opportunities, you can find them here all in one list.
46. And.co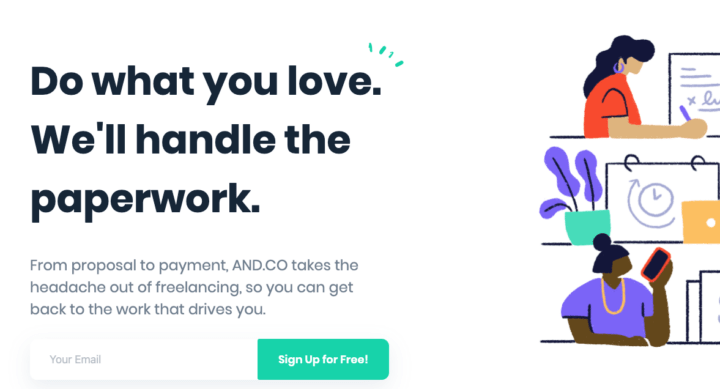 And.co is a suite of business management tools to help you manage and grow your freelancing business. It includes tools for time-tracking, invoicing, payments, proposals, contracts, task management and income and expense tracking.
The software is designed to integrate between the tools to ensure efficiency. For instance, if you are tracking your time, you don't have to enter your hours manually into an invoice. The software does this for you.
And.co's pricing tiers offer a free service that allows you to utilize all of these tools – but only for one client. Their pro pricing package allows unlimited clients as well as some additional features.
47. Trello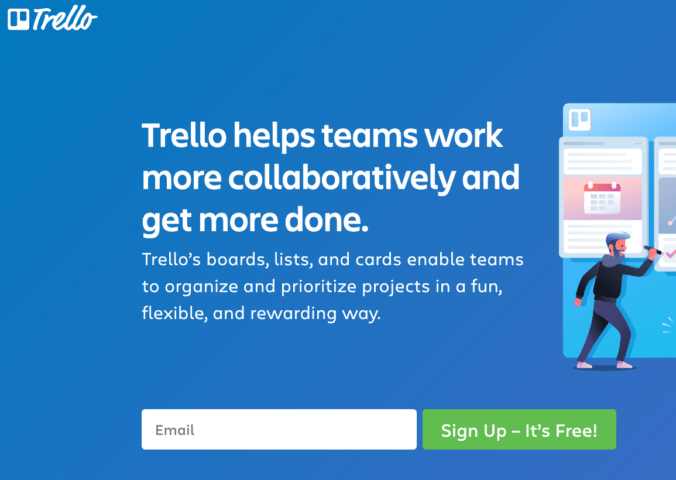 Trello is a great organizational tool that allows you to integrate apps you already use into your workflow to boost productivity and organize your projects.
Primarily focused on managing teams of people, Trello can be used for your freelance business by helping you organize your content schedule.
You can create boards and attach "cards" to them – each card can be your individual blog posts. You can also add labels as reminders to add keywords, for example.
This is a great way to organize your writing to ensure that work is completed on time.
48. Zapier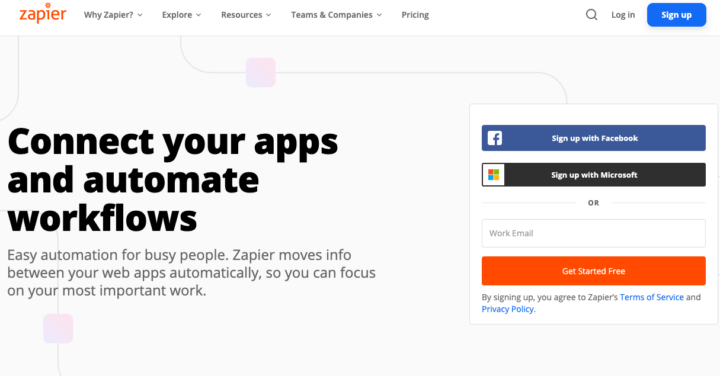 Zapier is another online service that allows you to combine information from multiple apps in order to manage your time more effectively.
For example, you can set up a trigger that initiates when you receive a new email. You can then have the attachment of the email automatically copied into your Dropbox and receive an alert in Slack about the new Dropbox file.
There are many different ways you can use Zapier to automate your workflow.
Zapier's free account allows you to start with the basics, which include building one-on-one connections between thousands of apps and automating basic tasks.
49. Cushion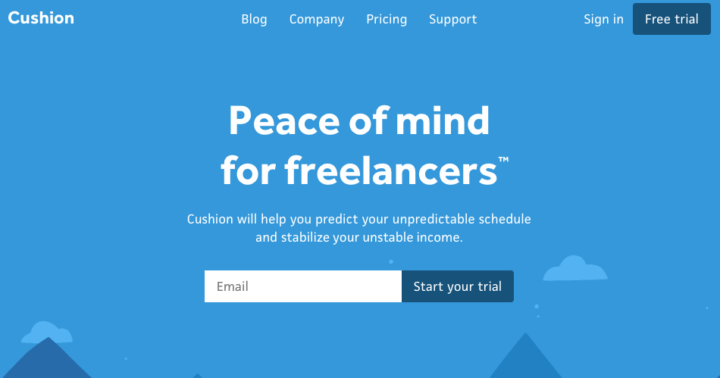 Cushion is a scheduling app you can use not only to manage your day-to-day tasks, but to also look at the entire year so you can plan months ahead of time.
This is useful for freelancers, since it allows you to forecast your income, create invoices and provides you insight into potential clients.
Their starter package costs only $8/month and allows for unlimited clients plus all their basic features. Upgraded packages are available as well, which offer monthly, quarterly and yearly views.
They do offer a free trial on all of their price packages.
50. Venngage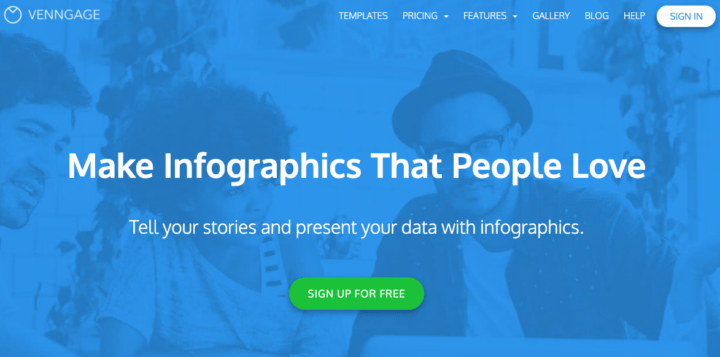 Venngage is a free infographic maker, allowing you to tell your story with eye-catching images.
Infographics are a good way for freelancers to increase their click-through rates and shares on social media. Gaining this valuable traffic will help you convert more visitors into paying clients.
As a freelancer, you can design an infographic addressing a trending topic in the world of content and design.
For example, you could create an infographic showcasing the benefits of businesses having blogs on their sites. Without selling your services, you are creating value in them by highlighting the importance of good content.
Finish your infographic with a call-to-action and share the image on social media.
51. Xero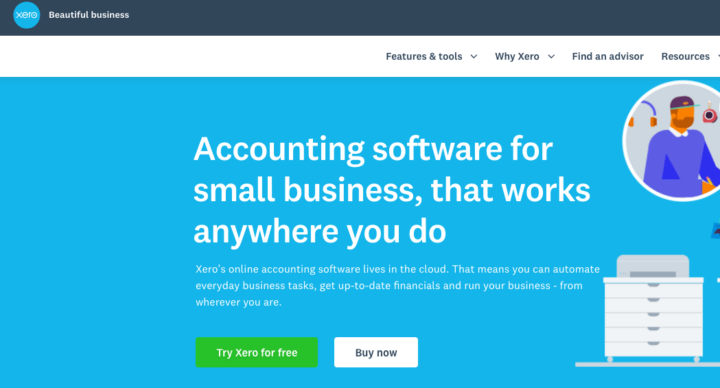 Xero is an online accounting software that stores information in the cloud, making it easy to access from anywhere and any device.
This allows you to automate everyday tasks and run your freelancing business no matter where you are.
It also integrates with over 800 business apps, so you can customize your Xero accounting software to best suit your business and needs.
You can use this software to organize contacts, create and manage invoices, track expenses and accept payments.
Xero offers a free trial with pricing beginning as low as $9/month
Best Freelance Jobs Sites for Working from Home
There ya go! The best freelance sites and freelance jobs sites to help you finally work form home for good. Please bookmark this site and tell me in the comments which freelance site you are going to go to!
I'd love to hear any other freelance sites to mention in this list!