As a freelancer, your portfolio holds a lot of weight.
Potential freelance clients want to actually see what you are capable of rather than just reading things off of a list on your resume. This is especially true for creative freelancers.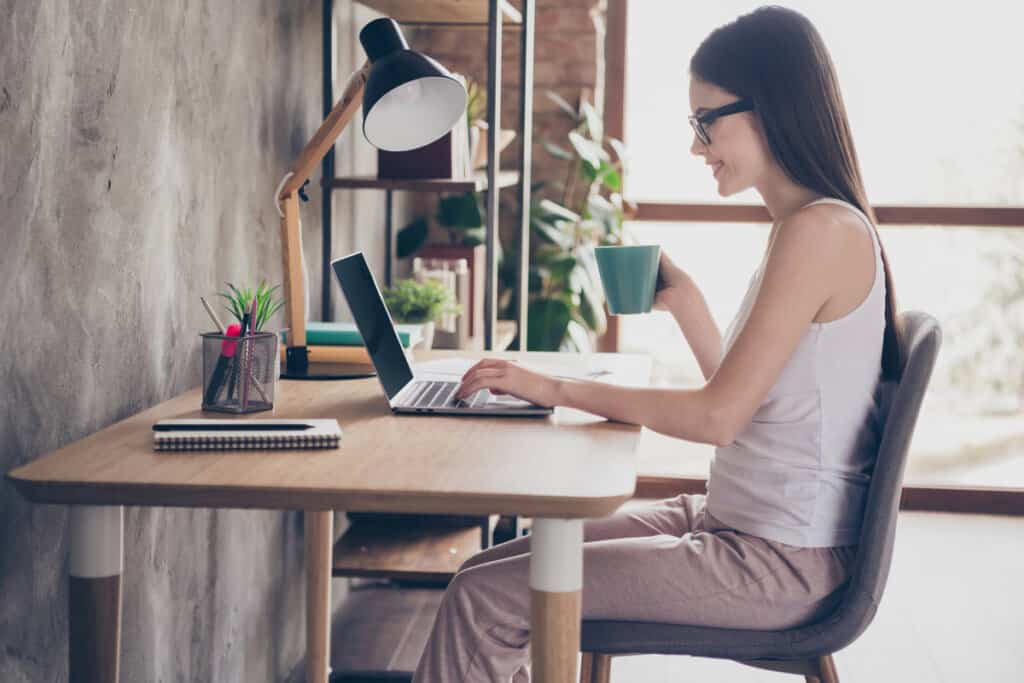 As a freelancer, your portfolio holds a lot of weight.
In most cases, seeing is believing.
You can list off things you have photographed or designed, but you really need to be able to show prospective clients your skills.
The best way to do this is to show them what you are capable of with work you have already done.
So in order to inspire you to create a stunning portfolio design that will have clients banging down your door to work with you as a creative, I've have rounded up some portfolio design templates and other places to house your work online.
While some of these themes and platforms work better for specific types of freelancing, you could really use any of these templates or platforms of any type of freelancing.
But before we get into these amazing examples, let's first focus on what to include in a creative portfolio. Because contrary to popular belief, a portfolio isn't just a collection of all your creative endeavors.
It needs to have intent and a way for clients to reach out to you.
What to Include in a Creative Portfolio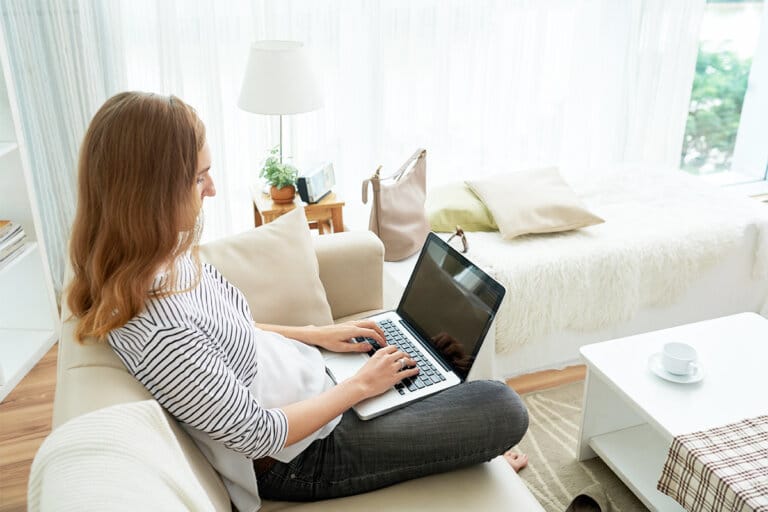 As I said, your portfolio needs to have intent and speak to your potential clients.
Here are eight things to include in your creative portfolio that should put you at the top of the list.
1. Your Audience
Just as with a standard resume, you want to include creative works that target your specific audience. For example, if you are a food photographer that is applying to work with a restaurant, then you should showcase your best work with other restaurants.
Which brings me to my next point…
2. Put Your Best Foot Forward
When creating your portfolio items as a creative, make sure to select your best material to present.
If you're in doubt about whether or not to include it, then leave it out. I know in the beginning of your freelance work, you want to have a full portfolio, but it's best to wait it out for those best pieces of work.
3. Keep Your Portfolio Simple (And that Means the Design Too!)
A simple and clean – and with a minimal design – portfolio is what potential employers and clients want to see.
Often they don't have a ton of time to sit and sift through a large portfolio with a ton of information. Make sure your portfolio is to the point and isn't filled with unnecessary extras.
4. Present Your Portfolio Professionally
Be sure that everything you put in your portfolio is packaged professionally. This might mean using a portfolio plugin, portfolio platform or customizing the look so that others can view your portfolio design easily.
You don't want to just slap some Word docs with links on your portfolio and expect to get a call back. Your portfolio should give clients a taste of what you're capable of.
Here is an example of my portfolio for writing clients: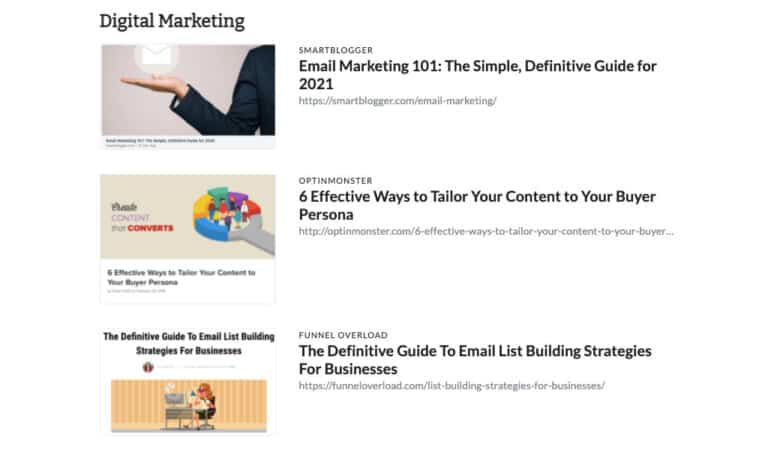 5. Include the Important Details
This might be more relevant for some niches than others as a freelancer. Try to be detail oriented when talking about the portfolio item and include relevant details that the freelance client might want to know.
6. Make Your Portfolio Easy to Contact
Be sure that you include a way for freelance clients to easily get in touch with you on your portfolio. This could be through a contact form or a hyperlinked email address on your portfolio.
Since my portfolio is on my website, I have a Contact page that potential leads can use.
7. Stay Up to Date With Your Portfolio
You are always improving, so be sure that your portfolio reflects that. Update your portfolio often, ideally every six months. This is hard for me as I don't want to create a long library of content pieces.
So, as I update I may de-publish others to make room for better content pieces.
8. Be Direct
When your potential clients lands on your website, they should know almost right away if you are the freelancer they are looking for.
Whether you are a digital designer, artist, or web designer, your portfolio should showcase your skills and draw in your potential clients.
Portfolio Templates for Creatives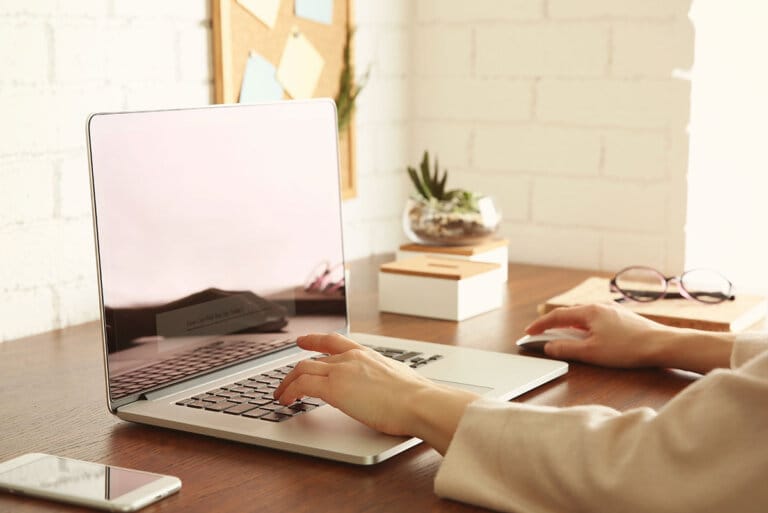 Aside from having your own basic WordPress site with some boring pre-installed theme to house your creative portfolio, there are a ton of other places online to park your creative work with a well-designed look.
While many of these portfolio options are geared towards creatives like graphic designers and photographers, freelancers of any kind can use these portfolio design templates.
1. iPortfolio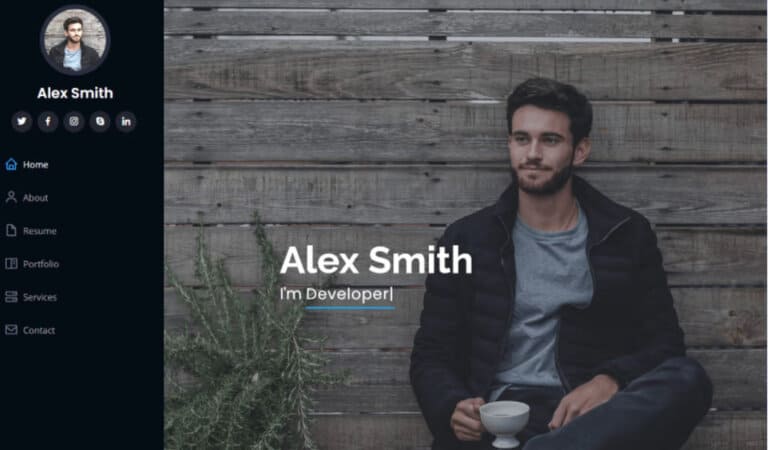 This is a free Bootstrap theme that focuses on a minimalist theme for freelancers of all types.
It's an eye catching theme that highlights the freelancer and their services front and center. It doubles as an online CV and resume with eye catching animated stats. Whether you are a writer or web designer, this portfolio design is sure to impress your potential clients.
2. My Portfolio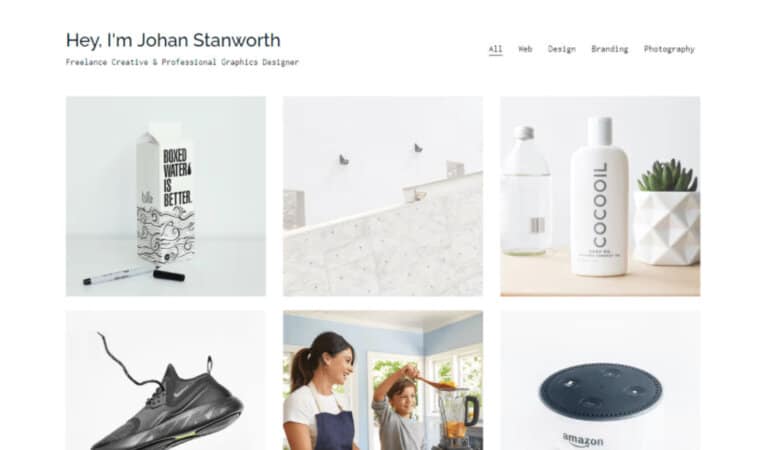 This Bootstrap portfolio template is perfect to showcase work for visual creatives such as graphic designers and photographers.
It's simple and clean design is great for putting your work front and center. It also showcases links right at the top to better organize your portfolio. This is wonderful if you have a couple different niches you work in or different types of projects.
3. Grand Portfolio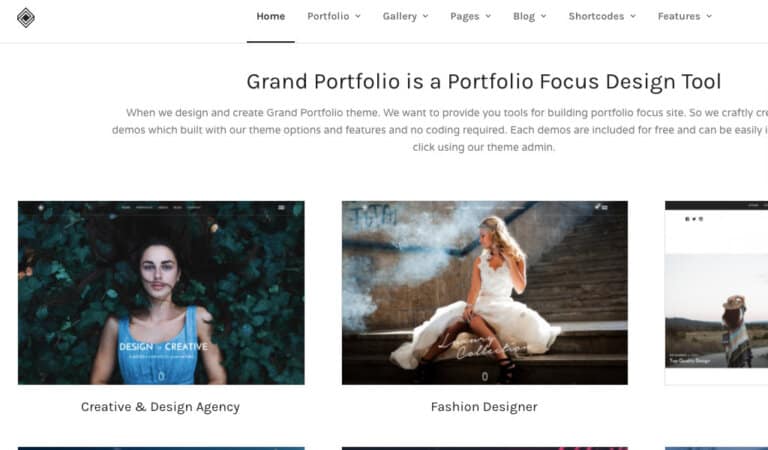 If you prefer to work with WordPress, then you can certainly appreciate this portfolio design template. With different themes within this one theme, you are sure to find the perfect first for your creative projects.
4. Squarespace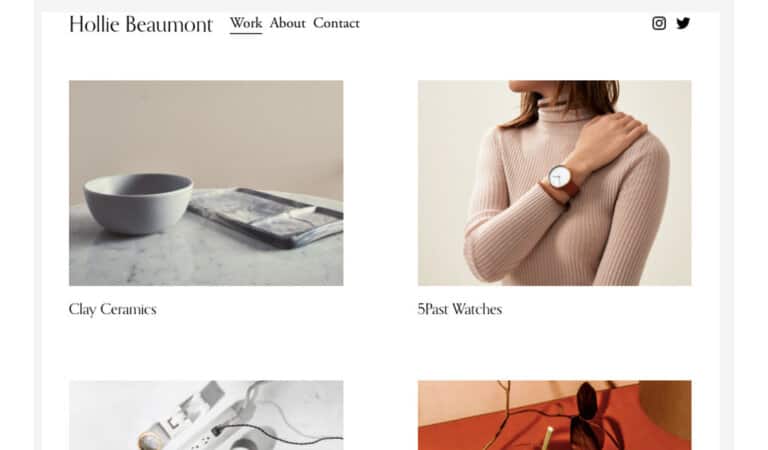 Squarespace is a website builder for people who aren't web designers.
It's easy to use with a ton of minimalist portfolio designs perfect for showcasing your work.
Take the beaumont theme for example, it's a simple theme that would work great for a photographer or product designer.
If you are looking for an easy way to build a site and don't need a lot of customization, then Squarespace is a great place to start.
5. Wix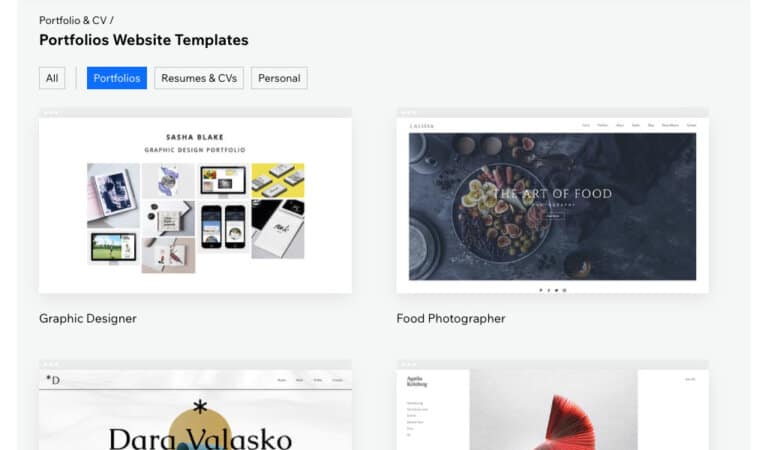 Wix is another website builder for creatives who would rather focus on their creative process rather than dealing with website tech.
With Wix, you can choose from hundreds of different themes to find something that will perfectly showcase your creative work.
They even include a drag and drop web builder for simple customization.
Where to House Your Creative Portfolio
If you don't want to deal with having a domain name (although this is highly encouraged) or the whole process of setting up a website, consider these other places to house your portfolio.
1. Medium
If you are a new writer and need to get your feet wet and have somewhere to publish your work before you start reaching out to clients, then check out Medium.
Here is my Medium profile: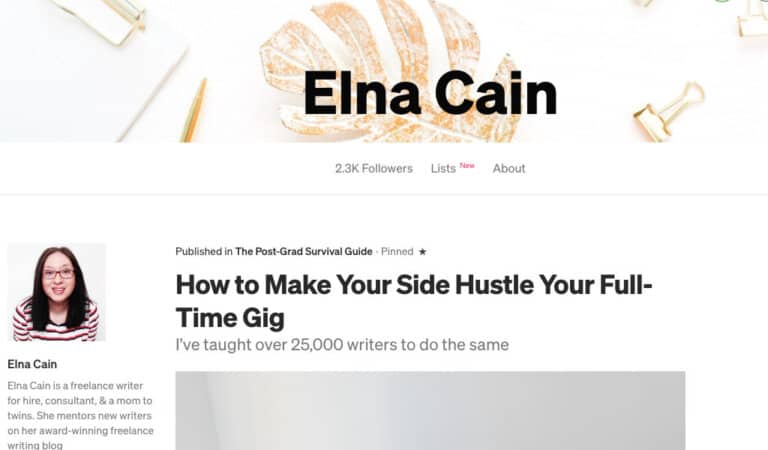 Publishing on Medium is a great way to start blogging and writing without having to set up a website.
You can easily start a free account on Medium and start publishing content within minutes.
They even have a partner program where you can start earning money from your articles based on how long people spend reading your content.
2. Behance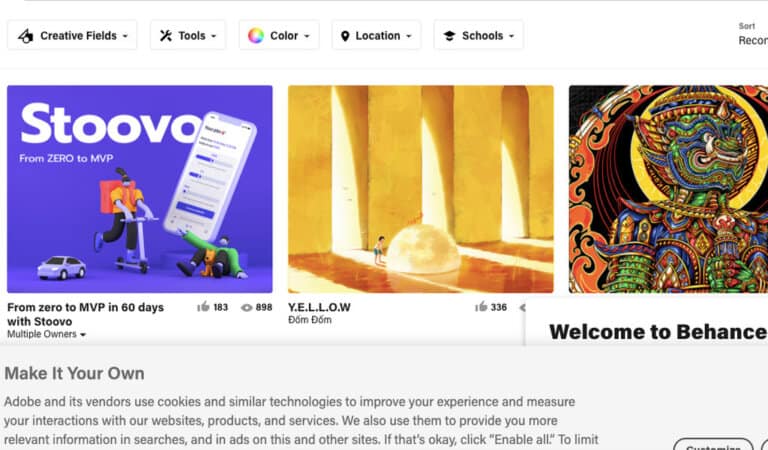 Behance is similar to Medium but geared towards graphics. From animation and illustrations to tech specs for smart devices, Behance is all about the visual aspects of your work.
Behance also has some pretty cool features that others do not.
They have a section for featured streams where you can learn and perfect new skills.
It also has a jobs tab for creatives that are looking for something new.
3. Adobe Portfolio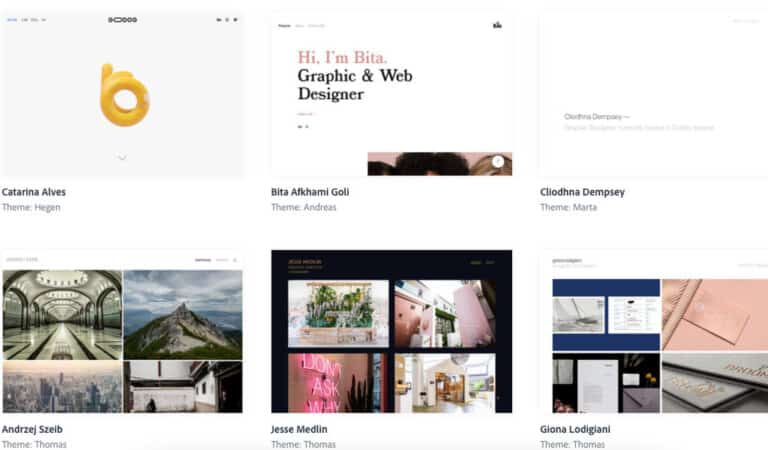 Adobe portfolio is a little bit website and a little bit visual portfolio.
It's a free platform that you can connect to a domain name and behance for a seamless, professional look. With a ton of different themes to choose from, you are sure to find something that will best highlight your work.
4. Dribbble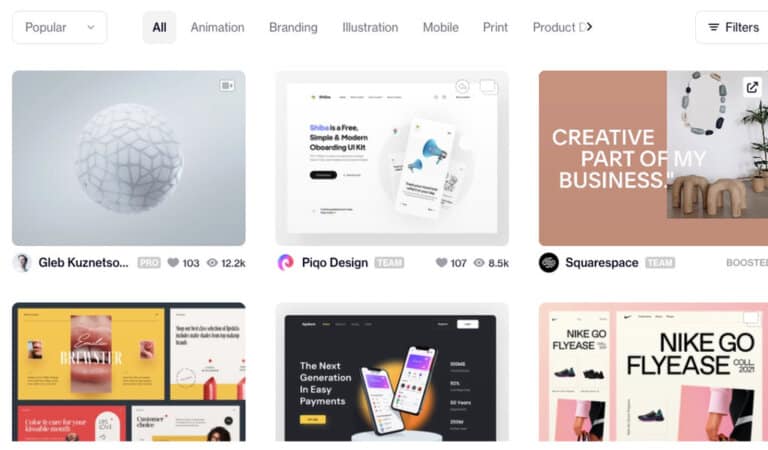 Dribbble is hailed as one of the leading places to showcase creative work and is home to some of the best design professionals. Dribbble is great for animators, branding, illustration, mobile, print, product design, typography, and web design.
Not only can you showcase your best work on Dribbble, you can find inspiration from other designers, find work, and learn design.
5. Portfoliobox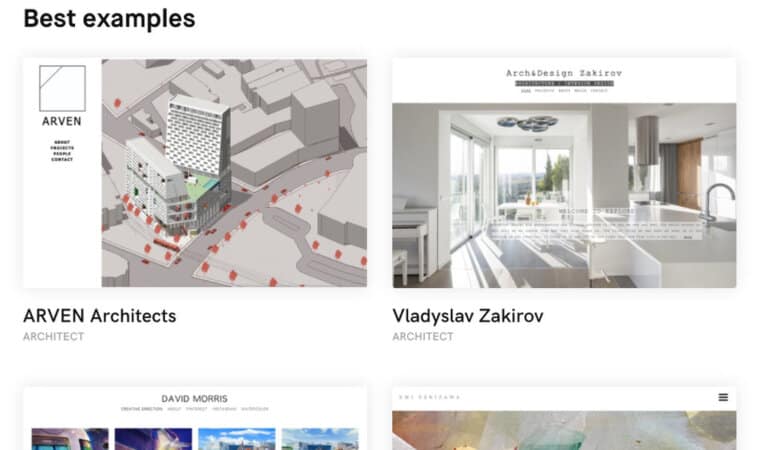 Portfoliobox is ideal for musicians, models, makeup artists, artitechs, artists, designers, and photographers.
While many website themes and portfolio sites limit your ability to change themes from page to page, with portfoliobox you have complete freedom, which makes for a truly unique experience for your audience.
With easy in browser editing, you can intuitively edit and create in real time.
And with responsive and dynamic templates, your site will look great on any screen.
And if you sell products, such as art prints, you can easily list those on here as well.
6. Crevado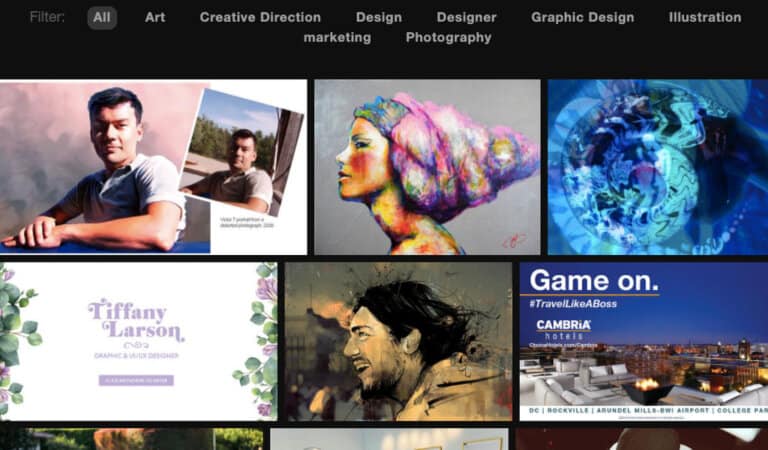 Crevado is great for freelancers that are just getting started and don't need anything fancy. With simple yet beautiful designs, you can create something that is truly unique. You can easily upload and drag and drop your designs anywhere.
Crevado also offers a security feature where you can mark projects to hide from public view.
As I said, Crevado is simple. There is no job board or social media functions, but you can easily snag linkable formats of your work to share with prospective clients.
Portfolio Design Elements to Pay Attention To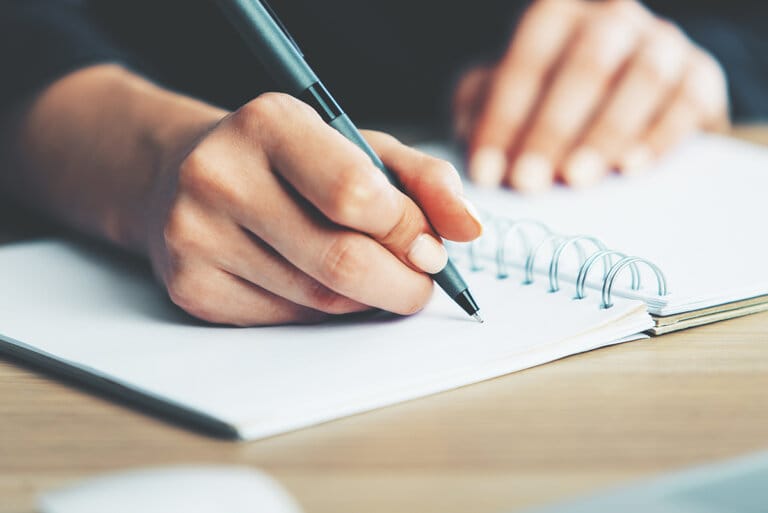 With these portfolio templates and platforms, it's a good idea to pay attention to these design elements so that you don't run into tech problems like it being too slow, too bloated or non responsive.
1. Easy Navigation
It's important that your portfolio has an easy navigational system. Pretend to land on your portfolio as a complete stranger and see if it's easy to find your work and contact you.
One thing you may not want as your navigation system is a hamburger menu at the start. Some portfolio designes, no matter if you viewing them from a laptop, computer or phone, will have a hamburger menu.
Many people may not know what to do when they land on your portfolio and will not know to click on the three lines to open up a menu.
2. Visually Appealing
The portfolio examples I've shown are visually appealing and should make prospectives stop and check out your portfolio. If your portfolio design is too visually distracting – tiny font, a large image as the background, bright colors or muted colors – it will be hard to enjoy your portfolio.
3. SEO and Website Speed Ready
The design of your portfolio may affect website speed if the site is slow. You can test your website speed to make sure it's abiding by any recent Google updates.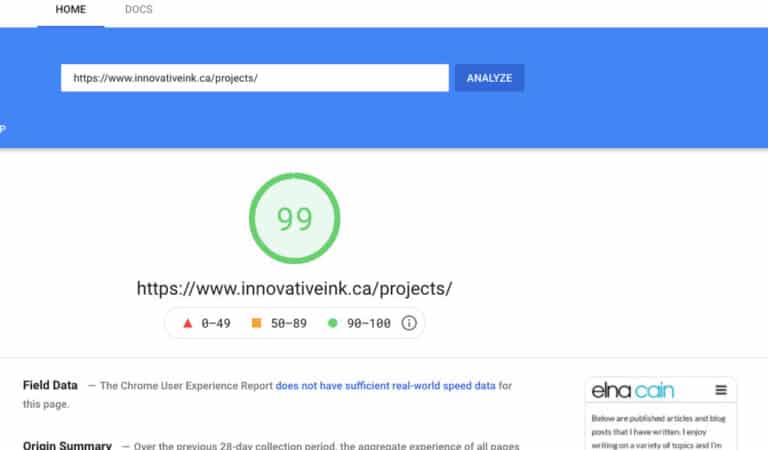 One of the biggest reasons why your portfolio page on your website might be slow or slowing your entire website down is your images.
You may not be properly optimizing your images and uploading them as huge files. You can easily fix this mistake by enabling an image optimization plugin.
Another design element to your portfolio is the SEO factor.
SEO stands for search engine optimization and what that means is can your portfolio or website be found on Google?
For example, if I type in, "freelance writer pet portfolio," what do I get?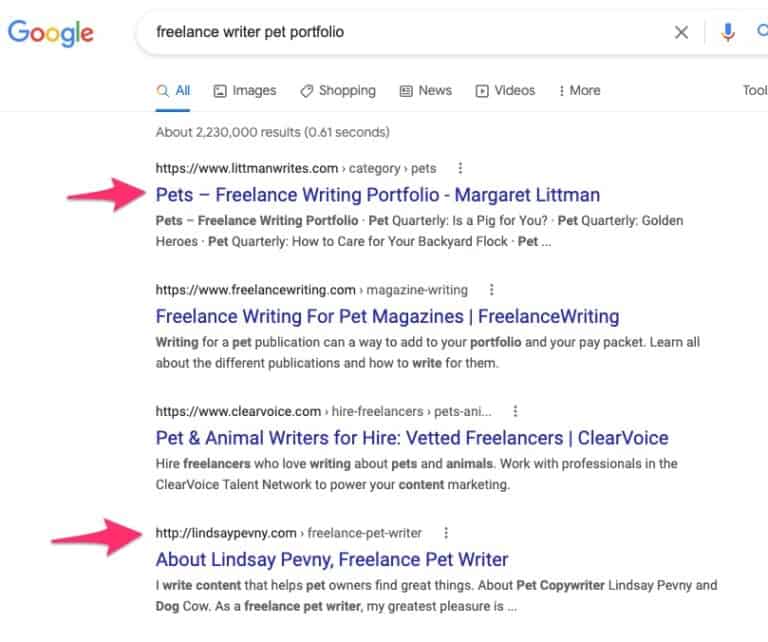 I see two writers have optimized their portfolios to rank in Google for that search term.
So when creating your portfolio, use keywords like your freelance niche, your industry and terms you think your potential clients are using on Google to find your freelance service.
Portfolios for Freelancers
There are so many options to choose from when creating your portfolio design.
Before you jump in and sign up for something, be sure that you know what you want to get out of a portfolio platform first.
Knowing what you want to achieve in advance will help you to pick the best way to showcase your work to your potential clients.
Don't forget about the eight key things to include in your creative portfolio. Your portfolio should be able to do most of the talking for you before the client even reaches out to you.