Are you wondering how to become a freelancer online?
You're headed in the right direction!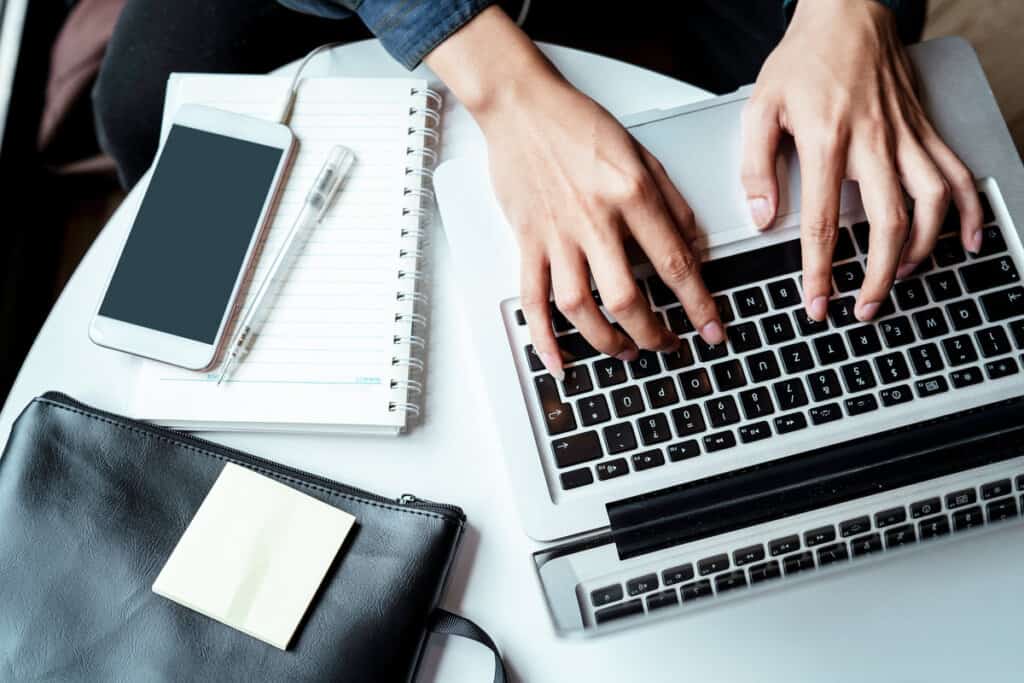 Being a successful freelancer involves many moving parts and getting started can often seem like a confusing mess.
Being a successful freelancer involves many moving parts and getting started can often seem like a confusing mess.
But the first step is learning and you're taking it right now by wanting to know what freelancers do to gain work.
Let's step back and take a look at the big picture, starting with how freelancers spend their time and how you can best use your time to get your freelance business up and running!
How Do Freelancers Spend Their Time?
If you're wondering how to become a freelancer online, it's important to first look at how working freelancers spend their time.
This will give you an idea of how you can best manage your time to gain work as a freelancer.
The way in which a freelancer works can be broken down into three parts:
Billable Work
Business Management
Marketing
Billable work is, of course, the actual work a freelancer does to make money. In the span of a week, a typical freelancer will spend less than 8 hours a week on billable work.
Even though most spend 10-20 hours working per week and many work over 30 hours per week.
So where does the rest of the time go?
Freelancers spend around 3-6 hours every week promoting their business, marketing their services, and pitching to clients.
This also includes business management tasks such as sending invoices and ensuring payments are received from clients.
So for the average freelancer, 8 hours is spent on paid work while the other 6 is used for marketing and management tasks. That totals 14 hours per week.
If you divide that over a 5-day work week, you're looking at 2.8 hours per day.
Not bad!
But we're talking averages here and in order to become a successful freelancer who earns a full-time income, you'll have to put in more work than that.
That being said, working less than three hours every day isn't a bad way to start off your freelancing career!
Now that you know how freelancers spend their time, let's look at how you can use yours to become a freelancer online:
How to Become a Freelancer Online and Gain Work
I could give you a million tips and tricks for getting work as a freelancer!
However, I want to focus on the key things you need to do to start gaining work and how you can easily fit these tasks into your schedule.
1. Market Your Freelance Business
Marketing your freelance services is a surefire way to gain a steady stream of work!
When you're starting as a new freelance writer, this is definitely where you should focus on your time and energy.
Remember that most freelancers spend almost as much time on marketing themselves as they do on actually completing paid projects.
Here are some ways you can get started on marketing your freelance services:
Create a Business Website
Having a website is like having a business card to promote your services.
You can use it to introduce yourself to potential clients, highlight samples of your work, and really sell why people should hire you as a freelancer!
To market yourself as a professional freelance, you should invest in website hosting and a domain.
You can then install WordPress, pick a theme, and start creating your content.
Having a business website is not only a great way to show potential clients who you are but you never know if someone will land on your site and purchase your services!
Pitch to Potential Clients
A pitch is basically a cold email you send to someone who would benefit from your freelancing services.
It's an opportunity for you to let them know who you are and why you want to work together.
Pitches are brief so you only have a handful of words to get these points across. Make sure your message is short and attention-grabbing.
To figure out who you should pitch to, look for individuals in your niche that you want to work with.
These could be CEOs, bloggers, business owners – anyone you feel would benefit from your services!
It can take a lot of pitches before you score a job but the more pitches you send, the more likely you will gain work!
You can easily find these CEO's on LinkedIn.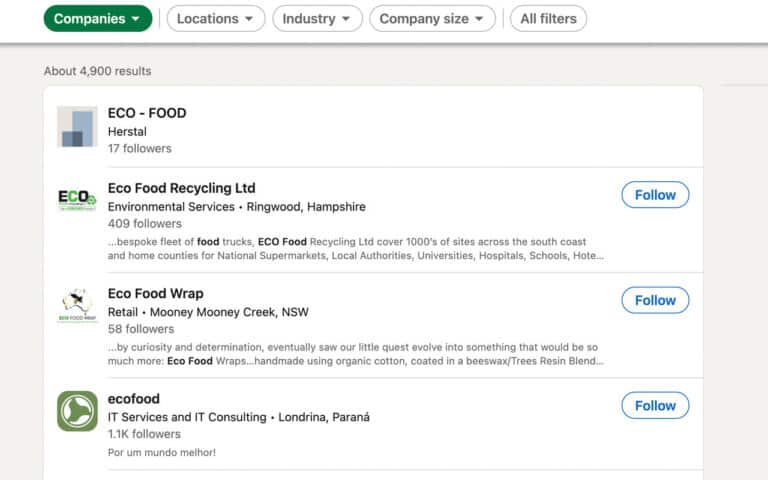 Search for Freelance Jobs
Pitching isn't the only way to gain work as a freelancer. You can also hit up job boards and apply to job posts.
Check out job boards such as Freelancer, Upwork, and Indeed to search for freelancing jobs in your niche.
Applying for jobs over and over may seem tedious but, just like pitching, the more you do it the better your chances of landing a job.
Plus, some one-off jobs that you find through a job board may turn into full-time work!
Have a Social Media Presence
Social media is a great way to establish credibility and connect with potential clients and other freelancers.
Get on social media platforms such as Facebook, Twitter, and Linkedin to make your presence known!
Use these platforms to post regularly and follow like-minded people to start attracting clients and build a network.
Gather Testimonials and Referrals from Satisfied Clients
Gaining work as a freelancer also requires that you build trust with potential clients and using testimonials is an easy way to do this!
Touch base with past clients and ask for a testimonial to put on your website.
When potential clients visit your site, they will have a solid idea of how good your work is before they even contact you.
You can also ask clients to refer you to other businesses that may be in need of your services.
2. Manage Your Freelance Business
Managing your freelance business is a matter of keeping up with the business side of your freelancing endeavors to stay organized.
Business management tasks include:
Creating contracts for new clients
Tracking payments
Answering emails
Scheduling your projects
Between marketing and business management, you can see why the average freelancer spends up to 6 hours a week on these tasks.
If you're looking to become a freelancer online, expect to spend more time – at least in the beginning.
3. Time Management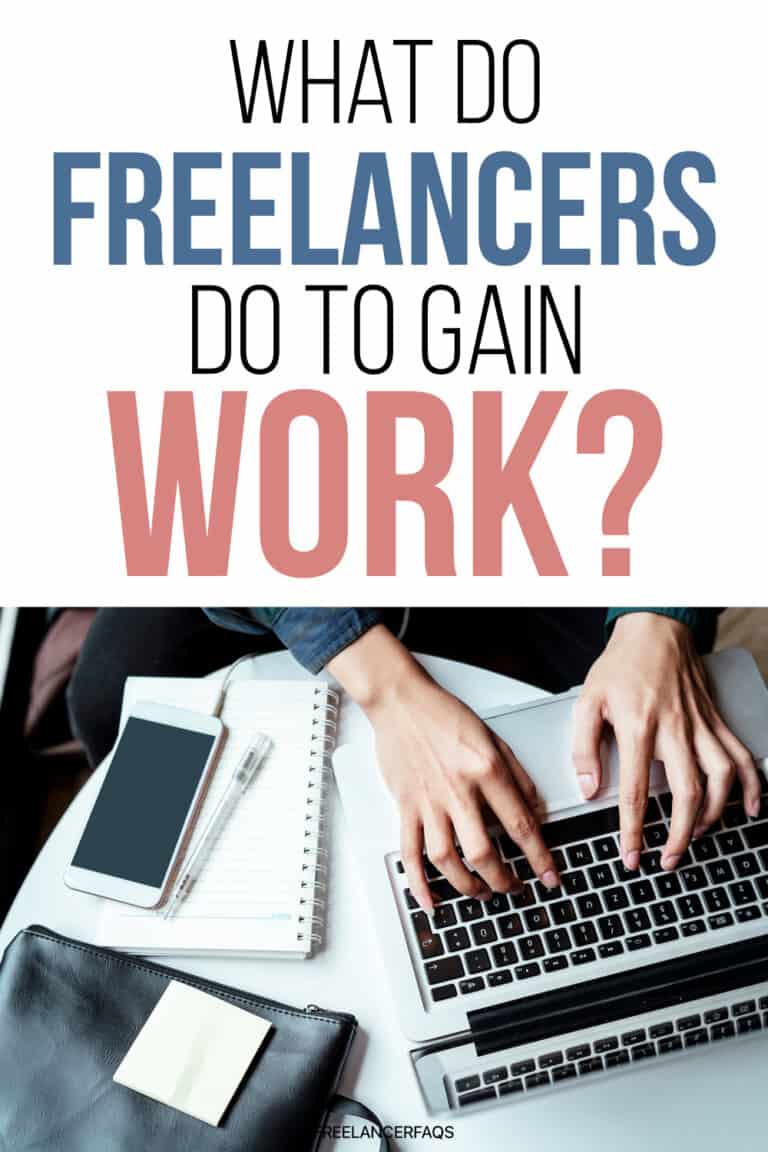 If you're here to learn how to become a freelancer online, the most important step is learning how to manage your time.
The last thing you want is to try and get a freelancing career off the ground while spinning your wheels!
By understanding how to manage your time, you can start building your business using the time you have wisely.
It's likely that you are not quitting a full-time job to start freelancing, so time management will help you build a successful freelance business on the side!
We've looked at how freelancers spend their time and those are definitely three areas you should focus on.
However, you want to make sure you are not spending too much time on less important tasks.
Track Your Time
Start by timing yourself when you are doing billable work, promoting your business, and completing business management tasks.
This will give you an idea of how much time you are spending on each.
Next, you need to prioritize your tasks.
Of course, billable work should be a priority since clients are waiting for completed projects and you want to get paid!
In order to gain work as a freelancer, you should then focus on marketing tasks but don't put all your eggs in this basket. Make sure you leave time to manage your business and keep yourself on track.
Split Up Tasks
Think about how much time you have in a week to dedicate to your freelancing services and then look at how you are spending your time.
Do you have enough time to send pitches? Write guest posts? Create invoices? Or do you find yourself panicking by the end of the week?
It also helps to split your tasks up day by day.
For instance, one day you may spend an hour working on your website and the next day spending that time writing a guest post.
I'll be honest, the time management aspect of becoming a freelancer online takes some time to perfect but as you get going you will find your groove.
FAQs on How to Gain Work as a Freelancer
1. Can You Freelance with No Experience?
If you want to do some freelancing you don't need extensive experience to start, but you should have a strong understanding of the service you are offering.
This might take time to learn a new service if you want to break out into a service you aren't familiar with.
The best way to get started is by taking on small projects or working for reduced rates in order to gain experience and build your portfolio so that you can start landing work.
2. Can You Freelance Part-Time?
Yes, you can freelance part-time!
Many freelancers start out freelancing on the side before making the switch to full-time. This is what I did as I was also a stay at home mom to twins.
The key is to manage your time wisely and make sure you are still able to complete quality work for your clients.
3. Which Work is Best for Beginner Freelancer?
There are a few different types of work that may be best for beginner freelancers, such as:
Virtual assistant
Social media manager
Article writer
Graphic designer
Ideally, you will know how to use computers and are familiar with social media and websites to excel as an online freelancer.
4. What is the Highest Paying Skill?
One of the great things about this job is that freelancers can earn a high income from a variety of skills.
Some skills, though, tend to be higher paying because they require specialized skills. These include:
Web development
App development
Graphic design
Copywriting
5. Is Freelancing Possible without a Laptop?
Yes, it is possible to freelance without a laptop but it may be more difficult.
Many freelancers use their laptops to work on projects, communicate with clients, and manage their businesses.
If you don't have a laptop, you may need to rely on a desktop computer or find other ways to access the internet and work on projects.
Becoming a Freelancer is a Matter of Time!
Getting work as a freelance is time-consuming and there will be some days when you feel like you are completely wasting your time.
But if you stay focused on these ways to gain work and manage your time, no minute will be wasted. You'll be well on your way to being a successful freelancer!
Have you already started as a freelancer? How have you gained work?
Let me know in the comments!