If you've been a freelancer for any amount of time (or at least have looked into it), I'm sure you have heard of Upwork.
Upwork is a freelancer platform where you can make a profile and search for freelance gigs. And some freelancers make bank on this platform.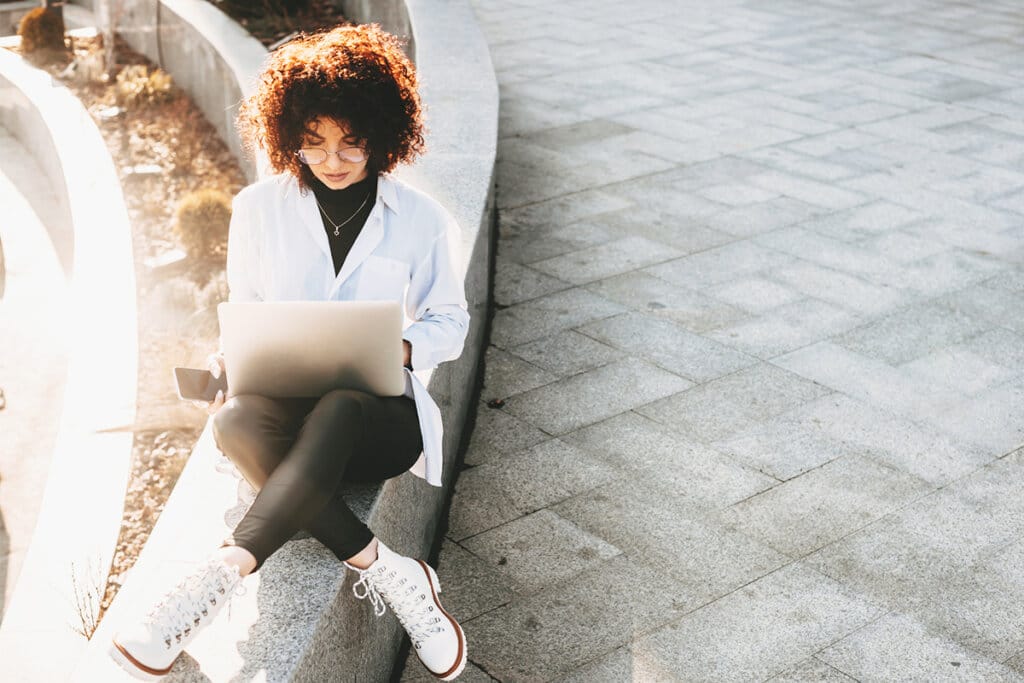 But, there are so many other sites like Upwork where freelancers can find paying gigs right now.
[T]here are so many other sites like Upwork where freelancers can find paying gigs right now.
You shouldn't just search for freelance jobs on one platform; instead create a list of freelance job sites that pay.
Most of these platforms you need to create a profile in order to apply for gigs or send pitches and proposals.
Be sure you have a system for organizing the gigs you've pitched to and what platforms you are working on. The platform you choose to work the most on will depend on your freelance services.
To help you land those awesome work from home freelance jobs here are 25 sites like Upwork where freelancers can find a wide variety of quality freelance work.
Top Sites Like Upwork
1. Fiverr
Fiverr is another very popular freelance platform for beginners where you can easily land gigs fast!
You can list gigs for literally any kind of service. From writing blog posts to video editing and everything in between.
While there are many gigs listed on there for $5, you can certainly charge more and many freelancers list multiple gigs with pricing tiers.
The more positive reviews you get, the more Fiverr will promote you and the more you can charge.
Top freelance services on this platform include, graphic design, video animation/editing, coding and website building.
2. Hubstaff Talent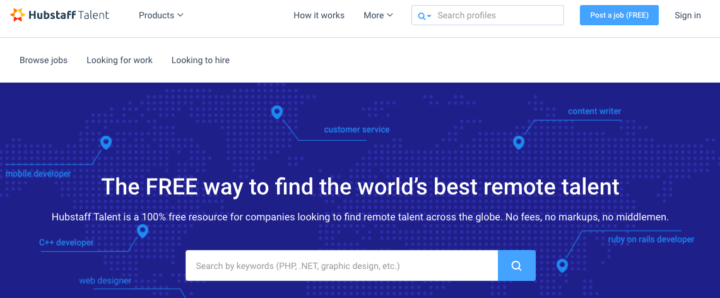 One of the things that really makes Hubstaff Talent different is that they do not charge fees like other freelancer platforms.
You also don't have to worry about spending all of your time bidding for jobs that you might not get.
Simply apply like you would a traditional job and if the company thinks you are a good fit, they will reach out to you.
Popular freelance jobs on Hubstaff Talent include social media marketing, customer support, and website developer.
3. Credo
When companies and entrepreneurs are looking to hire pre-vetted talent in 48 hours or less, they turn to Credo.
This is sites like Upwork is great for for freelancers who are experienced in digital marketing, SEO, PPC, social advertising, web design, and even content marketers.
Credo is also a great platform if you are looking to take your freelance services to the next level and start an agency.
4. Freelancer
Unlike Fiverr, freelancers can charge a bit more for their services on the Freelancer platform. With over 1800 different categories to choose from, you are sure to find gigs that fit your speciality.
From Linex to legal, there is something for everyone on Freelancer.
5. Outsourcely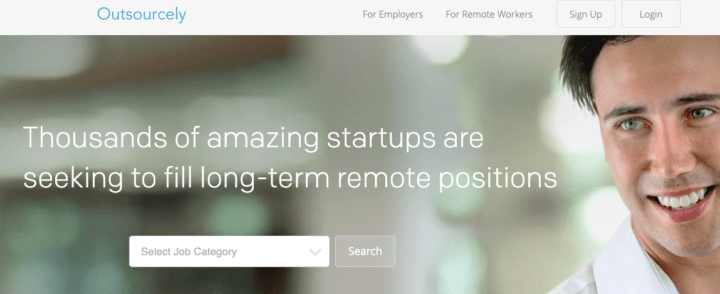 If you are sick of the one off gigs that many freelancers deal with, then Outsourcely is going to be your best friend.
This platform was born out of the frustration of unreliable freelance work and the inability to directly hire talent that other platforms lack.
Employers are able to directly and easily communicate with potential hires without the hassle of a middleman.
Popular jobs on this platform include project management, virtual assistant work, and graphic design.
6. Textbroker
Are you a content creator looking to choose from a pool of clients just waiting for your services?
Textbroker is a sites like Upwork and a great freelancer platform if you are a writer looking to make some quick cash and or build up your portfolio.
With weekly payouts as soon as your clients accept your piece, you can work as much or as little as you want.
They also offer a whole host of writing tools and resources to help you advance your writing skills.
Note: As a top freelance writer, I only recommend using Textbroker as a way to fulfill your daily income goals or weekly income goals. Focus on cold pitching and using writing jobs boards to find good paying writing jobs.
7. Workhoppers
Workhoppers is all about hiring local freelancers for flexible work options. This platform uses an AI algorithm to match candidates with client's specific needs so neither of you waste time.
From business consulting to specialized help, you are sure to find gigs to fit your speciality.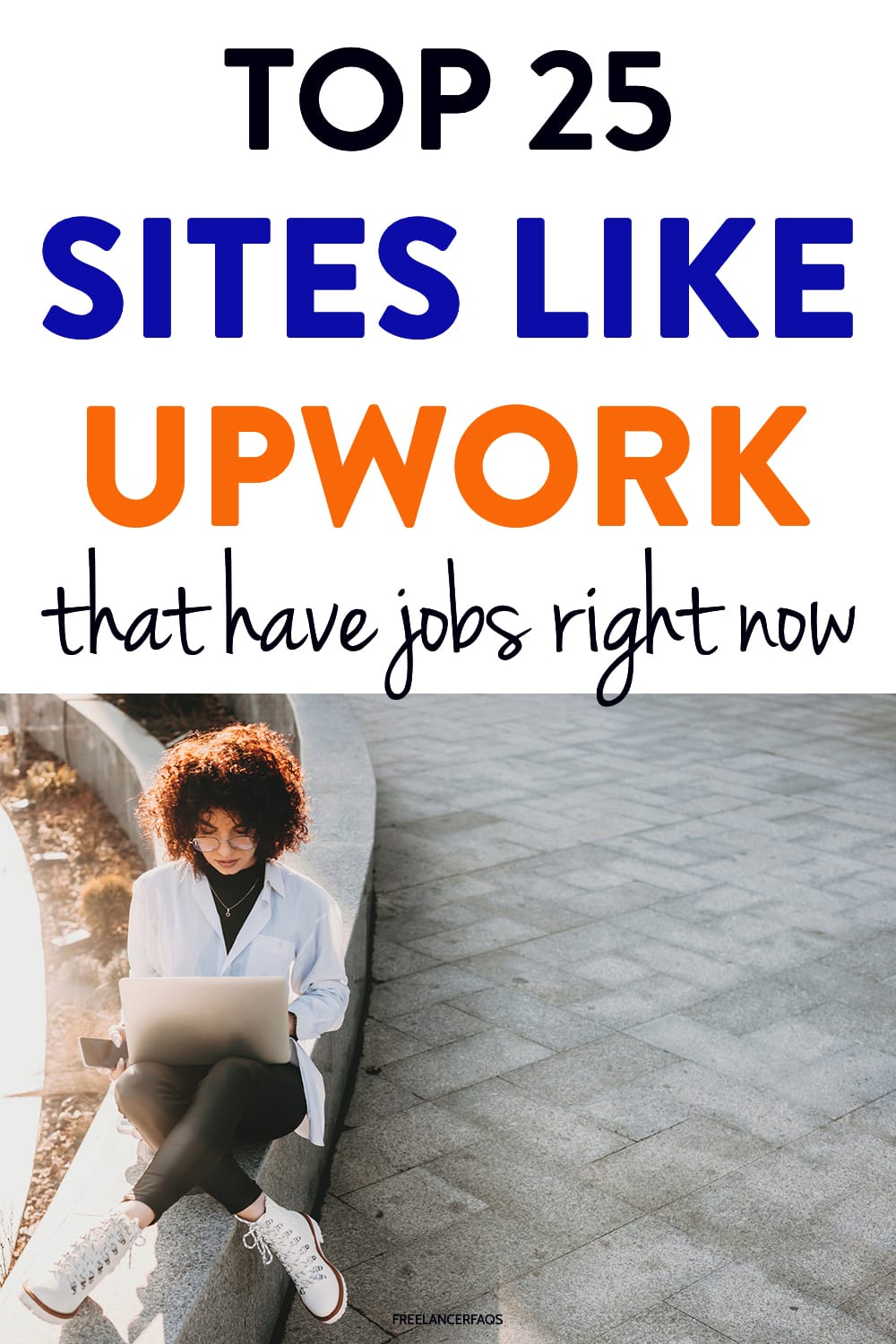 8. Freeup
As a high-quality freelancer you want to be sure that you are only applying for high-quality gigs.
This is where Freeup can help. Considered a premium marketplace, you need to apply and become accepted to become a freelancer on Freeup.
The big benefit of this? This can lead to higher rates where you never have to worry about cheapskate clients.
Some popular jobs on this platform include virtual assistant work, data entry, and online research like email or gathering leads.
9. People Per Hour
As a freelancer, you should never have to worry about short changing yourself. PeoplePerHour is all about work that suits you at a rate that you have control over.
Work on building a stellar freelance profile that puts your best foot forward for potential clients.
Tailor offers to your clients and build lasting business relationships through high-quality service.
10. FlexJobs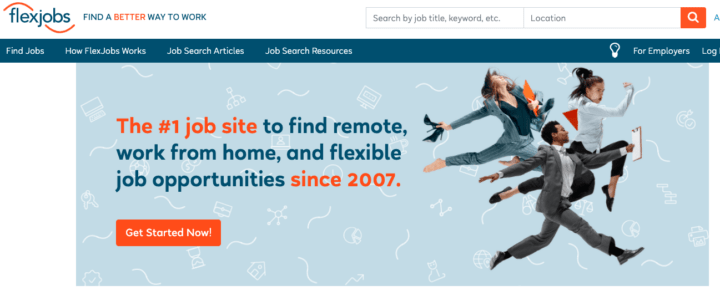 FlexJobs is a little different as it is a paid job seeker platform.
However, having said that, there are some big benefits for a small price tag. Finding legit freelance gigs can be difficult sometimes, you never know what might be a scam and applying can sometimes be a hassle with employers giving you the runaround.
FlexJobs eliminates all of this with well researched and reliable job offerings.
11. Solidgigs
You know what really sucks about being a freelancer? Spending countless hours researching gigs, applying, pitching, following up, getting turned down over and over, the list goes on.
Solidgigs solves some of this with matching jobs to your defined goals and teaching you how to create winning pitches so you don't waste your time.
12. TopTal
Short for top talent, this platform only works with the best of the best. If you are an established freelancer with a solid portfolio that is looking for higher paying gigs, then this is a great platform.
They pride themselves on only working with the top 3% of freelancers from around the world.
They have a pretty rigorous screening process, however, this means that you will be paired with a higher caliber clientele.
13. GURU
If you are a freelancer that specializes in a harder to find niche, then you just might be able to find the perfect gig on GURU.
They have a rather vast number of niches when it comes to freelance work and is a site like Uwork. So even if you are highly specialized in a certain discipline, there is a good chance that you can find something suitable here.
This was the freelance platform I used when I first started out freelancing. While I didn't land any gigs, it did help me learn all about pitching, marketing and what to do to land good quality work.
14. YouTeam
YouTeam specializes in matching companies with talent from Central, Eastern Europe, and Latin America.
They work to match software developers to appropriate projects.
Freelancers that work with YouTeam are unlike other freelancers as they tend to focus on projects through this platform rather than juggling several clients at once.
15. 99Designs
If you are a graphic designer looking for fun and rewarding freelance gigs, then 99Designs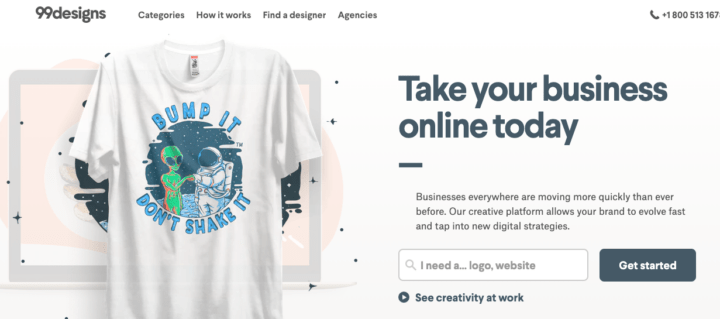 is a great place to start.
From logos, websites, and book covers, there are so many unique projects to work on. Employers can either work directly with a designer or start a contest to find the designer they like best.
16. DesignCrowd
DesignCrowd is a lot like 99Designs in that it is a crowdsourced design platform. This simply means that designers submit their work for a project and the winner is chosen (and paid).
While these types of freelance platforms are great for one off gigs and making quick cash, you can certainly offer clients continued services.
17. Twago
Twago is similar to many of the freelancer platforms out there, the biggest difference is that it caters exclusively to the European marketplace.
This is another platform that focuses on one off gigs where freelancers can find gigs quick to build their portfolios or make some extra cash.
18. Crowdspring
Companies like Amazon, Starbucks, and LG have hired vetted, freelance designers from Crowdspring. With big name clients like these, there tends to be a lot of submissions for projects, which means more competition.
19. Servicescape
Servicescape is another site like Upwork and also a great freelance platform for editors, proofreaders, writers, designers, and transcribers. You can find gigs with educational and academic institutions, which can be hard to come by on other freelance platforms.
20. Truelancer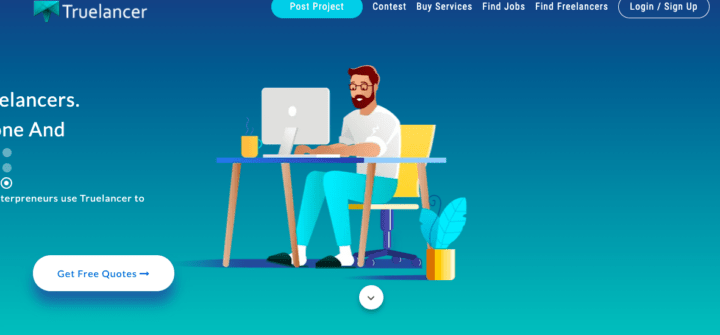 Truelancer, like other similar platforms, is great for beginners. Whether you are looking for developer gigs or content writing, you will be able to find something on Truelancer.
Simply create an account and submit a proposal for gigs that you are interested in.
21. Criagslist
I know what you might be thinking…Craigslist?
Isn't that for selling and buying things like old coaches?
Well, I share a hack with you on my Youtube channel on how to find high quality and high paying writing gigs on this platform.
Simply type this into your search bar: writer and "compensation: * per article" site:craigslist.org
While many of these gigs say $50 per article, they are often only looking for 500 words, which works out to $0.10 per word, not too bad.
22. Facebook Groups
Once you start to join Facebook groups related to freelancings and VA work, you will quickly find that there are many people looking to hire freelancers.
You can either search through posts or make a post yourself that you are looking for a certain type of work.
Using Facebook is also a great way to connect on a more personal level to potential clients.
23. LinkedIn
LinkedIn is a fantastic way to connect with other professionals and business owners. When you are searching for freelance work on this platform you can expect to find everything from content writing jobs to customer support.
Many of the positions listed on here are not one off gigs but more part-time or full-time positions.
24. Problogger Jobs
Problogger has a great mix of gigs for brand new and more experienced writers. You can find gigs for startups and more established companies.
However, Problogger can be pretty competitive, so apply fast and apply often.
25. Codeable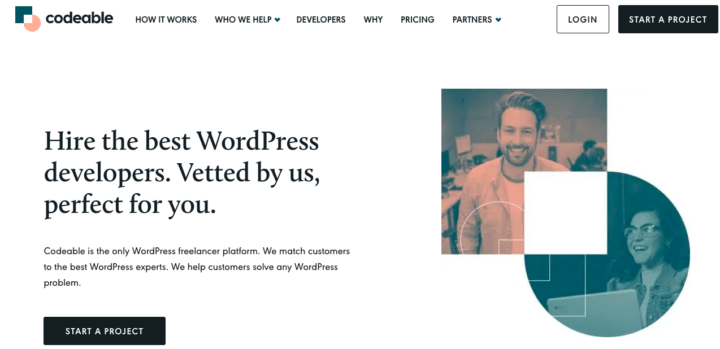 If you are a freelancer that specializes in WordPress, then you should check out Codeable. This site like Upwork is where freelancers go to help larger companies out with their project needs.
However, Codeable adheres to strict quality guidelines, so you better be able to deliver on what you promise.
Sites Like Upwork for You
Whether you are a brand new or more experienced freelancer, there are plenty of sites like Upwork to find gigs when you are looking for something right now.