As a freelancer, time is money.
So you need to be able to streamline everything in your freelance business to help you work faster, smarter, and make more money.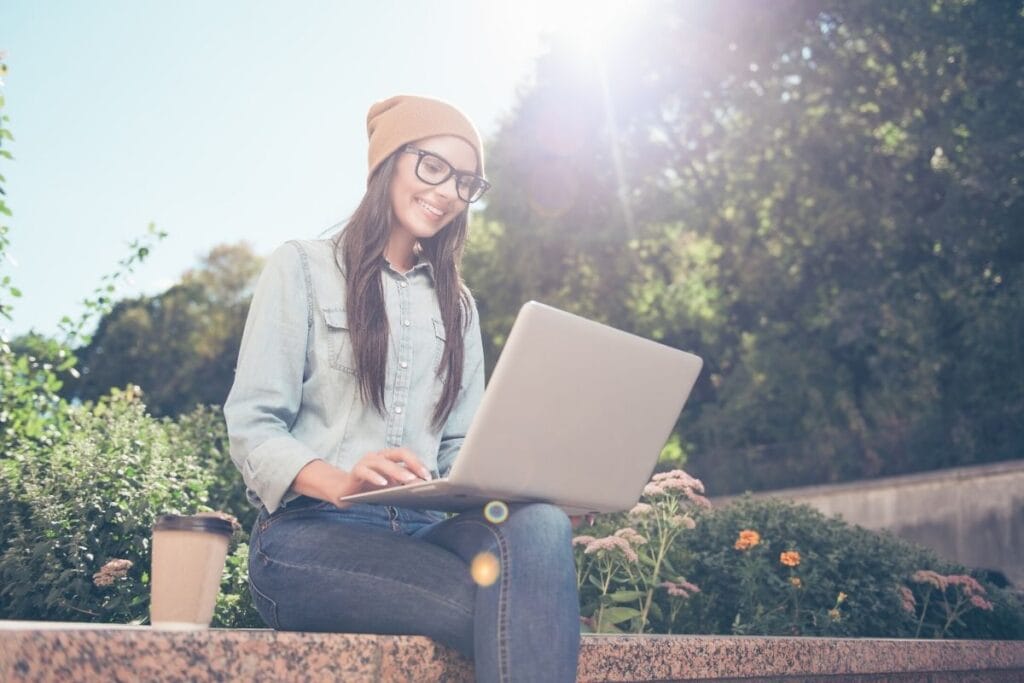 As a freelancer, time is money.
Having a freelancer invoicing app that does all the things you need it to do can help you tremendously when keeping your freelance admin processes simple and effective.
The invoicing apps will also save you time and help you manage your money better as a budding freelancer.
Here are 10 freelancer invoicing apps to help you do just that!
Freelancer Invoicing Apps
1. PayPal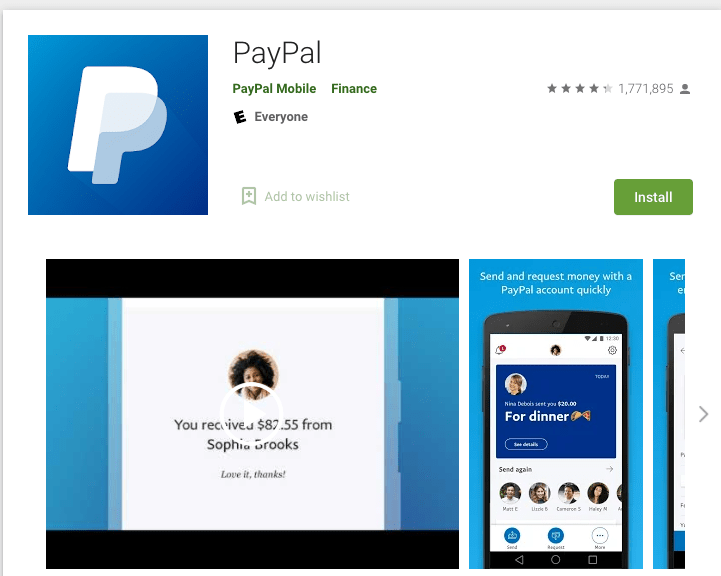 If you are working with just a handful of clients and you don't require any type of fancy freelancer invoicing software to track your time and so on, then using the PayPal app is a simple and free alternative.
The only thing you need to send an invoice for either physical or digital goods or service is an email.
The only thing you pay extra for is the normal PayPal fees of 2.9% plus $0.30 for sales within the U.S.
Now if you aren't doing a ton of invoicing, the fees are pretty nominal. However, if you are going to be doing more invoicing and PayPal fees are costing you more than $20 per month, you might like the next alternative…
What PayPal has to say:
No monthly fee for online invoicing, only pay when you get paid.
Manage your billing history, track payments, and send reminders all in one place.
Customize your invoices with your logo and custom fields to access later.
Create and send invoices from any device via email or shared link.
2. Freshbooks
Freshbooks is probably one of the most popular freelancer invoicing apps around. Their freelancer invoicing app offers just about everything you could need as a freelancer, including a pretty robust and affordable invoicing platform.
If your clients have a habit of forgetting to pay their invoices, Freshbooks has a pretty cool feature where they will automatically send reminders to your clients. You can put together an invoice in about 30 seconds and send them out to your clients right from the Freshbooks dashboard. One less step to getting paid quickly!
What Freshbooks has to say:
You can set recurring monthly invoices for clients you might have on retainer.
Look professional by customizing your invoices.
Automatically send payment reminders for unpaid invoices.
Have the ability to charge late fees.
You can test them out for 30 days without having to give any credit card information.
3. HoneyBook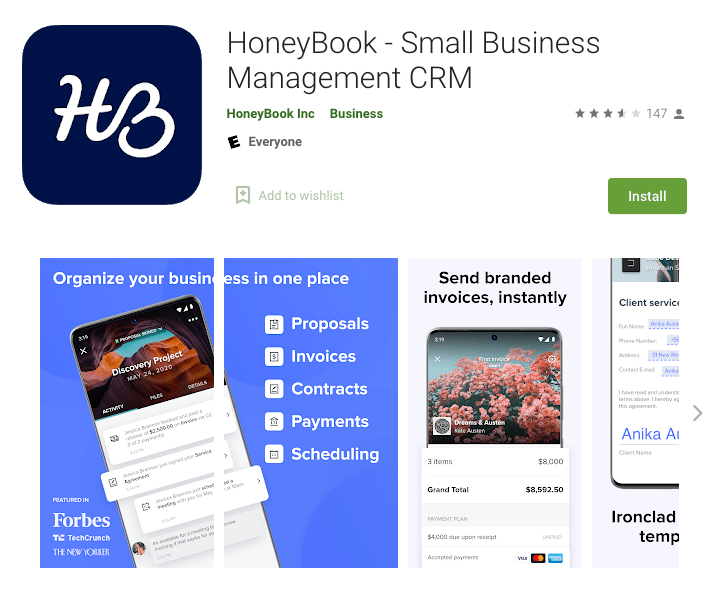 As a creative professional does the thought of freelancer invoicing apps make you feel overwhelmed? Honeybook has you covered! It was created specifically for creative professionals so that they are able to run their business, from proposal to invoicing, in a seamless manner.
Stay on top of your payments with automated notifications and alerts. You can send branded contracts, proposals, and invoices for a consistent and on point brand experience for your clients.
You can easily connect with other apps like Google Calendar and Gmail for a smarter all in one business. The dashboard offers a quick overview of everything you need to keep track of in your freelance business. Get an overview of your projects, invoices, calendar, tasks to complete, and reports.
What Honeybook as to say:
Share meeting links and get booked.
Get legit online signatures and instant notifications when clients sign.
Create custom step by step workflows.
State of the art mobile app.
4. Wave
Wave offers a ton of functionality with their free plan. You can do just as much with the free version of Wave as you can with other paid for freelancer invoicing apps. Just as with PayPal, you can create and manage an unlimited number of invoices and clients. You also have the ability to create custom invoice templates, set up recurring billing, send estimates, track payments, and get automatic payment reminders.
Amazingly enough, the free plan also comes with an accounting software to help you keep track of everything when it comes tax time.
Wave's fees are similar to that of PayPal where they collect 2.9% + $0.30 for credit card payments and 1% for bank payments. So if you enjoy using PayPal but are looking for something that is a little more robust, give Wave a try.
What Wave has to say:
Create unlimited, customizable, and professional invoices for free.
Access all customer information in one place.
Customers can pay you instantly with credit cards and bank payments.
Keep track of payments that automatically flow into the accounting records.
5. Quickbooks Self-Employed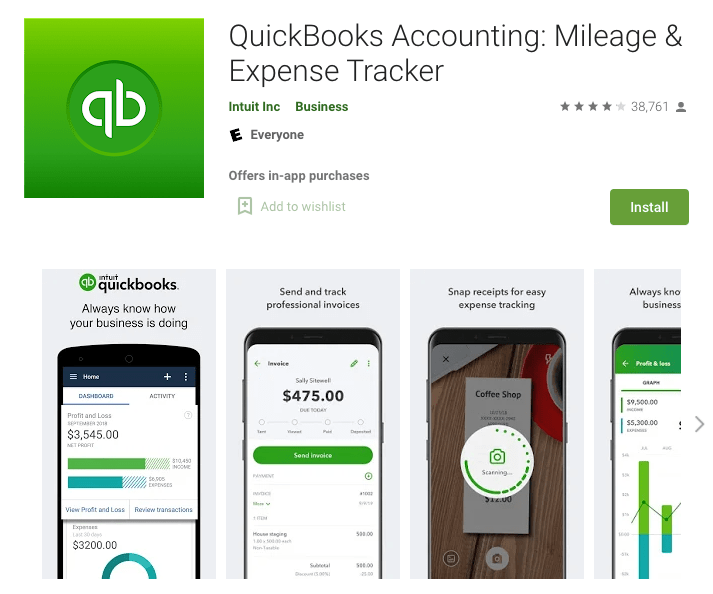 Quickbooks is another familiar freelancer invoicing app. In addition to the ability to invoice, you can track mileage and other expenses that you need to know for tax purposes.
They offer a very nice dashboard that gives you a quick overview of your income and expenses. Their self-employed tier for freelancers offers a lite version that covers the needs of most freelancers with the ability to quickly and easily file taxes.
What Quickbooks has to say:
Track income and expenses, invoice and accept payments.
Maximize your tax deductions and capture and organize receipts.
Run basic reports.
Track mileage.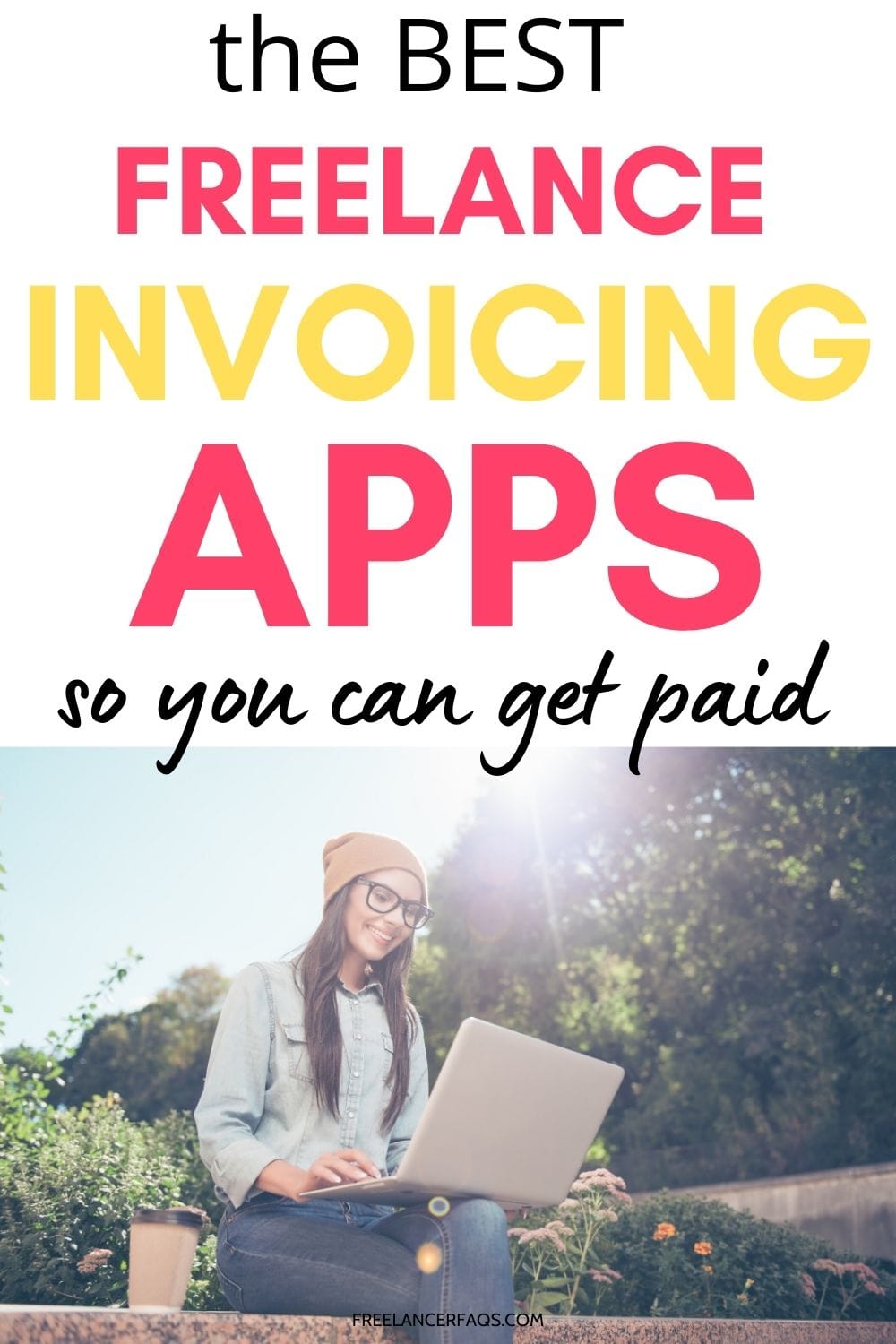 6. Invoicely
Much as its name implies, Invoicely specializes in freelancer invoicing. The free plan offers things like unlimited invoicing, billing in any currency (helpful if you work with international clients) and the ability to accept online payments through PayPal.
Just like with many other invoicing apps, you can customize your invoices for that professional look.
What Invoicely has to say:
Accept online payments through PayPal, Stripe, mollie, Authorize.net, credit cards, and wepay.
Setup invoicing for multiple businesses-great if you freelance for more than once niche or have a main business and side gig.
Create professional invoicing in any language and currency.
Completely customize the appearance and branding of invoices.
7. Bonsai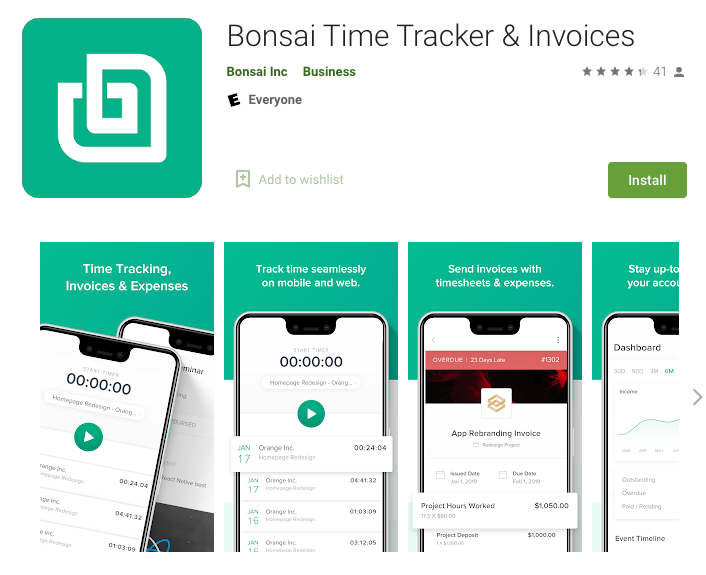 Bonsai offers a super slick interface that many freelancers appreciate. Bonsai is great for freelancers who run a simple business and don't deal with a lot of overly complicated projects. However, if your freelance gig is just a stepping stone to building a much larger business, then you will likely outgrow this freelancer invoicing app.
Bonsai's goal is to help freelancers run their business more efficiently so they can focus on actually doing work rather than running time consuming reports.
What Bonsai has to say:
Integrates and automates every step of your business, from proposal to tax season.
Close deals faster with structured proposals and clear estimates.
Seamlessly switch between projects with auto populated time sheets.
Estimate tax planning with automatic expense tracking and income reporting.
8. Invoicera
Invoicera has a great free plan if you are only managing three clients or less. So this makes it a great freelancer invoicing app for those just starting out and working on getting clients. Once you have a few clients under your belt, you can easily increase to a higher plan.
Both free and paid plans offer payment reminders, profit and loss reporting, unlimited time tracking, and 30+ payment gateways, which can be a big selling point for paying clients! The paid versions of Invoicera offers a lot more than the average freelancer needs. However, if your intention is to grow and turn your side gig into a full blown business, this is a great invoicing app to use.
What Invoicera has to say:
Wow your first clients with professional invoices from an uncomplicated software platform.
Automate invoicing, subscriptions, payments, and more.
Seamless and custom workflows and invoice approval system.
Accurately forecast finances with detailed reporting.
9. AND.CO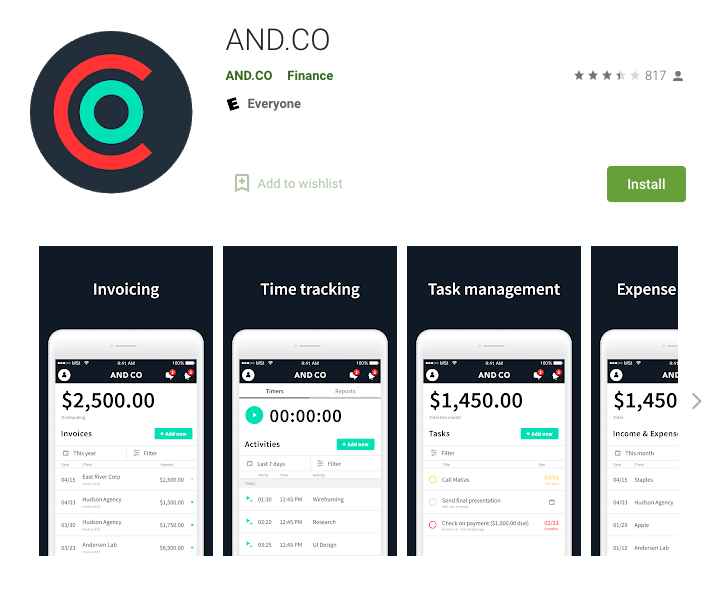 While this freelancer invoicing app is new on the scene, it's got some pretty cool smart technology to help keep freelancers on track. They even offer a catalog of standard contracts for a variety of industries that you can use for free!
One of their biggest selling points is that they not only offer great tech, you can get in touch with real life humans to help you to manage your freelance business. So much more than an invoicing app, there are a ton of really useful automations that you can set up.
For example, when you complete a project, you will be reminded to send an invoice.
What AND.CO has to say:
Create invoices automatically based on contracts and projects, all you have to do is hit send.
Alerts you when your invoices are viewed and paid.
Accept multiple forms of payments and let clients easily select which payment method best works for them.
Easily manage tasks with My Desk-focus on stuff that you need to work on right now.
10. Harvest
Harvest is more of a time tracking app than anything, however, it also includes the ability to invoice clients. If you are working as part of a team rather than on your own, this time tracking feature can be really helpful.
You have the ability to create invoices for projects that you are tracking and set up payment reminders. This can be done through either PayPal or Stripe. Harvest's free plan is great if you are only working on one or two projects at a time.
What Harvest has to say:
Focus on making your clients happy and turn your billable time into professional invoices.
Keep your projects healthy with intuitive visual reports pulled right from your timesheets.
Harvest collects raw timesheet data and turns it into a visual summary of your team's progress.
Start and stop timers as you work, track time in whatever way is easiest for you.
No matter what freelancer invoicing app or software you choose, be sure that it does what you need it to do. There are a ton of different apps out there that have a wide variety of features.
So be sure to do your research and pick one that you are comfortable with that fits all of your needs.
For more help, make sure to grab the Money for Freelance Writers ebook and use the code ELNA for 20% off!