When you become a freelancer, you learn that there are 1000 ways to market your business.
Cold email. LinkedIn. Instagram. Pinterest. All of these can help you get freelance job opportunities, but few can offer what guest blogging does.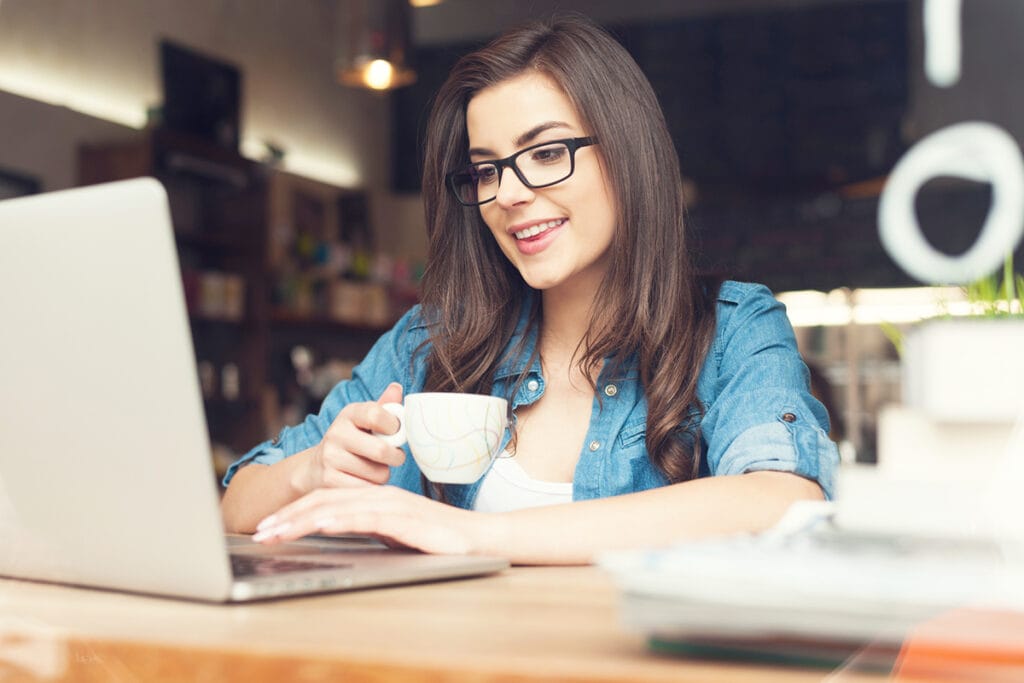 Guest blogging has the potential to bring you clients now and in the future.
In this post, we explore how to get the best job opportunities as a freelancer, why you should add guest blogging to your repertoire, and how to do it right.
Guest blogging has the potential to bring you clients now and in the future.
How to Get Job Opportunities As a Freelancer
To get consistent gigs as a freelancer you need to have complete alignment of these three things.
1. Niche
A niche is important because it helps you get better results for your clients and hone in your marketing and it makes it easier for those job opportunities.
So, what types of companies do you work with?
As a freelance copywriter, I work with SaaS businesses. This is called a vertical niche, because it's only one type of business. You could do something similar (work with doctors or real estate brokerages for example).
Or you could work with businesses of any industry that meet a certain criteria. For example, small local businesses regardless of what they do.
2. Service
The next thing you need clarity on is your core service.
You shouldn't offer more than a few services, or you risk looking like a jack of all trades, master of none.
If you're unsure which freelance skills to offer clients, start with three and test which ones you enjoy and which yield the highest rates too.
3. Expertise
Finally, you need to show off your expertise.
If you're passionate about and genuinely interested in your niche and your service, this will get a lot easier.
You can show off your expertise in many ways: building an awesome portfolio on your site, posting tips and predictions on social media, publishing thought leadership on your blog, being featured as an expert in a summit or conference, and of course guest blogging for great websites that matter in your niche.
The above factors are your foundation. With these in place, you'll be more likely to get success out of any marketing strategy you use to get freelance job opportunities.
Why Guest Blogging is a Great Way to Market Your Freelance Business
Guest blogging is a really smart way for freelancers to get clients.
Of course, if you're a freelance writer, a guest post can serve as a portfolio piece, but guest blogging is a smart strategy for freelancers offering any service, not just writing.
Here's why.
Short Term Strategy: Appear in Sites Your Target Clients Love
In the short term, guest blogging can offer you immediate job opportunities.
The owner of the website can learn about your business through your guest post and might decide to hire you. That's right.
You can pitch guest posts to ideal clients. For example, if you run Google ads for SaaS companies, you can pitch a guest post titled "How to Get More SaaS Customers with Google Ads" to a martech company.
After publishing your post, they might hire you to run your Google ads.
At the same time, readers of the blog might hire you as well.
When you write for popular sites, you have the potential to get a few leads right away.
And there's a third way you could get an immediate freelance job opportunity from a single guest post. You can share this post on social media. Let's say you have several LinkedIn connections with ideal target clients.
You share your guest post on LinkedIn and voila, two ideal clients show up in your LinkedIn inbox asking to hire you.
Long Term Strategy: Rank Your Freelance Website in Search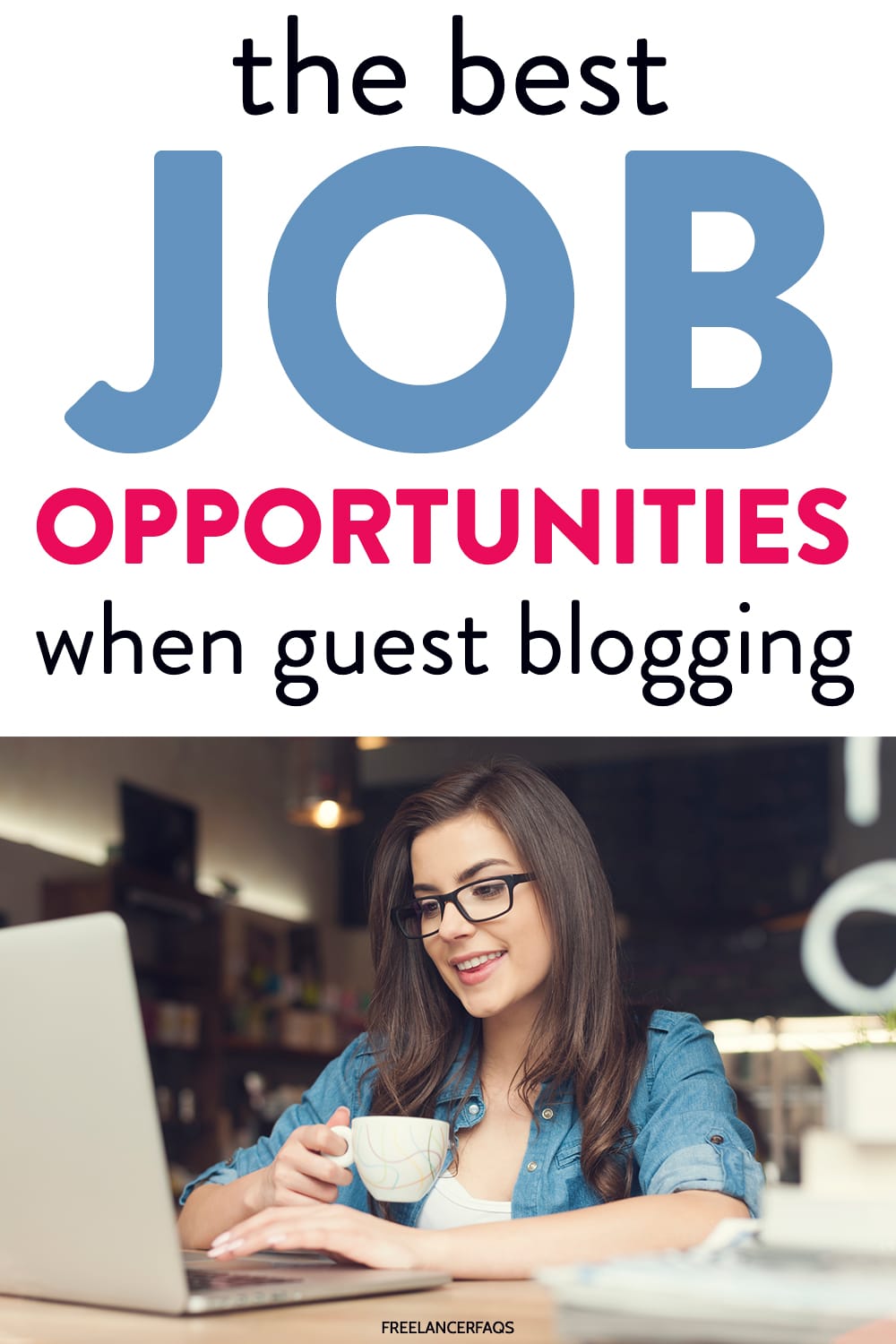 Beyond those short term wins, guest blogging offers another smart way to get freelance work.
You can collect backlinks for valuable keyphrases.
I have used this strategy many times. I ranked my website for the keyphrase SaaS copywriter by guest blogging for quality sites and using the anchor text "SaaS copywriter" either in the text of the post, or in my bio.
Here are some example keyphrases that a freelancer might want to rank for:
Ecommerce copywriter
Virtual assistant for coaches
Ads manager for course creators
Depending on the competitiveness of the keyphrase, you might need anywhere from 5 to 100 quality backlinks for that keyphrase.
While this is a long term strategy, it really does pay off when you can rank your freelance website and get clients from search traffic.
How to Get Job Opportunities from Guest Blogging
So how can you get job opportunities?
To reap the short term and long term benefits of guest blogging, make sure to follow these steps.
1. Pick the Best Guest Posting Websites
Write on websites that are relevant to what you do.
Sites that your target clients read – Consider which publications and companies your target clients look up to. If you're not sure, ask them. To begin, make a list of 10 – 30 relevant guest posting websites and pitch a unique idea to each one. If they don't respond after a month (and a follow-up email), you can recycle the pitch idea for another site.
Sites that other freelancers in your industry read – When you guest blog for sites that other freelancers love, you can build relationships with these freelancers. You might get approached for a co-marketing opportunity, like a summit or online conference, or you might drive referrals from these freelancers.
2. Pitch Topics that Show Off Your Expertise
Only pitch topics that can help you get freelance work.
For example, if you offer email marketing management for coaches and consultants, don't write a post about Instagram marketing, even if you are great at Instagram too.
Make sure that your service shines front and center in your guest posts. This makes it more likely that you will get clients in the short term, plus it allows you to add the backlink to your website in a more natural way.
3. Write the Post and Include a Backlink to Your Website
When you write the guest post, write it with as much care as you would if writing for your own site.
That way, the post reflects highly on you.
Also, be strategic about how you link to your website.
For example, if you want to rank for "ecommerce ads manager," then that should be linked anchor text in your guest post, instead of linking from yourname.com.
4. Share the Guest Blog on Social Media
Once your post has been published, share it with your audience. This will establish you as a thought leader and an authority in your niche.
For best results, share the post multiple times, with a few different angles. For example, if you share it three times on LinkedIn, add a different tip from your guest blog in each LinkedIn post.
5. Share the Blog with Your Email Newsletter and Work it Into Your Email Nurture Sequence
And finally, you'll want to maximize the reach of your guest blog by sharing it with your email newsletter the week of publication.
Because your guest post should be highly relevant to your service, it can also be added to an email nurture sequence you have.
For example, if you have a freebie that potential clients can download, you can add a link to your guest post in the second or third email in your automated sequence.
Use all of these tips and you'll get amazing job opportunities now and in the future.