You have your website completed, your portfolio is polished and clean, and you're now ready to tell the world about what it is you do and the services you offer!
[W]hat social media sites are best for marketing as a freelancer?
Coming up with a digital marketing strategy can feel overwhelming when thinking about the number of social media channels available to help you spread the word.
Not to mention the fact that social media is ever evolving and always changing, from the rollout of new platforms to the rollout of new features on the social media sites on which you are already active. It can be tough to keep up!
It may be a good idea to focus on just a handful of social media sites and digital platforms in the beginning.
But, what social media sites are best for marketing as a freelancer?
If you look online, you will find a wealth of information pointing freelancers to Twitter, Facebook, and LinkedIn as some of the best ways to obtain leads for your business.
But, what about Instagram? Is there a good way for marketing on Instagram to work for you?
Why Marketing on Instagram to Land Work Is Legit
As a freelancer, you may be wondering if adding Instagram to your marketing strategy is worth it.
The short answer is YES, and there is one primary yet straightforward reason that makes incorporating Instagram into your strategy no-brainer: there are over ONE BILLION active monthly users on Instagram.
That means your business has the opportunity to reach hundreds, thousands, millions, and even billions of people!
And the cherry on top: last year, the social media platform rolled out a few new features, including Instagram Checkout, taking it instantly from just a photo-sharing site to an e-commerce site.
However, being that you're not a retail store, you might be wondering how to leverage Instagram's features for your freelance services beyond the posts of inspirational quotes and photos of laptops and pens!
1. Instagram Live
Let's start with Instagram Live, a standard feature that now lets you stream for up to four hours.
Live streaming is one of the best ways to engage with audiences because it allows you to respond in real-time, creating a more personal experience.
The extended time limit allows for longer periods of engagement and the opportunity to connect with your audience in a personable manner. And Instagram rolls that as an IGTV after your Live is done.
Here's an example of Courtney Chaal's Instagram Lives: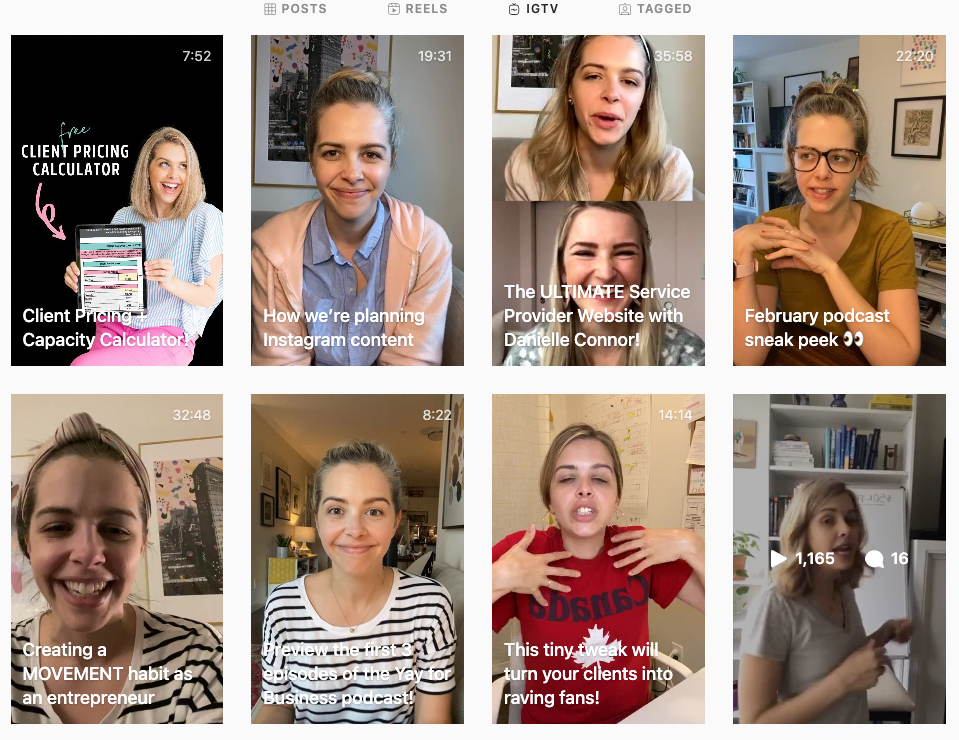 Here are three easy ways a freelancer can incorporate live streaming to land clients:
Hold a live Q&A session to answer questions that your audience may have: Some topics that you can cover include Services Offered, Pricing, and even Process. You might also consider adding educational content related to your field. A freelance writer, for example, may cover topics like "How to Start a Blog for Business" or "How to Write a Business E-Book." Covering educational content adds value, which will prove that you are an expert in your field. You can also use live streaming to teach an original course.
Take your audience behind the scenes for a view of a typical day for you: Live stream to take your audience behind the scenes and give them insight into what a typical day into your life as a freelancer. Consider showing them things like your office space or where you get your inspiration for upcoming projects. You could even allow them to sit in on a brainstorming session or an interview with a potential client. Be authentic, and show them what challenges you face and how you plan to overcome them.
Inform your followers about upcoming launches, products, or services: Be personable when communicating what you have to offer. Go live to inform your target audience about the specific services you offer and go into detail defining what the services include. If you're a freelance writer, be sure to let them know what your niches are. Informing or teasing your audience about any new services you provide, products you plan to offer, or where they can find your next feature is also a great strategy.
2. Instagram Stories
Instagram Stories is a feature that allows you to tap into your creativity. The feature, modeled initially after Snapchat, was introduced in 2016 and is still popular today.
Instagram Stories allows users to post anything from photos and short videos to text.
It is easy to be creative with your posts by using additional functionalities, such as hashtags, polls, emoji stickers, and more, while at the same time encouraging user engagement and interaction.
The content posted on Instagram Stories stands out because it appears at the top of the page and quickly grabs your follower's attention before they get lost in their noisy newsfeed.
As an example, freelancer and author Catherine Alford shares a lot of the BTS of her life and projects as well as motivational stories to help other moms or freelancers be successful.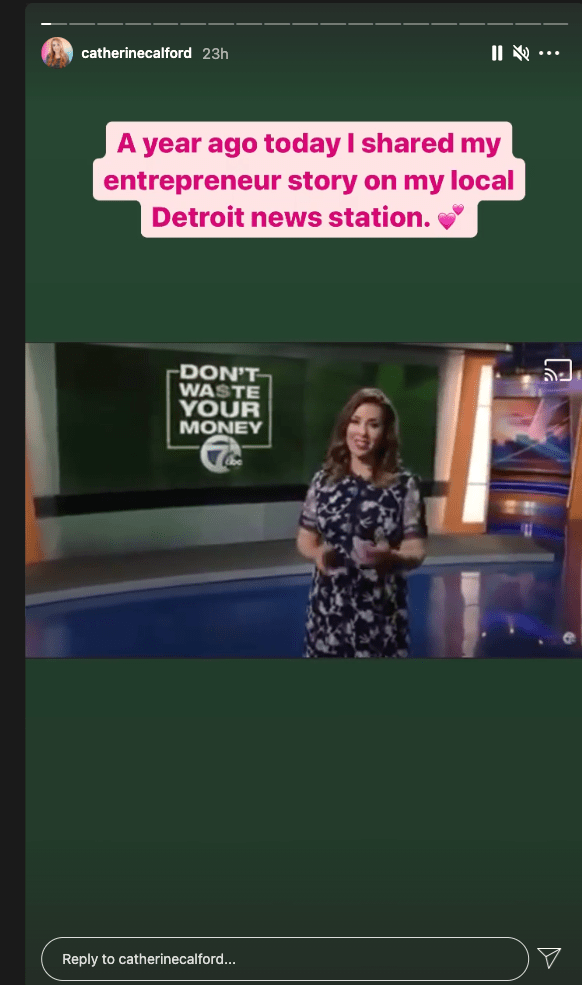 Here Are Six Ways a Freelancer Can Use Instagram Stories to Land Work and Encourage Engagement:
Tease your next blog post, product, or feature.
Create a video informing your audience about your services
Post text informing your audience about your services or even a promotional offer.
If you have more than 10,000 followers, you can take advantage of the "Swipe-up" feature in Stories that will lead users to any external link you'd like. You can lead them directly to your website to take advantage of any offers, purchase any product, sign up for your email newsletter and more.
Show behind-the-scenes clips of you working. You could also show short clips of your process to the final version of a product.
Use the polling feature to help you brainstorm ideas for your next blog or live session. Find out what your followers want to hear you talk or write about. Receiving your audience's opinion encourages engagement and will help you create meaningful content. You could also use the polling feature to get advice from your followers. For example, if you are a graphic artist working on a logo, you can post different versions to obtain your audience's opinion.
3. Instagram Checkout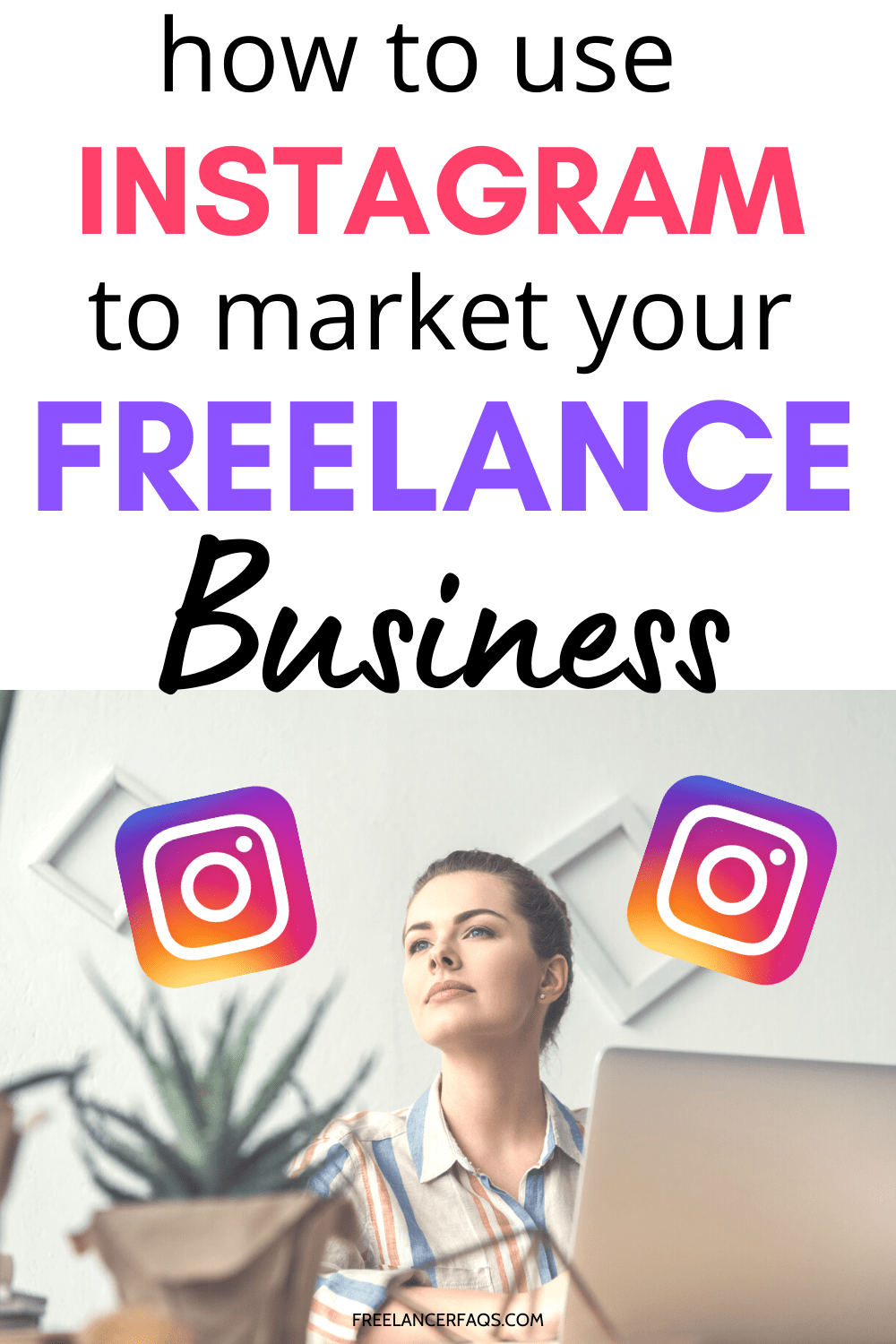 Instagram Checkout is a new feature that allows users to purchase items directly through posts.
A shoppable post will show small, clickable product tags next to a featured product. When a consumer taps on the tag, it will take them directly to a checkout page.
One of the best things about this feature is that it creates a seamless experience for the user without leaving the app.
As a freelancer, you can set up a product catalog and use Instagram Checkout to sell your latest product. For example, an author may choose to sell a book.
4. Microblog
Gone are the days when users posted only one-sentence. With Instagram's 2,000-plus word limit, you will find more extended captions all over the platform.
Many brands microblog to tell their stories. It's a very convenient and ideal way to get your content in front of your ideal audience, especially if you cannot find the time to start a traditional blog.
It's also a great way to lead users back to your website or traditional blog if you have one.
Longform posts give users a chance to engage with your content longer and leave comments, ultimately building trust with potential clients. Ideas for freelancers to microblog about:
You can tell your story about your journey as a freelancer. Talk about where you started and how far you've come.
Remember to take time to look through the comments as a proactive way to engage with your audience.
You can also post long-form content that adds value for your ideal clients.
Cover topics that provide solutions to your audience's pain points and problems. For example, if you are a writer who helps other freelance writers, you can give tips to help them land their next client.
Or, if they aspire to be an author, you can provide them with advice on how to start the novel they've been procrastinating to write. The sky is the limit, but one thing is sure—valuable content is key to attracting your target audience.
5. Be Authentic
Finally, be authentic.
While this is not a physical feature of Instagram, authenticity is trending on the platform. Everywhere you look you will see photos and videos of people being raw and honest about everything, from their weight-loss journeys to life as an entrepreneur.
If you look at your newsfeed, you will see a lot fewer filters and more raw images. Authenticity has helped humanize many brands, which in return has built trust and has made them more relatable.
One way to incorporate authenticity is by posting when you feel inspired instead of posting just to put something out there. Another way is by being realistic about some of the struggles you've encountered while starting your freelance business.
You consider showing how many drafts it took before you reached a perfect piece. No matter what you choose to share, the key is to be real, be honest, be relatable, and just be you.