Veteran freelancers know how important it is to have a business-only bank account. One that's easy to use and makes keeping financial records simple.
Having good financial records makes tax time much more tolerable.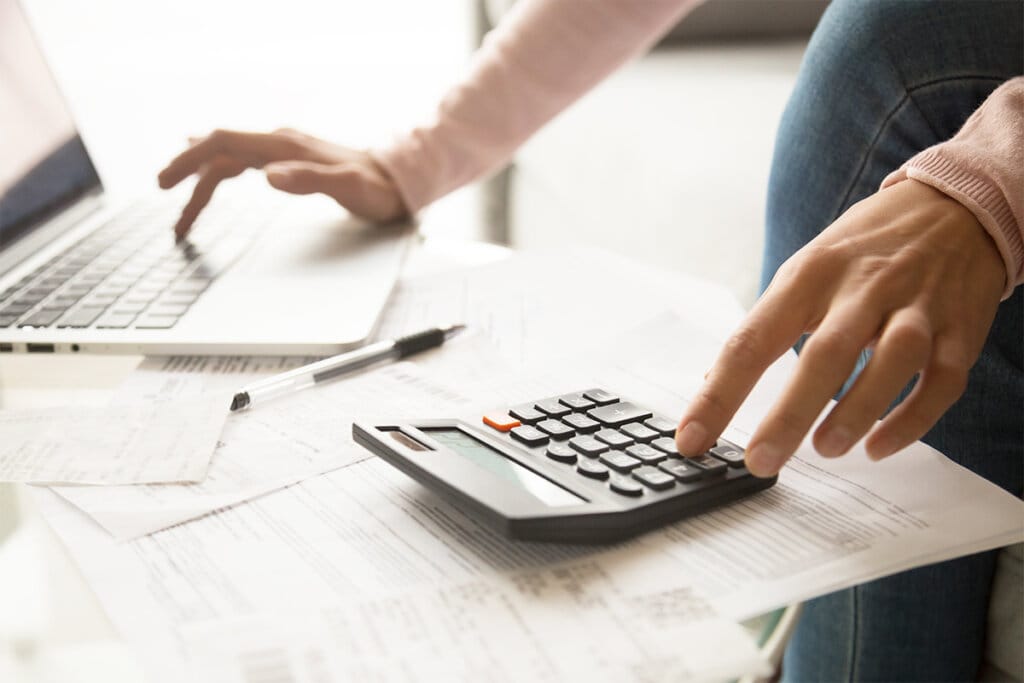 But how do you find the right kind of financial service for your freelancing business?
The problem with traditional banks is that they mostly serve businesses with high revenue and a much larger capital than what the average freelancer has.
If you're just starting your business, you'll want something online that's free or has low service fees.
Thankfully, there are a lot more choices in financial services for freelancers than there were a few years ago!
And it's all thanks to the ever-growing freelance and gig economy.
Do I Need a Business Bank Account?
Note: Limited Liability Companies (LLCs) are required to separate business and personal finances because the business is considered a legal entity separate from the owner.
As a sole proprietor in the US, you are not legally required to separate your transactions or maintain a business bank account.
However, I highly recommended you consider opening a separate checking and savings account specifically for business transactions.
The reason for this is so you keep your business bookkeeping clean, meaning there are no personal transactions on your ledger. You'll be thankful for this when it comes time to estimate and pay quarterly taxes, and reconcile annual taxes.
While sole proprietors can legally use a regular personal checking account, using a business account allows for more payment and deposit flexibility. This flexibility helps make your business run smoother and leaves room for growth.
Why freelancers should consider a business checking account
As a new freelancer, you may shy away from opening a business account because most banks charge high fees and deposit minimums.
However, there are many free or low-fee business bank accounts available online for new freelancers!
Here are some points think about when deciding on opening a business account:
Flexibility – a regular checking account limits your ability to do business as a freelancer (and your business won't be able to grow in the way a business should). You can write checks in your business name, accept credit card payments, make wire transfers, and create/send invoices in your business logo/name.
Legitimacy – opening a business account is one of the first steps to legitimizing your business. It allows you to do "business" as a business.
Build a brand – with a business bank account, you get full banking privileges under your business name.You get to build a business banking relationship with clients and vendors, and open the opportunity to build a commercial credit score.
Accept multiple forms of payment – Your clients may pay you in a variety of ways: PayPal, Stripe or Square; online money transfer service like Payoneer or Transferwise; ACH bank transfers, paper checks, credit cards, or electronic funds transfer. A regular checking account won't let you accept most of these types of payments.
How to Choose the Right Bank Account for My Freelance Business?
As a freelancer, your time is valuable – and so is your money!
There are plenty of financial services and banks now offering low and no-fee business checking/savings accounts, so you're bound to find one that fits your needs.
When shopping around, look for these banking features:
Free to open, or low minimum deposit to open an account
No monthly fee
No minimum balance requirements
Free ACH transfers
Free ATM use
Free Checks
Free savings account
Unlimited transactions (checking)
Mobile app available
Accounting, bookkeeping, invoicing and payroll integration (Freshbooks, QuickBooks, etc.)
What Kind of Bank Should I Use for My Freelance Business?
When it comes to banking options, you don't have to use a traditional bank to house your money.
There are multiple financial service options you can use; some options aren't even considered banks.
Here are some of the different types of banking and financial services available today:
Online-only banks: Online-only banks like Ally, Bank5 Connect, and Axos (formerly BoFi) are licensed, FDIC-insured banks with no physical branches. Online banks have less overhead so they can offer low fees, higher interest rates and better benefits to freelancers looking to open a business checking account.
Online payment platforms: These are not banks, but financial platforms that can be used to receive/accept payments, pay bills, send invoices, and store money. Services like PayPal, Due, and Stripe are popular examples of payment platforms. Freelancers often use these apps together with a business bank account.
Neobanks: These are digital-only (or mobile-only) financial services that offer checking, savings and debit cards with little to no fees. Neobanks are not federally licensed banks, so they partner with licensed banks to offer customers FDIC insurance. Freelancers can get the best business accounts through a neobank because they typically let you bank anywhere without any fees. Novo, Chime and Stash are good examples of a neobank.
Challenger Banks: Challenger banks are most similar to neobanks (sometimes they are called the same thing). However, challenger banks may also have a physical location and offer unique online banking services similar to traditional banks. Revolut, Metro, and NorthOne are examples of challenger banks.
Credit Unions: Local credit unions typically offer banking services for small and medium-sized businesses. Access may be limited to a physical location and membership requirements but some local credit unions like to support small businesses – including freelancers.
Large regional, national, or multinational banks: Think Bank of America, Chase, and Citibank. These FDIC-insured and licensed banks have physical addresses but offer online services. However, they don't typically offer affordable business accounts for solo business owners and may have limited access based on your physical location. There are exceptions though: Chase and US Bank both have affordable online business accounts that cater to the solo business owner.
Fees will vary depending on the type of bank and the structure of your business. For example, online-only banks typically offer free business checking for businesses with low to moderate account activity, while physical banks tend to charge higher fees and require high minimum balances.
Freelancer tip: When looking for a bank that fits your needs, don't dismiss inquiring with your local community bank or credit union about opening a small business account.
They may offer unique features, discounts and services for someone doing business within the community.
Best Banks for Freelancers
To get your research started, I've created a list of banks and financial services that have low-fee or no-fee business accounts.
Best Online/Digital-Only Business Financial Acounts for Freelancers
PayPal Business: Although it's not a bank, PayPal Business is a financial platform robust enough to use like a business checking account. A PayPal business account lets you operate under your company name, accept payments and store money. You can also create invoices and quickly pay merchants and other business expenses straight from the account. However, there is no savings account. Most freelancers use a PayPal business account along with a business bank account.
Novo: Novo is a neobank partnered with Middlesex Federal Savings, so your money is FDIC insured. Novo caters directly to freelancers and small business owners providing business banking services online. It's only $50 to open an account, and there are generally no other fees. There are multiple tool integrations with bookkeeping and accounting apps like Xero, QuickBooks, Stripe and more.
BlueVine: If you already have a business tax ID and good personal credit score, consider BlueVine, which is a neobank partnered with Bancorp Bank to offer FDIC insurance. BlueVine has no minimum deposit or service fees and offers checking with interest. Applying online is easy if you meet the requirements.
Revolut Business: The newest (and probably the most unique) financial service on this list is Revolut for Business. As a challenger bank, it is offered in many different countries. In the US, it is partnered with Metropolitan Commercial Bank. If you do business overseas with multiple currencies, Revolut offers the lowest transfer fees. It could be a good add-on app with your regular business account.
NorthOne: NorthOne Business Banking is a challenger bank partnered with Radius Bank to offer FDIC insured accounts. While NorthOne charges a $10 monthly fee, you get an impressive amount of business banking services, including things like sub accounts (handy to save money for taxes or payroll), and low wire fees. It's also easy and cheap to open an account.
Lili: Lili is a neobank that offers FDIC insured deposit accounts to freelancers and is partnered with Choice Financial. A Lili account is free to open and requires no minimum balance. Best part is that there are no account fees (unless you use an out-of-network ATM) and you get a free Visa debit card. The downside is you don't get paper checks with your account.
Mercury: Mercury offers banking services for startups like your business. Unlike some of the other financial services on this list, a Mercury account comes with a checking AND savings account, debit cards, the ability to send check payments, and domestic and international wire transfers. You also get innovative tools and features that can help you scale up your business.
Brex Cash Management: Brex is the unique financial service on this list. It's not a bank, it's a cash management platform. With Brex, your cash is invested into money market funds and is covered under SPIC (Securities Investor Protection Corporation) – uninvested cash is FDIC insured with a partner bank. There are no fees to have a Brex Cash Management account, and you can use your money like you would a regular bank account. The upside to Brex is that, as a customer, you can sign up for a Brex Corporate Card to build business credit, but you'll need a business tax number (EIN) before applying.
Best National Banks Offering Business Accounts to Small Businesses
US Bank: US Bank has more than 3,000 physical branches and 5,000 ATMs throughout the Midwest and West Coast. But it offers business checking and savings accounts that you can sign up for and use online. Freelancers can benefit from their no-fee checking as long as you have less than 125 transactions per month.
Chase Business: Chase has low-fee affordable business accounts if you maintain a minimum daily balance and stay under a certain amount of transactions per month. Access to open an account may be limited to physical location.
Navy Federal Credit Union Business: If you are part of the US armed forces, the DoD, a veteran or a family member, you may be able to take advantage of NFCU's affordable small business checking and savings accounts.
Keeping Things Simple When Figuring Out What Bank to Use as a Freelancer
The best bank account for your freelance business is one that makes it easy for you to track and manage your money. Whether you choose a regular bank, a neobank, or other type of financial service, make sure it has all the features you need to manage and grow your business.
Your turn!
The online banking and financial tech world is constantly changing. With all the banking options available today, how are you going to set up your business bank accounts?