Are you pitching like mad and seeing no success? You don't get it, because you check the job boards constantly, hustle day and night and want to get paid for your writing.
As a new freelance writer, you may think all you need to "make it" are good writing skills and a knack for researching any topic, but you're missing one important part to making a living from writing.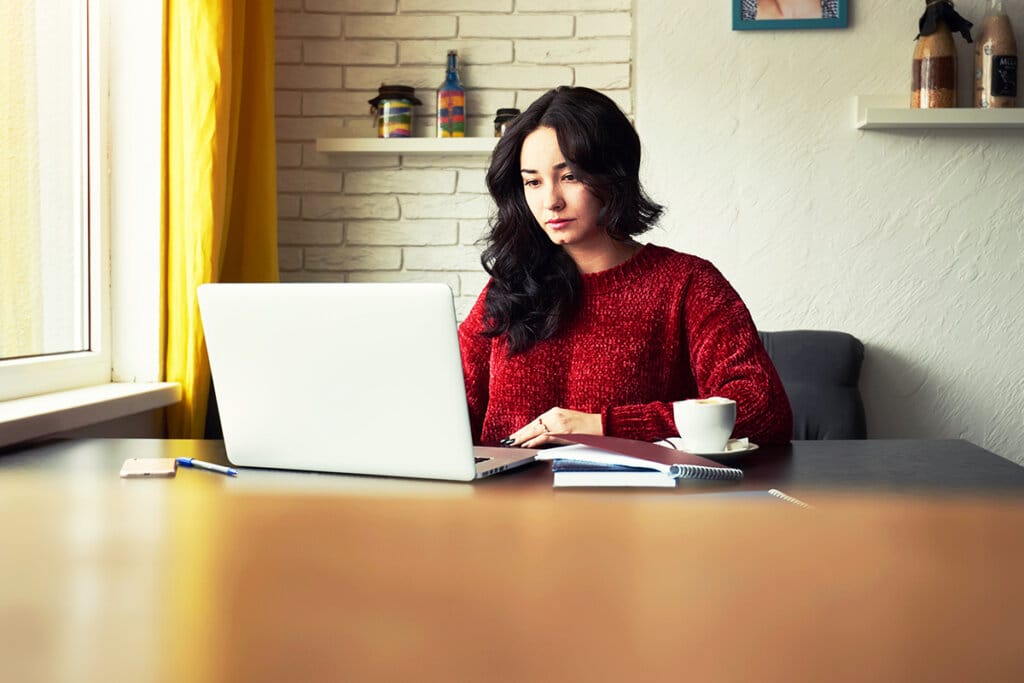 A new freelance writer thinks all they need to "make it" are good writing skills
It's being a good marketer.
Successful freelance writers are just good at promotion.
Whether it's using keywords on their writer website to rank #1 or knowing the right time to schedule their social media post for maximum exposure, the writers who are killing it just know what to do.
Whatever the case may be, if you want clients coming to you, then you have to be a good marketer. Let's look at five ways you can easily market your services and be on your way to landing more clients and making more money.
1. Advertise You're For Hire
This might seem like a no brainer, but many new freelance writers forget to mention they are "for hire." Their author bio or social media profile simply states, "freelance writer."
How will a prospect know you're open for business or if you want to take on another writing gig? You shouldn't let others assume you're needing work when you don't clearly state that.
When I started using the term "for hire" in my social media profiles, I suddenly had clients coming to me. For example, one freelance writer referred me to a client after she read that I was a freelance writer for hire.

I was able to land that gig and a few more simply by advertising.
2. Maximize Your Author Bio
I've mentioned before your author bio is a hot piece of real estate that should not go unnoticed.
If you're smart enough to write for free, then your author bio will do the work for you and land you paid writing gigs.
You should be linking to your writer website or, if you don't have one yet, your portfolio. The goal of your author bio is to entice a prospect to click on your link and learn more about you.
Your bio should also clearly state the type of writing you want to get paid for and the type of clients you want to work with. This alleviates a lot of irrelevant queries that come your way. For example, my bio states I provide blog writing, ghostwriting and copywriting for B2B and B2C companies.
When a prospect can quickly assess your bio, there's a greater chance they will contact you if you fit their bill.
3. Sign Up For Twitter and LinkedIn
There's no need to sign up for every social media platform there is out there. I've found Twitter and LinkedIn to be the most promising for landing gigs.
Twitter is one of the best places to network with others in your industry, other freelance writers and influencers. Follow them, share their posts and engage on Twitter.
The more you're promoting your content and others, the higher likelihood a prospect will find your tweets and message you. It's happened to me twice and has generated my business thousands of dollars.
LinkedIn is also a goldmine for client work. It's the place professionals are at and most likely where your prospects hang out.
The one thing I found useful for marketing my services is to publish content on the Pulse. It's sort of like guest posting, but you automatically are approved!
Freelance writer Francesca Nicasio, landed gigs from publishing a post on LinkedIn. Actually, her post was featured, which resulted in thousands of views and inquires for her writing services.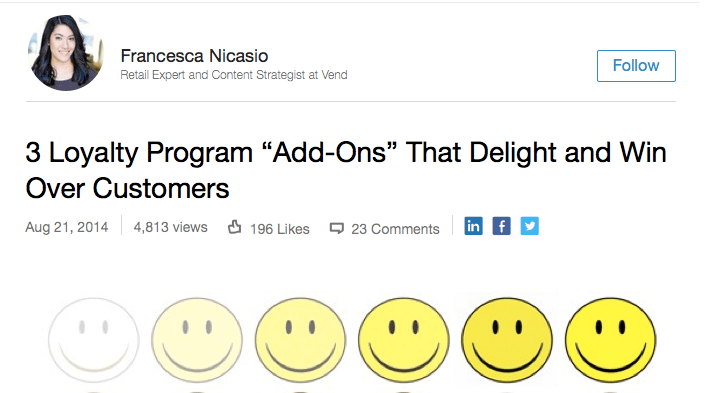 4. Start a Blog
Yes, I've said it:
A good way to market your services and land multiple gigs is to have a blog. While it's not a requirement to have one if you're a freelance writer, if you want to be successful and land profitable gigs, I suggest you start blogging.
It really doesn't matter what you blog about, just as long as you know how to write for an online audience. Prospects want to see you can write engaging content with headlines that pique readers' interest and are formatted for ease of reading.
You might think prospects don't have the time to check out your blog. But, you might be surprised. A client of mine told me this:

And here's another client of mine leaving a comment on one of my blog posts: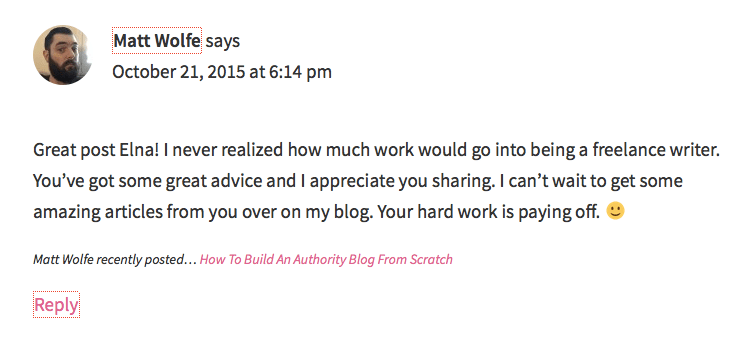 So, it goes to show that if you keep up with your blog (i.e. write consistently), provide high-value content (in any niche), have some engagement (commenters and social shares), then don't be surprised if prospects check out what's happening on your blog.
5. Engage in Blogger Outreach
It's important as a new freelance writer, to be present online. You don't have to be on social media 24/7 or line up 10 guest posts a month; you just have to get around online.
This is called blogger outreach. It's not only a great way to promote your services, but it's also great for networking with influencers and bringing traffic back to your site.
The best way to approach blogger outreach is to start commenting on popular blogs and blogs you enjoy reading. For me that's, Quick Sprout, Successful Blogging, BoostBlogTraffic, Blogging Wizard and AdrienneSmith.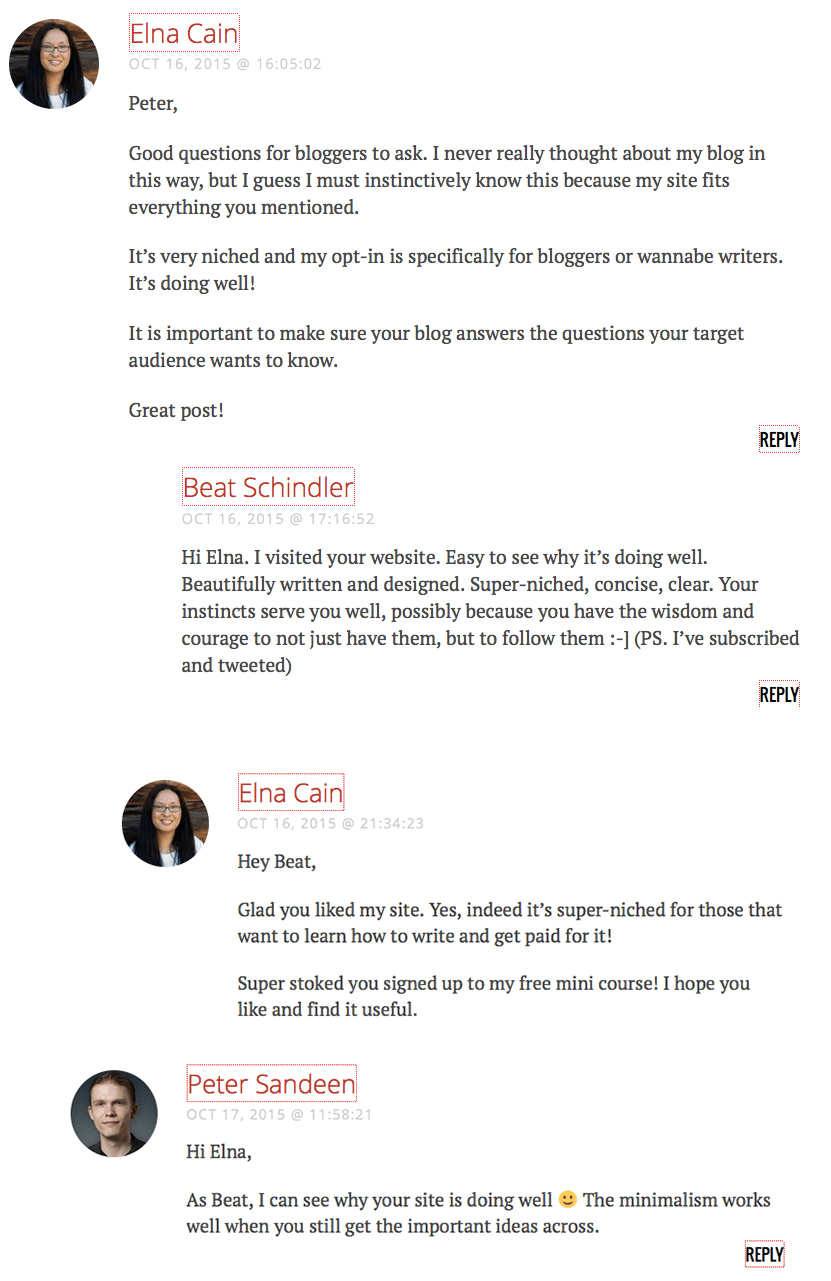 Other ways to get out there is to share other bloggers' content on social media or in your newsletters. Your marketing goal should be to try and get in front of as many influencers and prospects out there. And an easy way that doesn't take a lot out of your schedule is through blog commenting and sharing. Try it out!
Give Your Business the Attention it Deserves
If you don't want freelance writing to turn into a hobby where you write a couple pieces a month and make enough money to pay your heating, then you need to start marketing your services.
I know, for many of us, it's not in our blood to be self-promotional. It's anxiety-provoking and may seem a bit selfish. But, let me assure you, doing these little five things won't come off as needy or selfish.
If you still need some more help, my new course, Write Your Way to Your First $1k, goes into detail about how to market yourself so clients start coming to you. It's a 7 week self-paced course for bloggers and new writers.
Now it's your turn – what ways to you do market your business that I haven't included here? Let me know in the comments!