Are you stuck writing for pennies?
Writing $5 articles won't get you far in your freelance writing career. Not only are you pumping out fluff articles by the dozen, but it isn't enough to pay your bills and you're probably working non-stop unable to enjoy what you're doing.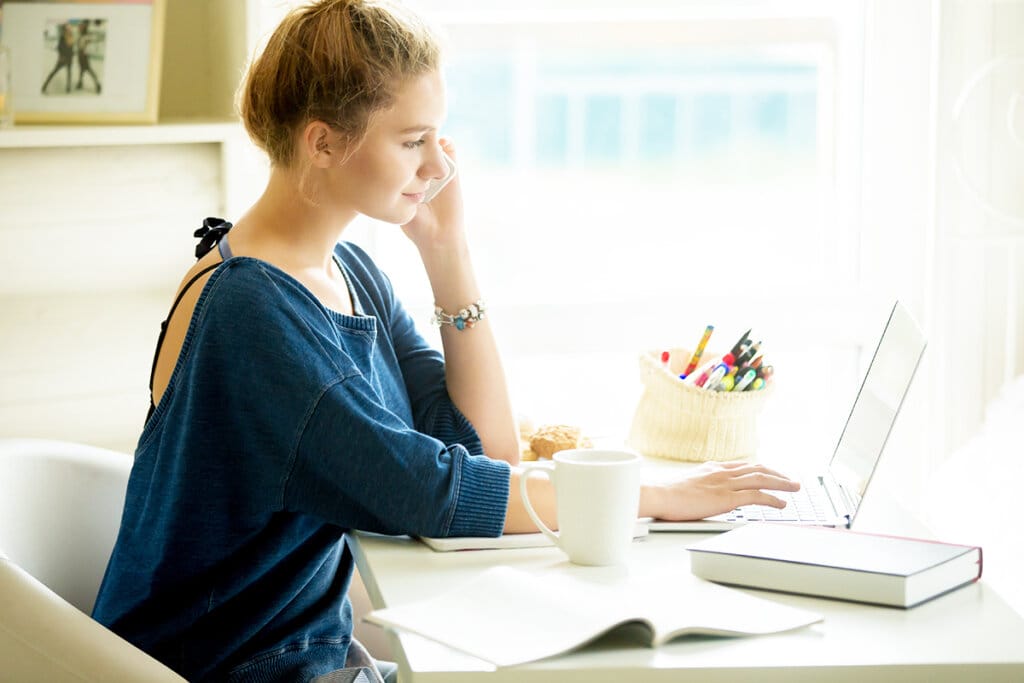 Freelance writing can be a very lucrative career. But, do you feel you keep landing the wrong clients and don't know why?
Writing $5 articles won't get you far…
Maybe it's because you haven't attracted your ideal freelance writing client yet.
If you're struggling to land your first client, let alone your ideal client, consider enrolling in my course to speed up your chances and increase your success!
If your clients don't know the value of your writing, they'll end up paying you squat, will often pay late and treat you with little respect. These are not your ideal clients.
So, let's look at how you can attract your ideal client and earn more money, attract higher paying clients and earn you the credibility you deserve as a quality writer.
1. Picture Your Ideal Client
Do you even know what your best client looks like? For each of us, it'll be different, but I'm sure there are some core commonalities amongst us. For example, we all want a client who:
Pays our ideal rate
Pays on time
Treats us as a professional
Values our expertise
Is flexible with deadlines and content ideas
Refers us to other high-paying clients
When thinking about your ideal client, you can think of them as an avatar or persona. You can apply various attributes for your avatar such as age, location, business, or company size to help you find your ideal client.
You may learn that you enjoy writing for start-ups, or that you find businesses with a developed brand to be your client ideal.
2. Have a Strong Writer Website
Your writer website is your home base online. It's the place to showcase your work and convince prospective clients you're the one to hire.
To attract your ideal client, your writer website needs to:
Be professional looking
Be free of clutter
Have an easy design layout
Have easy navigation
Be mobile friendly
Be easy to read
Let's look at some writer websites that have these elements:
Laura Sandonato tells you right off the bat who she is: a writer and editor. Her menu makes it easy to navigate and her text is easy to read.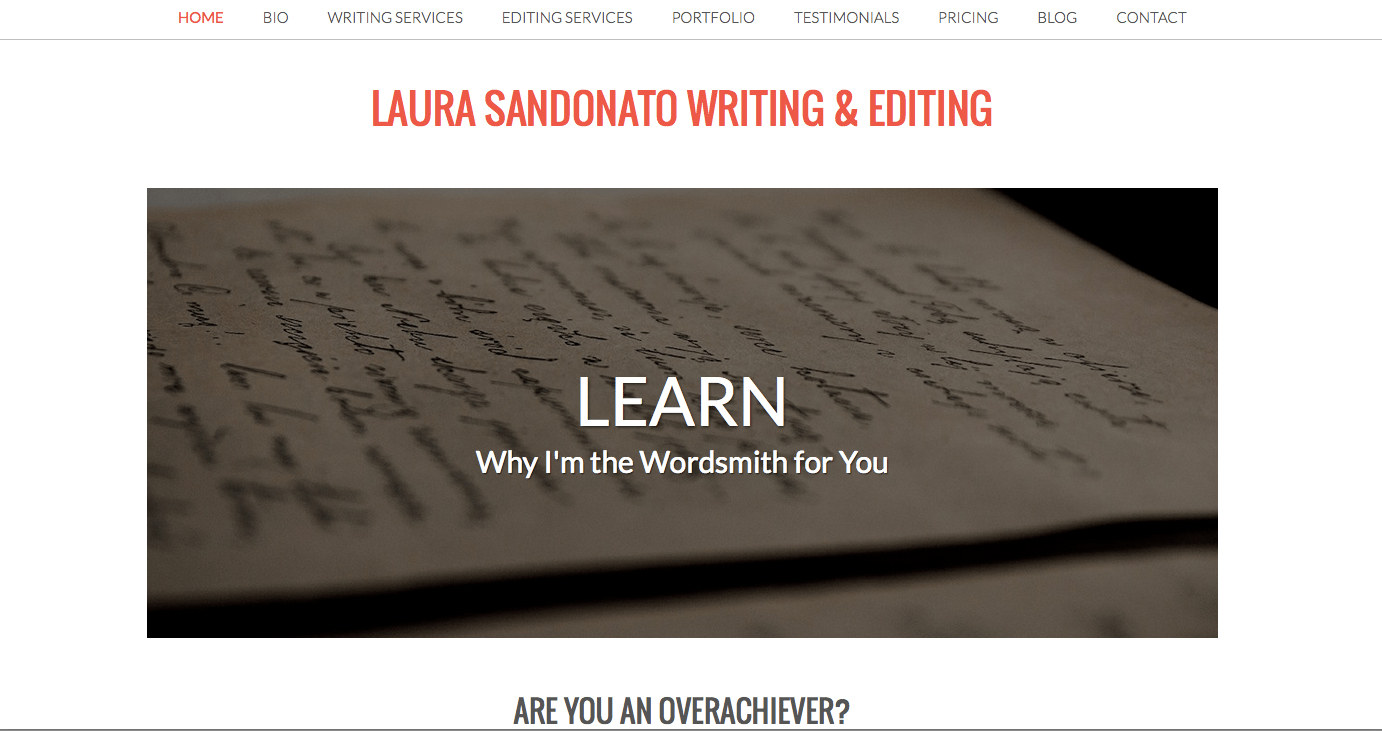 Cathie Erison's writer website speaks to the client and has a personable element by having her head shot on the landing page.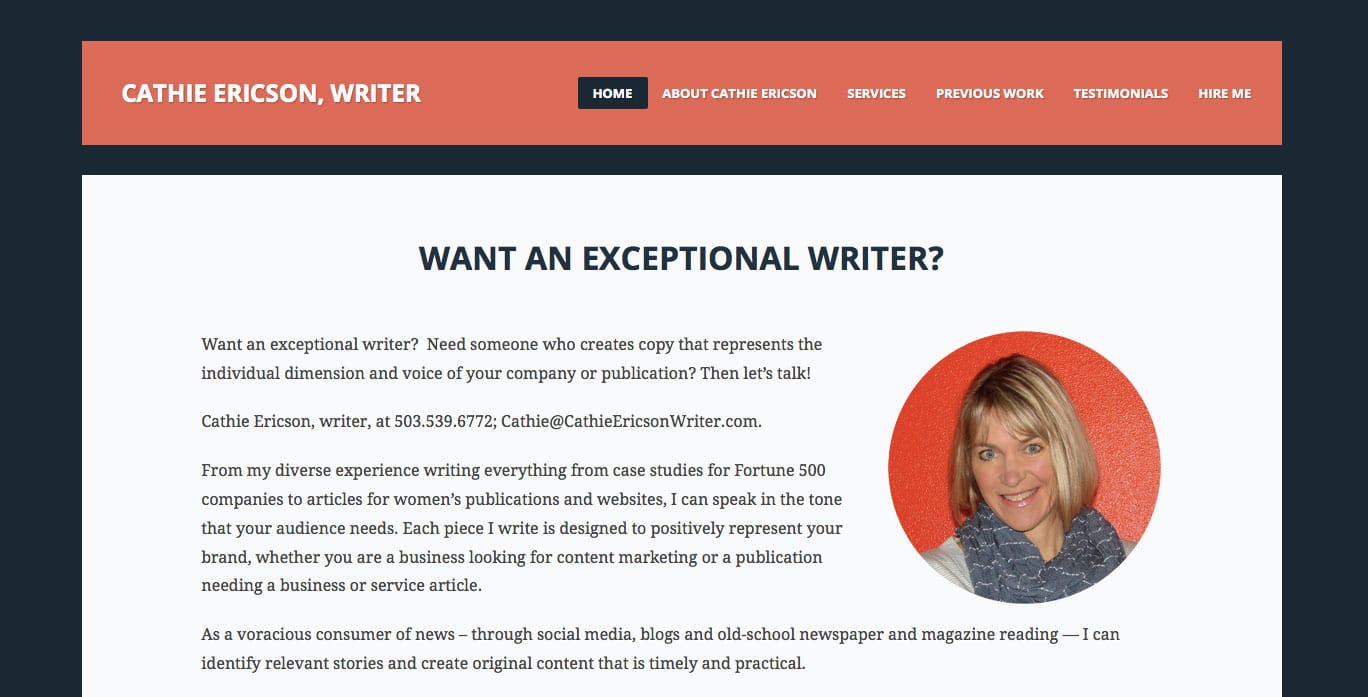 Lauren Tharp's writer website asks a simple question, "Are you in need of a freelance writer?" Nothing can be more simpler than this question. Lauren also has a noticeable call-to-action button at the end of her text. This increases the chance of someone clicking it and learning more about Lauren and her services.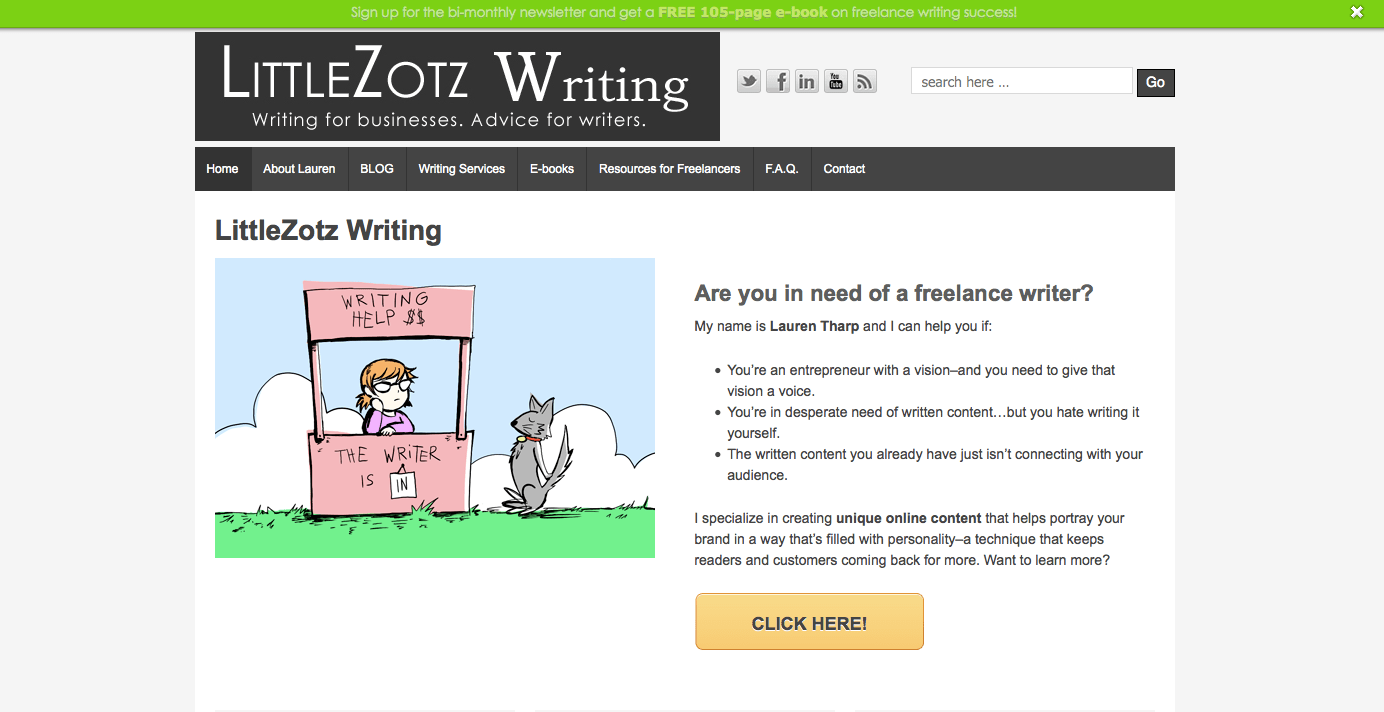 The core element that all these writer websites have is copy that speaks to the client. Your website needs to sell your services.
Your home page is one of the first things prospects look at. So make sure to include why they need you and how you can help them.
3. Choose a Niche
Don't know what a niche is? A niche is your area of expertise. If you have a financial background then business writing will be your niche. Similarly, if you have knowledge of techy gadgets, then the tech industry is your niche.
You may not have a niche when you first start out as a freelance writer. That's okay.
You might have to guest post a couple times, write for a few clients and develop your own blog to figure out what you enjoy writing about.
You may not have a niche when you first start out as a freelance writer. That's okay.
Finding your niche can help you:
Find clients easily – if you know the type of client you want you can search on LinkedIn and Facebook groups or even cold pitch them.
Earn a higher rate – high-paying clients seek out writers with expert knowledge in a particular niche.
Write faster – when you know a topic in-depth, writing about it comes easy. You will also know which websites to go to for stats, charts and facts.
4. Know How Much You're Worth
Do you know what to charge for your writing services?
Many new freelance writers don't have a clue what to ask for when they're faced with a prospect wanting their services.
Maybe they're worried that if they ask for too much, no one will hire them. So, they end up taking low-paying gigs because they don't know how much they're worth.
While there isn't a formula to figuring out what your rate is, the best indicator is how much you need to pay the bills and a little extra. You could also use your previous job's salary as a starting point.
To help you figure out what you are worth consider:
Having a top range and a low range when deciding your rate. For example, your rate can fall anywhere between, $.06-.15 per word. When you find a comfortable range, commit to it and don't accept freelance writing gigs below your low range.
Increase your rate with every new gig. It's important to understand that increasing your rate also means increasing the perceived value to your clients. How do you do this? With a new mindset of your worth.
Be selective. When you start looking for freelance writing jobs, be selective in what you choose. If the pay is too low or the scope of the project is too big for you, skip it and move on to the next.
Your Ideal Client is Right There
Attracting your ideal client takes time. You not only need to know what your ideal client looks like, but you also need a professional looking writer website, build your credibility and have the right mindset to know what you are worth.
Attracting your ideal client takes time.
This is not to say you can't do this on your own! But, if you want to speed up your chances of success, consider enrolling in my course, Write Your Way to Your First $1k.
Once all of these are aligned, your ideal client will be coming to you.
Now it's your turn – have you found your ideal client? Let us know how you snagged them!