Are you dying to get clients to your freelancing business?
It's one thing to create a website, list your services and have a killer portfolio, but it's a whole different ball game to get people to your site.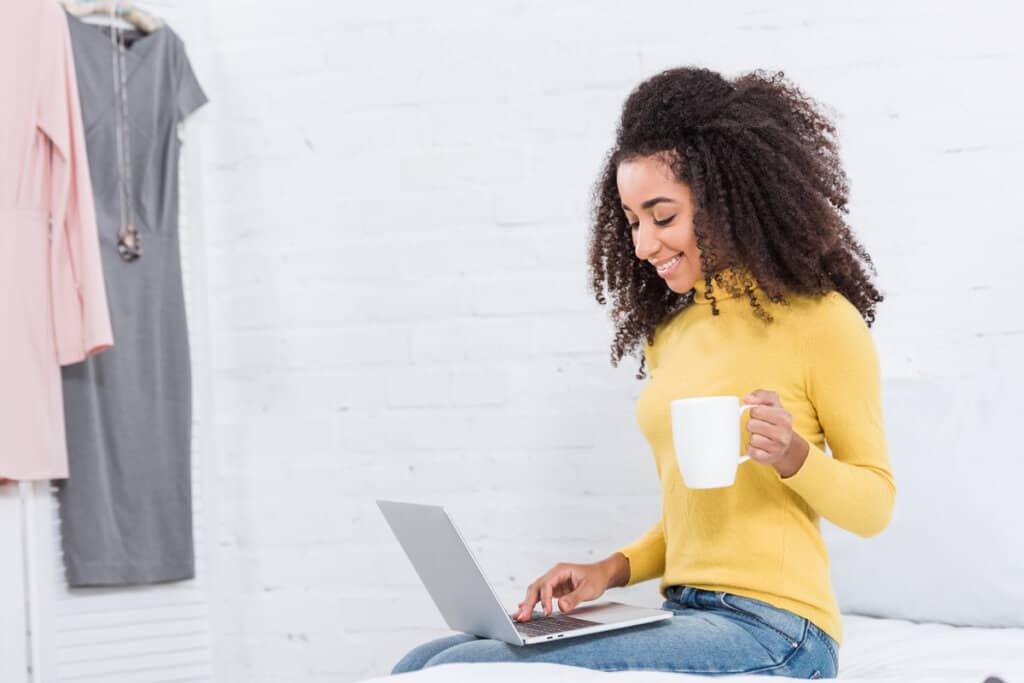 It's one thing to create a website, list your services and have a killer portfolio, but it's a whole different ball game to get people to your site.
So how do you attract an audience who wants to buy your services or products?
You network on Facebook!
Besides search engine optimization, Pinterest marketing and promoting on other social platforms, Facebook is a great place to get brand exposure and connect with potential clients.
So if you're new to Facebook networking, follow the tips below to get started!
Can Facebook Bring Freelance Clients to Your Business?
Yes definitely!
I've had plenty of people come to my blog and mention they found me in a Facebook group.
The trick to finding clients on Facebook is to 'hang out' where your ideal audience is. But before we dive into that, let's look at some…
Facebook Networking Basics
Before you can start networking on Facebook you need to do two things:
1. Create a Facebook Business Page
The first thing you need to do when you start networking on Facebook, is to create a Facebook business page for your blog or business.
A Facebook Business Page is a public Facebook account that anyone can like or follow.
You can create a Facebook business page if you're a business, a brand, organisation, artist or public figure.
On your business page you can add your contact details, post updates, share content, promote events or products, and, most importantly, connect with your audience.
When naming your Facebook business page it's important to include keywords in your name as this will increase the chance your page will come up in search results.
For a step by step guide on setting up your Facebook business page, click here.
2. Join Facebook Groups in Your Niche
Facebook is a great place for networking, but your business page is only going to get you so far.
A great Facebook networking tip I can give you is to Facebook groups in your niche.
Most business and blogging niches have several Facebook groups available and most of them are free to join.
To find Facebook groups in your niche, simply go to the Facebook search bar and type in your business niche + facebook group. So if you are a freelance artist, you could type in 'freelance artist Facebook group'. To join a group, you select a group and click the button 'Join group' and fill out a few details.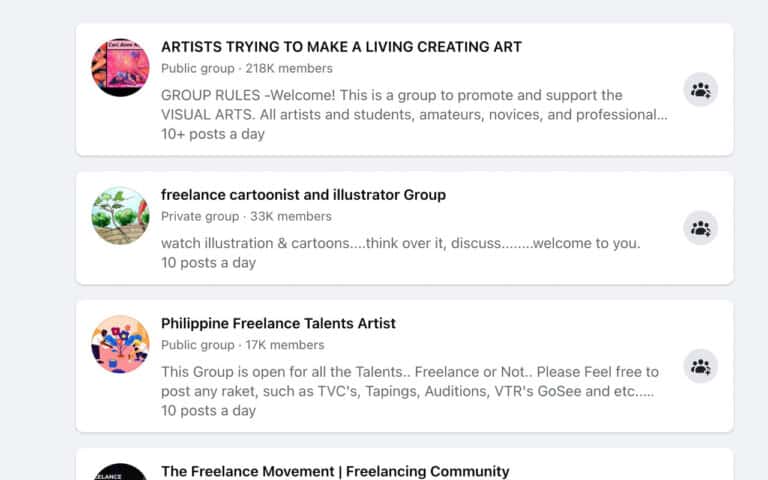 Facebook groups are different from business pages in the sense that anyone who's been approved to join the group, can create a post.
Before creating a post, always make sure you read the group rules and follow them. Most groups don't allow self-promotion, but you are allowed to share a link to your content if it answers someone's question.
Groups are a great place to connect with like minded people, ask questions, answer questions and even share your content in promotion or share threads.
Tips for Successful Networking in Facebook Groups
Ok now you've got the basics set up, let's have a look at some Facebook networking tips that will help you attract clients.
1. Be Helpful
The best way to get noticed in Facebook groups is by answering questions.
Many people join Facebook groups for the support they offer, so what you need to do, is be the support person they're looking for. Answer their questions as best as you can or point them to helpful resources.
When you regularly answer questions that are related to your niche, you'll soon become known for your expertise. This will build brand awareness and trust.
2. Let your Personality Shine Through
Because you don't meet people in person on Facebook, it's important to be yourself and show a bit of your personality.
A good way to do this is by uploading a friendly profile picture of yourself rather than your business logo. A friendly face is more approachable and easier to connect with than a logo.
You can also choose to join a group with your business name or your personal name.
If you join with your personal name, people will see you as a person rather than a business and your interaction will be more personal.
3. Add Your Website Link to Your Personal Facebook Page
If you help people in Facebook groups, it's likely that some of them will want to check you out further by clicking on your profile pic and going to your personal page.
If you add your website URL to your personal profile, it will be easier for people to go to your site and find out more about your services and products.
This is such an easy thing to do but a lot of people forget to do this.
Besides website urls you can also add social profile links to your personal Facebook page, another option for interested prospects to stay connected to you.
4. Pay Attention to Common Problems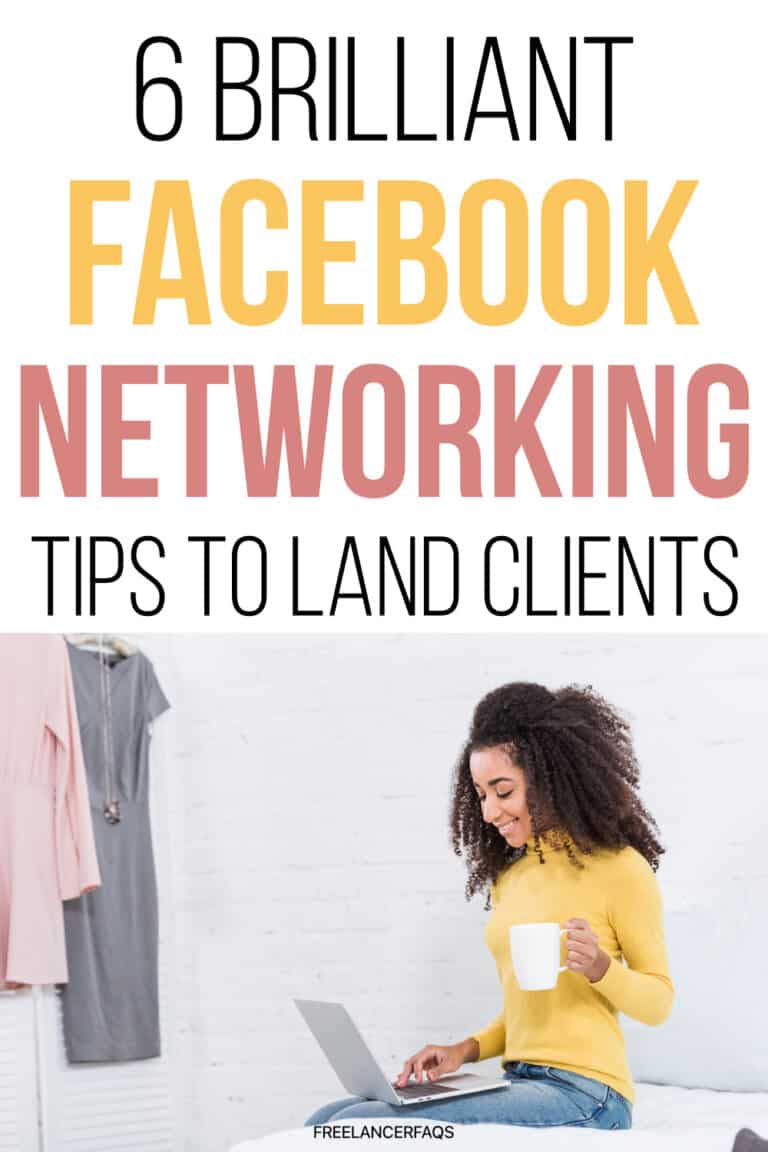 When you've been participating in a Facebook group for a while, you might notice that a lot of people struggle with the same problems.
This is super useful information, because it tells you what topics are in demand and what you can help this audience with.
Instead of answering the same question over and over, you could write an in depth blog post about this topic and when someone ask this question again, you simply share the link to your article.
Besides saving you time, this strategy is also a good way to send a very targeted audience to your website.
For this (and many other) reasons, it's a great idea to start a blog for your freelance business.
You can even go one step further and create a lead magnet that helps your subscriber overcome this problem.
You can direct your audience to a blog post that includes a sign up form for this lead magnet or you can share your lead magnet link directly in the comments.
This is a great way to grow your email list and a win-win for both parties; they get free help with their problem and you get to grow your email list.
5. Don't Self Promote or Spam People
If you could only remember one Facebook networking tip this one is it!
If you want to leave a good impression, it makes sense to be friendly and play by the rules.
You don't want to come off as being overly promotional or spammy, it will turn people away and that's the opposite of what you're trying to achieve.
Most Facebook groups don't allow self promotion which means you can't share your content on the group wall.
This is ok though, because your main focus should be on helping people and building genuine connections.
You can however share your content in promotion threads and reciprocate by sharing other people's content in return.
6. Start Your Own Facebook Group
If you want to get really serious about Facebook networking, you could start your own Facebook group.
Starting a Facebook group will require dedication and consistency but if you're not scared to commit to this long term endeavour, it can be an incredibly successful way to promote your business.
Starting your own Facebook group will have advantages like:
As the Admin of the group, you'll be seen as the expert in your niche, which will build your know-like-and-trust factor.
You can ask people to sign up to your email list as a requirement to be able to join the group, which is a great way of building your email list quickly.
Groups tend to have more engagement and reach than Facebook business pages, allowing you to reach more of your followers.
Starting your own Facebook group is a great way of adding a social and interactive element to your freelancing business.
It will be a no-brainer for potential clients to join your group if they get free advice and support. Being in your group will build their trust and nudge them closer to becoming your customer.
As you can see Facebook networking definitely has its advantages.
Whether you start your own Facebook group or you join a few groups in your niche, Facebook groups offer great exposure for your business.
Have you had any success with Facebook networking?
Please share your tips in the comments below!