Are you struggling to get as many freelance writing gigs as you'd like? It's probably not a reflection of your talent and it might not even be related to your pitching techniques.
It may be because you're missing one crucial piece of the puzzle: you don't have enough social proof to convince potential clients to take a chance on you.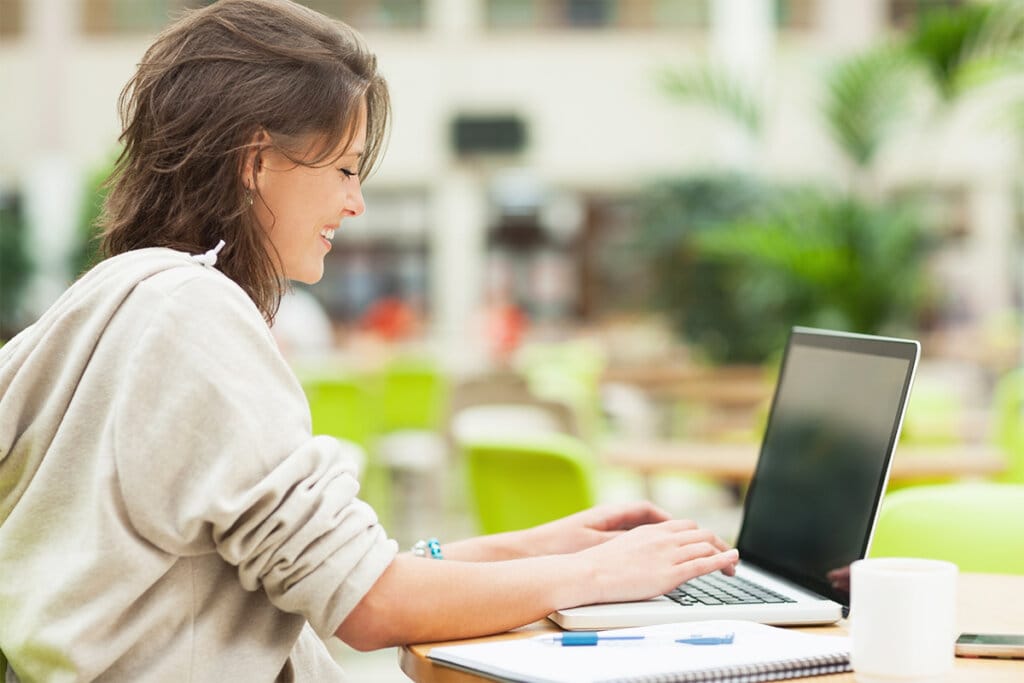 You don't have enough social proof for potential clients to take a chance on you.
Writers who earn generally well have one thing in common. Potential clients see them as big value and feel they're worth hiring. They have a strong reputation, some of which is because they have a lot of social proof to back them up.
Here's how to start building your own social proof to win over clients!
Why is Social Proof Important?
In a nutshell, social proof is all about being influenced by what other people are doing.
How many times have you checked user reviews before you buy a product? Customer testimonials are another thing you may been swayed by while you weigh up whether something is right for you.
These are just two examples of how social proof can be a powerful factor in our buying decisions.
When it comes to freelance writing, clients aren't that different. They want to feel that they're hiring someone who is in demand for their skills.
And social proof is one of the key ways that you can create that feeling for potential clients.
How Can Social Proof Help?
Clients want evidence that you can deliver on projects and sometimes, your portfolio won't be enough to convince them that you're a writer they should take a chance on. Your writing samples show them that you can write but they don't tell them how you work with clients.
This is where social proof can help your cause.
Potential clients aren't always prepared to take your writer website at face value but they're much more likely to trust what other people say about you.
This is because social proof is an endorsement that you're worth hiring. Other people have taken a chance on you already and have had a good experience so the risk factor for hiring you goes down a notch.
How Do I Get Social Proof?
Getting the kind of social proof that can transform your freelance writing career can seem daunting but it's not as difficult as you might think.
Here are a few of the ways that you can build social proof that impresses potential clients:
1. Guest blogging
Getting published on authority blogs in your niche means that your credibility with potential clients will skyrocket. They know that they can trust you because you've been deemed good enough to write for these sites.
This is a good place to start in building social proof, not least because it helps to strengthen your portfolio as well. And if your posts get more than a few shares, you're building even more social proof!
2. Logos
Showing where you've been published and the clients you've worked with is a visual way to build your reputation. Prospective clients can see at a glance that you're a writer worth taking a punt on, especially if you have worked with companies or publications in their industry or landed guest posts on authority sites.
Here's how Jorden Roper of Cutthroat Copy does it on her homepage: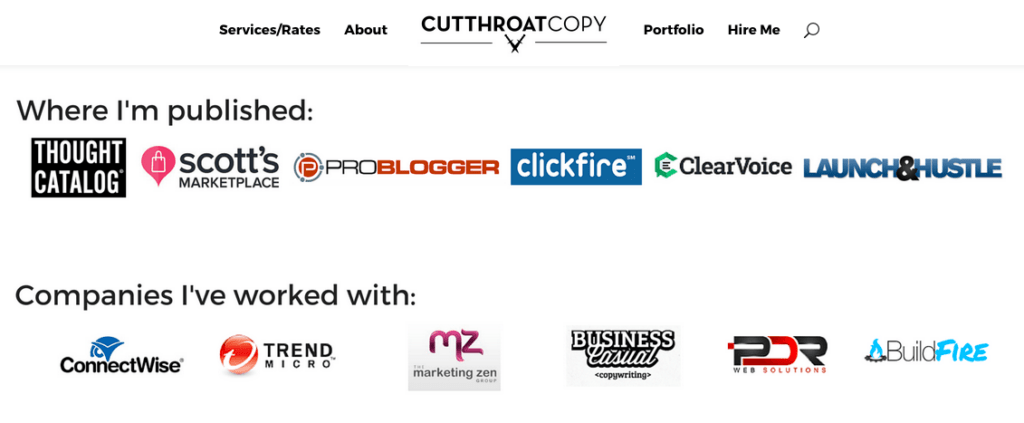 3. Testimonials
Logos show potential clients that you've been hired by other people but testimonials take this a lot further by telling them exactly what kind of experiences they've had with you and why they'd recommend you. As far as social proof goes, this is gold dust!
If you've established a niche and are targeting clients in a particular area, it's best if you can get testimonials from within this to spell out why you're their go-to writer.
See how Elna uses testimonials from her digital marketing niche on her site? This lets clients in this niche know that she's not just a great writer but one that excels in their domain.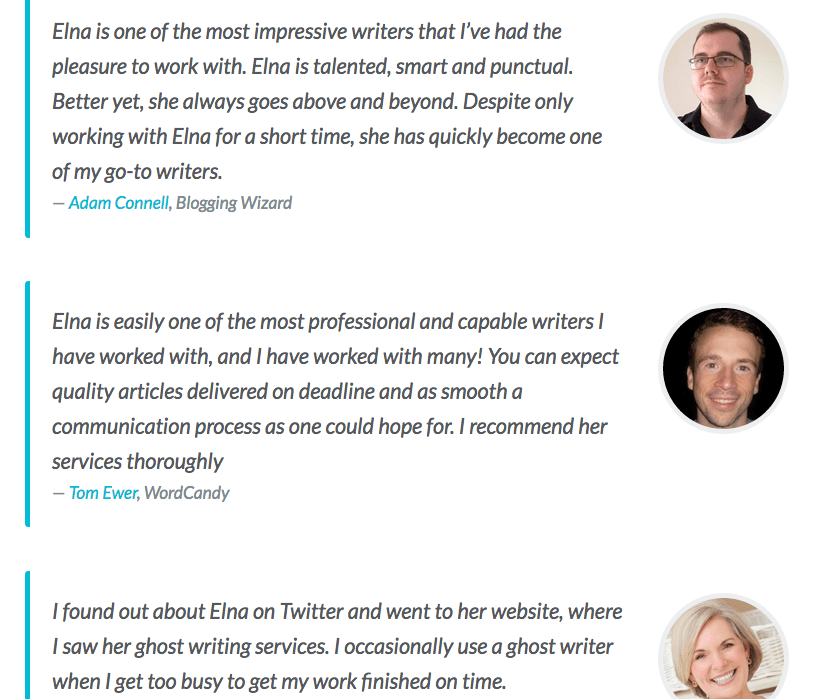 Photo testimonials like this are even better social proof as potential clients know that they come from real people like themselves.
4. Social Shares
Does the blog content you write get more than a handful of shares on the likes of Facebook, Twitter and LinkedIn?
That shows potential clients that your posts are considered good enough to be shared with other people. If readers consistently like your work enough to promote it to their own networks, you're even less of a risk to hire because you're already producing content that rocks.
Here's a screenshot from a recent post from our very own Elna, which has had over 540 shares!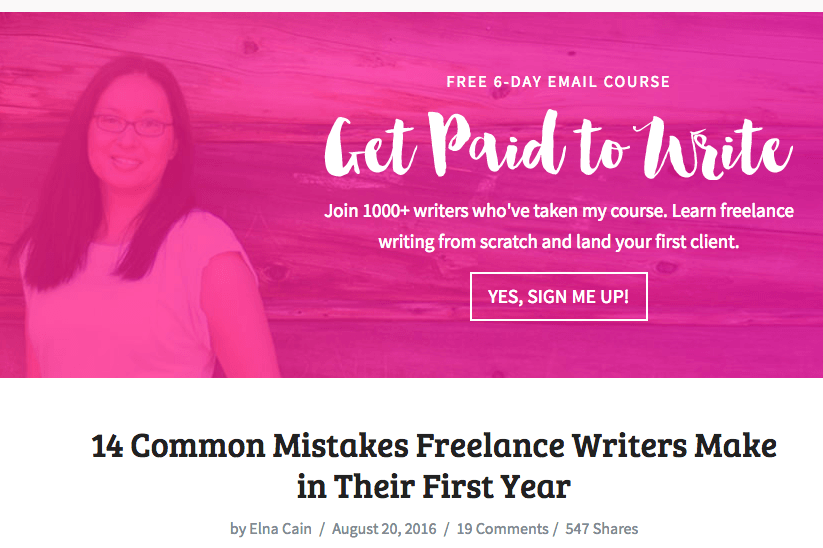 Any potential client that is introduced to her work will immediately see that her posts get out to a much wider audience through these social shares, which tells them that they could get reach far beyond their own audience by hiring her.
Another option is to list some of your social sharing successes on your homepage, as Jorden Roper of Cutthroat Copy does: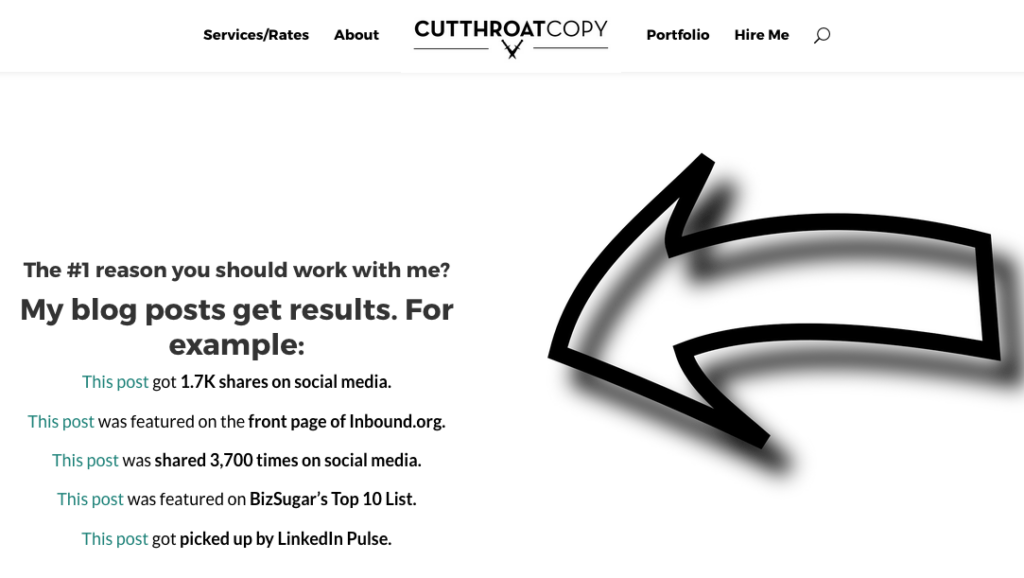 Your own numbers might not be this impressive (especially while you're building your writer brand) but the basic principle is the same.
5. Social Audiences
This one doesn't prove your value as a freelance writer but talent alone isn't enough for every client. Sometimes, you'll be that bit more likely to get a gig if you can promote content to a decent sized audience.
Building social proof isn't that difficult but it can make a lot of difference to your writer brand and how likely you are to win good gigs. Some if it will happen organically if you're writing great content that attracts shares but you can help things along with things like logos and testimonials on your writer website too.
Over to you – how highly do you value social proof for boosting your freelance career? Do you have any tips we've not covered here?
Need more tips on helping become a sought-out freelance writer? Come join over a hundred students in Write Your Way to Your First $1k and learn how to profit from your writing.