What is one piece of advice everyone tells you when it comes to gaining more high paying clients?
Get testimonials from your happy clients and showcase them on your website.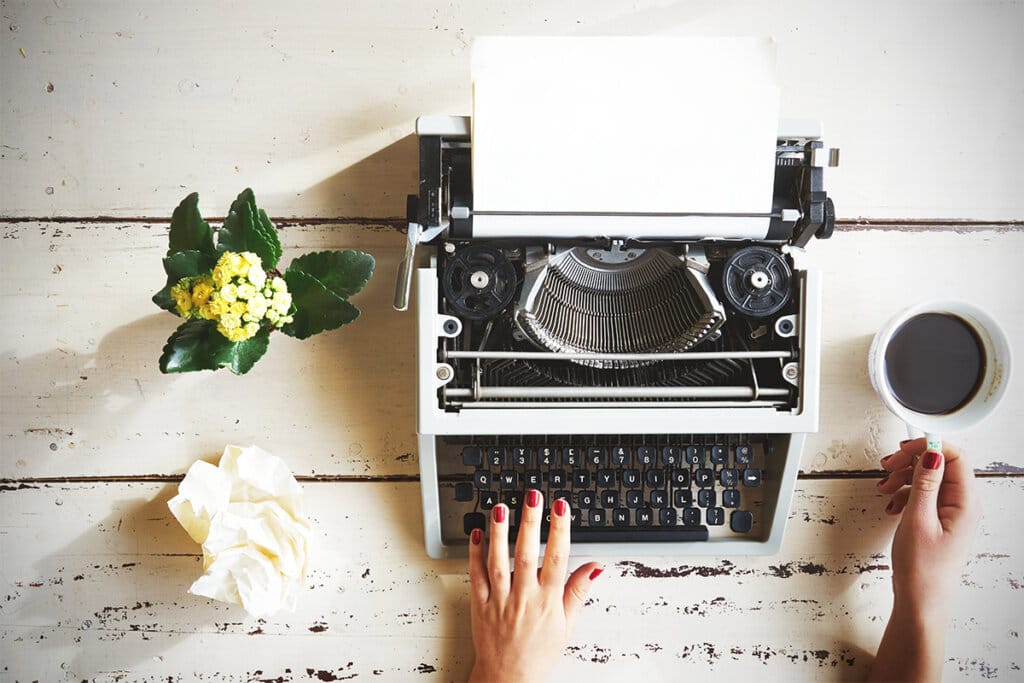 By having testimonials on your freelance writer website, you're providing proof that you're the writer your prospective client needs.
By having testimonials on your freelance writer website, you're providing proof that you're the writer your prospective client needs.
However, there is one piece of content that will provide you with even stronger social proof:
Case studies.
What Is A Case Study?
Also known as success stories or client stories, case studies are first and foremost traditional stories walking the reader through the experience and results a business has achieved for their client.
They are typically one to two pages, but can run as long as four pages in some cases.
Online, you'll find case studies in a variety of formats, from blog posts to PDFs to slideshows.
I like to compare case studies to traditional stories because they contain all the same elements:
Exposition: The client's business, as well as their initial situation, are outlined
Conflict/Rising Action: The client has a problem that needs to be solved, and the hero – the business writing the case study – solves their problem with the implementation of a product or service
Climax: The results of the solution are shown – more sales, increased traffic, increase in speed, etc
Falling Action/Resolution: Final thoughts on the product or service and how the client intends to use them in the future
Case Studies vs Testimonials
If you don't yet have your own testimonials, you've probably seen them on business websites or even on other freelancers' sites. They usually consist of a few sentences or a short paragraph from your client's perspective about their honest opinions about the work you've provided them.
They'll often include the name and headshot of your client as well as a link to their business website – this connects with your prospective clients by letting them know the praise is coming from a real person.
On the other hand, case studies are much longer and in-depth. They'll often tell a story of how a business has helped their client solve a particular issue, instead of simply giving praise from the client's point of view.
Contrary to testimonials, case studies always include concrete results and outline the process behind how the product or service helped them achieve this result.
They answer the following question: how can your business concretely help your prospective client?
Who Writes Case Studies
Because case studies are so text-heavy and require a lot of research and planning, they are often large projects that need more investment from a business than a simple testimonial.
Some companies have in-house writers who take care of these projects.
However, freelance writers are often behind case studies!
Some freelance writers even specialize in this service, like Casey Hibbard from Compelling Cases.
Why Use Case Studies
Although writing a case study requires a lot of work – or a good investment if outsourcing this service – they're a priceless resource that can help market your freelance writing business, and here's why:
Can Be Repurposed For Maximum ROI
Because case studies are rich in concrete results and statistics, they're a great piece of content you can repurpose for your marketing:
Share snippets in your email campaign
Transform into an infographic
Expand into a long-form blog post
Include in a white paper
Provide Valuable Content
Case studies aren't just boastful words about your freelance writing business – they're helpful pieces of content that display how to solve a problem your prospective clients are dealing with.
Close That Sale
Case studies are especially effective when it's time to close a sale, since they provide the last piece of proof your prospective client needs to understand your writing can get them results.
They're the ultimate form of social proof.
How To Write Your Own Case Studies
Hopefully by now you're ready to implement case studies into your own content marketing strategy!
However, because these can be quite expensive to outsource, why not learn how to write one yourself?
Not only will this save you money, but it will help you learn a new skill that you can leverage for your freelance writing business.
Finding Your Case Study Client
First things first – you need a happy client!
If you don't already, make sure to go above and beyond when you provide work to your current clients to ensure that they love your writing.
Here's what to look for when choosing which client is the best fit for your first case study:
The client has already praised your work
You have an ongoing, positive relationship with your client
Your writing has produced significant, concrete and measurable results
Once you've found your case study client, you'll need to ask if they would like to participate in an interview with you and be featured on your website.
However, remember this – although the case study is a piece of content meant to help your own business, you'll need to make it look appealing to your client as well. Chances are that your relationship is based on how you help them, not the other way around.
If they seem hesitant to participate in the case study, you can tell them how they'll benefit from the highlight:
A showcase of their success
Exposure on social media
Publicity through email campaigns
On top of it all, remind them that they get to approve the final draft. So if they're not sure if their business will be shown in a positive light, they can rest easy knowing you won't publish anything without their consent.
Planning the Interview
You can't plan too much when it comes to case studies.
Depending on how familiar you are with your client's business, do some research to freshen up on their mission, challenges, objectives, etc.
Afterwards, come up with a solid list of questions you'll ask during the interview:
Avoid simple 'yes' or 'no' questions
Keep the questions client-centric
Prepare follow-up questions to dig for more precise information
You want questions that will allow you to dive deep into the processes of your client. What were their biggest challenges before working with you? How did they implement your writing to solve these issues? What unforeseen benefits have they seen from your work?
Be sure to email a list of questions to your client before the interview. They'll let you know if they are comfortable with this set of questions – plus, it allows them to prepare adequately, thus resulting in better answers.
Performing a Successful Interview
Even with the best questions and most thorough preparation, the magic happens during the interview.
You won't be able to write a truly compelling case study without valuable, specific information.
First things first: always perform a phone or video interview – if you can do this in person, even better! You need to be in charge of the interview and lead with adequate follow-up questions.
A written interview won't allow you to get the deep answers you'll need for an effective case study.
Secondly, you'll probably need to record the interview to get the data you need.
It's possible to jot down notes as the interview unfolds, but if you can put all of your focus towards understanding and following up with what your client is saying, you'll get better results.
Always ask for consent before recording an interview! I live in Canada and don't legally need to ask for permission, but I find it rude to record a client's phone call without advising them first.
If your client feels uncomfortable, you can sign a contract with them that stipulates you will not use the recording for anything except writing your case study and that it will be destroyed afterwards.
During the interview, your primary goal should be to put your client at ease:
Use a conversational tone
Don't get upset if they don't provide the answer you were looking for
Use follow-up questions to transition smoothly from topic to topic
It's possible that your client may not be able to answer questions about specific metrics right off the bat – they might need some extra nudging.
Keep asking questions to narrow down the possibilities and get more and more specific until you get that valuable nugget of information that will help your case study shine. Gordon Graham uses the analogy of a bread box to help interviewers get specific metrics.
Writing the Case Study
Hurray! The most stressful part of the process over.
By this point, you should have valuable raw data to get your case study started.
You'll need to turn your recorded audio file into a text file to make data collection faster. For this task, you have a few options:
Transcribe the file yourself or work from the audio file itself
Use a transcription tool (free or paid) like oTranscribe
Outsource to a professional transcriber
Once you have all of your data ready, I suggest creating an outline before writing the entire case study. Many freelance writers prefer to write without outlines, but for a case study to be effective, you want it to be formatted correctly and contain absolutely all your key information in the right places.
However, if you write your first case study and find that you work better without an outline, then great!
Now, remember – a compelling case study should be written just like a story.
This means it has a central theme and all the necessary story beats to engage the reader.
Here are a few pointers when writing out your case study:
Generally speaking, case studies are written in the third person
Avoid writing about everything your client told you – pick an interesting angle and tell the story with this angle (or theme) in mind
Use powerful quotes across your case study
Use descriptive subheads to adapt your case study for skimmers
Avoid inserting filler content in your writing. This is true for all types of writing, but it's especially important for case studies – your goal is to captivate your reader's attention and keep them interested until the end.
You want your prospective clients to read this and empathize with your client from the study, as they would with the hero from a story.
They need to be able to imagine themselves in their shoes and say, "Hey, I struggle with this, too! This could be me!"
Sharing Your Case Study
First things first – as mentioned before, send the final draft of your case study to the featured client for approval before making the document public.
Failing to do this could result in your client becoming upset – rightfully – if they feel they were wrongfully represented in your writing.
If they ask for some edits, go ahead and revise your document, and send them a new version for approval. Only once they have fully approved a final document should you share the study publicly.
You have a few options for sharing the case study on your website:
Create a new page for case studies and post your study there
Publish your case study as a featured blog post if your website has a blog
Insert it as the central information on a testimonials page
You may also want to do all of the above at once, and that's fine! You've invested so much time on this study – you should use it to its full potential.
Remember to also:
Share the case study on all your social media profiles
Reuse snippets in your email campaigns
Package the case study in a lead magnet
Sprinkle powerful quotes as testimonials all across your website
Wrapping it Up
Congrats! If you've done all of the above, you should now find yourself with a powerful marketing tool that will help you market your freelance writing business and close more sales.
On top of it all, if you find that you enjoy the process of writing case studies, you can add them to your list of services and upsell your current clientele!
Have you written a case study for you or your client before? Do you plan on adding case studies to your marketing techniques! Let me know in the comments!