Thinking about being a freelance writer?
I know the feeling.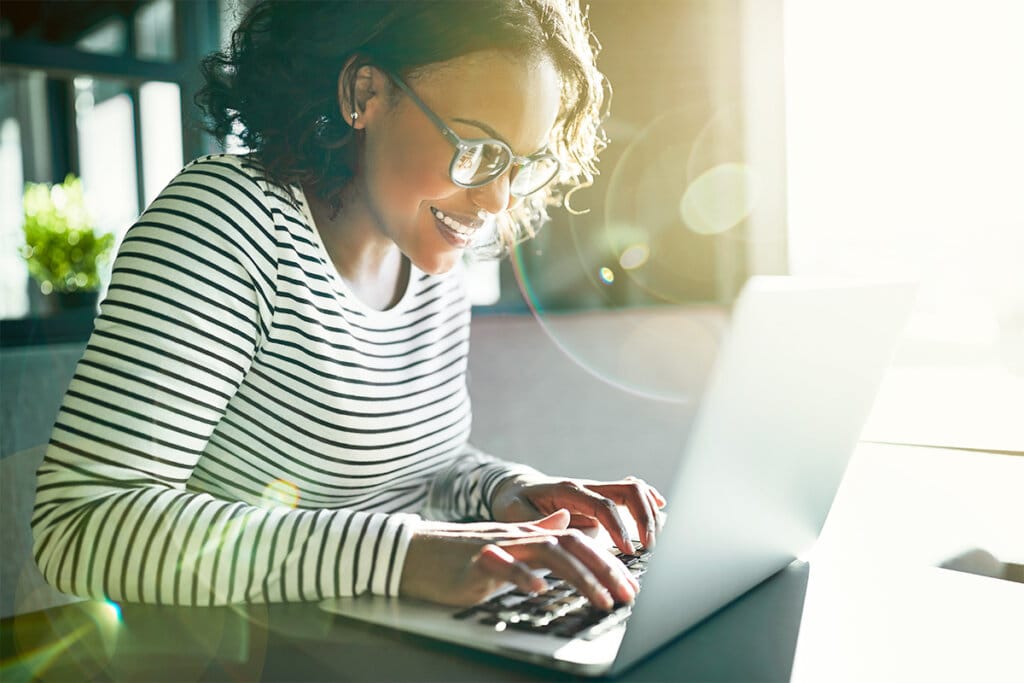 You've been reading for months about freelance writing and getting clients and all those little things you need to make your business successful.
You're ready, but your blog isn't set up for your freelance writing service.
You also grabbed any free resources like eBooks, email courses or webinars to soak up all this new information.
You're ready. You can do this.
But, there's one thing: your blog isn't set up for your freelance writing service. You've been blogging for fun for years, but you don't know how to turn that into a client-magnetizing site.
How do you effectively use your blog to help you land a freelance writing job?
In my signature course, Write Your Way to Your First $1k, I dive deep into building that solid foundation – called your writer platform – so that while you're pitching and trying to land that first client, prospects will start coming to you.
But, not just any website will do. Here are six critical things you need for your writer website so that you can start making money with your blog.
1. Hone Your Niche
Do you know the saying, the riches are in the niches?
It's so true for freelance writers. Even though this phrase applies to professional bloggers, this makes sense if you want to make a living with your words.
But, if you have a blog, you may not have a niche. Your blog is filled with any topic that you wanted to write about: a day in the life, your wedding, vacation, blogging principles, your famous salsa recipe and more.
So, how do you use what you have and start your freelance writing service?
First, you need to decide what your writing niche is. There is no rule that your blog must be in the same niche as your paid writing niche. My blog over on Elna Cain is a freelance writing blog. My writing niche is digital marketing. While my blog is on a different site than my writer website, I still link to it.
The easiest thing you can do is pick a niche you know about and enjoy and find samples in that niche. If you have blog posts in those niches, then only use those on your blog.
The point is showing prospects your niche and samples.
The next two tips have to do with certain pages on your blog.
2. Have a Hire Me Page
A hire me page or work with me page is essential if you want to start attracting freelance writing clients.
On this page you can show your expertise in your niche and tell prospects why they should hire you over some other writer in your niche. This is called your Unique Selling Point (USP) and it's the way you can land profitable writing gigs (and it's a lesson in my course too!)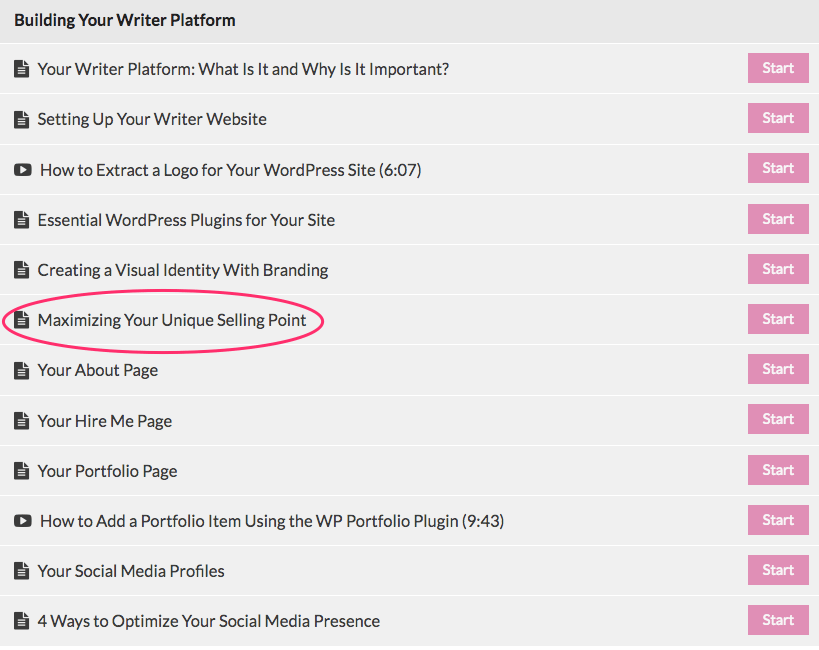 In your hire me page you can also list your niche and how you will help prospects get more eyes on their content.
3. Have a Portfolio Page
While your blog may have sufficient samples, it may not be the best portfolio for your freelance service business. Having a dedicated page with your guest posts, client work and blog posts will help show your credibility as a writer and expert in your niche, since other people published your content (and that gives you social proof).
If you're using a WordPress site, there are many Portfolio plugins that you can use to display a professional looking portfolio.
4. Show Your Face
Starting your own business online is becoming easier and easier lately. You can start a blog, have a hire me page and start marketing your business on social media.
But with this marketing comes your brand as a freelance writer. Part of your brand means showing your face. Now, you don't have to spend a lot of money to hire a photographer to take headshots of you; if you are uncertain about plastering your mug all over the internet for everyone to see, you can create an avatar like Samar Owais does.
This can be fine, but Samar knows that, ultimately, she does have to brand herself, which means showing your face. So, on her author bios, she does display a head shot.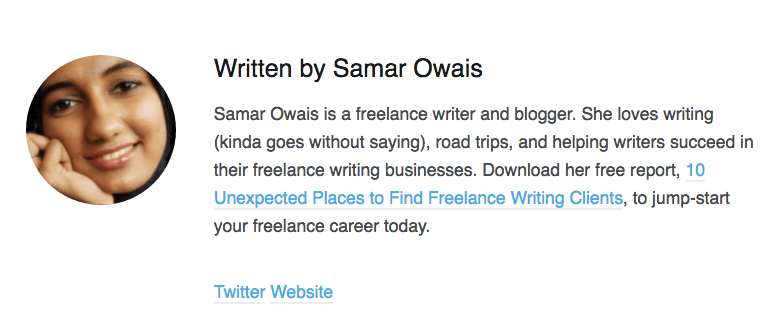 Showing your face also ups the trust factor for prospects. On Samar's testimonials page, one of her clients says this about hiring online:
Hiring someone over the web can be concerning to say the least
Prospects can be uneasy about hiring someone to do their web content. So, when you show a trusting face online, at least it eases the idea of hiring you.
5. Make It Easy to Contact You
Okay. So your blog now has a Hire Me page and Portfolio page. Your blog only shows posts in your writing niche/s. The next thing is making it easy for prospects to contact you.
This means:
Having links to your social media profiles
Having a contact button on your home page, hire me page, about page and portfolio page
Having a phone number, email address and/or Skype ID available
When you make it easy for someone to contact you, it's more likely that they WILL contact you 🙂
I make sure to have a contact button before the fold (this is the on the page before you start scrolling). This also makes it more likely that a prospect that lands on your blog, reads it and clicks to contact you.
Finally, one thing you may want to do is establish multiple CTA's on your blog. This means have a call-to-action for each page you have on your site.
While the ultimate CTA is to contact you, you can frame each CTA differently:
Learn more
Get in touch
Let's work together
Contact me
Let's talk
You don't know which phrase will help a prospect pull the trigger and contact you to hire you, so it's best to use them all!
6. Speak to Your Ideal Client
This is all so new isn't it? Not only do you have to figure out your writing niche and sort out your blog to attract a client, but you also have to figure out who that client is!
One of the best things to having a freelance writing business online is how many different clients there are that need content:
Publications
Magazines
Small businesses
Entrepreneurs
Authors
Doctors
Lawyers
Creatives
Mom bloggers
Companies (like a Medical establishment)
Start-ups
Agencies
Digitally-Native Vertical brands
Newspapers
and more…
It's up to you to figure out who you ideal client is. For me, it's digital native brands like OptinMonster.
Take some time to make a list of potential clients and see what types of projects they have. From there you can narrow down your ideal clients and start marketing your website to attract them.
Because once that ideal client lands on your site, it's up to you to convince them they need your services. This means getting in the head of that prospect and speaking their language.

For me, it took me a year or more to really speak to my ideal client. But, now that my website is optimized for the client, that's all the inquiries I get in my inbox. And my portfolio supports this niche as well as my testimonials.
If you're new, you may not pick your ideal client right off the bat (I didn't!) but, if you want to make a living from this, you're going to have to figure out the best client for you and your style of writing and services.
From Blog to a Business
Having a blog is very versatile. You can use it to do affiliate marketing, put your courses on there, do sponsored content and have a service.
If you have a blog and you've been dreaming and dying to become a freelance writer, use these steps to move your blog to a business blog and start attracting those clients today!
Over to you – do you have a writer website? Did you use your established blog as your service home base? Tell us!