The term disability is far-reaching and covers a lot of people with different abilities and situations.
The term disabled is defined as "(of a person) having a physical or mental condition that limits their movements, senses, or activities."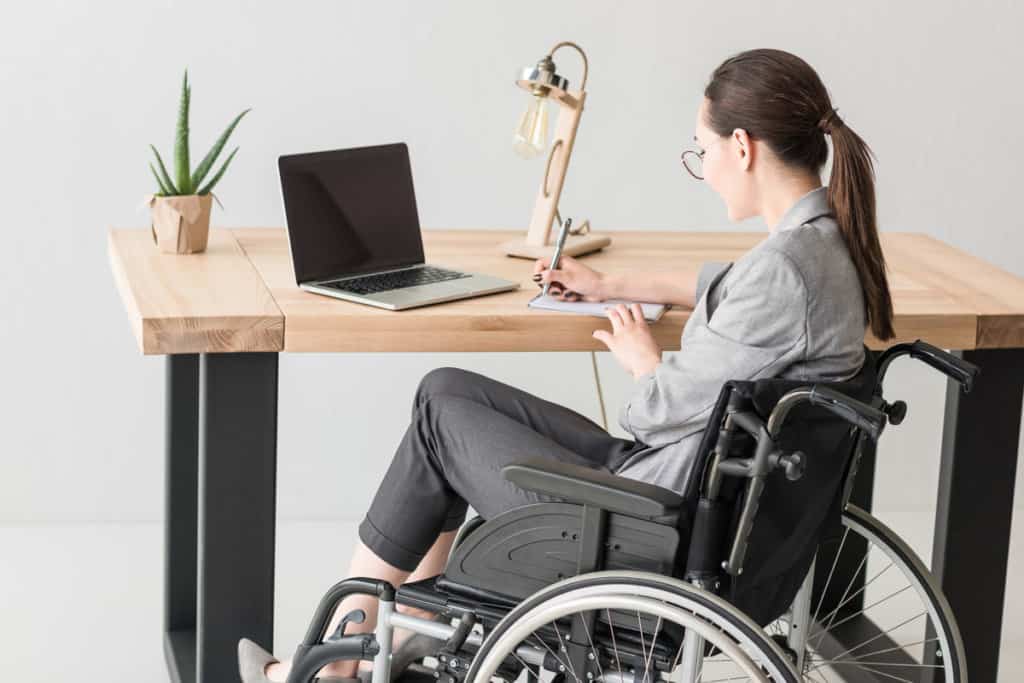 Having a disability has often made it more difficult for people to find employment that they enjoy and that will financially support them.
One of the great things about the current working environment is that employers are now embracing individuals with disabilities and there are now more part-time jobs for disabled persons than ever before.
But before we dive into jobs for disabled people, let's first talk about disability.
Now this term has been used for many years, but the term "disability" has a rather negative connotation behind it. Disabled people are just as capable as able-bodied people, just look at Steven Hawking.
They just might need different types of assistance to complete a task to the best of their abilities.
While physical disabilities are often noticeable, mental disabilities are not always as obvious, which can make finding employment much more difficult when you are struggling with mental health issues on a daily basis.
Conditions like anxiety, depression, ADHA, and other mental disorders might look "normal" but make holding down a "regular" full-time job very difficult for some. This is where employment services for disabled people can be very beneficial.
Employment Services for Disabled
More and more employment services have become available for people with disabilities and disabled veterans, although that is not the focus of this post.
The benefit to this is that it makes it significantly easier for those with disabilities to find suitable employment.
Not to mention, these are great places to work if you are searching for careers that help people and want to work within the disability employment services sector.
PRIDE Industries
One such employment service is PRIDE Industries.
Their motto of access, inclusion, and choice has stood the test of time since 1966.
"PRIDE Industries has stood for the inclusion of people with diverse abilities in the workforce. We believe that everyone has talent, and that all people can make significant contributions in the workplace. Our goal is to help working-age Americans with disabilities leverage their unique abilities to build meaningful careers."
They offer vocational training, employment preparation, employment placement, on-the-job coaching, paid internships, and scholarships.
They even offer independent living services where individuals focus on self-care and self-advocacy skills to better navigate both the workplace and everyday situations.
They work with well-known companies like TJMaxx, FedEx, and Walgreens.
Disabled Person
The Disabled Person job board allows anyone to easily search for any type of job in their area.
Simply type in the area you are looking in and the type of employment. Get help building a resume, apply for scholarships, or check out how much potential jobs are paying.
Jobs for People with Disabilities
Individuals with disabilities should not be restricted to the type of employment they can do based on their different abilities.
Often individuals with physical disabilities might benefit from more intellectually based jobs where those with mental disabilities might benefit from more physical jobs, however, this is solely dependent upon the person, their disability, and their skill set.
Here are a list of jobs for people with disabilities:
Customer service
Retail
Accounting or bookkeeping
Sales
Office assistant
Educational assistant at a school
Computer related support, such as chat.
Content creator
Good Paying Part Time Jobs for Disabled Person
You don't have to be an executive to make a great living even if you are someone with disabilities.
There are a few jobs that I would like to highlight where those with disabilities can make very good money.
Blogging
Yes, yes, we all know how much we love to talk about blogging, I mean…you are reading this on a blog…
But I wanted to tell you about a really amazing guy who built a blog, even though he was in a wheelchair and even though he can only have limited mobility in his head.
But not just any blog, a multi-million dollar blog and in one of the top names in the industry, Jon Morrow.
He started what is now known as SmartBlogger in 2012 and it quickly took off.
Jon was born with spinal muscular atrophy, to which he can only move his eyes and his lips, but yet he built one of the most well known blogs around today.
So while you might not be the next Jon Morrow, anyone can blog and make a good living from it!
Freelancing
Of course, we love to talk about freelancing here at Freelancer FAQs.
The great thing about freelancing is that you can take just about any skill you have and make a living from it. Depending on the type of freelancing you are doing, you can work from anywhere with minimal interaction with the outside world, if that's your thing.
Content Creator
There are all types of content creators today.
One of the things that I would like to highlight with this is that people with both physical and mental disabilities are getting on social media platforms like Instagram and TikTok and talking about their disabilities and are able to build up an audience and monetize their platforms.
Individuals like @connerdewolfe on TikTok make funny and relatable videos about living with ADHD and have millions of followers and are able to monetize through sponsors and their own products and or services.
All different types of people with all different types of abilities are tapping into this potential.
Part Time Weekend Jobs for Disabled Person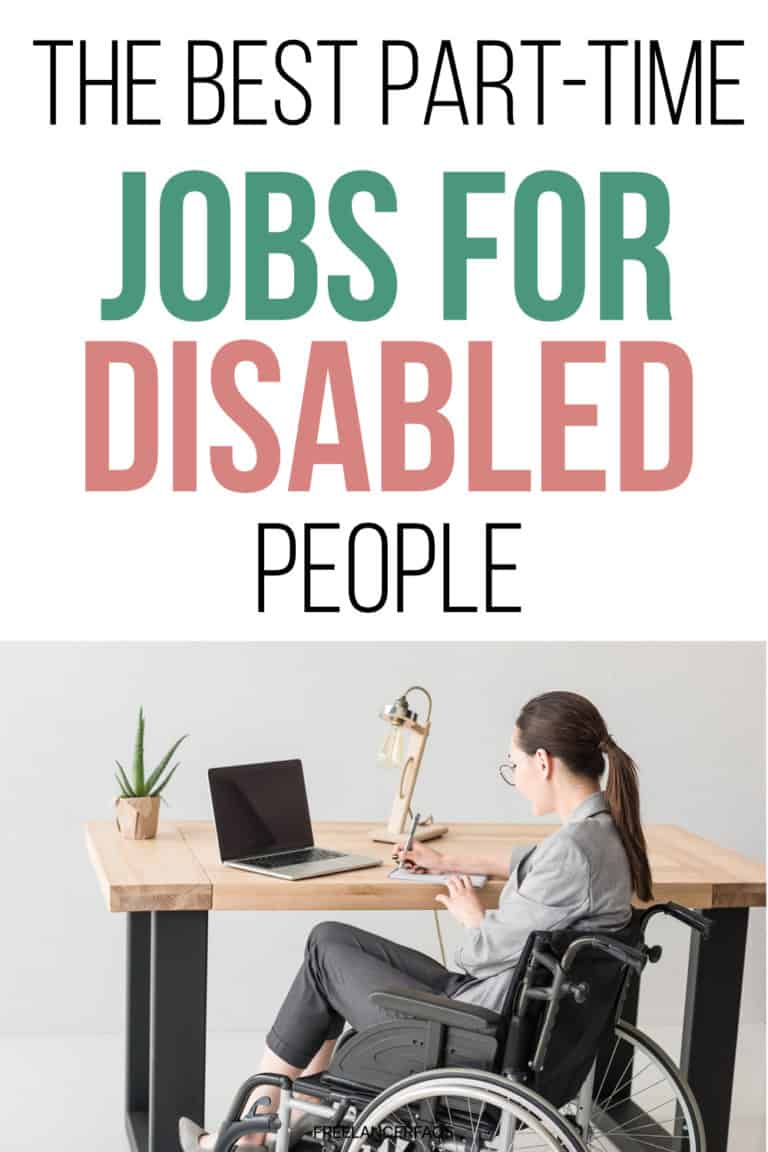 Many companies need additional help on the weekend, making these prime opportunities for those with disabilities to pick up some part time work on the weekends.
Amazon Delivery Driver
Amazon is always looking to expand on their fleet of delivery drivers, at least until the drones take over.
So as long as you are able to get in and out of a truck many times per day and carry potentially large packages, then this might be a great option.
They even ask in their initial application process:
ARE YOU IN NEED OF A DISABILITY ACCOMMODATION FOR YOUR INTERVIEW OR ONBOARDING?
(Examples include but not limited to: sign language interpreter, captioning services, service animal arrangements, workstation modifications, screen readers etc.)
ATT
If you are looking to get into tech, then companies like ATT are a great option.
They have a variety of positions such as software engineers and customer service representatives on a part time, full time and remote basis.
Meta
Who wouldn't want to work for one of the world's largest companies that provides stellar benefits and is on the leading edge of both technology and employee satisfaction?
They offer a wide variety of careers both remotely as well as all over the world. So whether you live in and want to work in the Netherlands or somewhere in the US, they've got you covered.
Within each one of their job descriptions, you can find a blurb about their accommodations:
Meta is committed to providing reasonable support (called accommodations) in our recruiting processes for candidates with disabilities, long term conditions, mental health conditions or sincerely held religious beliefs, or who are neurodivergent or require pregnancy-related support. If you need support, please reach out to [email protected].
Other jobs that you might want to consider for part time weekend work are retail.
While it doesn't always pay well, it is steady work and companies are always looking for more employees, especially around the holidays.
The aforementioned positions are also relevant for part time jobs for mentally disabled persons.
As you can see in the accommodations from the Meta post, no matter your different ability, they are dedicated to providing support to their applicants and their employees.
Customer Service Work for Home Jobs
These types of jobs I can do from home are great for people with disabilities that might also have trouble leaving their house on a daily basis.
There are many work from home customer service jobs available now.
Companies such as Liberty Mutual, CVS Health, Wayfair, Aramark, and the US Postal Service are all hiring work from home customer service representatives.
Social Security Jobs
When individuals receive social security benefits for their disabilities, it's often believed that they can't work or don't want to work.
That is not the case.
The social security administration offers a Ticket to Work program.
Social Security's Ticket to Work Program supports career development for Social Security disability beneficiaries ages 18 through 64 who want to work.
The Ticket Program is free and voluntary.
The Ticket Program helps people with disabilities progress toward financial independence. Individuals who receive Social Security benefits because of a disability and are ages 18 through 64 probably already qualify for the program.
As you can see, there are many different opportunities for people with all different types of abilities to find work that they enjoy and is able to pay them well enough that they can financially support themselves.
If you are someone with a different ability and have been struggling to find work, check out some of the resources mentioned above.