In September 2015, when Twitter disabled their share counts; there were mixed reactions from bloggers, freelancers as well as top influencers.
Top industry experts like Jay Baer, showed their angst towards Twitter's decision. A few weeks later, Twitter released a statement explaining the reasons why they removed the share counts.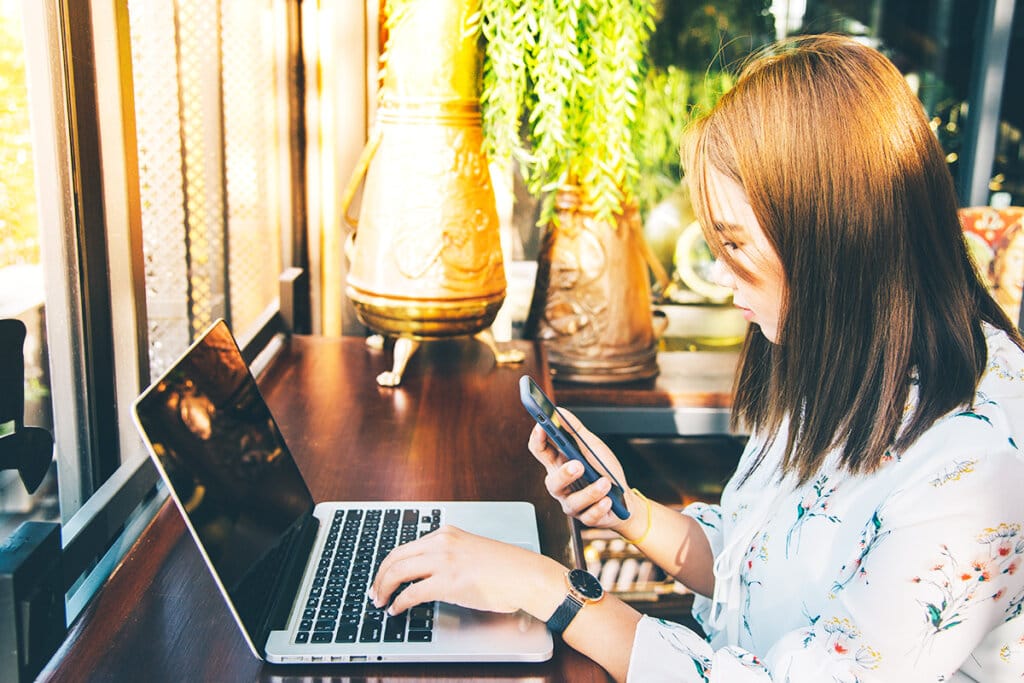 As Twitter tried to explain their reasons for making such a decision, it is clear tons of freelancers still value share counts.
How many social shares do they have?
This is one of the questions many freelancers have as way to know if a person is a top influencer or not.
And it also reflects your brand when trying to start a business as a freelancer.
A couple examples of current offerings to access share counts: Twitter Analytics, and the third party app Gnip – but there are other options for everyday users.
Even though counts don't reflect the quality of your brand, it still matters a lot. So, how do you get more social followers and reposts?
Because this is one of the million-dollar questions that people seek answers to, I'll step up and answer it.
Are you at your wits' end to get more followers and reposts?
Most marketers advise that you produce more content if you seriously need more social followers.
While producing more content is a great way to attract more followers, it could dent your reputation if you're not creating content that retains your current followers too.
In social media, blogging, and micro-blogging, you'll typically see two types of content: meformer, or informer.
We all lose a few people talking about ourselves a lot right? This is why the meformer style of content can be ineffective in gaining the most followers and reposts.
Alternatively, the informer style of content provides great information, actionable how-to steps, and/or content that inspires; this will help drive your content to more followers and reposts.
With a conversational tone, you can keep the "you" in your informer posts; which drives the most interaction.
Most people nowadays aren't following brands to receive sales pitches every day in their emails; especially the younger generation, who are still growing and don't have much to spend. So, they are following big brands to get value – not to buy services.
That said, let's look at some other things you should do to get more followers and reposts.
1. Create a Brand That Shouts "We Care"
I'm following brands to get more value, and I believe freelancers have the same idea.
You don't expect anyone to follow you, then throw a bunch of sales pitches in their inbox every day.
Industry experts already know: millennials (young adults), are more loyal to socially responsible brands.
A study by Nielson shows that over 60% of millennials will engage to a product from a reputable, socially conscious brand.
That means that if you want to retain the millennials as your followers PROVE to them that you care by touching on some of the social, economic, and environmental concerns that keep them engaged.
Therefore, you need to find ways to keep this group of people alive on their level – give them what they would want to hear at all times.
2. Host Occasional Giveaways The Right Way
If you have heard of giveaways, you might be tempted to run one and get results instantly, but that's not how it happens.
Before we dive into the nitty-gritty of this subject, let's look at instances when you may need to host giveaways.
You may want to host giveaways for the following reasons:
You want to get more followers and reposts,
You want to reward your existing followers, and
You want to keep your followers interacting and engaged through forums such as DFK Community Forum.
That said, you must be patient with this marketing tactic as a freelancer because there are some instances when you could be disappointed with the results; even though there's news everywhere how people are doing great with giveaways.
Kelly Marie, for example, opens up with the results she got on two instances when she hosted a giveaway.
People using giveaways typically expect to see about a ten percent gain in followers, when properly utilized.
The point here is that when you are still new, no one wants your services. It's not that it's bad or something, it's just that people haven't gained trust in you yet.
So, what must you do? Grow your following steadily using hosted giveaways, and don't expect your following count to explode overnight.
3. Use Button Links Instead of Banners or Text Links
Things have changed in the marketing world, bearing in mind that the attention span of human beings has gone down to 8 seconds.
If your idea isn't attention-grabbing, then there are higher chances that people will walk away without converting.
In this case, you seriously need to get more followers as well as reposts; and you have thought about testing between button links, banners, and text links.
The question is: which one converts the most? Let's see.
Econsultancy researched to find out which among button links, banners, and text links converted the most.
The outbound clicks got from the research were as follows:
Banners: 17 percent
Buttons: 43 percent
Text links: 34 percent
It's clear that industry insiders have found buttons to be the most effective in getting click-throughs, with linked text a close runner up.
That means that someone will easily click your "follow" button, rather than just placing a text link for people to follow you.
Therefore, make good use of Facebook page buttons to get results similar to the two companies. You can also add Instagram action buttons to your business account.
4. Don't Be Gimmicky With Your Paid Ads
I guess you are also tired of people selling success stories all over social media.
It's not wrong to sell, but why be gimmicky about the whole thing?
Your main objective as a marketer is to create engagement with your audience rather than promoting just yourself.
According to videodesign.com, pop up ads, and auto-play videos can push people out of your content.
Almost no one likes pop-up ads, and autoplay video ads are disliked almost as much as pop-up ads. If you use video ads, don't have them play automatically to keep your readers engaged with your content.
Secondly, it gets even worse when you try to mislead people into buying something that is perceived to be of top quality, only to realize it's just another sleazy deal.
The report by videodesign.com states: "15 percent of people say that "the ad tricked them into clicking." End result: keep it professional and do not mislead them.
Lastly, don't treat your audience as if they are dumb because they are not. FYI, consumers are smarter than you think. A lot of consumers have said online ads are insulting to their intelligence.
Therefore, be judicious and value-centered when running ads. That way, you can get more loyal followers who trust your brand.
5. Follow Top Influencers and Retweet Their Content
I've tested this hack, and I know it works: following top influencers and retweeting their content will help you get more followers and potentially more freelancing gigs.
While it might not be easy to gain more followers on Twitter like on Facebook, Twitter remains the best social media platform housing tons of industry experts.
Twitter is one of the best social media platforms to build relationships with top influencers.
I have been following writing experts like Danny Margulies (Freelance To Win), Elna Cain (Twins Mommy & Elna Cain), Arianna Huffington (Huffington Post), and Danny Rowse (Problogger); and I often retweet their content on Twitter.
Recently, when I tweeted about Upwork's sudden decision to start charging connects beginning in May; Danny Margulies quickly liked my tweet and followed me.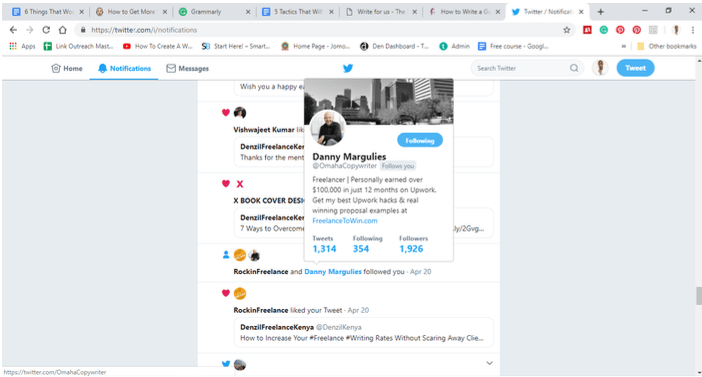 Besides, good content performs well everywhere.
It's possible that the same content on an influencer's wall will also go viral on yours. Therefore, always share and retweet people's content that's worth sharing.
It does not just save you the time for creating new content, but also helps you build stellar relationships with reputable industry experts. Keeping it simple and conversational will attract professionals and everyday consumers alike.
Over to You
You probably have noticed that there's no shortcut to getting more followers and reposts.
As freelancers, don't use any sneaky way to gain followers because consumers have become intelligent than you think.
You have to employ the best practices to get people on your list of loyalists. Over to you: what techniques have you used to gain more followers and get more reposts?