One of the first things a freelance writer encounters is the client interview.
This is the time when you get a better understanding of who the client is, what their content needs are and whether or not they would be a good fit for your budding writing business.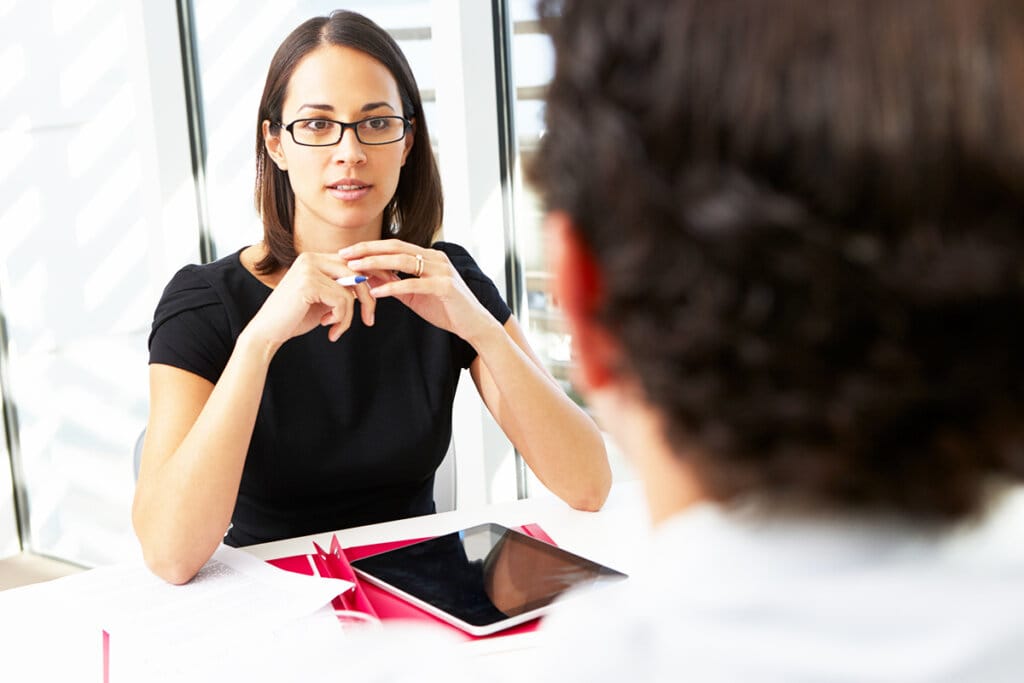 You know how important the interview is and I'm sure you've spent time researching the client's business and gathered as much information as possible. But, when it comes time to Skype or jump on Google Hangouts, everything you learned about the client over the previous days, flies out the window.
You forget what to ask and you leave the interview convinced you ruined it for yourself.
Being a new freelance writer is challenging – being responsible for sending out countless pitch letters, cold calling various businesses, marketing yourself on social media, being on top with improving your writing and handling all the logistics of having your own professional writing business. It's a lot for a solopreneur.
One thing that's great about having your own writing business, though, is being able to pick and choose your clients. When you're deciding which writing gig to take on, having a set of standard questions will help flush out those that undervalue your writing from those that know the value of content.
To help new freelance writers, we have come up with a set of 6 questions you can ask a prospective client. These questions will help you determine if a prospective client is a good match.
Make sure to bookmark this post for future referencing.
1. What's Your Budget for Your Content Needs?
You may not have to ask this question if a job ad already mentioned a pay rate for content services.
But, there will be times when you may get a query for your writing services. A potential client goes to your writer website, views your writing portfolio and decides to contact you for your writing.
In order for you to decide if this writing gig is worth your time, you better ask what their budget is. You may find out they only want to pay $25 for an 800 word blog post. Or, you may be happily rewarded with a prospect of $120 for 800 words.
In either case you can quickly assess if this client is a match for you.
2. How Often Do You Need Content?
This question only applies to consistent writing gigs like blog posts, newsletters or press releases.
Knowing how much they require your writing will help you determine whether or not you have the time in your schedule to devote to this client. If a prospective client agrees to your rate, you may come to find that you have to drop older lower paying clients to fit your new gig.
You know your own schedule and how long it takes for certain writing pieces, so factor that in when they tell you how often they need content from you.
3. Who is Your Target Audience?
It's important to know beforehand, the target audience you will be writing for. Is the audience beginners? advanced? corporate? techie or geeky? Whatever the case may be, knowing the target audience will help you with:
How to incorporate your clients' brand message so it resonates with their readers
Dictating what kind of language you will be using. Would a beginner understand what blogger outreach is if you were writing for a client about general marketing tips?
Understanding the client's product in relation to their audience
4. Is Your Content More Optimized for Search Engines or Social Media?
Many businesses rely on SEO (search engine optimization) tactics in their content marketing strategy. Other businesses may not have a clue about SEO and it's our job as freelance writers to let them know the value of having SEO editorial.
On the other hand, other clients may value social media and rely more on SMO (social media optimization) for their marketing promotion.
Knowing whether or not a client relies on SEO or SMO can tell you if keyword density is of top priority or a magnetic headline to pique readers' attention on social media is their main objective.
5. Will I have an Author Byline or Is This Ghostwritten?
It's always nice to have your name and/or author bio attached to your content. There are many advantages to being credited as the author for your content:
You can include posts with your author bio on your writing portfolio.
You can promote your client's post on social media and add "via @yourname" indicating you wrote this.
Other potential clients will see your author byline and should they need a writer, can easily contact you.
There may be times, however, when a client doesn't want your name on your content. When you write something and a client publishes it under their name or the company name, it's considered ghostwritten.
When you have ghostwriting clients, it's your job not to disclose this on social media or on your website. So, this means, you can't put your ghostwriting content on your portfolio and you can't tell everyone on social media what you are sharing is your content.
Why would a freelance writer, then, want ghostwriting clients?
More money. Typically, freelance writers can charge more (up to double their standard rate) for ghostwritten material.
Opportunity to network with influential bloggers or people. Many influencers online have ghostwriters for them. If you are a writer for a popular blogger, this can open the doors to more traffic on your site, more followers on your social media accounts and more client work from other influencers.
6. What is the Tone of Your Content?
Your freelance writing clients will come from all walks of life – the start-up company, the solopreneur businesswoman or businessman, an established company brand new to online marketing, and many more.
It's understood that these businesses have a brand and it's our job as a freelance writer to communicate the brand's message to their audience. It's important, then to know what kind of tone your writing should take.
Will it be conversational? Or technical? Or formal? Or adhere to strict writing guidelines?
Knowing this will help deliver the appropriate content to your client.
You're In Control Of the Interview
Having your own business can be anxiety-provoking. You are ultimately responsible for your income and the success of your freelance writing business.
To get you ready on the path to success, you have to be ready to take the control seat when having an interview with a client. They are coming to you for help and it's our job to be credible in our field and to understand marketing, ranking and social media as it relates to a prospects' business.
To make sure you have all the necessary information before you take on a client, you need to ask specific questions about their content needs.
So, next time you have an interview scheduled on Skype, have these questions handy!
What other questions would you include in your interview? We'd like to hear them.