You hear it all the time:
Go where you're target clients are.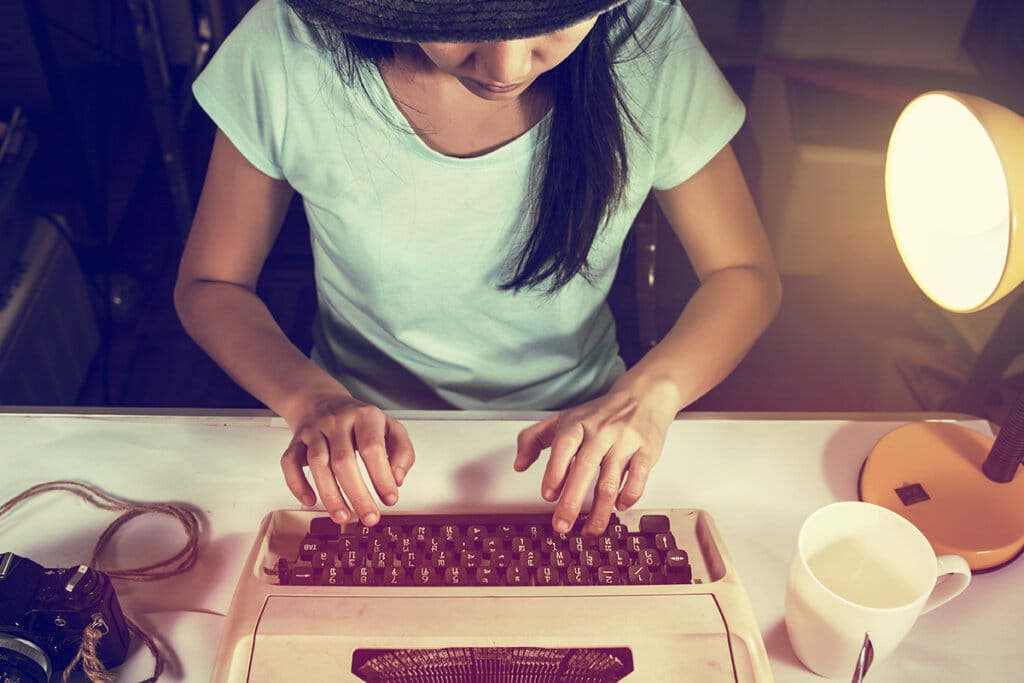 This is the usual advice we hear from experts. But if you're just starting your freelance writing career, it can be tricky to figure this out.
Social media is one way to find them. But with the noise from social media, it can be hard to get your message across to your target clients.
You hear it all the time: go where you're target clients are.
That's why I love LinkedIn. It's not as "noisy" as Twitter. It's a social networking site for professionals, so it's easier to find clients on LinkedIn than on Twitter or Facebook.
After reading this post, you will learn how to get started with LinkedIn and get in touch with your target clients. If you do things right, they will reach out to you!
Step 1: Setup Your LinkedIn Profile
Your Profile Photo
If you don't have a profile photo chances are, you won't be taken seriously. Others will think you're not active on LinkedIn or worse, they might think you're a spammer!
Choose a professional looking photo. No beach photos please!
Don't worry if you don't have the money to pay for professional photos. With your smartphone and a nice background – outside is always a good place for a photo – you can have professional looking photos in a snap.
Your Job Title
Your job title is placed under your name. You can customize your title or, whenever you update your profile with a new writing job, LinkedIn will automatically put that as your title.
When thinking of your title make use of keywords to describe what you do. Keywords help others quickly identify you and lets other professionals and prospective clients know what exactly you do.
So, think about your prospects. What words would they most likely use to search for you? Use those words.
Avoid being too quirky and don't invent titles. Sure, you can call yourself as "CEO of my own Business." But, who is searching for those words?
Some good keywords to use for your job title are:
Freelance writer
Ghostwriter
Content strategist
Freelance blogger
Freelance writer for hire
Writer
Editor
Professional freelance blogger
You can also use more than one title. For example, I have four keywords in my title:

Your LinkedIn Summary
Your LinkedIn summary provides a snapshot of your services and lists the expertise knowledge in your industry. It acts as your cover letter in your online resumé.
Some people write their summary in the third person. This makes perfect sense because LinkedIn is a professional network.
But, I chose to write mine as the first person because I want my profile to be personable. I don't want to sound corporate-y. I want to talk directly to clients and tell them how I can help them.
Again, use keywords to optimize your profile and get noticed quicker.
But, don't slap keywords on your Summary just for the sake of having keywords. Make sure it makes perfect sense.
If you're like me and you hate writing about yourself, follow this format:
Contact information
A statement or question to grab their attention
What you do
Your services
For example, here's what my Summary looks like: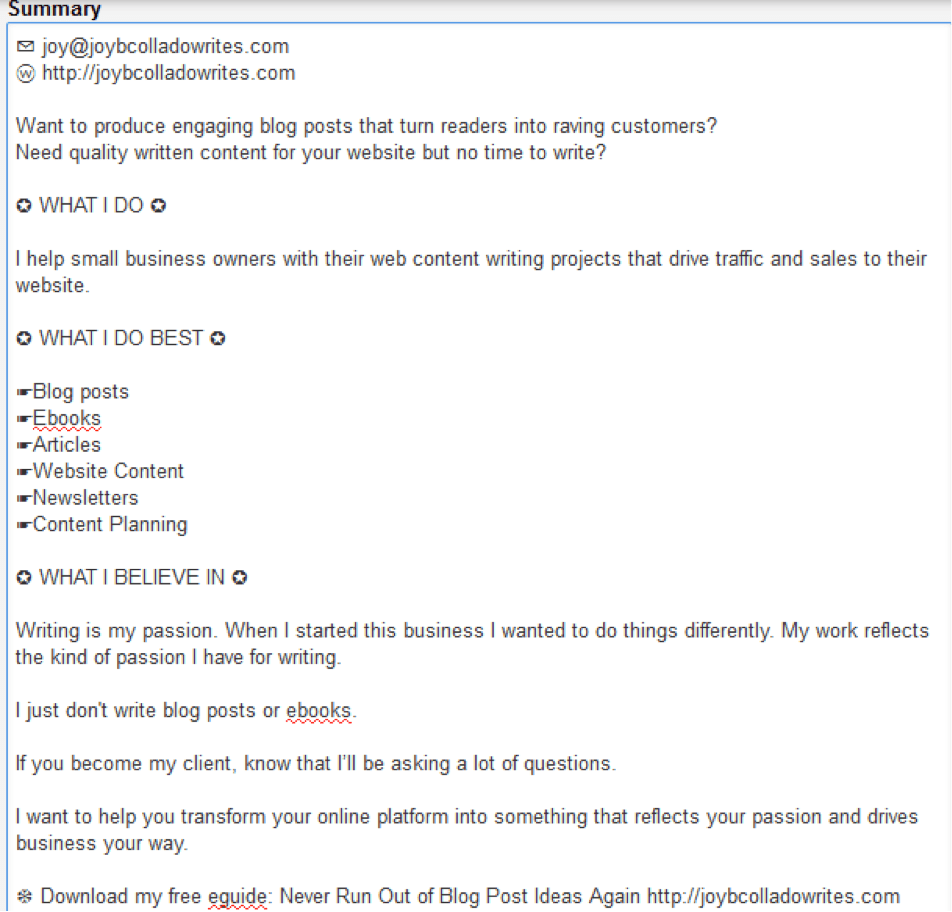 You can use the icons from this site to format your Summary.
Previous and Current Jobs
Now it's time to complete your profile. Fill out your previous jobs and current jobs. Mention volunteers or projects you're involved in.
Even if your previous job is not related to what you do now, you never know how it can help you land a gig. For example, if you worked in a retail store, you can leverage that to pitch a retail store to write their online content.
Connect
With your completed LinkedIn profile, you can now connect to others. This is similar to having followers on Twitter.
Find your target clients on the search bar and connect with them. It's good to also connect with your peers. But for client hunting purposes, make it a priority to connect with your target clients.
In the search bar, click on the "hamburger icon" and choose "companies."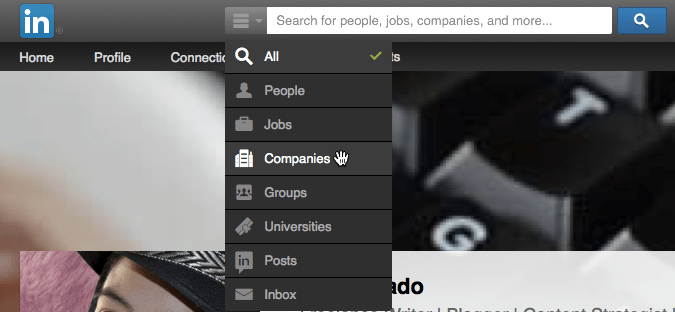 Then search. From here you can use the advance search to make your search more targeted. You can search for job title, company size, location or state and even zip code. This is great if you're targeting local businesses.

When you find some companies you can either follow them or look to see who the CEO or Marketing person is. Connect with them and introduce yourself.
Join Relevant Groups
Join groups where your target clients hang out. Provide answers to questions prospects might have Make sure to read the guidelines of the group first before posting. Each group has their own rules for participating.
Invite the members of the group to join your network using the following script:
Hi [First Name],

I noticed we're both in [Name of the group] group here on LinkedIn. Would love to connect with you!


By the way, I noticed on your profile you have a new project/business/job. Congrats!

Cheers,

Joy
After they confirm the connection, send a thank you email.
Hi [First Name],

Just wanted to take a moment to say hi and thank you for connecting with me on LinkedIn.

Anyway, if you want to chat or anything, I'd be glad to. 🙂

Looking forward to getting to know you more.

Good luck on everything you do!

Cheers!

Joy
I'm not a fan of sending group messages on LinkedIn because that's lazy.
Make an effort to send one message to each person. That way you can personalize each message you send.
Even if you use scripts, insert your personality so the person reading it won't feel that you sent the same message to a bunch of people.
Also, remember to double check! You don't want to say Hi Robert to Danny when their name isn't Robert or Danny – that's a huge turn off.
When they reply, they usually tell you about their business and ask, "How about you?"
Now, that's your opportunity to give them your elevator pitch.
Testimonials/Recommendations
Reach out to past clients and ask for a recommendation on LinkedIn. You can also copy that recommendation or take a screenshot and display it on your website.
Like in social media, you're there to interact with people. Offer to chat or give your best piece of advice for free. Even if you don't end up getting a gig, it's nice to interact with people you don't usually get to talk to everyday.
You develop your confidence and you build a network that you can tap into when you look for referrals.
Be nice. Be helpful.
People will know you not only as an expert but also as someone who's always willing to help. When they need a writer, you're the first person they'll think about.
Go ahead, try the tips above and get started targeting clients on LinkedIn.