Are you looking to add to your bucket list of clients as a freelancer?
Wondering whether using Craigslist to land writing gigs is a thing?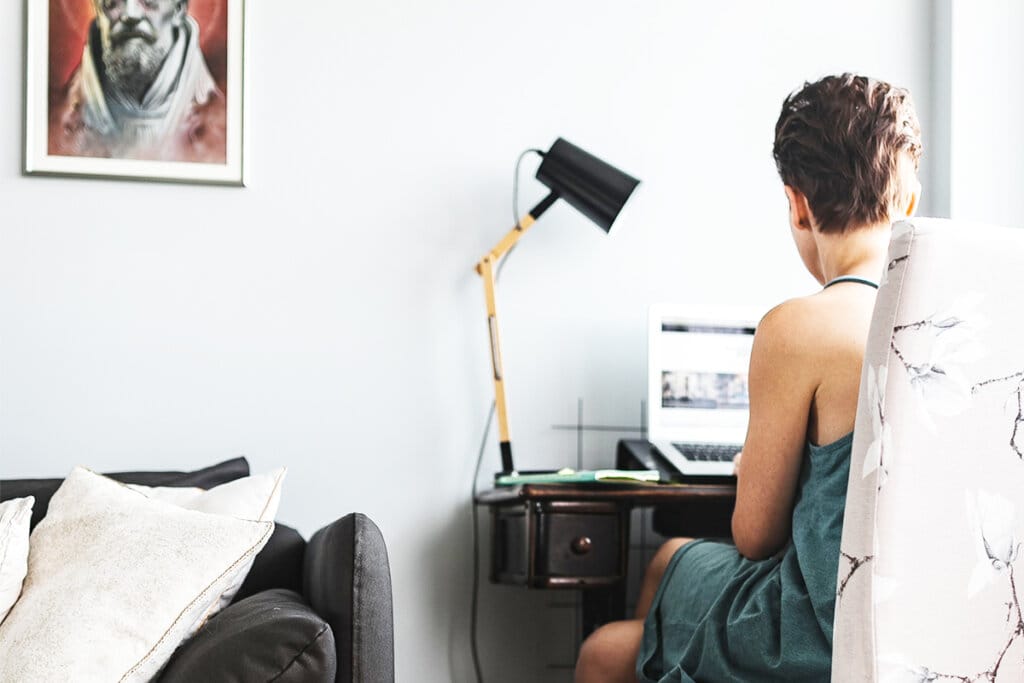 Wondering whether using Craigslist to land writing gigs is a legit?
Well, it is a thing. In as much as this classified ad site is free and could be a breeding ground for jokers and scammers, you can find legit writing jobs that pay the big bucks.
Let me guess, you are always on the lookout for better-paying writing gigs. You want to write less and make more money doing what you love.
And one way to find these gigs is to use craigslist.
You see, as a newbie freelancer, you might not have enough online establishment to make clients come to you.
You have to go and find them and show them that you mean business.
If you follow Elna Cain's blog, chances are you've read about various ways and sources of finding freelance writing jobs.
You can find clients through linked in, facebook, Twitter, and job boards like ProBlogger, Contenna, Freelance Writing, BloggingPro, and All Indie Writers.
Using job boards and classified sites is one of the best ways to find high paying clients. You are in business.
And you want to be paid well for your services, right?
Then don't settle for pennies.
When I first started, I thought I could make my first thousand through content mills.
Oh boy! I was wrong. I left the content mills and focused on the job boards, cold pitching, and search engines.
I was able to find recurring clients who are willing to pay for quality.
Some of clients on content mills want super quality work for a super little amount of money.
I saw one ad that was looking for a writer to write a 1,000 word article for $1! Jeez! I cringed.
That is super low even for a newbie writer.
Okay, not all clients on content mills pay low but a few of them want to frustrate writers.
How Do I Win Gigs Through Job Boards and Classified Websites?
Winning a writing job through job boards can be hard.
These sites attract millions of readers and job seekers.
Millions of freelance writers flock the sites eyeing the same writing gig as you.
Squeezing your pitch through the crowd and grabbing your potential client's attention can be a daunting task.
So how do you stand out from the crowd?
1. Craft a Compelling Cover Letter
Most of the writing jobs ads require that you send in your cover letter and a resume.
Don't just send in a, "copy & paste," cover letter.
Craft a compelling one that will convince your potential client to hire you. Give them reasons why you would be a good fit for their business and how you will bring them results.
Also, your resume should indicate your experience as a freelance writer.
Show your potential client the achievements you made writing for XYZ.
For example, you helped site XYZ rank organically and boosted their traffic by 300% in one month.
2. Write an Excellent Pitch
Some writing job ads on job boards require you to pitch them your ideas.
Everyone is pitching to the same editor for the same writing job. Make your pitch stand out from the noise.
Don't tell your potential client how excellent you are and how you've featured in Forbes and the New York Times.
Tell them how your skills will bring them the business results they need.
Write clear and direct to the point pitch.
Follow instructions to a tee! Before pitching your little heart out to the editor.
3. Do Your Homework About the Website/Client You Are Pitching
Some job ads outline clear instructions and want you to follow them when sending your pitch.
If you miss the step to follow them on social media, then your pitch can be sent to the trash as soon as it lands in the editor's inbox.
Ready to find high paying writing jobs through Craigslist?
Let's dive in and learn how to land $200+ a blog post job.
What Is CraigsList and How Does it Work?
CraigsList(CL) is an online ad site with various sections like community, jobs, services, discussion forums, temporary jobs, for sale, and CVs. It is where people post ads for free.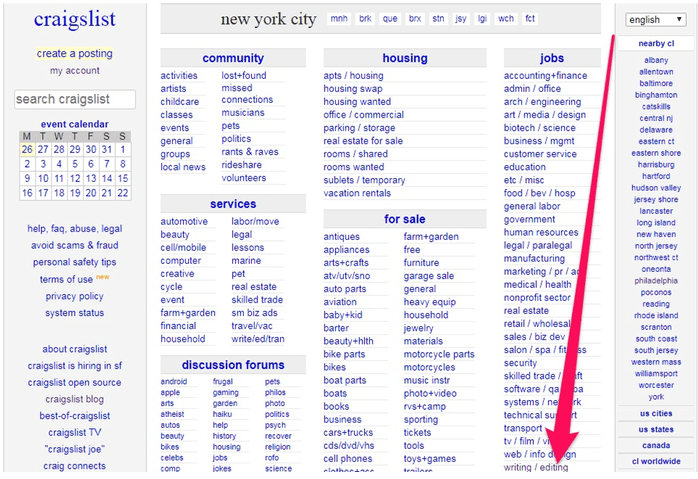 For example, in the"for sale" section, you will find a list of items on sale or for free. The same applies to other parts of the classified sections.
And being a free for all, "come one come all and advertise here" type of a site, means that scam jobs also find there way and exploit vulnerable freelancers.
You need to be very keen and picky about the type of ad you choose and apply to that job on Craigslist.
Below are some red flags that should raise your eyebrows while browsing through Craigslist.
How Do I Differentiate Between a Scam Ad and a Legit Ad?
Scammers are everywhere ready to bounce on vulnerable freelancers.
Do not fall for them.
You want to earn money writing and to do so, you need the right clients who value your efforts.
Below are a few tips to help you sieve through the legit ads on craigslist and keep the scammers at bay.
1. The Writing Job Ad is Not Clear On the Job
Scammers often use catchy titles on their ads like "freelance writer wanted for an easy job."
If you are a serious freelance writer, you know that writing is quite a task and to produce an excellent piece, you must dive into some serious research.
That for a fact, is not an easy job. Don't waste your time on job ads like the one below.
2. The Job Poster is Not Explicit In the Type of Writer They Need
Unless you want to work for agencies/"middlemen" who pay pennies for hours of work, you wouldn't want to apply for a gig that isn't clear on the type of writer they need.
Most of these ads come from content agencies/firms that wish to exploit writers.
I would pick this ad: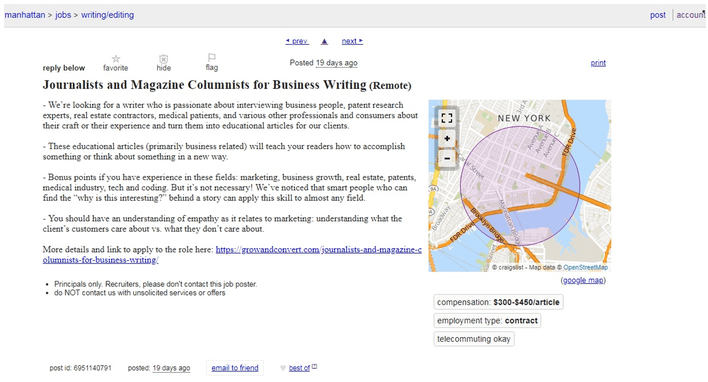 Than this one:

3. No Authentic Information About the Company/Business
When I'm scrolling through a writing job ad, the first thing I do is learn more about company/business in question.
This process is one way of getting to know more about your potential client and their needs.
You can find more about the company two ways:
Search the company name on Google and Reddit
Search the company profile on LinkedIn
4. Lack of Company/Site Info Makes Is a Big Red Flag
However, some ad posters are too busy to include many details on the ad, so make sure to be careful and not fall in the hands of scammers/fraudsters.
Let's look at how to find writing gigs on this site.
There are two main ways (and a simple hack I'll share at the end of this post) you can land writing gigs on Cragslist.
You can search through the CL site and apply for the advertised jobs.
You can post an ad for free about your writing services.
How to Search for Writing Jobs/ Craigslist Gigs
Craigslist can be quite confusing because it doesn't have a search tool to run a search on their site.
The search tool available helps you search on local Craiglist gigs listings only.
The reason is that CL is designed for local listings.
However, you can use the advanced search and run a search on the entire site in one go.
Go to https://craigslist.org/ you will be taken to Craigslist's homepage according to your location.
But you can change the area using the drop-down list of countries on your right-hand side as you can see below.
Scroll down through the jobs section. At the bottom of the list is writing/editing.
Click on the link, and you will be redirected to a page with a list of writing gigs. Check through the ads and apply for the positions.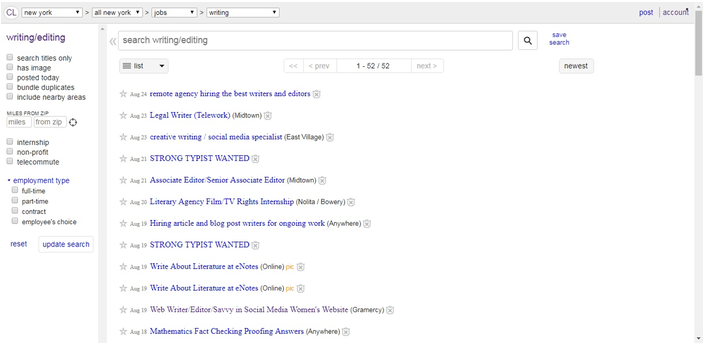 Now because this site is region-specific, you will need to enter the region you want to find jobs from on the search bar.
At the right-hand side of the site is a list of countries/regions.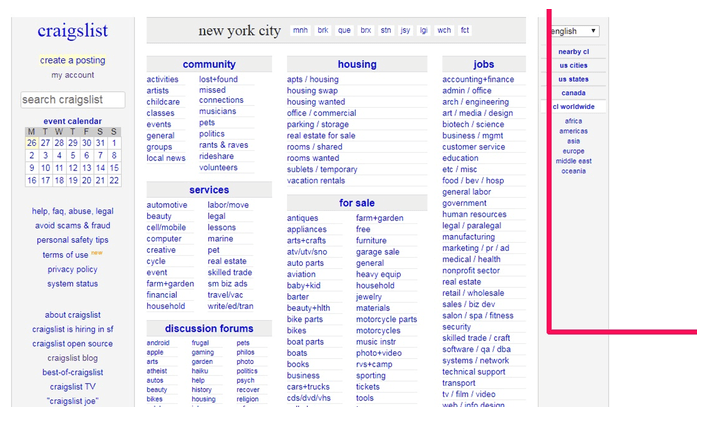 Click on any country on the list and go to the job section down to writing/editing.
You will also realize that below the jobs section is gigs. Some writing gig ads are posted on the gigs section under the writing section.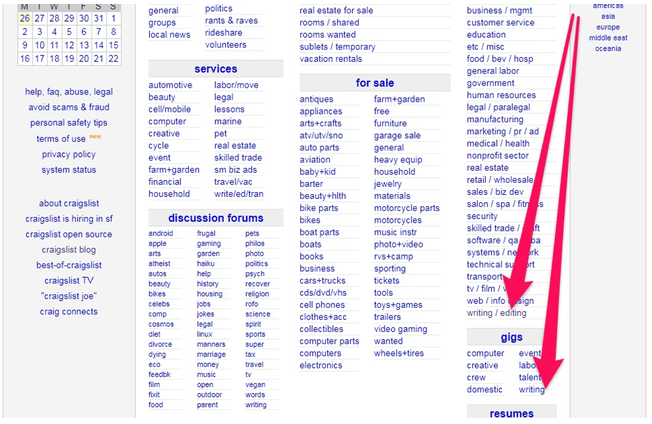 But remember, gigs are part-time, one time off jobs. You need to apply for a long term writing gigs to avoid the feast and famine cycles.
Can I Run An Advanced Search on Craigslist Instead?
You can run a one search using https://www.searchcraigslist.org/
Should've given you this step first, right? No, I want you to learn all the tricks.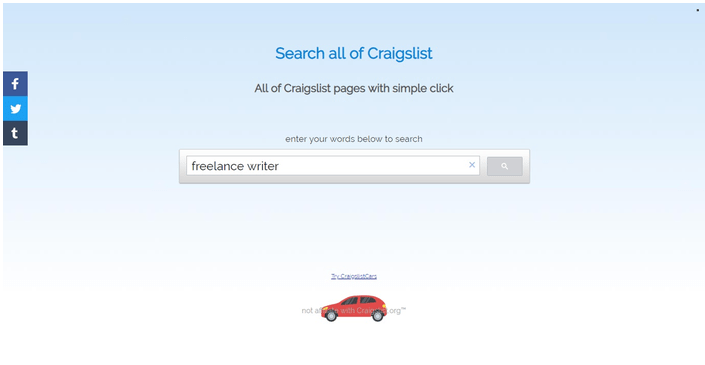 Enter your keyword in the search bar. To get more accurate results to consider using the keywords like "freelance writer," "hiring a writer," "guest writer," etc.
You should get results like the ones below.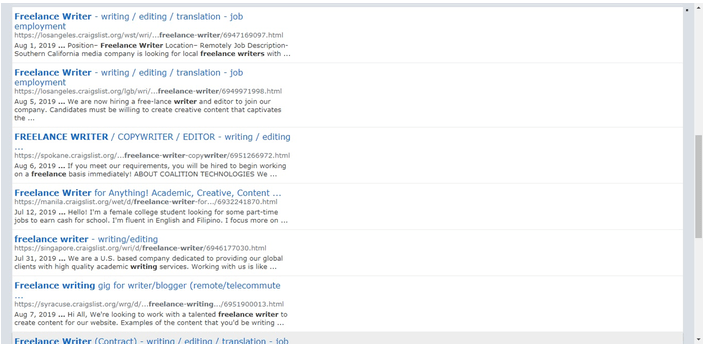 How Do I Create/Post an Ad on Craigslist?
Creating an ad on Craigslist is another excellent way of finding freelance writing jobs on the site.
Create an ad post on Craigslist about your services and post on the site.
Your posting will be put under the services list and will run on the site for a specified period.
With this type of ad, potential clients can see your services and reach out to you if they are interested.
Click create a posting and follow all the instructions. Fill in all the required fields. Make sure to place your ad under the writing and editing.
You can have your ad title as:
Professional freelance (your niche) writer for hire
Go ahead and state the services you offer in the main ad and your rates. Something like this:
I have (years of experience ) of experience writing for different websites such as (name of the sites you've been featured ). I specialize in (your niche)
I charge (your rates ) per blog post or a flat rate of ( your rates) per project. I am open for negotiation, so feel free to email me, and we can negotiate.
A Quick Hack to Finding Writing Gigs on Craigslist
So, I saved the best for last.
This is a quick hack Elna shows on YouTube that is amazing!
Just type in a special blurb into Google and you can get all the gigs with compensation mentioned in the job ad from any Craigslist in any city or country.
Good luck on finding Craiglist gigs for you!
Make sure to subscribe to her channel for more amazing freelance writing tips.
Wrapping Up on How to Land Writing Gigs on Craigslist
There you go my fellow writer –
Excellent tips to help you land you next big client as a writer. Finding clients through craigslist is not hard.
All you need is to position yourself as a serious business owner who is looking to add value to your client's business.
Craft a compelling and unique pitch every time you apply for a writing job. Be honest in your pitch and don't settle for the low rates.
Do you have other superb ways that have helped you land high paying clients? Tell us about them in the comments section.
Happy writing!