Setting up the perfect home office is all about finding a desk that not only meets your functional needs but also saves space in a clever way.
You might have already heard about the stylish Grovemade desk shelves, but did you know there are even more options out there?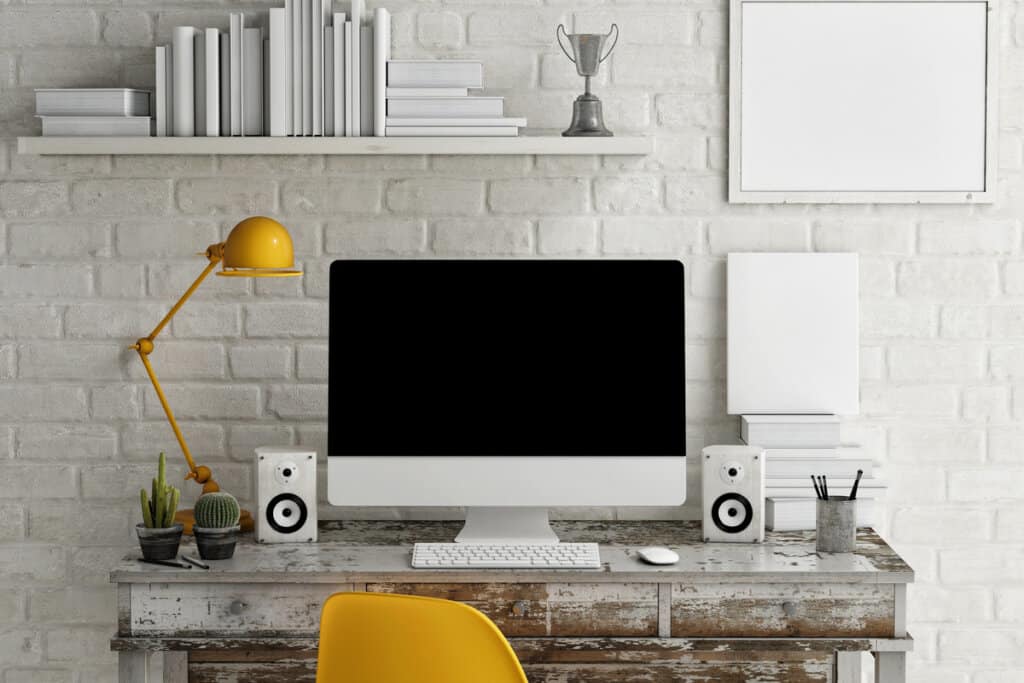 Enter the wonderful world of shelf desks!
These versatile workstations not only provide a designated space to get things done but also come with built-in storage solutions to keep your office essentials neatly organized.
Let's take a look at the different types of shelf desks and find the ideal shelf desk that will transform your home office into a comfortable and efficient haven.
So, let's get to it and find the perfect fit for your unique work style and personality!
Desk Shelf for Monitor
A desk shelf for your monitor is a practical addition to your home office setup. It elevates your screen to eye level, reducing strain on your neck and enhancing ergonomics.
Look for sturdy designs with adjustable heights to achieve the perfect viewing angle.
Some models also feature built-in cable management to keep your desk tidy and clutter-free.
1. Wooden Computer Monitor Stand
By raising your monitor by 5.5 inches, this desk shelf for your monitor helps you maintain a comfortable viewing height.
And the stand's two tiers also provide additional storage space, perfect for books, tablets, and other office essentials.
2. Monitor Stand with Drawer
The "H" shape construction of this monitor shelf is durable and provides reliable support for monitors and printers up to 33 lbs.
Its two drawers offer ample storage, keeping your desk neat and organized!
3. Clear Monitor Stand
This clear monitor stand has adjustable nickel-plated feet, so you can adjust the height and ensure a customized viewing experience. Assembling this stand is a breeze – simply screw the four legs to the board, and you're done!
4. Adjustable Monitor Stand With Drawers
This adjustable monitor stand with drawers offers three adjustable heights, and the dual-layer design provides ample storage space to help you keep your workspace tidy and efficient.
Plus, it's made from durable material, so it can support up to 55 lbs without wobbling, ensuring stability and longevity.
5. Dual Monitor Stand
The extended length of this dual monitor stand allows you to accommodate two to three screens, and the ample storage space beneath is perfect for a keyboard and mouse.
The length and angle of the stand can be adjusted, making it suitable for L-shaped desks and regular tables.
Desk With Monitor Shelf
Instead of placing a separate shelf on your desk, you can always opt for a desk with a built-in monitor shelf!
These desks come with a dedicated shelf or platform designed to hold your monitor securely, providing an optimal viewing height.
With the monitor elevated, you can maintain proper posture and reduce strain on your neck and eyes.
6. Desk With Monitor Riser
This desk features a monitor shelf, a convenient drawer, and two hooks for added functionality.
It has lots of space for your workspace needs!
7. Desk With Monitor and Storage Shelves
Make the most of limited space with this computer desk that includes a monitor shelf.
It has two-tier storage shelves, so you can keep your workspace tidy and organized, while a dedicated fabric bag provides storage for stationery and personal items.
8. Desk With Monitor Stand and Keyboard Tray
You can also maximize your storage options with this computer desk that has a pull-out keyboard tray, two-tier storage shelves, and a stand shelf for lots of storage space.
9. Small Writing Desk With Monitor Shelf
You can add a chic and sturdy touch to your home office or workspace with this small writing desk.
It has an open-concept design with a built-in monitor stand, making it a perfect addition to any setting.
Desk Organizer Shelf
A desk organizer shelf is an excellent solution for keeping your workspace neat and tidy.
These shelves typically feature compartments or slots to hold stationery, files, and other office supplies.
Opt for a desk organizer shelf that suits your needs, whether you require more space for pens and notepads or compartments to store documents and folders.
10. Adjustable Desktop Bookshelf
This adjustable desktop bookshelf is perfect for organizing and features different height open shelving units
It's compact in size, so it's not only stable but also saves valuable space on your desk.
11. Wood Adjustable Desktop Bookcase
Display your books, office supplies, small planters, and decorative items with rustic charm using this wood adjustable desktop bookshelf.
It has two separate pieces that can be fully overlapped or pulled apart to adjust the width, allowing you to fit it perfectly into any space and complement your personal style.
12. 2-Tier Desktop Printer Stand Holder
Maximize your desk space and keep your workplace organized and tidy with this 2-tier desktop printer stand holder.
Its practical design features two tiers, so you can display your printer on the top and use the bottom shelf for storage.
13. 3-Tier Desktop Organizer
This 3-tier desk organizer shelf is perfect for keeping your desktop stationery neatly organized.
Also, the organizer features six hooks and two cups, providing extra hanging space for your convenience.
Corner Desk Shelf
Utilizing the corners of your home office can be a smart space-saving strategy, and a corner desk shelf fits perfectly in such setups.
These shelves are designed to fit snugly in the corner, maximizing the available workspace.
Or, you can always opt for a corner desk with built-in shelves!
14. Space-Saving Corner Desk Shelf
Maximize your corner space with a corner desk shelf.
This 2-tier corner shelf provides ample storage and organization options, allowing you to keep your essentials within reach.
15. Corner Desk with Built-In Shelves
This rotating corner desk features three rotatable desktops, so you can transform it into a long bar desk or create an L-shaped corner desk to save space.
So no matter how you arrange your home office, this desk will always fit perfectly.
16. L-Shape Corner Desk with Shelves
This L-shaped corner desk is ideal for small areas. It serves as a functional computer desk, providing ample space for your monitor, keyboard, and other peripherals.
One end has an open-shelf design, so you can keep your office stylish no matter where you place your desk!
17. Convertible Corner Computer Desk
The flexibility of this corner desk with shelves means that you can easily convert it to a straight desk to suit your space!
It also features a drawer, open compartments, three fabric boxes, and two outside shelves that can be adjusted to different levels.
Wall Shelf Desk
If you have limited floor space or prefer a minimalist look, a wall-shelf desk might be the perfect solution.
These desks are mounted directly on the wall, providing a compact workspace while freeing up valuable floor area.
Look for wall shelf desks with ample surface area for your laptop or writing tasks, and consider additional shelves or compartments for storage needs.
18. Folding Wall Desk

This folding wall desk is versatile and will save you a lot of space in your home office.
It has a large storage shelf and open cabinets, and the folding design allows you to easily fold it against the wall when not in use.
19. Wall Mounted Foldable Wall Desk
Designed with a fold-down tabletop, this wall-shelf desk is perfect if you're trying to maximize space.
When not in use, simply fold the panel upright and secure it with the knob.
20. Wall Mounted Drop Leaf Desk
This wall-mounted drop leaf desk features storage shelves and drawers, providing both a working space and extra storage options.
Its modern folding design integrates seamlessly with storage shelves, making it a versatile addition to any space.
21. Wall Shelf Desk With Drawer
A wall-shelf desk with a drawer is a great choice for creating a functional and stylish workspace.
The desk features a storage drawer to keep your supplies organized and maintain a clean appearance.
22. Wall-Mounted Fold Out Desk
When folded, this wall-mounted fold-out desk occupies minimal space with dimensions and provides ample storage space with multiple compartments.
Desk Riser Shelf
A desk riser shelf is an excellent choice for individuals who prefer to work while standing or need additional storage space.
These shelves elevate your entire workstation, providing a comfortable standing position while creating room underneath for documents, books, or even a keyboard.
Look for sturdy materials and adjustable height options to suit your preferences.
23. Standing Desk Converter
You can upgrade your workspace with an adjustable standing desk.
This ergonomic stand-up desk fits on any flat tabletop and features cord organization, an embedded groove for your device, and non-skid silicone pads.
24. Height Adjustable Standing Desk
The ultra-slim 26″ surface of this desk riser shelf is ideal for smaller work areas, offering ample room for a single monitor, laptop, and full-size keyboard.
25. Standing Desk Riser Shelf
With this desk riser shelf, you can spread out with the extra spacious work surface that accommodates your computer monitor, paperwork, and desk accessories.
The oversized U-shaped keyboard tray provides flexibility for a full-sized keyboard and mouse or a laptop.
26. Monitor Riser Workstation
If you're looking for the perfect balance between sitting and standing, desk riser shelves are perfect!
This one has a durable gas spring that allows you to adjust your desk riser smoothly with one hand, offering an adjustable range of 5 to 16 inches.
Find Your Perfect Shelf Desk for a Productive Home Office
Incorporating a shelf desk into your home office setup offers a multitude of benefits beyond providing a dedicated workspace.
These desks with built-in shelves allow you to organize and reduce clutter and contribute to improved posture and ergonomics.
Beyond their functional advantages, shelf desks can also enhance the aesthetics of your home office.
So no matter what shelf desk you choose, the right shelf desk will not only optimize your available space but also improve organization, posture, and overall productivity.
By carefully considering your specific requirements and preferences, you can select a shelf desk that perfectly aligns with your style and functional needs, transforming your home office into an efficient and inviting workspace that maximizes your potential!