As a freelancer, sometimes you have to get creative with your home office ideas.
Ultimately, it's nice to have a dedicated workspace where you can keep things organized and stay focused.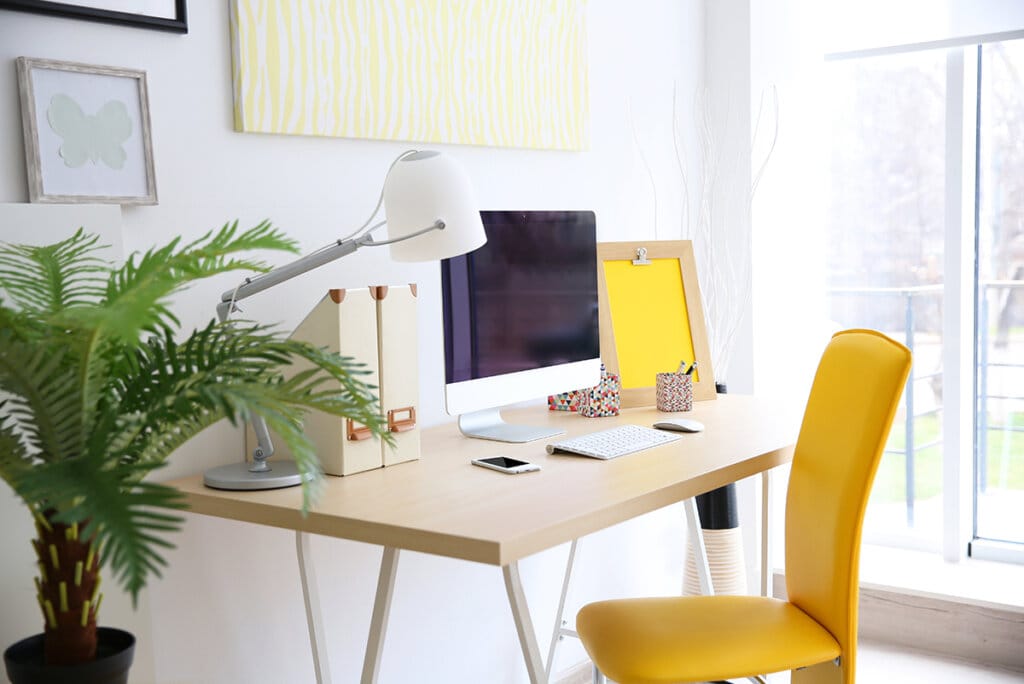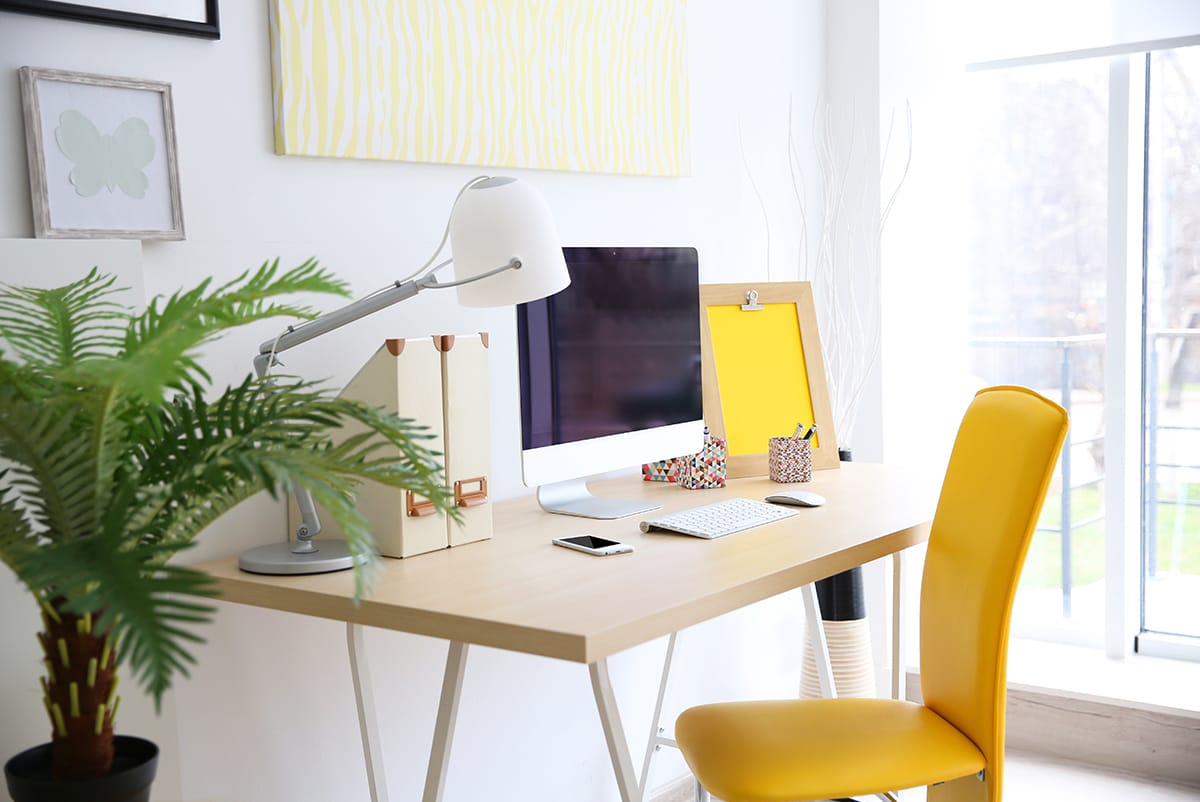 Being a freelancer myself, I have worked from my kitchen table, my bed, various coffee shops, and a plethora of other random places.
Even a small home office can help you to get into that work mindset rather than struggling to figure out what you should tackle on your mile long to-do list.
From keeping your thoughts and projects organized to using your available space, there are many great small home office ideas to take inspiration from.
While many of us dream of having a large, dedicated office (free of children and other distractions), it doesn't always work out that way.
Being a freelancer myself, I have worked from my kitchen table, my bed, various coffee shops, and a plethora of other random places.
Once we moved into our home when the twins were five, I finally had my small office space – well partial space, as it is also the craft room! Little steps here!
So to inspire you, I wanted to share with you some small home office ideas.
Some ideas on how to best utilize the space you are working with and a few others on how to better organize a small space for productivity.
Use What You Have With a Small Office Space
Whether it's a closet or a corner in a bedroom, you can take that space and make it into an adorable home office that you feel great about.
Here are some ideas for helping you to create a workspace out of even the smallest areas.
Random Small Spaces
Do you have a tiny space in your home that doesn't really have a use? Perhaps a random storage spot or perhaps a space under stairs?
This is the perfect spot to make into a small home office.
If there is enough room for you to sit (or stand), there is enough room to make an office!
If you can't find furniture to fit, simply make some custom shelves and or a desk to fit right into that small home office.
Make sure you have adequate lighting though, small, enclosed spaces tend to be dark and you don't want to put any further strain on your eyes.
Corner Office
You don't need a whole room to make yourself a cozy little office space, a corner will do just fine.
There are plenty of small corner desks available that can easily fit even a full size computer. You can create more space for yourself by adding floating shelves for storage and minimizing desk clutter.
Closet Office
Even the smallest homes have closets. You can easily turn a closet into a small home office. The best part; you can close the door and hide away your work when you just want to take a break and unwind.
Also, it's a great way to keep little fingers off of your computer when you are not on it.
When putting together a closet office, make sure that you choose an appropriate chair.
A small, ergonomic chair without armrests, can easily be pushed in when not in use to save space.
When coming up with your perfect small home office ideas, you need to utilize every inch of space available.
From small furniture to getting the most out of your wall space, planning ahead will make everything easier.
If you can't find a desk to fit into your closet, all you really need is a thick piece of plywood and some brackets.
Standing Office
Create a productive workspace with this floating, standing desk idea. I'm sure you already know that sitting for long periods of time isn't healthy for you. Creating a standing desk is better for your health (and more difficult for little ones to reach things).
You can use a corner or section of a wall for this standing home office idea.
Floating Desk
You can create a floating desk on just about any wall space. All you need is some wood and brackets.
You can keep it simple or get fancy with it and use fancy brackets and painted or stained wood. You can also build shelving under the desk to create some storage space.
Island Office
This is a great idea for an office that is also a craft room or a homeschooling area.
Use the room that you have with a multipurpose function in mind. Depending on the size of the island, you can use it for a desk, crafting space, place for working on projects, or including someone else in your workspace.
Bonus points if there are storage compartments under the island to help keep things organized.
Window Office
Do you have an area with a large window that you can't use for much else?
Pop a desk in front of it and call it an office. Having a workspace with natural lighting has so many benefits. First of all, natural light provides vitamin D which can help fight depression, helps you lose weight, and fight disease.
Also, if you have made the switch from working in a windowless office to working at home, you will surely appreciate being flooded with natural light.
Just make sure that your screen isn't facing the window, it might be a little more difficult to see what you're doing then.
Shelving Unit Desk
You can easily convert a shelving unit into a small office area. You can make a workspace from a nice ladder shelf or a shelf with a wider bottom area.
Having an extra storage area right in front of you is also helpful for keeping your office supplies organized.
Bedroom Office
Let's face it, in a small home or apartment, oftentimes spaces need to be multifunctional. Sometimes having an office in a closed off space is better for your concentration and actually being able to get things accomplished.
This can be particularly helpful if you don't live alone. It gives you the ability to close yourself off from distractions.
You can also use any of the aforementioned ways to create an office space within the bedroom.
From a small corner desk to creating a standing work area. Figure out what is going to work best for you.
Room Curtain Divider
If you have a small home office in an area that you would like to hide, simply add some curtains and make a room divider. While curtains won't block any sound, they do a great job at hiding away some of your office clutter or keeping nosy roommates out.
Simply hang up a curtain rod and attach some pretty curtains to create your own little space.
Organizing and Decorating
In a small office space, it is crucial to have good organization.
It's also nice to have meaningful and motivational decorations, without making it feel crowded, of course. Here are a handful of ideas on how to keep your small home office space organized and clutter free.
Office Command Center
If you have a decent amount of wall space to work with, create your own little home office command center.
Include things like a whiteboard, visual calendar, metal pocket folders, corkboard, and so on.
I love this video from Cass of the Clutter Bug. She shares her tips for creating a command center for her home, but it can be adapted for your home office!
Get The Most Out of Your Drawer Space
It can be tempting to just toss everything in a drawer and call it a day.
But then what happens when you need to actually find an item that you tossed in there? If your desk drawers don't already have divided areas in them, make some!
There are tons of available options on Amazon, or heck, just hit up the dollar store to find small organizers that you can mix and match.
Use a Monitor Riser
Using a monitor riser helps in two ways.
It helps to bring your monitor up to eye level, preventing strain on your neck from looking up or down too far.
It also provides you with extra room under the monitor. You can store papers, office supplies, or your keyboard when not in use.
Hang Folders on the Wall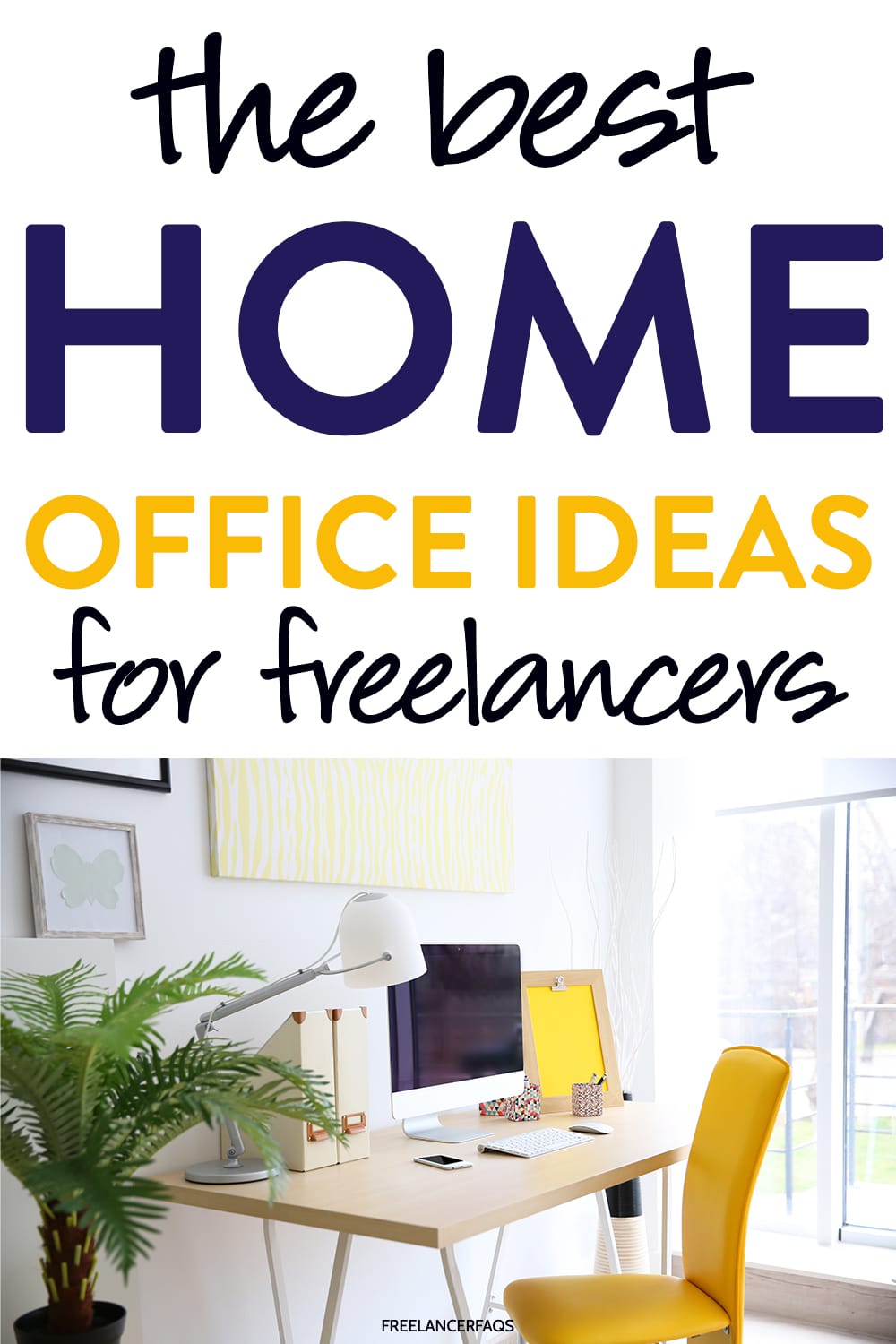 If you have the wall space, grab some wall mounted file holders to help keep your papers organized.
You can also get colored file folders to separate papers within those file holders to keep things better organized and even color coded.
Paper Tray Organizers
If you don't have the wall space but have some shelving or desk space, opt for paper tray organizers.
Use Vertical Space
More likely than not, you are going to have a good amount of vertical space to maximize your small home office ideas.
Use that vertical space as much as possible. Create shelves that go up high and hang things on board higher up.
Don't Decorate with Clutter
While functionality is critical, good design is optional.
While you can certainly create a highly functional space that doesn't look great, it's better to have a nice looking workspace; something that makes you feel happy.
When choosing design elements for your desk or office area, pick things that bring you joy (little Marie Kondo tip there).
Keep your space in mind when you are decorating, don't pick things that are too big and will take over the space. Minimalist pieces are good and totally on trend!
Small Home Office Ideas for You!
When putting together your small home office ideas, start with some inspiration before you just dive into buying things and decorating.
Make sure it is something you are going to be happy living with before you make a commitment to it.
All in all, it should be something that will make you happy and help you be productive and stay organized.