As a busy freelancer, you need a home office that allows you to get work done efficiently and without distractions.
But that may be harder than you think.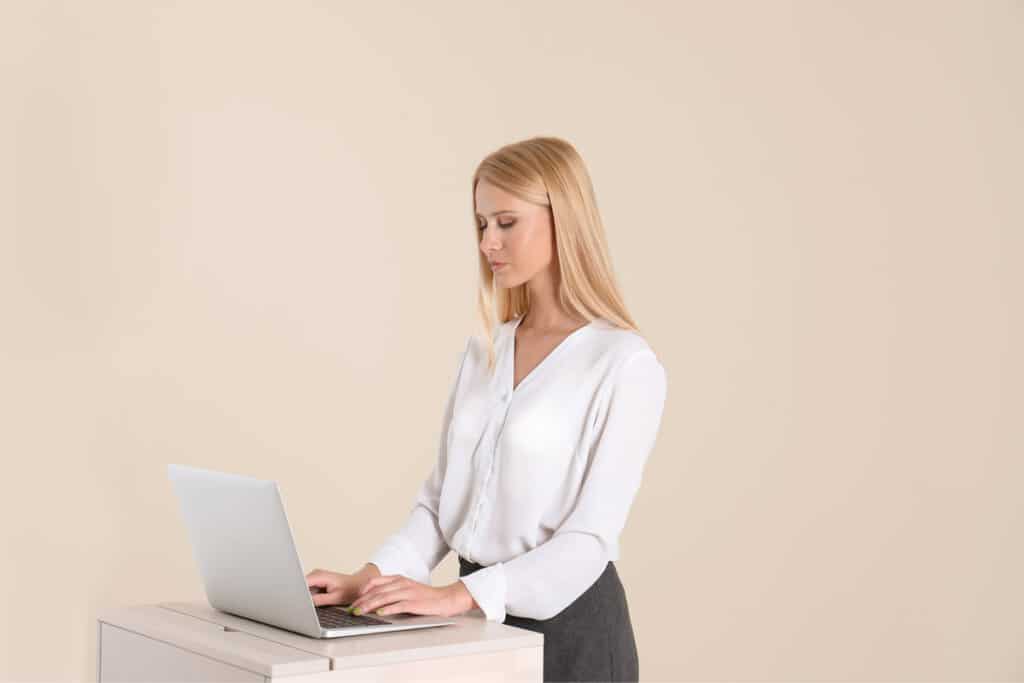 A floating desk does not actually float (physics and all), but is mounted to the wall to make it appear as though it is floating.
Working from home as a mom to twins and a husband who also works from home can be difficult. Oh, and we just adopted a kitty too!
This kitty took over my office and now I have very limited space in my home to have a functional home office.
That's why I've been thinking about a floating desk.
What is a Floating Desk?
Looking for space saving desk solutions? Why not try out a floating desk for your home office?
A floating desk, as the name implies does not actually float (physics and all), but rather is mounted to the wall to make it appear as though it is floating.
Most floating desks fold up in order to save space when not in use.
This is a great alternative to traditional desks that take up much larger footprints.
These floating desks are small and some are even designed to be completely portable making them an ideal solution for digital nomads.
Some of these desks even have suction cups that can be suctioned to a window. In addition to being super quick to set up, there are several other benefits to choosing a floating desk for your work area.
The Benefits of Floating Desks
One of the great things about floating desks is their versatility.
Not only can you use these floating desks as traditional desks, you can also use them as creative shelving solutions.
1. They Are Easy to Install
Many of these floating desk options have suction cups so you don't even have to worry about getting any tools out.
Even the ones that do require tools only take minimal effort to install in your space.
2. Floating Desks Provide Extra Space and Don't Take up Floor Space
Think about a regular desk for a second.
When you are not using it, it is still taking up floor space.
With a floating desk, you can fold it away when you are not using it and use that space for something else, like working out or dancing (because it's important to move around when you are working at a computer for longer periods of time).
3. They Are More Functional Than a Regular Shelf
Regular shelves are functional but don't do a whole lot other than just hang out on your wall.
One of the really neat features of a folding desk is that you can affix them to a window with suction cups, making them a great alternative for plant stands and other shelving options.
Floating desks also make great alternatives to children's desks and crafting areas.
Easily tuck away your items when you are not using them.
4. A Floating Desk is Amazingly Cost-Effective
In comparison to a standard desk or a standing desk, floating desks are incredibly affordable.
You can grab a simple floating desk on Amazon for cheap!
5. They are great for taking on trips.
Floating desks are also a great option to take on trips.
Staying in a hotel and unsure if they have a desk? Simply pack your own desk!
Floating Wall Desk
Find the perfect floating wall desk here for your needs and that will perfectly fit your home decor.
1. Folding Wall Desk
It really can't get more simple than this.
An incredibly affordable and space saving option for a first floating desk purchase.
Simply fold it down when not in use.
2. Solid Wood Wall Mounted Floating Desk
Whether you want a functional floating desk or just a cool-looking shelf, this desk fits the bill.
Easily mount it on the wall with two brackets and get to work!
Floating Corner Desk
A corner desk is great for setups where you don't have the right amount of wall space for a standard floating desk or if you are looking to add even more space to your home office setup.
3. Wall Mounted Corner Desk with Cubbies
Looking for a corner desk that is going to give you plenty of room to work on?
This corner desk offers 59 inches of working surface. Large enough to spread out and work on various projects while also saving a ton of space in your home office area.
4. Corner Shelf Desk
On the other hand if you are looking for a very small and low profile desk to work on, then this floating corner desk is perfect!
Made from solid wood, this desk will easily fit into any corner and still provide you with enough workspace.
Whether you're writing your next great novel or just paying some bills, this is a great option.
Floating Desk with Storage
One of the benefits of having a floating desk is the option for additional storage.
Easily store away your computer, art supplies, or other knick knacks when you are not using them with these floating desks with storage solutions.
5. Fold Out Desk with Shelves
If you like the idea of a floating desk but feel like they aren't sturdy enough for typing on, then this is a great option.
This desk folds down with an additional support to make it feel more like a traditional desk.
When not in use, easily fold it up for a space saving storage solution.
6. Floating Wall Desk with Pull Out Drawers
While those very simple floating desks are great, sometimes you need a bit of extra storage for important papers and other necessities.
Modern Floating Desk
Modern home decor is very on trend right now.
Low profile, minimalist, and white are all indicative of the "modern" home decor look.
These all fit the bill for modern floating desks.
7. 58" Modern Floating Desk
The design of this desk gives it a traditional desk feel without taking up any floor space.
Easily store your books, computer, and any other necessities in the large drawer or on the smaller shelves underneath. A great option for a kids room or home office area.
8. Reversible Wall Desk
Depending on how you want this desk setup, there are two great options.
You can either secure this desk to the wall as more of a desk type of style or you can secure it as a shelf.
Check out the image to see how it would best work in your space.
White Floating Desk
In search of a clean and minimalist look for your floating desk? Opt for a white floating desk to hang in your home office or dorm room.
9. Basicwise Wall Mount Laptop Office Desk with Shelves
This floating desk provides enough room to work with a laptop on while also providing plenty of storage. This is a great option for keeping your space clean and tidy while also looking great!
10. Wallmounted Multi Function Fold Down Desk
This floating desk is a great option for a kids desk or if you have a small crafting or art area.
When you are not using it, simply tuck all of your materials away and fold up the desk.
Everything is out of sight and neatly organized for when you need it again.
When it's all closed up, it simply looks like a white cupboard attached to the wall.
Floating Office Desk
Whether you are searching for a floating office desk for yourself or your kids, there are many great options available.
11. Wall Mounted Floating Table
While technically a table and not a desk, this is another great alternative. You'll have enough space to work and you can even place a picture on the back of the table to make it look like a picture frame!
Small Floating Desk
With the rise in minimalism and nomadic living, space saving solutions are a hot topic.
Easily have a space for work while not having to sacrifice your space for a bulky desk that you only use occasionally.
12. Floating Desk with Foldable Tabletop
This small floating desk has a low profile and won't take up much space. Decorate it with some pictures and store your essentials inside when not in use.
13. Multifunctional Floating Desk
These small floating desks are also great if you have young kids at home.
If you don't have the space for a dedicated home office, these desks will help to keep little fingers out of your important documents when you're not around.
Plus it has a nice, low profile drawer for you to keep all of your pens in so you near have to worry about losing them or your kids stealing your expensive pens to color with.
Floating Wood Desk
While most of these floating desk options are made out of wood many of them are covered in a composite for additional protection. Having a fully wood floating desk is a great option for those that want a more natural look.
14. Modern Floating Shelf Side Table
This shelf also doubles as a floating desk.
A beautiful addition to any area of your home or home office.
15. Folding Wood Floating Desk
This neutral tone floating wood desk is great for hanging up in a kids room or common area of the house for a low profile workspace.
Easy to install and works with any home decor you have in your apartment or house.
FAQ's on Floating Desks
1. Are Floating Desks Worth It?
If you don't already know, of course they are worth it!
Floating desks offer a versatile, space-saving solution for your home office needs.
If you live in a tiny flat, small apartment or just don't have the space for a big desk, then a floating desk is what you need!
2. Are Floating Desks Sturdy?
Yes, floating desks are designed to be sturdy and support your weight while you work.
These aren't typical shelves. They can withstand pressure you put on it while you type.
3. Are Floating Desks Safe?
Yes, floating desks are safe to use. However, be sure to follow the installation instructions carefully to avoid any accidents.
Sometimes it is best to secure the desk to the wall with brackets or screws for added stability.
4. How Much Weight Can a Floating Desk Take?
Most floating desks can support up to 250 pounds.
However, it is always best to check the weight limit for your specific model before loading it up with heavy objects.
So, it's okay to put your printer on it!
Wrap Up
Floating desks are also great for home office setups that include things like desk treadmills or bikes as you don't have to worry about the legs of the desk taking up space or getting in the way.
Another great thing about floating desks is that you can hang them at a height that also makes them standing desks. While you can't easily adjust the height once you have them setup, if you want to sit simply get a taller chair to pull up.