Social media burnout is an overwhelming pressure of being perfect on the screen that makes you pull back from these social channels.
Is it okay to believe that it's all about likes, comments, and sharing?
It makes you feel anxious because you have too much to compete with and you don't even know where to begin, especially when it's your job as a social media influencer or marketer.
Social media fatigue is here already.
And like you, I am also a victim of this.
How often do you look up at another creator's social update and think 'wow, this brand has amazing content. What am I doing wrong?'
Honestly, I have.
Every single time I am free, I'd either scroll through my Facebook newsfeed or my Instagram profile. And then?
Then I'd scroll on endlessly, aimlessly, going over those beautiful shots brands have shared and simultaneously wondering if I can ever have a shot like that for my social media profile.
When I look up from my phone, all motivated to click that sunlight seeping into my room; I see the mess.
There's a coffee mug right over the place where that supposedly beautiful sunlight hits the table. Papers, clips, laptop, quick bites, water bottle – there's everything on the table.
It occurs to me that I will have to move all these to take my dream picture that I conjured up sometime back in my mind, and I give up.
Now if you look at it from a social media marketer's point of view, just like you and me, our target audience is also prey to this new social media burnout.
Even they feel tuned out after a while – finding ads monotonous and forgetting about a brand that they were following so closely at some point of time.
As a freelancer and also a social media enthusiast (or so I thought), I have been in this place so many times.
When you are working on a product, you want your target audience to know about it, use it, and like it.
Like all marketers and business owners, I also picked social media channels as my go-to-place to connect with my audience, interact with them and trigger more conversions for my product.
I am sure, there are many like me, who are a part of this mad rush.
But do you think social media marketing can give you the desired ROI? Is it okay to believe that it's all about likes, comments, and sharing?
Facebook users have already expressed they are tired of social media.
The mad competition of multiple brands scouting for attention on a few popular platforms (Read Facebook, Twitter and Instagram) is pushing away users.
Most users don't even remember that they liked a brand's social page at some point of time.
With about 3 billion people on social networking sites, it is obvious that brands will try to monetize social interactions.
But social media stress is seeping in so fast that social media marketers are facing a crisis in handling this burnout; both for themselves as well as their social users.
The competition is not going to slow down anytime soon.
Hence, it is wiser to pop-up and start tackling this impending issue within our best abilities.
The challenge is to create a social strategy that will not tire away their users.
While that will take a lot of monitoring and tracking from your end, here are five quick tips to handle social media burnout.
1. Be Consistent with Your Proposition
Let's say you provide content graphic design services.
This means you can have engagement from those who are looking for artistic or design services, from people who are providing services like yours, and also from individual graphic designers who are looking for tips, industry updates, etc.
It is evident that everything related to design is related to your services. But if you are suddenly talking about machine learning and its implication in data handling, that may not go down well with your target audience.
Probably this is a trending matter, and people are talking about it everywhere. But your audience is looking for something else.
For instance, if you are following Jeff Bullas on Twitter, you will know how all his updates are related to effective content marketing strategies and social media marketing.
It is seldom you will find updates on any other issue strikingly different from marketing.
Pro tip: Stay consistent with what you are offering. Often brands want to talk about everything to stay relevant with time. But relevancy with industry is more important. You see, to talk about data handling and machine learning, users will prefer a big data platform that is dealing with these topics for a longer time. So, you need not worry about updating everything that is 'news.' Stick to your industry and domain.
2. Content is KING, Even on Social Media
Let's be honest.
You cannot do any social media marketing without good content.
This includes every type of content you can think of – blogs, infographics, videos, GIFs, graphs, microblogs, images, etc.
You need to understand what kind of content gives you the maximum engagement.
For some, infographics work great, while for another brand it may be the GIFs that trigger engagement.
For instance, if you follow the Facebook page of Hootsuite, you will see Hootsuite sticks to a simple format: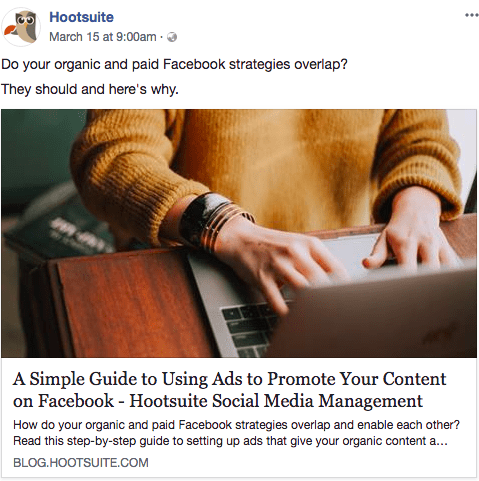 Updating their blogs with a cool image. But the catch is, they write on topics that are valuable and worth spending time on.
Pro tip: Experimenting with your content is great. But avoid creating something so bizarre and different that your audience fails to connect with in the first place.
Tools like Text Optimizer can help you find great ideas to write about on social media: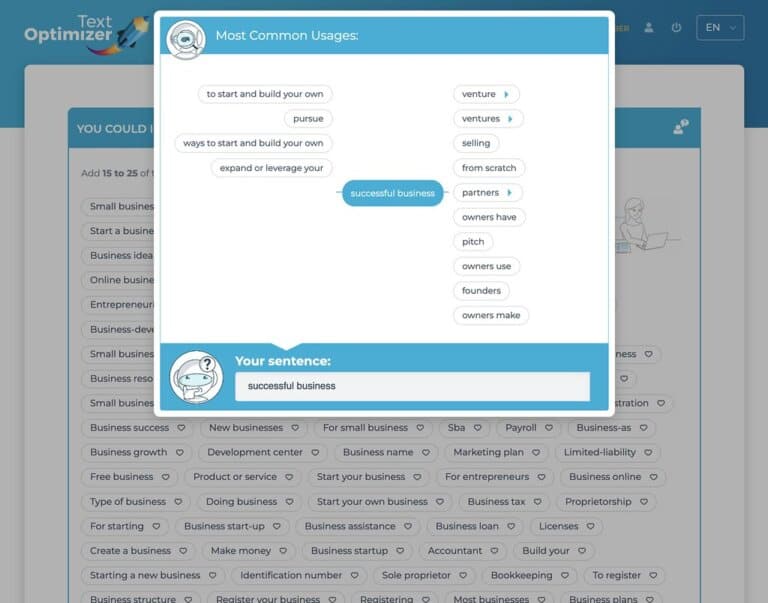 Additionally, proof-read your content, check all the facts. Say no to insensitive errors
Errors that hurt the sentiments of your users can put your brand in deep waters.
When you make such gruesome errors, you push away your followers in a snap.
They develop a sense of detachment from your brand, getting tired of your posts, calling them fake at times, and eventually leaving your brand page.
Unless you make it up for your error.
PS: Sometimes you just fall prey to social errors despite having everything thoroughly checked.
3. Prioritize Your Own Site
I see brands and influencers make the same mistake over and over again: They become overly dependent on social media and neglect (or fail to set up) their own sites.
Yet, social platforms come and go but your site remains yours and your followers and clients get to associate you with that site.
If you haven't yet set up your own site, do it now.
Namify provides great generators to find an easily brandable domain that doesn't cost a fortune. It will even help you create a logo and check your name on social media profiles for you: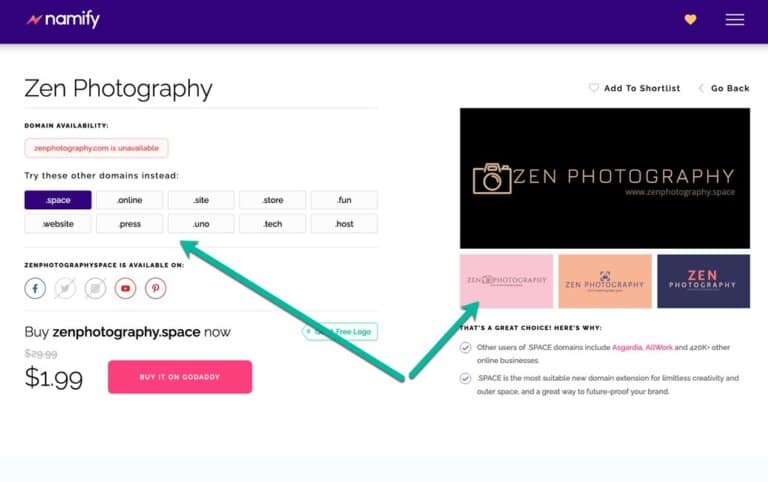 From there, all you need is to set up a website and customize it.
WordPress is free and most hostings offer one-click WordPress installation, so you may handle the process yourself.
From there, just pick a free theme and write a few pages about yourself and what you do.
You may end up having a single-page website unless you plan to write for it regularly.
Obviously, link to your social media profiles and link to your site from your social media bios.
This way your followers will be able to find your site. There are quite a few great free plugins which will import your social media feeds into your site.
4. Identify What You Want to Achieve Through Your Social Media Campaigns
There is no point creating campaigns because everyone is doing so.
For instance, my primary aim has always been to educate my users through my social channels.
You cannot end up wasting your resources over vaguely designed campaigns.
Pro Tip: When you know what you want to achieve, you design strategies that are well-defined. This is important if you don't want to tire your users with the same kind of content over and over again.
5. Follow Your Competitors But Do Not Copy Them
We social media marketers keep hearing that follow your competitors, track them, monitor them, etc. Yes. True.
You should know what your competitors are doing and how.
But it isn't essential to follow them step by step.
If you are doing exactly what your competitors are doing, why would your users want to follow you?
They'd better be without your updates because getting the same kind of content twice in their news feed is irritating.
You must spoil for users for choices – but not a choice that will make them pick your competitors.
Social media burnout is going to increase each day.
Simultaneously, marketers will also learn the pro tips to handle it.
However, if you feel overwhelmed or pressured at any point, it is always good to take a break and analyze a few things at hand: what do you want to achieve, how do you want to achieve, and where will you focus next. Here are few more quick tips:
Be selective. You cannot manage all the social media channels with the same vigor. Select the channel that gives you maximum engagement and visibility.
Try making around 3-4 updates regularly. You do not need to stuff your social pages with updates every hour. Better concentrate on posting updates that will make your users want to engage. Quality over quantity.
Creativity has no shortcuts, no alternatives. Being creative with the way you handle your social updates can take your campaigns a long, long way.
Taking a break and assessing always help.
Good luck to you.