When it comes to selling yourself on your writer website, your About page is one of the most important pages to get right. It's one of the most visited pages on the average website but unfortunately, it's also one of the pages that many freelance writers sell themselves short on.
Write for Your Clients, Not About Yourself
One of the biggest mistakes that freelance writers make on their website is to focus too heavily on themselves, and the About page is often one of the places where this is most evident. In reality, your About page should be mostly about your clients and their needs.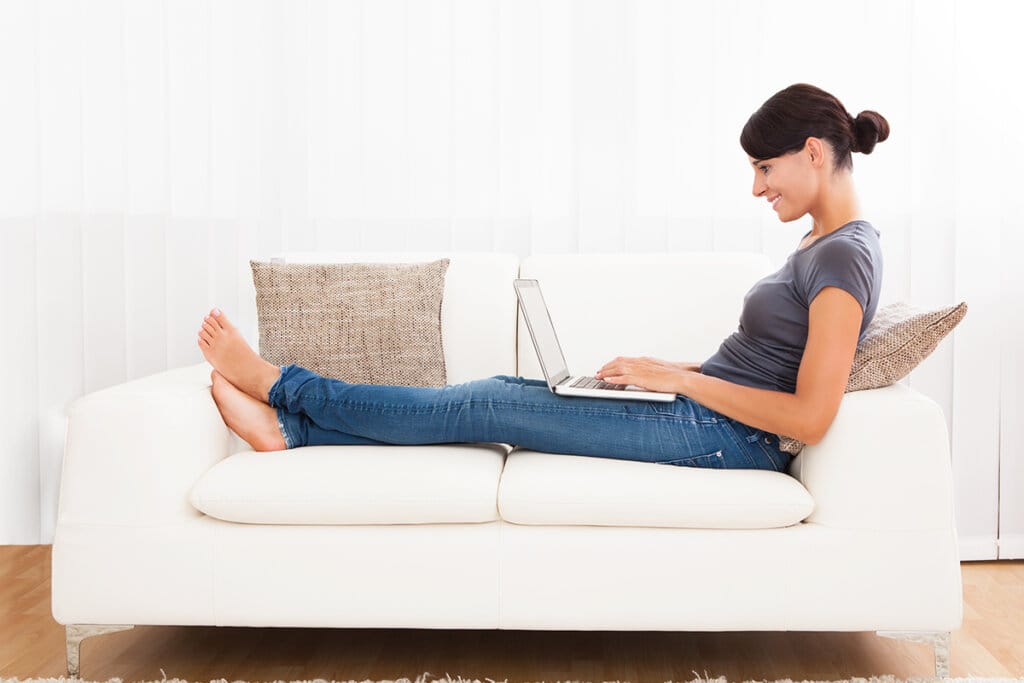 Many writers find this approach quite strange to begin with until they understand the logic behind it. After all, it's your website so surely your About page should be all about you and your writing background?
The About page is one page that many freelance writers sell themselves short on.
This is often fine for a personal blog but it's not the best move for your professional writer website as you risk coming across as though you only write as a hobby, rather than as a career. This can have a knock on effect in terms of how potential clients value you and can affect your ability to charge good rates.
Another harsh truth is that potential clients aren't all that interested in your backstory or even how much you love writing. They just want to know whether you are a good fit for their needs.
The main focus of your About page should be what you can do for your clients. This includes things like:
What kind of problems can you solve for them?
How can you make their life easier and take their business to the next level?
What experience/credentials do you have to back this up?
Who Are You Aiming At?
Firstly, you'll need to pinpoint the clients that you're hoping to win over. Ideally, this will be within a well defined niche as this makes it easier to show potential clients how you could benefit them.
Here's what our very own, Elna , includes on the About page for her writer website:

See how she immediately speaks to stressed business owners and highlights how she can help them?
Why Should They Hire You?
Once you've got the attention of prospective clients and confirmed that you are a good fit for their needs, the next step is to go into more details about your skills, credentials and who you have worked with. This should make them desperate to work with so that you can do the same thing for their business!
Don't be afraid to talk yourself up. You won't come across as cocky or arrogant (as long as you're not making exaggerated claims you can't back up with your credentials and portfolio, of course!) but you will sound like a confident, assured writer who knows their stuff and can work wonders for clients too.
Elna positions herself as a go-to writer for time-strapped business owners at the very start of her About page and she then spells out exactly how her skills will benefit their business: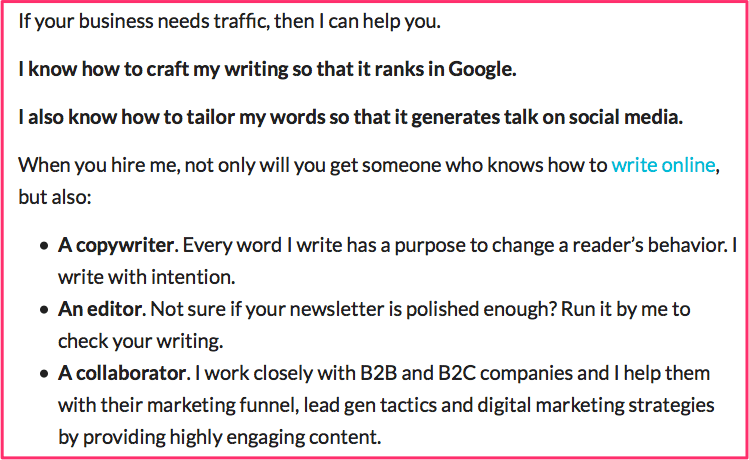 Freelance blogger Alicia Rades neatly summarizes her credentials in a bullet pointed list: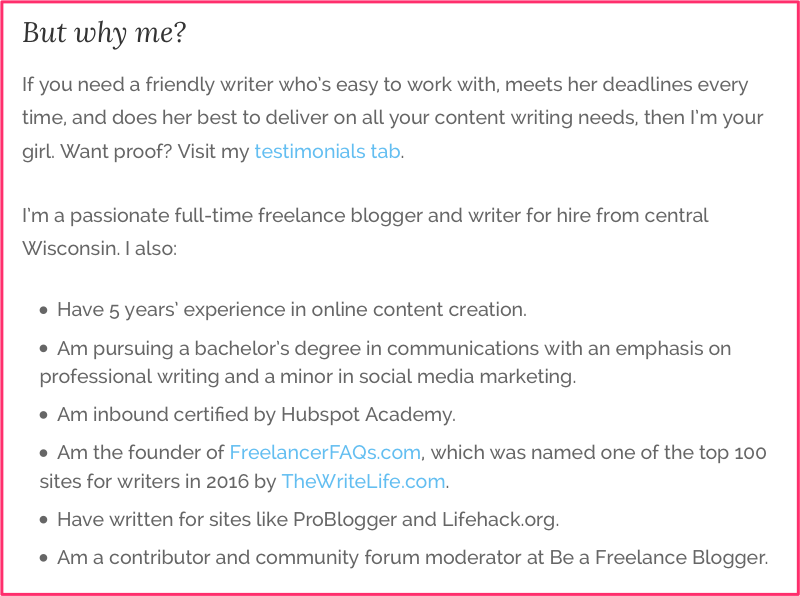 Here's what Jorden Roper's About page for her Cutthroat Copy website looks like: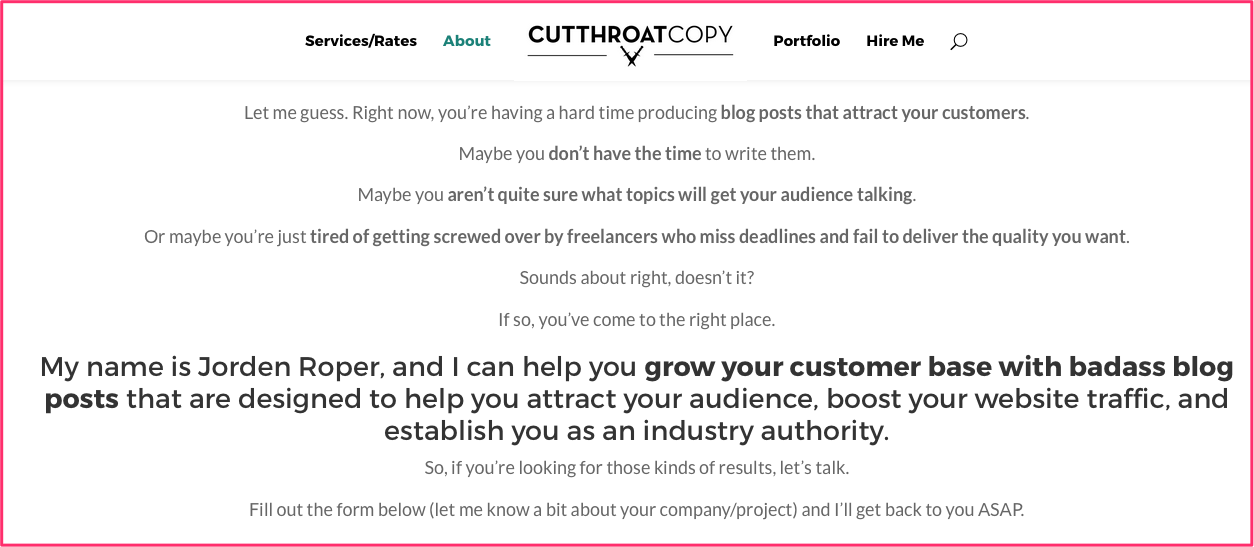 Again, she immediately grabs the attention of business owners who are struggling for time and don't have a great handle on how to use content to help their business goals.
She also sets out the benefits that her content can bring for their business. Once she has got them hooked, Jorden doesn't direct them to a Contact page – she actually includes this on the About page itself so that potential clients can act right away.
If you don't have a strong portfolio yet, guest posting is a great way to land some clips that will impress potential clients and that can be mentioned in your credentials.
How Personal Should You Get?
Potential clients are most interested in how you can help them but at the same time, they will often want to know a little bit about your personality and what you may be like to work with.
Including a small section towards the end of your About page that gives a small insight into who you are can be a good way to add a human touch and this is something that both Elna and Alicia Rades do well on their respective About pages:


Your About Page Speak Volumes About What You Can Bring to the Table
Remember it's our job to convey to potential clients how and why we are the best fit for their business. And to do this effectively you need to speak to your potential client directly.
Over to you – what have you struggled with when putting together your About page?
If you're interested in knowing the exact steps you need to take to land clients, increase your conversion on your website and wow your clients over the long haul, enroll in Write Your Way to Your First $1k today.