So you landed a freelance client, have awesome ideas in your head on how you'll transform their business through your writing copy, and can't wait to put it together but… you just don't know where to start, right?
I've been there, in fact – I live there!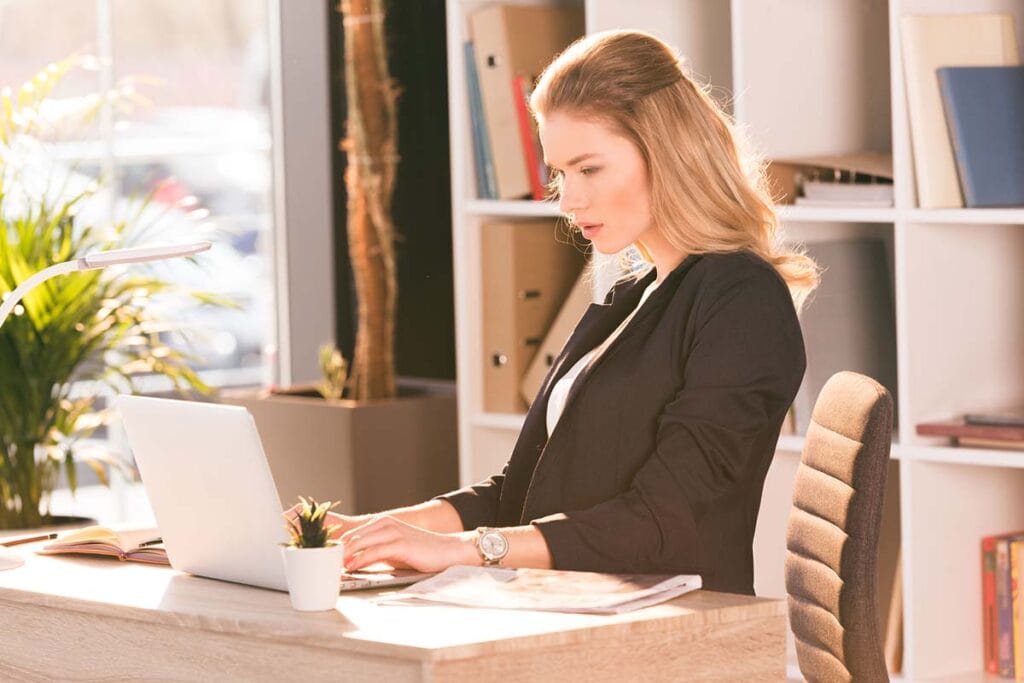 I analyze businesses' writing copy all day long and come up with killer ways to generate leads and increase sales for them.
Then, I get in front of my computer, and there it is – writer's block.
I couldn't figure out what the missing piece was for the life of me, so I started to dig deep. Finally, it hit me!
It wasn't writer's block, it was a lack of strategy.
I needed more from my freelance work. So, I created a checklist that allowed me to draft a sales page in just a few hours instead of a few days. Cool right?
Stick with me because I'm going to share my secret sauce on how I draft up a super detailed sales page that saves you time, headaches, and procrastination!
Don't have time now to read through the entire blog post right now? Get a copy of the checklist straight to your inbox here so you can reference it later.
Done? Awesome! Let's get to it.
What is Copy?
There is a specific kind of writing that entices people to buy and that's called copywriting.
If you're a freelance writer who writes copy you are essentially leveraging your storytelling techniques to lay the foundation for a sales page that converts.
There's plenty of ways you might do this and they can include producing blog posts, email marketing campaigns, SEO strategies, or creating a sales page. Nonetheless, you'll want to follow these 10 tips for drafting copy.
1. Traffic – Who is Viewing Your Writing Copy?
In order for the sales page you're about to write to be effective, you must know exactly who will be seeing the sales page.
Get super detailed on exactly what this audience would like to see most when they land on the sales page.
For this you might want to look at social chatter about the industry you are writing copy for. This might on Facebook groups, on competitor blog's, in emails or on Youtube videos.
2. Profile – Get the Perspective of Your Freelance Client
Ask your client who their target audience is.
Then, define them extensively in your notes. Demographics, fears, hang-out places, and pains just to name a few.
Build an entire profile on this person. Remember, your client needs to give you as much of this information as possible before you start your research into developing their target audience.
3. Proof – Find Out Your Client's Credentials
Just like our clients want to see our portfolio before hiring us, we want to see their proof! Without social proof how can we sell them?
Sometimes a client may have more credentials than they think. It's our job to take their credentials and make them shine!
We're not here to be humble, we're here to sell! Understanding your freelance client and what makes them qualified to teach/sell the product you're writing for is important so that you can deliver a sales page that screams, "I have the authority to do this."
4. Story – Look to Brand Statements
Who doesn't love a good story? I don't know about you but I know that every time I'm in the market to buy something, I want to know who I'm buying from and what they're all about.
Ask your freelance client for their brand statement, mission, value, and why they are selling this product/service. If they can't deliver all of this to you, it's your job to get the information you need to create these for them.
People love to know an actual human is behind the scenes and what they're all about, so make sure to tell them.
5. Make a Statement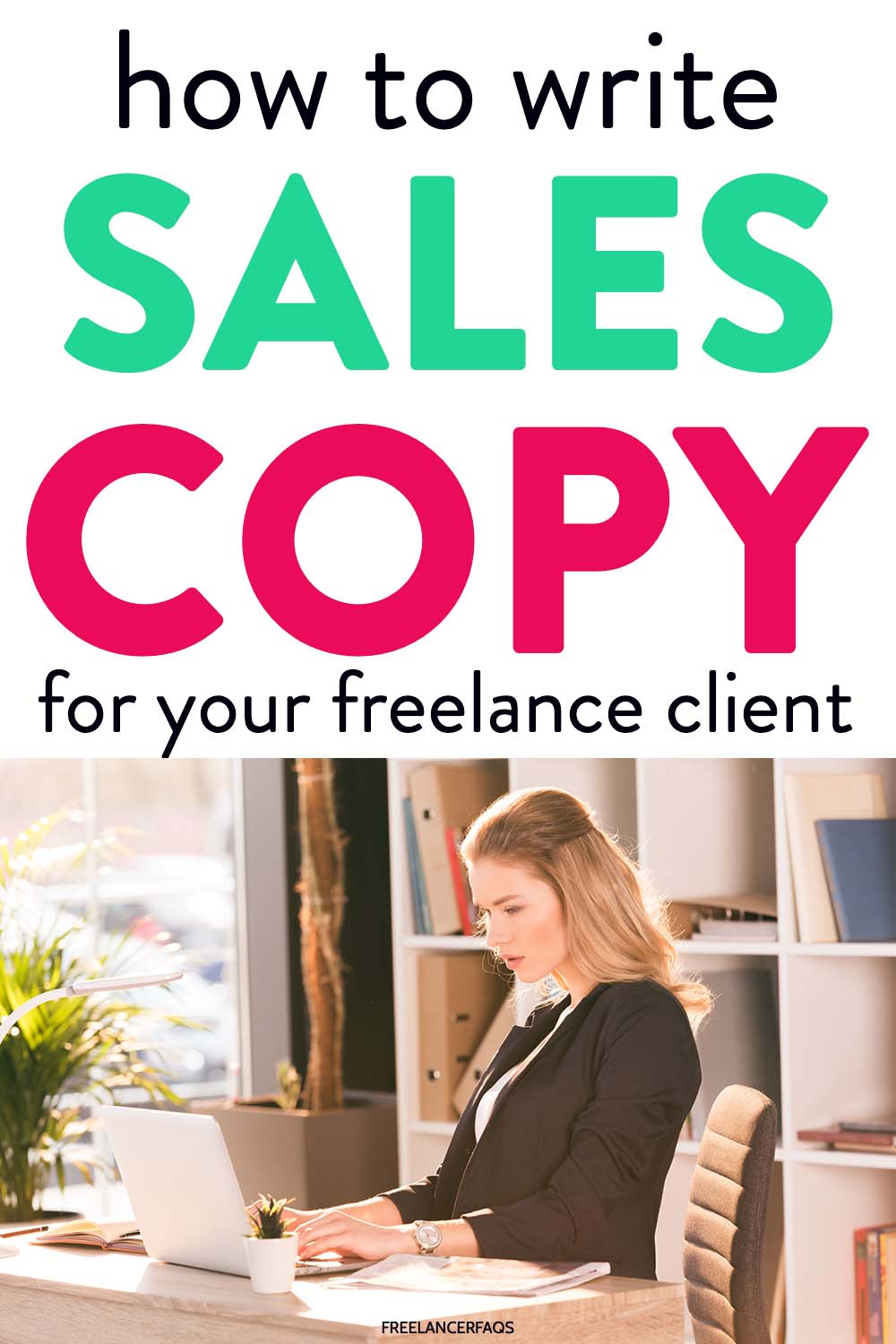 You may think this is the same as creating a mission statement or the about page but it's not.
This piece goes nowhere on the sales page. It's more of a reference for you and the freelance client.
Have you ever had someone ask you, "Hey what do you do for a living?" or, "What do you blog about?" or how about, "What kind of business do you have?"
Then you go on into this entire spiel about what you do in a day and why you created the business.
But, wouldn't it be better if every time you were asked these questions, you had a direct one-liner that explained it all?
The answer is yes, yes you would!
So, your job is to create a statement for them to reference at all times.
You're going to want to include what makes them better, different, easier, faster, and simpler than the competition.
Example: Shark Mom helps mompreneurs who don't get enough credit for all of the roles they play achieve confidence and empowerment through apparel that captures attention and praises mothers in business.
6. Specialties – Know the Features
Get the low down on your customer's service/product.
Learn how they do business and what makes them irresistible. What are the features of their product, who is it comparable to, and how exactly does it work? Get super detailed with a bullet journal and list it all.
Don't forget to mention what's included with their product/services as well.
7. Showcase Customer Testimonials
Many don't realize that customer testimonials need to be front and center! AKA- the sales page!
Gather a handful of testimonials to include in your copy for the customer. Why? People want to know that you're the real deal before they whip out the plastic and hit, "pay now!"
Look at how Elna Cain's sales page for freelance writers showcases a testimonial in the beginning part of the sales page: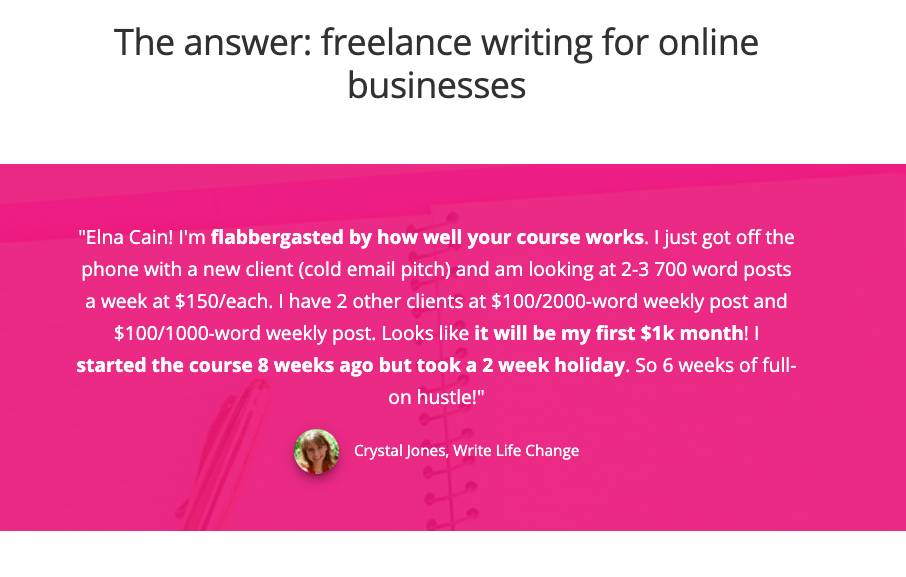 8. The Offer
Before you purchase on a new site, do you hit the FAQs page? I sure hope so!
Be sure to ask your client what their order limits are, deadlines if any, delivery times, size guides, and the refund policy.
Depending on the product/service there may be added bonuses you'll want to mention in an FAQ section. Gather them all because you want a one-stop-shop for questions that a potential customer could have.
You can even ask your client if they've ever gotten feedback and/or complaints from a customer that could be a good add-on for the FAQs to avoid future hiccups.
9. Pricing
Ah, the cost. Or, as I like to call it, "the moment of truth!" It's where you find out if your copy is doing the selling or not.
What you need from your client is how much the actual service/product is and how much they are willing to discount it (offer price). You'll also need any payment plan details if that applies.
10. Delivery Details
Every consumer's favorite part!
Don't you love knowing a package is on its way to your inbox or front door? I do!
Do you know what I also love? Knowing exactly what to expect in my packages. Ask your client how the service/product gets delivered (digital or snail mail), if there's anything special about the packaging, if the customer may need to check the spam folder, etc.!
If you can, show a sample.
Wrap Up
So there you have it, your cheat code to doing more, yet less at the same time! It's all about the flow, my friends.
Once you get in the habit of referencing a handy dandy piece of paper that has the framework laid out for you, you don't have to do anything else but plug and play. Give it a try for yourself and let me know in the comments below if there's anything you would add to your checklist.
Over to you – do you write sales pages for businesses? Share with me your service in the comments!