Are you tired of pitching to one prospect after another? Do you wish you had a writing business where clients pour in without having to do much?
Well, I've been lucky in this case because after switching to freelance writing for a living, I've never had to pitch my services to prospects. My hire me page does pretty well in funneling organic clients.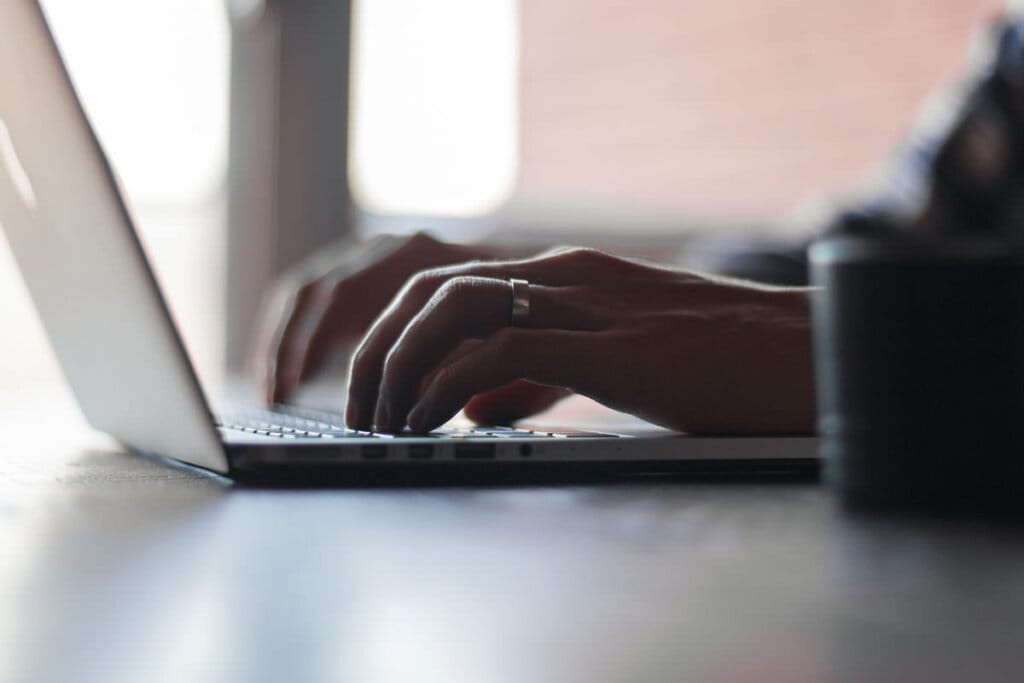 My freelancer hire me page does pretty well in funneling organic clients.
How did I do this?
Using search engine optimization, better known as SEO.
Having SEO tactics in your WordPress blogs can get you better rankings in the search engine results pages (SERPs).
Once you know key strategies to boost your freelance website's SEO you can offer this service for your client's blog if you offer blog management services.
1. Getting Started with Basic WordPress SEO
For first time users, WordPress offers many options to get your site search engine optimized.
Unlike other free CMS like BlogSpot blogs, you can choose how your homepage looks and what permalink structure you prefer.
If you have any problems setting up your blog, here's a post on how to create a writer's website for free.
1. Permalink Structure
The default WordPress permalink structure is '?p=[id]' . The drawback of this URL type is it gives you no option to include text in your permalink. So, you can't have keywords placed and it will be very difficult to recognize a post with this URL.
To customize your permalink structue, go to permalink options under the settings tab in your dashboard. You will get 6 options of permalinks out of which I recommend the structure /%postname%/ which is clutter free or the post name.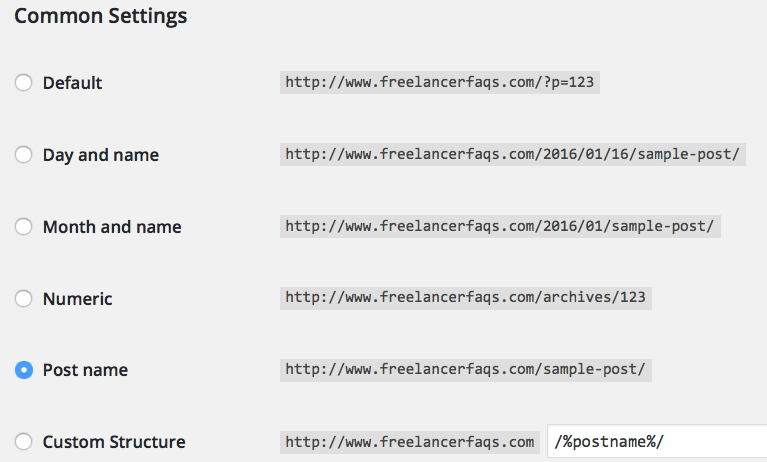 2. Domain Structure (www or no www)
A blog, in the eyes of Google, is different based on what it has (http://www.blog.com or http://blog.com) in its URL structure.
You wouldn't want your blog to be penalized for duplicate content, right? So, specify if you want your blog to have www in its URL or not.
Make a choice from these two domain structures:
http://www.yourdomain.com
http://yourdomain.com
Using both of them can definitely create duplicate content. According to search engines, both are two different URL structure and hence two different sites.
You can change it under general tab, in the settings menu of your dashboard.

2. Set Up an xml Sitemap:
A sitemap helps search engines to crawl better. They understand how your site is structured and when new posts are published they get automatically mapped through sitemaps. If you use the free Yoast SEO plugin, you can do it quickly.
Just go to xml sitemap option under the SEO menu. Yoast SEO by defaults adds images in your posts to the xml sitemap thereby ensuring they rank better for image search.
3. Disable Author Archives for Single Author Blogs
If a single author runs your blog, the author archive page will look exactly like your blog page. This is not a problem; the problem is it will create duplicate content.
For the search bots, both articles on your blog page and archive page will have different URLs but same content. So, you can use the Yoast SEO plugin to disable author archives.
4. Make Your Site Load Faster:
A fast loading site not only gets you more readers but also helps in better ranking in SERPs. About 47% of readers expect a site to load within 2 seconds and will leave the site if it takes 3 second or more to load. Here are certain tips to decrease your blog loading time:
1. Use Alternatives to Server Hogging Plugins
Sometimes a plugin like JetPack can eat up a lot of your resources. If you're using JetPack for only social shares or checking page views, switch to other light alternatives like Sumome . Similarly, remove plugins that aren't useful anymore.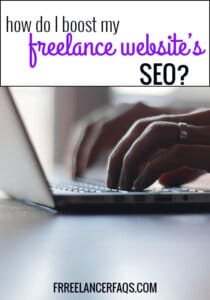 2. A Caching Plugin Can Reduce Your Blog Loading Time
Your freelancer site should load quickly because most potential clients won't wait for more. The main function of any caching plugin is to decrease site-loading time.
Installing a caching plugin is one of the most basic steps after WordPress installation.
Caching plugins work by caching or saving static and dynamic content of your website and thus delivering whenever a visitors loads a page. This also lightens the load on your hosting server. A good one to use is W3Total cache.
5. Use an Efficient Hosting Service
When starting a new WordPress site, we usually take hosting casually. But, playing cheap doesn't always mean playing safe. WordPress hosting can seriously affect your WordPress site SEO.
So, it's better to invest in something that won't risk your search engine rankings.
When choosing a hosting service for your site, be very careful to analyze their uptime limit, bandwidth and customer service. For starters, Bluehost or Hostgator are great beginner options.
6. Install a SEO-Optimized WordPress Theme
A theme plays a very important role in your site's ranking and visitor count.
I recommend themes by Elegant themes. Many awesome freelance writers use them.
You can read my unbiased review of Elegant themes here. These themes are designed to make your site more fast loading, search engine friendly and conversion optimized.
7. Image Optimization
WordPress image optimization is a very important aspect of SEO.
Images with proper alt tags and captions not only help reader experience, but also help to rank your site in image search query. It's a good practice to add secondary keywords to your image alt tags.
8. Optimizing Your Site Title and Tagline
Most WordPress users either forget this step or do not optimize it properly.
Your site title becomes your branded keyword and hence you must include it in your SEO strategy. By default, WordPress sites have a title like "just another WordPress site".
This is very detrimental for your site SEO and professionalism. So change it to something that your website talks about.
Customize it in the general tab under the settings menu.

9. Fix Broken Links on Your Site
No matter how hard you check the links while writing a post, broken links accumulate on your site with the passage of time.
These broken links not only degrade user experience, but also create a bad impression on search engines.
Use the plugin broken link checker to detect broken links, and change them to nofollow (for better SEO) in case you are unavailable to fix them. Conduct regular tests using this plugin to avoid any search engine wrath.
10. Strengthen Your Social Media Metrics
Social media proof not only builds a good impression on your readers, but also has a good effect on SEO.
Having a good number of people sharing your posts and following you via your social accounts gives your site extra mileage. It also helps you to convert your one-time readers into returning readers.
Though social signals don't have direct impact on SEO they can boost your ranking indirectly by:
Driving more traffic
More exposure, which implies more chances of linking
Build community, which can bring returning visitors, more comments, and more time spent on your site
To boost your social signals, add social share buttons to your profile. Also, include your social media profile URLs on every page so that readers can follow you.
11. Keep Writing
One of the best ways to boost organic rankings – and your biz – is to write in the niche your target clients are in.
If you are freelance writing in the startup niche, write about project management and productivity tips. If you want marketing blogs, write on marketing.
Your potential client will be searching these topics on Google. When you rank for these topics, you make it easier for them to discover you.
Over to you:
SEO is very important for getting clients from organic rankings. Writers like Kristi Hines are already ranking for any generic freelance writer keyword. I would suggest you not to ignore this important source of getting writing gigs.
What steps you follow for a search engine optimized writer's site?