Guest Post Guidelines
Do you have an idea about freelancing that would be perfect for Freelancer FAQs? We are open to hearing from new and established freelancers interested in sharing your knowledge to our readers.
We cover a wide range of topics that are important to freelancers:
Grammar tips (ex: how to use a semicolon)
Copywriting tips & advice
Tips on advancing your career
Ways to break into freelancing
How to land clients
Different ways to make more money as a freelancer
Tips on how to manage your freelance business
Tips on how to manage your website
How to create better content
Tips on staying productive
And more…
Our topics can appeal to brand new freelancers and to more advanced entrepreneurs in the field.
Guest Posting Submission Guidelines
If you are interested in guest posting, please follow our guidelines to ensure your post will be featured on our site:
1000+ words long. Unique content only. Make sure you cover your topic thoroughly.
We strongly prefer your headline in the form of a question. Phrase it the same way someone asking a question might pose it. Here are acceptable headlines:

Yes: How Do I Raise My Freelance Rates?
Yes: Thinking About Raising Your Rates? Here's How

You may choose any topic you like as long as it hasn't been done on the site before. If you want to do the same question but have something to add or want to go in a slightly different direction, that is fine; just word the question differently.
Topics should be geared toward freelancers, but feel free to take an approach with anything a freelancer may ask, including things like working from home, managing their website, making a living, dealing with clients, etc. It's also okay to target any level, from novice to advanced freelancer.
By submitting your post, you give Freelancer FAQ's the right to edit your content so that it fits nicely within the site (normally just fixing typos, grammar, interlinking, imagery, shortening long subheads, etc), and the exclusive right to publish and/or depublish your post on our website. The post remains your property and you can always ask us to make changes or remove the post entirely, but if you choose to publish your post on other websites, unfortunately we'll be forced to remove it from Freelancer FAQs.
An Easy Way to Find A Question Topic
If you want to guest post for this site, an easy way to find questions that are acceptable is to look at the People Also Ask in Google as well as Answer the Public.
For example, if you want to write about a routine for freelancers you can plug that into Google and see what the People Also Ask questions.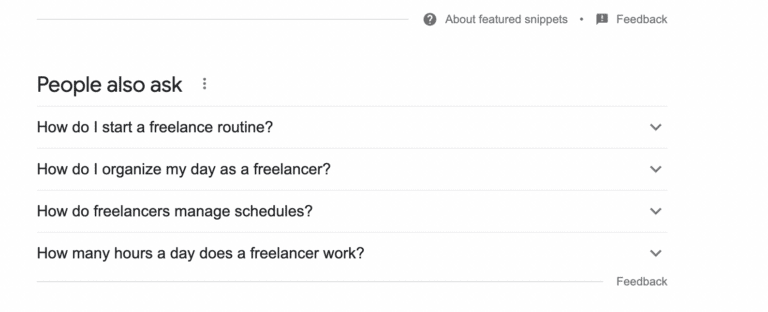 These questions are all acceptable for our blog.
As well, you can use Answer the Public.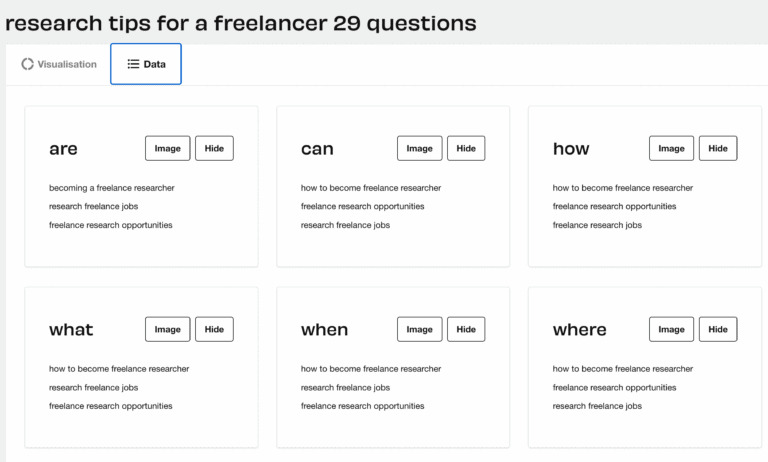 To use the results from Answer the Public you do have to turn those into questions:
How Do You Research Freelance Jobs?
Where Do You Find Freelance Research Opportunities?
What Do You Get?
You will receive a WordPress contributor account on the site and you can upload the post yourself.
As a guest contributor, you'll receive an author bio with links, photo, etc. at the end of your post. You can also include a link or two to your own relevant content within the post if you'd like but unless the link is obviously yours, please let me know privately beforehand.
Sound good? Submit your guest post idea here!
Elna & team