When it comes to freelancing, the more you can streamline and automate, the better.
When you first dreamed of being a freelancer, what came to mind?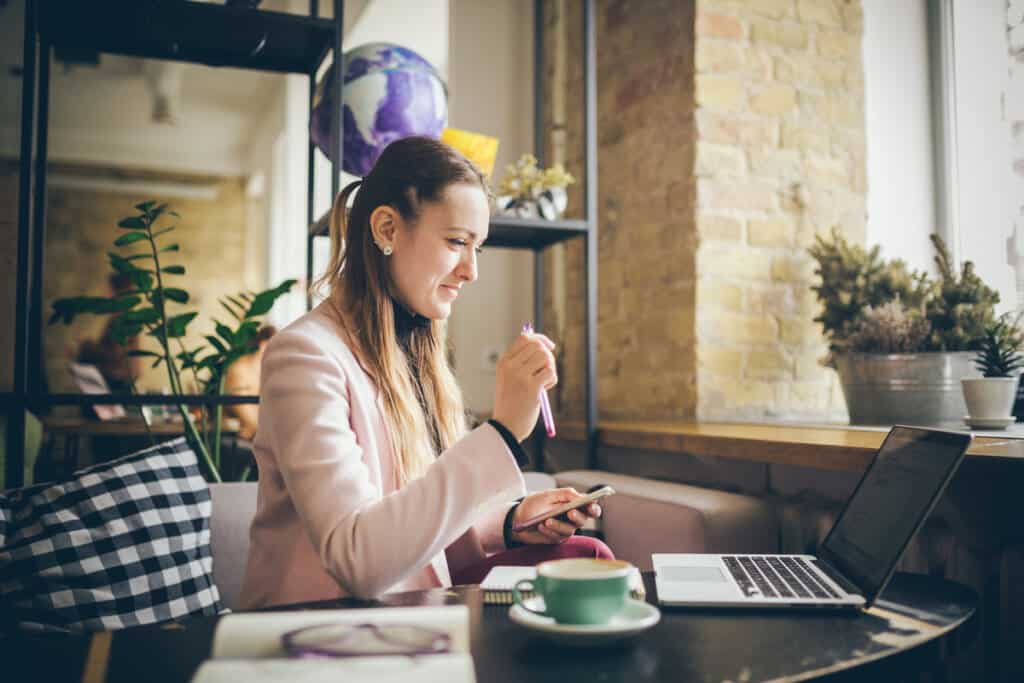 When it comes to freelancing, the more you can streamline and automate, the better.
This can be frustrating because it's hard to get new clients if your old ones aren't paying.
Making your own hours?
Choosing the clients that you work with?
Working on projects that you're passionate about?
I can bet that you weren't delighted to learn about the time-consuming tasks like bookkeeping and picking an accounting software for freelancers.
While accounting isn't a sexy topic when it comes to freelancing, it's a necessity.
Picking the best accounting software for your business allows you to keep your finances organized and get you paid on time.
But before I get into the best accounting software for freelancers and the different types of free accounting software that you can use, let's take a quick look at the differences between bookkeeping and accounting.
Accounting Versus Bookkeeping Software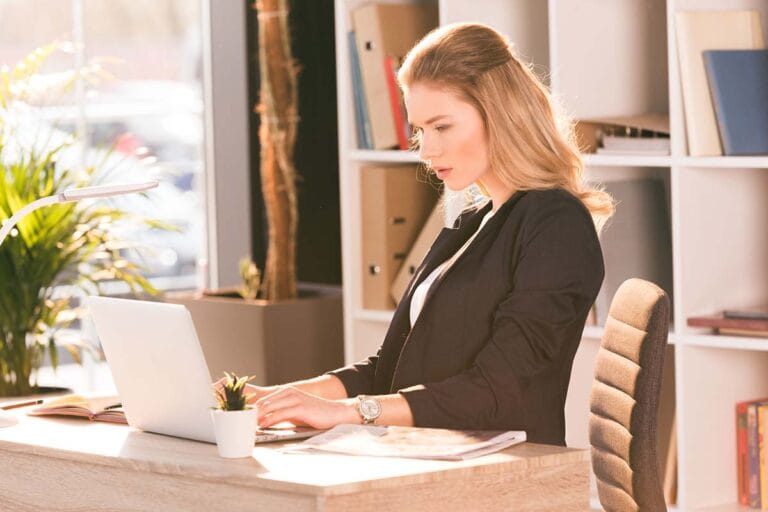 Many in the freelance space often use these terms interchangeably, however, they do serve different purposes.
Bookkeeping is the basic record keeping of financial transactions within the company. This can include things like sales, purchases, and payments made by the company to another party.
Accounting on the other hand is a bit more complex. With accounting you are not only gathering the financial data, you are also analyzing it, classifying it, interpreting, and summarizing the financial data as well.
You don't really need a professional degree to do bookkeeping, even for larger companies. You do, however, need some sort of professional knowledge to do the accounting for your business. Luckily, softwares do most of the heavy lifting.
So then, what is the difference between bookkeeping software and accounting software for freelancers?
With bookkeeping software, this is more for a place to log the business expenses, revenue, and pay. Bookkeeping can easily be done on a standard spreadsheet.
Accounting software, on the other hand, still does all the basic things that bookkeeping software does, but with more ability to analyze and provide various accounting functions, such as forecasting and cash flow analysis.
What to Look for in Accounting Software for Freelancers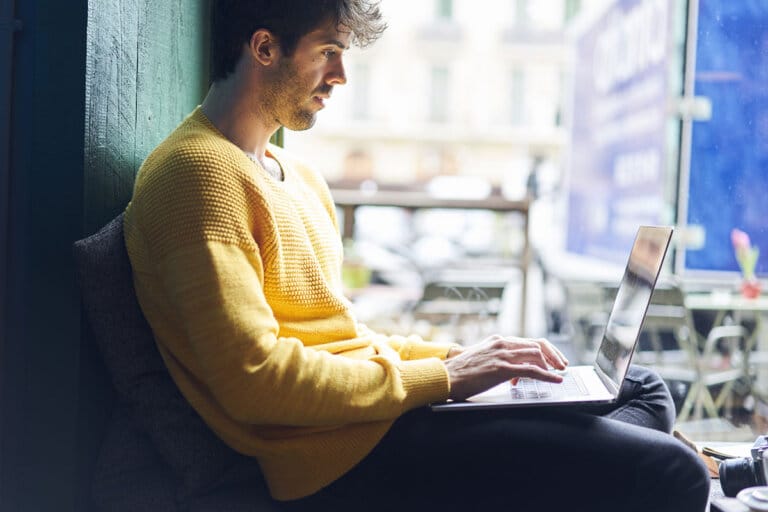 With so many different accounting softwares out there, how do you choose?
As the gig economy has grown, so has the number of accounting and bookkeeping softwares on the market. While many of them come with all the bells and whistles, do you really need all of that in an accounting software for freelancers?
Let's take a quick look at some of the key things to look for in an accounting software:
Ease of Use
As a freelancer, you already have enough to worry about. You know, like actually getting freelance work done. You don't need to spend a week trying to figure out the newest accounting software to get your business finances organized.
When looking at these accounting softwares, be sure you go with something that is easy to use with a user-friendly interface.
You shouldn't have to click through a dozen different things to get what you need. While tutorial videos are nice to have access to, you should not have to spend a ton of time watching them just to figure things out.
Core Features to Do Essential Tasks
There are a few core things that every freelancer needs an accounting software to do. Things like invoicing, time tracking, logging expenses, and so on.
These are the types of things that should be included in the main features of the app or software. You should not have to pay extra for these types of things.
Free Accounting Software for Freelancers
There are tons of free accounting softwares available for freelancers to help keep track of their finances.
Depending on the type of freelance business you are running will depend on whether or not you can use a free or paid accounting software. The simpler your business, the simpler the software you can use.
Many softwares also offer freemium versions of their paid services.
So for example, if you only send out a few invoices per month, you might be able to get away with using a free version of a paid accounting software.
1. Wave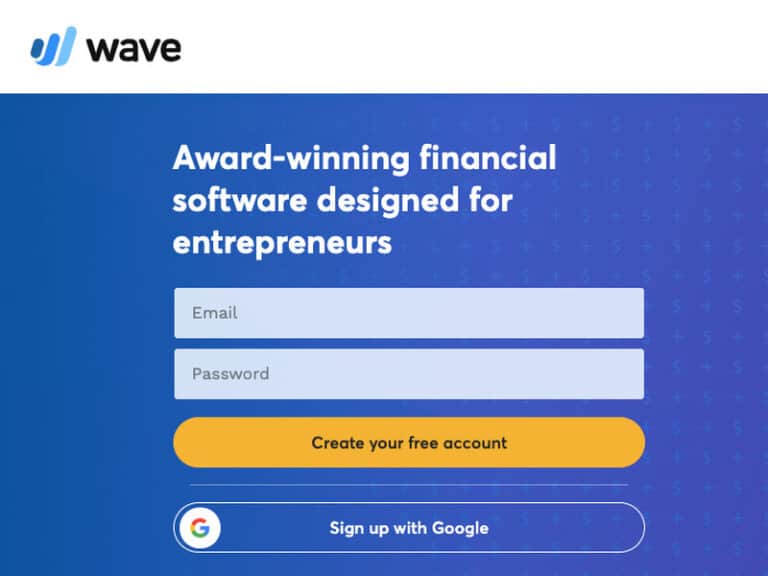 Wave is a great accounting software for freelancers just starting out. When keeping your books in order, it makes things much easier when you are able to connect all of your bank accounts and credit cards in one place. With Wave, you can scan receipts and send invoices for free.
While you can send invoices for free, there will be a charge to you for those invoices to be paid. Wave charges 2.9% + $0.30 for each credit card transaction.
There is also a charge for payroll, so keep that in mind when picking which is the best invoicing software for you. You can use pretty much all of Wave's features for free except for the payroll and credit card processing services.
2. And Co
And.Co is specifically geared towards freelancers to help them do more of what they love rather than stress about doing all the boring "business" stuff.
You can handle sending proposals, invoicing, payments, contracts, time tracking, expenses, task lists, and reports all within this freelancing software. Some of the other cool features of And.Co is that you can set up recurring payments and set up smart systems with automated workflows.
If you are just starting out you can have up to one client for free before using the paid version.
3. Odoo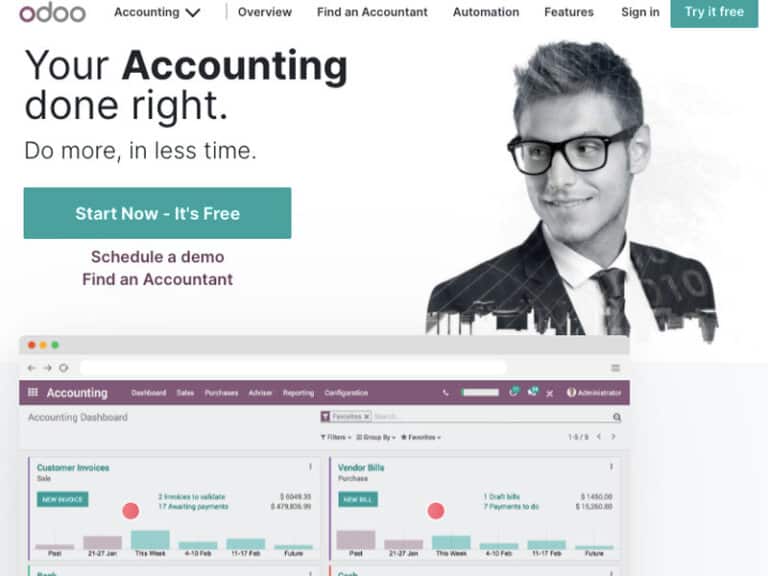 If you are a small freelancer looking to branch out in the future, then Odoo is a great accounting software to use. There is a ton of stuff that you can do with Odoo!
Easily store all of your clients' contact information with client overviews. Always stay on task with tracking deadlines and automatic reminders. Stay organized while juggling projects by connecting emails to the document management system.
Easily stay connected to clients with integrated customer communication. Build your own documents and contracts, even have the ability to sign them right in the platform.
Odoo has a lot to offer which you can try out with their free 15 day trial.
The neat thing that they offer that many other invoicing softwares do not is the ability to pick and choose different apps to be able to use with the software.
For example, if you have an eCommerce store, there is an additional app you can add for an additional cost to handle all of that information. Sort of an ala carte way to pay.
Best Accounting Software for Freelancers
While there are many great free accounting services available for freelancers, sometimes you just need a little extra to get the job done. These paid-for services, while very affordable and can help to take your freelance business to the next level.
4. Quickbooks
Quickbooks is a very popular accounting software used and loved by many freelancers. The great thing about Quickbooks is it's integration with the TurboTax software.
You can connect your personal and business bank accounts which makes it easy to track all of your spending.
When it comes to tax time, you can easily export all of your information right over to TurboTax for a quick and seamless tax filing experience. Simply export your information, answer a few questions, and submit.
Boom, taxes, done!
5. Freshbooks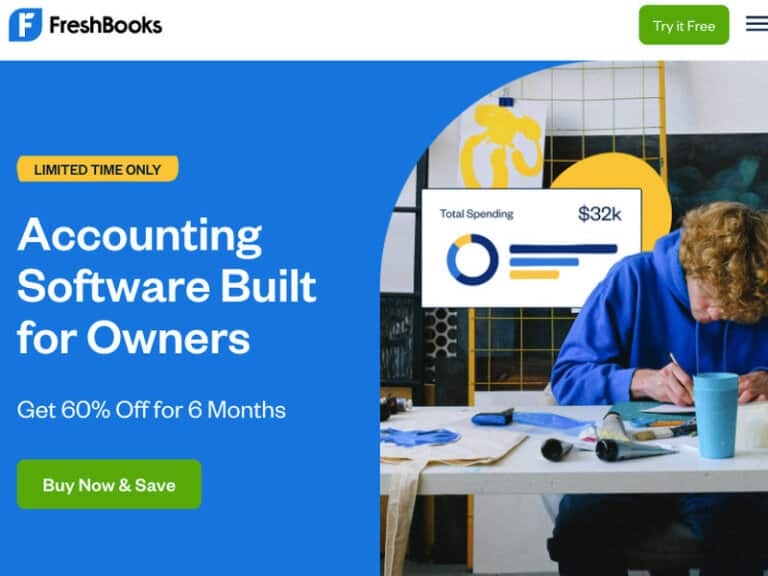 Freshbooks is beloved by freelancers and bloggers alike. If your billing needs are a bit more complex, then consider using Freshbooks. In most instances, freelancer billing is pretty straightforward. You connect with your clients, agree on rates, and invoice them.
But what if your billing is a bit more complicated than that? Perhaps you hire other contractors, charge by billable time, or need to be reimbursed for supplies. This is where Freshbooks comes in handy.
Within the Freshbooks system you can set up multiple projects for each client, and automatically set up payment reminders for clients.
6. FreeAgent
If you are a freelancer that deals a lot with sending clients estimates, then this software might just be perfect for you.
The FreeAgent software allows you to create, store, and track estimates that you send to clients. Once you land prospects as clients that you have sent estimates to, you can then track the invoicing against your original estimates.
This can help you to create more accurate estimates in the future so you can increase your profitability.
7. Xero
While many freelancers start out as a one man (or one woman) show, it can quickly turn into a full blown business. If it is your intent to start with just you and build a team, then check out Xero.
Xero is a highly customizable and scalable app that allows users to grow with them. It has the ability to upgrade when you hire team members and need to manage payroll.
If you get to the point where you actually need to hire an accountant, then you can send all of your financials to them directly. Xero also integrates with hundreds of different apps for a truly customizable experience.
Whether you just need a super simple accounting software for freelancers or are looking to grow a large team, there is a free or paid software that will fit your needs.
Sending your invoice, collecting receipts, and filing taxes are all part of working for yourself. Make it just a bit easier with the right accounting software for your needs.