Being a freelancer allows you to be your own boss which means you decide for yourself where and how much you are going to work.
And there lies the problem.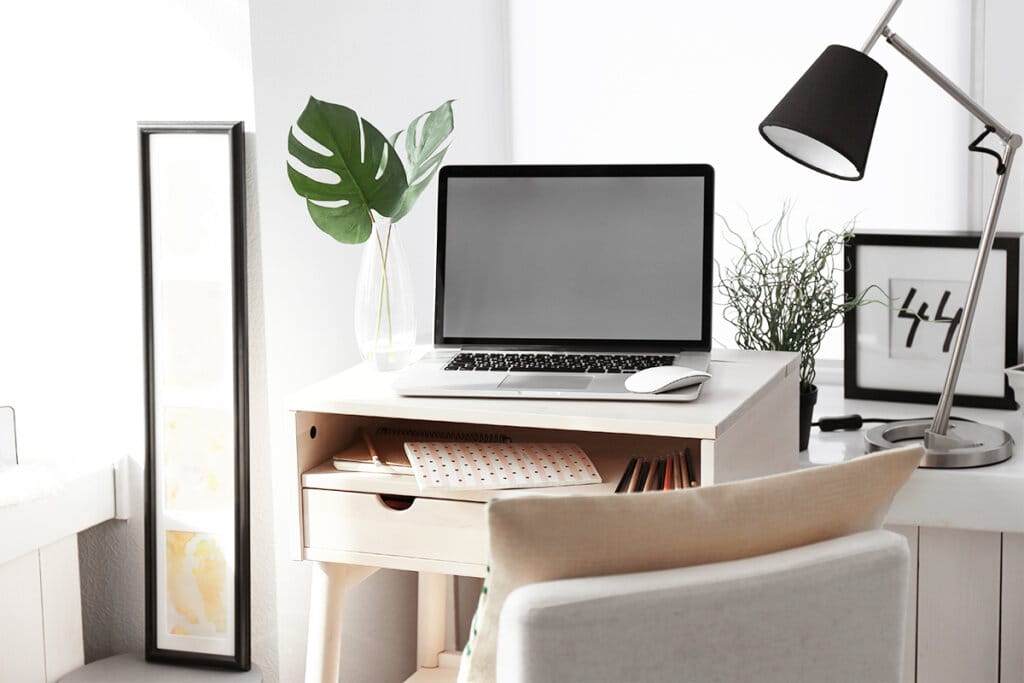 The freedom that freelancing offers can make you loaf.
The freedom that freelancing offers can make you loaf around all day and make you not really get things done. Meanwhile, only a productive freelancer can become a successful freelancer.
So to become more efficient in this non-traditional form of work, you may need to bring in a part of the traditional model of operation into your business – which is creating an office in your home.
Setting up a workspace in your home will make you become comfortable and productive. Get it right and you will certainly boost your productivity.
The following tips will help you create a home office that enhances productivity.
1. Create a List of the Essential Home Office Items You'd Need
No doubt, the first step to take when creating your home workspace is to make a list of essential items you need. The tools you need will certainly be dependent on the kind of freelance service that you offer.
If you are a freelance writer, for instance, you'd need to get a computer, probably a whiteboard and an extra keyboard and bunch of sticky notes to put your multiple ideas down as soon as they come.
When making this vital inventory list, it is important that you think about the ways to use them.
2. Select a Dedicated Spot in Your Home
Having made a list of the necessary items you need, you now have an idea of the amount of space required to set-up the office.
If you don't have the luxury of dedicating a whole room to creating your home office, it's all right. While it is best that you have a separate room as your workspace, a mini spot in the home will do the job as well.
What is most essential is that your home office is in a quiet and private area. So, have that in mind when choosing the spot to make your home office.
Tip: This place in your home should get you inspired. Whatever works for you: I get inspired by watching fire in my fireplace, so I made sure I can see the fire from my workplace. For many people, an table facing a window with some quiet view will do the trick.
3. Set up Space; But Think Comfort
Now it's time to arrange the space with your equipment. Meanwhile, you have to think beyond just dumping a chair, a desk, and other items in the office space.
Get creative. But while at it, always make your comfort your top priority. If the set-up of the home office is likely to cause you any injuries, then the purpose of creating the workspace is lost – which is to enhance your productivity.
So, buy furniture and equipment that would safeguard your comfort.
Relax The Back has a huge selection of ergonomic furniture to scroll through for some ideas.
4. Use Proper Lighting
A natural source of lightning is always the better source of light.
It helps lighten the mood and is also cost-effective when compared with artificial sources of light. So, if your home has a space that allows for plenty natural source of lighting, take maximum advantage of it by making it your home office.
However, the artificial sources of lighting are equally essential too.
Even if you have a great amount of sunlight in the room, you need to enhance it with a dedicated lighting. You may consider desk lamps and floor lamps to lighten the workspace.
Cocoweb has an impressive selection of floor lamps to add an energy-efficient eco-friendly source of light to your home office or workplace:
Regardless of the source of lighting, ensure that your computer screen is not reflecting the beam of light into your eyes. It's important that you avoid anything that could cause any injuries.
5. Keep Your Essentials within Your Reach (While Keeping Them Organized!)
One major challenge freelancers have is keeping up with the productive streak. I mean, when you finally get that work vibe flowing in your bloodstream, you don't want to jinx it by having to pause to get a writing pad – or even a pen.
The only way to keep that momentum going is to always keep all supplies within your reach. When designing your home office, have a bunker – or something to keep all your most often used items. It is an effective way to keep your productive streak for as long as possible.
Yet, you don't want to build clutter either. Clutter prevents you from getting focused, studies say. So keep your supplies organized!
Keeping your home office clean and organized will also make you much healthier.
6. Create a Space to Get Away From Your Desk
One of the most significant benefits of freelancing is the flexibility that comes with it. As the boss – well technically, you have absolute control over the amount of time to put into work as well as the space to make your working environment.
If you have that much space, one of the best thing you can do for yourself when designing your home office is to create a space where you can get away from your work desk.
Let's call it a "no work zone." This place would be your leisure room where you can relax, hang your head or even take some bite on a few snacks.
Remember, this getaway area does not have to be a whole room. You could divide the workspace into two separate rooms with some nice furniture.
7. Get Your Virtual Office Organized Too!
Lastly, the bigger part of your office is going to be your digital workspace. Keep it organized too! I use Cyfe to get an overwhelming amount of things under one roof. With it, I can keep all these scattered activities within one account:
Invoicing
Website monitoring
Daily reading
Social media posting and scheduling
Keeping an eye on my inbox
To save time, I just open it daily, glance through what's new and move on to do the actual work. It saves me hours of opening and browsing, forgetting what I was supposed to do in the first place.
Here are more productivity tools you may want to check out and pick a few for yourself, depending on your needs and tasks.
Working from home has got great benefits. However, if you don't put in some conscious thoughts into designing your home office, you may never attain the peak of your productivity. Remember, a home workspace should guarantee your comfort and safety which are the recipes for enhancing productivity.
Follow the seven amazing tips highlighted in this piece and you'd have a professional working space for your freelancing business.