Any successful freelance writer will be able to tell you in order to make it in the business, you need to have the right tools in your kit. These tools should be tried and tested resources you can rely on time and time again.
But, with an avalanche of information on the internet, it can be tough for new writers to work out which tools are worth investigating.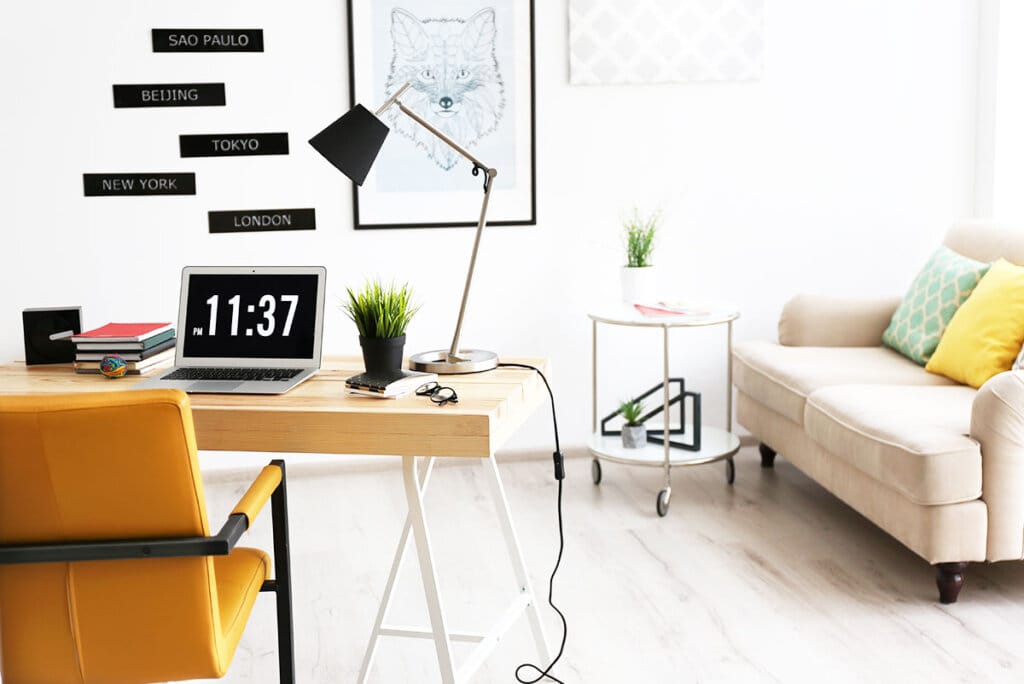 Based on feedback from those already making money with their words, here is a list of resources for budding freelance writers. Read on and decide which freelance writer tools are needed for your writing arsenal kit.
It can be tough for new writers to work out which tools are worth investigating.
Text Checkers
Have you ever written a sentence or block of text tHat Looks lIKE tHIS? Annoying isn't it? Fortunately, there are free online tools, such as Textfixer, that can help sort out your random capitalization, so you don't have to rewrite a block of text.
Another great tool is TitleCase, which can help you work out which words need a capital letter in the title of an article.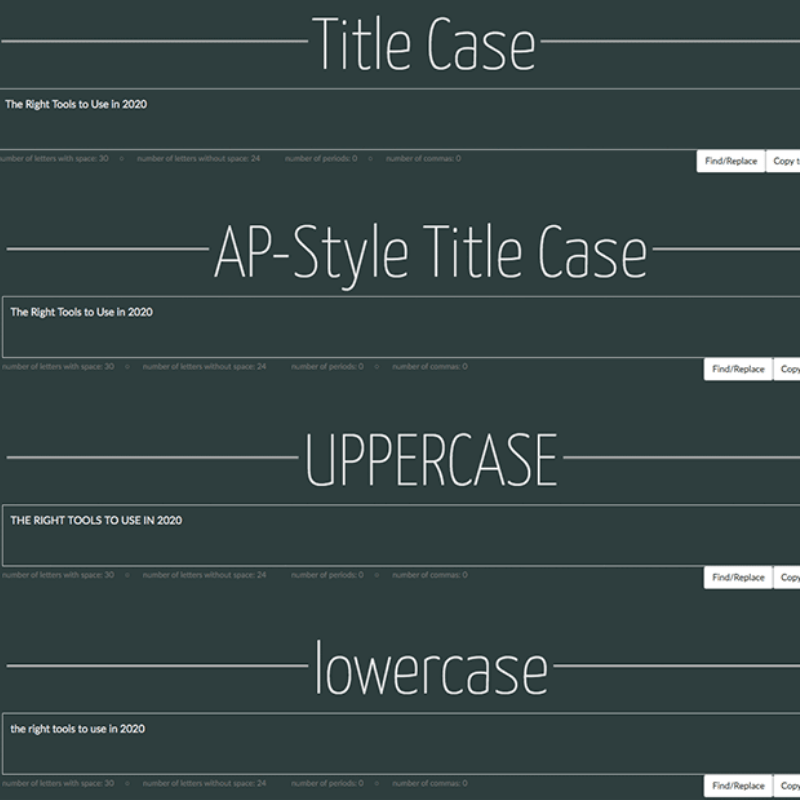 With these tools at hand, you don't have to let troublesome text get in the way of a great article.
Project Management Tools
Managing your time effectively is one of the hardest areas to master when you become a freelance writer. But we've come a long way since the humble Filofax.
Now, you can manage your projects across a range of platforms by using affordable programs, such as Asana and Trello to create and track projects.
If you're a visual person and used to using post-it notes to manage your projects, a program like Trello would be better suited to you. This interactive dashboard helps you to organize your ideas onto cards, which can be colour-coded and sorted into groups.
You can add photos, stickers and tick boxes to your cards, which can be dragged and dropped across the board. You can set up notifications too, so you never have to miss a deadline.
Unlike Asana, you can make your project boards public and can allow anyone with an email address to contribute to the board.
Asana's dashboard is much more complicated than Trello's. But it does offer more functionality and a choice of management templates, so you can customize your project management tool to your own specification. You can sort projects by due date or importance and make them as detailed as you like, by adding links and tags to further information.
You can set Asana up to send automatic updates to your inbox too. So if you need to collaborate on a writing project with multiple contributors, this is the ideal tool to find out who is doing what and when they have completed it.
Unlike Trello, Asana offers a host of keyboard shortcuts, so if like most writers you operate from a laptop, this is another key selling point of this popular project management tool.
A Motivational Blog (or two)
The Middle Finger Project might sound like something you created in your dark teenage years, but it's actually a dedicated resource for freelancers in any industry, although the key focus is for those in the business of writing.
Blog posts include information on how to manage your time, deal with doubt and cope with stroppy clients. And The Middle Finger Project founder, Ashley Ambirge's sage advice is always dished out with a hearty helping of humor too. The website has had a recent makeover for 2015, with lots of discount codes dotted around the site.
Other useful writing blogs include Elna Cain and The Quiet Type, where you can download free material and take part in question and answer sessions.
Note-Taking Apps
Never let a great idea go forgotten again! Note-taking apps, such as Evernote, allow you to record your notes and sync them across devices.
If you've got the time, it's really worth checking out some of the finer details of Evernote, such as the ability to sift through your notes using tags. You can also record notes on webpages or blogs for your reading pleasure at a later date. Note-taking has never been so much fun!
Text Editing
Have you ever read a piece of your own work, only to find it missing a certain something? The Hemingway App reads through your text and highlights any long sentences or phrases that need editing. Hemingway also grades your readability score, making sure your words are easy to understand for your reader.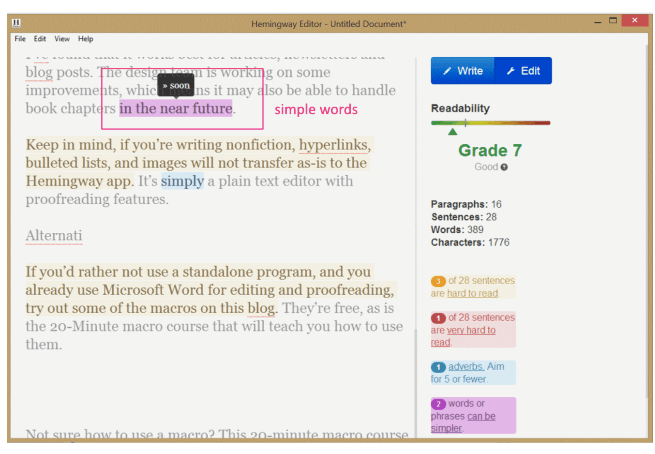 Another recommended text editor is Grammarly. It's much more than a spelling and grammar checker as it highlights contextual spelling errors and poor vocabulary use too. So now there's no excuses for awkward articles.
Image Libraries
I know what you're thinking.
You're a writer.
You don't need to sort out images as well, right? Wrong. More often than not, you will be required to find accompanying images to your articles. Your images need to be copyright free and high quality too. So what can you do?
The best free image libraries are Unsplash, Pixabay and Pexels. These sites offer a range of photos, which you can manipulate to your heart's content. Just be careful to check the terms and link back the images to the owner where appropriate.
Social Media Guide
How powerful is your online presence?
If you're serious about making waves in the world of writing, you need to get savvy with your social media. Reading a smart freelance social media guide will give you a good grounding about what is expected in a world of Facebook, Twitter and blogging. This easily-digestible guide also includes advice from contributors who are already out there making money.
If you've got some more time, the geniuses at Moz have created a Beginner's Guide to Social Media, covering how to get set up with your social accounts and a demographic breakdown of each platform's users.
Remember, the key rules surrounding social media are to produce quality content and always be consistent. If you're not adding value – don't contribute. And make sure you're using the same voice across all your social media channels. There's no point having a chatty and fun Twitter profile, if your website reads with a serious tone.
Smart Books
The best advice for writers is to read and read some more. What better books to read, than those about writing and building your writing business?
The best books are the ones you see recommended time and time again. These included The Well-Fed Writer by Peter Bowerman and The Renegade Writer by Linda Formicelli and Diana Burell.
The best advice for writers is to read and read some more.
Bowerman's book talks about the lifestyle of freelance writing and includes some inspiring accounts of struggling wordsmiths who finally crack the code to financial freedom by writing and managing their businesses properly. In the book, you'll learn about qualities you need to succeed and how to put your business into action, by giving you advice on what to say on the phone and how to price your services.
The Renegade Writer concentrates on how to generate ideas and build relationships with clients. The book is jam-packed with links to useful websites and advice on how to be bold when you're just starting out. If you're looking for advice on how to talk the talk and walk the walk while you're still finding your feet in your new career, this is the book for you.
If you're just embarking on your writing business journey or are a seasoned professional, keeping up to date with the latest tools for freelance writers is something you should always be doing.
New apps, websites, books and blogs are always being released. So make sure you stay ahead of your game and keep educated. After all, many of us can write, but building a successful freelance writing business is quite a different ballgame.