Staring at a blank page again?
We've all been there.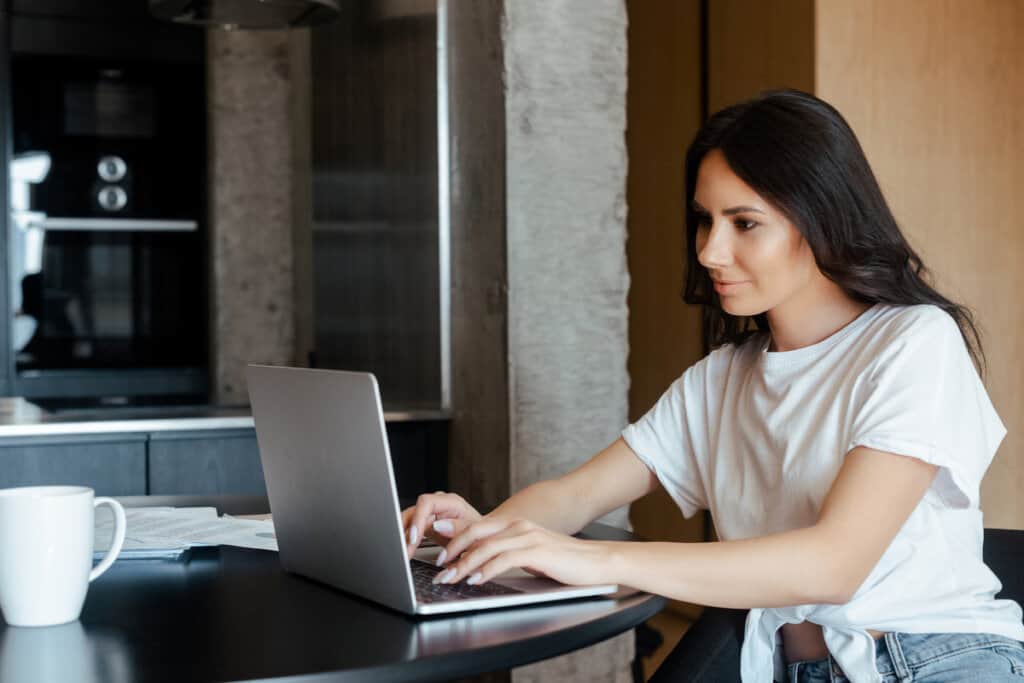 It can be truly terrifying when you're out of ideas, and there's a deadline looming.
It can be truly terrifying when you're out of ideas, and there's a deadline looming.
But if you need inspiration for your next creative project, a swipe file can be a lifesaver.
This is a personal library of clippings you've put together to solve this exact problem.
Perhaps you're struggling to nail the right tone, or maybe you've read a brilliant industry piece you'd love to reference, but now you can't find it?
A copywriting swipe file will fan the flames of your creativity, backed up by stellar research, so you can turn around a perfect project, fast.
What is a Copywriting Swipe File?
A copywriting swipe file is a library of marketing materials you can use to:
cure artist's or writer's block
find new ideas
dig deep into the psychology of marketing
refine your artistic skills
If you come across an article jam-packed with stats or examples you know you'll want to read again, this can go straight into your swipe file.
The same goes if an email subject line makes you chuckle or if you have to click on a blog post after reading the headline.
Just as a comedian couldn't live without a notebook packed full of jokes and setlists, freelance creators rely on swipe files as the foundation of their future work.
Long before the days of the Internet, marketing pros would create their physical swipe file of printed ads, newspaper headlines, research documents, brochure pages, and anything else they felt inspired by.
They would store their clippings in a wallet or filing cabinet and save them for later.
But fast forward to the digital age, and there are numerous ways to store your copywriting headline swipe file online to be accessed from any device, any location, and at any time.
What is a Copywriting Swipe File NOT?
A swipe file is not an opportunity to copy anyone else's work.
Yes, you'll be saving clips belonging to other people because you've been impressed by their creativity.
But the idea is to study their work and determine why it grabbed your attention.
Understanding the psychology behind why that headline worked on you will help you craft your own attention-grabbing titles as a copywriter.
A swipe file is NOT an excuse to plagiarize content or rip someone off.
Not only is this unethical, but it's also incredibly lazy.
Who Needs a Swipe File?
Freelancers involved in any type of marketing can benefit from using a swipe file, including:
Copywriters
Long-form writers
Email funnel writers
PPC marketers
Editors
Graphic designers
Social media managers
What's the Best Copywriting Swipe File Software?
To design a digital swipe file, rather than going the traditional route of storing print-outs in a wallet, you can either work with a ready-made swipe file or make your own DIY version.
Ready-Made Swipe Files
The legwork has already been done for you with these handy resources.
Freelance Bold – Marijana Kay of Freelance Bold has released her brand-new Data Vault, which is perfect for finding recent and relevant stats and reports if you write for B2B SaaS companies.
SwipeFiles.com – you can filter teardowns by category (web page, email, in-app messages), subcategory (startup pages, directory pages, download pages), industry (SaaS, eCommerce, digital products), and business (B2B, B2C, B2BC).
Fantastic Texts – examples of effective text marketing campaigns, filtered by industry (accessories, beauty, fashion, food, health & wellness) category (campaigns, automation, BFCM) or response type (browse abandonment, abandoned cart, conversational, upsell, product launch.)
DIY Copywriting Swipe File Software
Of course, a DIY swipe file gives you a lot more control over the information you wish to store and refer back to. Here are some popular ways to start your digital library of snippets.
What to Include in Your Digital Swipe File?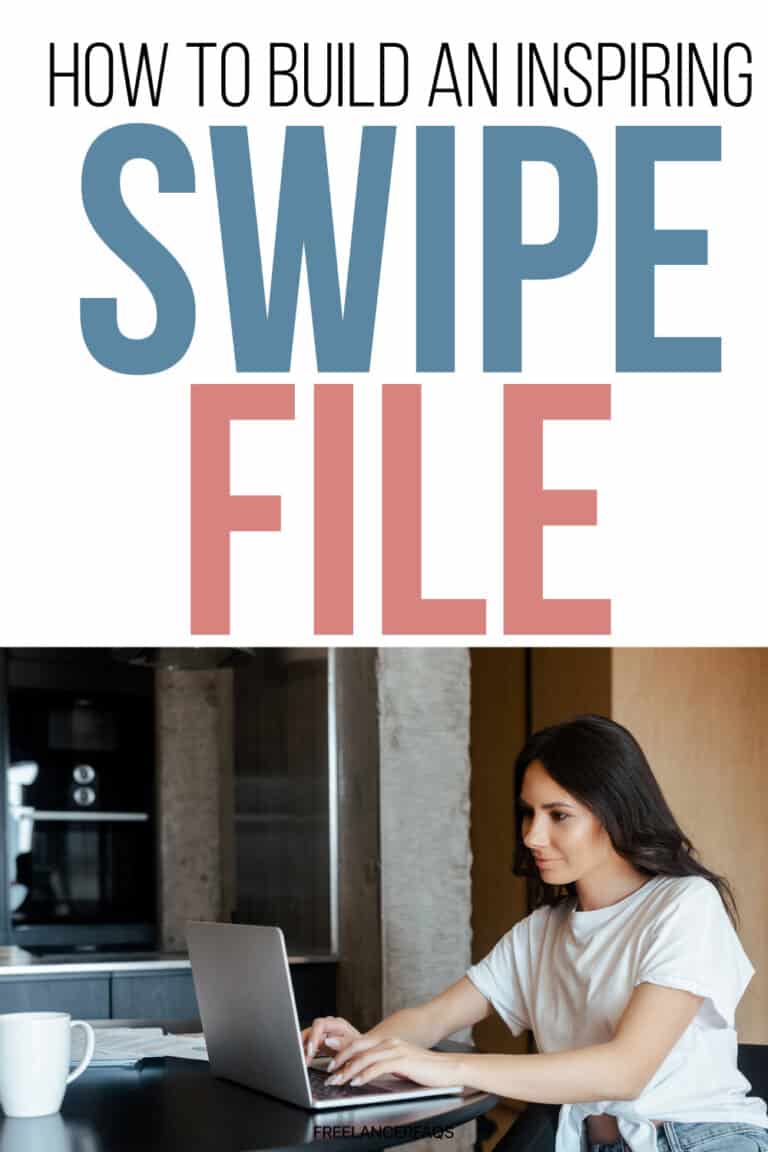 Ok, we're at the juicy part now.
WHAT are you going to put in your swipe file?
The great news is: there are no rules!
If you feel inspired by something you come across during your browsing, then pause to consider what you like about it, then swipe it into your file.
The snippets you include will vary from creator to creator and from project to project.
So, a graphic designer may want to save examples of uncluttered ads that make use of white space, whereas a social media pro might need to take screenshots of superb Facebook ad copy.
19 Copywriting Swipe File Examples
Here are some ideas of what you can grab, save and then pore over later!
Headlines – what attracted you to read the content or buy the product?
Social ad copy – did you notice any power words in the ad?
Bucket brigades – how did this clever copywriting trick hold your attention and keep you moving through the text?
Intros – what type of hook grabbed your attention in the opening line?
Infographics – what do you like about the design?
Landing page copy – what do you like about the layout and language?
Email subject lines – which are must-opens and why?
CTAs (calls to action) – consider the psychology behind the authoritative CTA phrases.
Persuasive writing – were you swayed by storytelling or factual proof?
Rhetorical questions – did these help you interact with the copy?
Personal branding – notice what impresses you about the copy – perhaps graphics, values, style, or authenticity?
About us pages – what glimpse does it offer about the person or business?
Testimonials – where are these displayed, and do they use headshots or logos?
Portfolios – what do you like about the style and layout?
Sentence structure – does analyzing these sentences help find or develop your tone of voice?
Data (surveys, results) – are the stats recent and relevant to your workload?
Quotes – could a quote strengthen your argument or be thought-provoking?
Videos – how did this video engage with you and complement the content?
GIFs – what do you find appealing about this GIF? Is it funny, shocking, or unique?
Building your Copywriting Swipe File Organically
So, you've chosen your favorite swipe file tool, you've even got an idea of what you want to fill it with … now what?
Remember that the best swipe file libraries aren't made overnight.
Just as Rome wasn't built in a day, creating a valuable collection of snippets as a freelancer will take time.
Keep in mind that you're building organically, and there's no rush.
You can also visualize the audience or buyer persona you're targeting with your work.
This will help you consider not just what personally appeals to you as a creator, but also to your client's target market – what will THEY like and find interesting?
Top tip: Create a super valuable swipe file by subscribing to multiple newsletters within your industry. Every time you receive a newsletter, take the best pieces of info and add them to your swipe file.
You can create a separate burner email account for this sole purpose so you don't get inbox overload.
Organizing your Swipe File
Organization is an important part of a successful swipe file.
It may look easy to keep on top of your snippet admin when your file is empty, but you don't want to be in a position where you can't find the valuable content you've saved.
Adding Tags
One of the best ways to quickly find a snippet of content is to add a tag.
For example, you can tag based on the type of copy it is (email, ad copy, headline) or by category (eCommerce, marketing).
Sharing Your Swipe File with Your Team
If you need to share your content library with colleagues, then you can add sharing settings to your swipe file and distribute it to your recipients.
Creating a Formula from Your Swipes
If a piece of content stands out and you feel compelled to add it to your file, work out why it's enticing so you can use a similar approach in your project. Attach this note to your snippet.
For example, if you go to the home page of Really Good Emails, a sign-up box pops up with a headline of "Sorry for being an A hole and interrupting, but…." and then leads into persuasive text prompting you to sign up for their newsletter.
If, like me, you're amused by the phrasing in this headline, you can construct your own formula to use in similar situations. "Sorry for being X, but…. " or "Sorry for interrupting your X…" would be the formula here.
When to Refer to Your Copywriting Swipe File
By far, the best time to check out your trusty swipe file is during your research.
Perhaps your client has tasked you with finding new topic ideas to cover? Or maybe you've been given a title and need to crank out the research stage of your project.
Elna Cain explains, "What I learned was to create a swipe file of stats and facts to help me whip up a blog post topic. After looking at my swipe file and then checking out blog posts on my idea, I can quickly create a blog post outline."
So now, it's over to you.
If you're new to swiping, then the sooner you start building your swipe file, the quicker you'll have a bottomless bank of research and inspiration to depend on.