While it's getting close to the holiday season, you might have a lot of people on your list to get gifts for. Your kids, parents, friends, family, teachers, service workers, but what about your clients?
The holidays are a special time to give your favorite clients that little extra thank you for providing you with consistent work to help you pay your bills.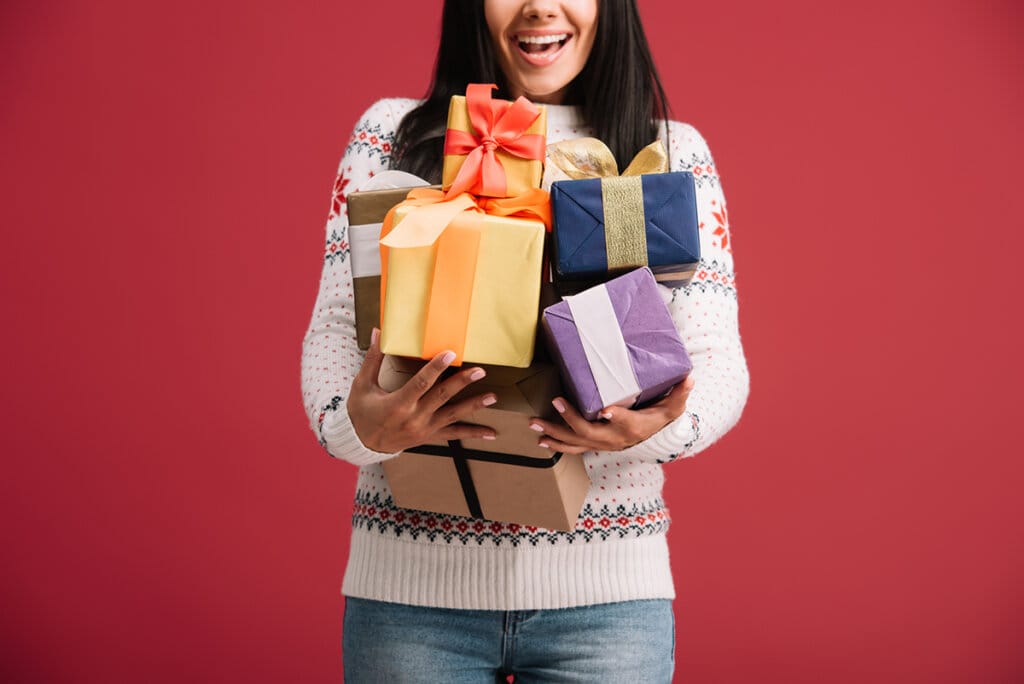 The holidays are a special time to give your favorite clients that little extra thank you[.]
There are a couple different factors to consider when you are thinking about client gifts:
How well do you know them?
How much are you looking to spend?
Where are they located?
How long have they been a client?
There are quite a few common gifting categories that offer some very affordable gift giving ideas for client gifts that anyone would appreciate, such as food, coffee, and personal care items.
Food Ideas for Client Gifts
Seriously, who doesn't love the gift of food?!
Here's a quick tip, if you aren't sure what your client likes (coffee, tea, chocolate, ect), then do a little social media stalking.
Unless they are totally absent on all social media platforms, you should be able to figure out at least one thing they like. If they have an assistant you can also reach out to them and ask.
Coffee Gift Ideas
If you know that your client is a coffee junkie, then they are going to love a thoughtful client gift of coffee to keep their caffeine levels up.
If they love to try out new coffees, then consider gifting them a coffee gift box from BeanBox.
With affordable boxes starting at $24 and varieties that include extra goodies like biscottis and chocolates, they are sure to love getting a box filled with new coffee flavors to try.
If you are looking to send them some high quality, full bags of coffee or custom drinkware, then check out DrinkTrade.
If you are a bit crafty, then consider putting together a DIY coffee gift basket idea.
This could include items like a coffee mug, tumbler, french press, pour over coffee maker, a variety of coffee, single use coffee cups (Kcups), chocolates, biscuits, flavor syrups, chocolate dipped spoons, creamers, and just about anything else you can think of that is coffee related.
Here are a few ideas for a festive DIY coffee gift basket:
Tea Gift Ideas
The same strategy applies to coffee as tea for client gifts. Some great tea gift boxes include SipsBy and TeaForte.
SipsBy is a monthly subscription for about $15, which you can certainly buy just a month (or three) of while TeaForte is more of a one off gift box. With TeaForte you also have the option to send infusers for loose tea, tea pots, mugs, tea cups and saucers, and entire gift sets.
Everything they offer is sleek, modern, and beautiful!
Or, again, go DIY:
While the DIY ideas are fun and thoughtful, it shipping is going to cost you a ton, you might want to just go with a pre-made gift basket and a thoughtful note.
Other Food Ideas
There are literally TONS of different food related gift baskets to choose from for a client gift. Here are just a few more ideas for food boxes that your clients will enjoy getting and love eating (sharing optional).
From bacon to gin, these curated boxes are a fun and affordable way to give foodie clients gifts.
Another good site to give gift baskets from is Harry and David, which offers lots of fruits, nuts, cheeses, and sausage sets, more of the traditional holiday food gift basket route.
Fountain Gifts offers both food, drink, and self care related gift boxes. Including everything from succulents and facemasks to champagne and chocolates.
Gift Cards for Client Gifts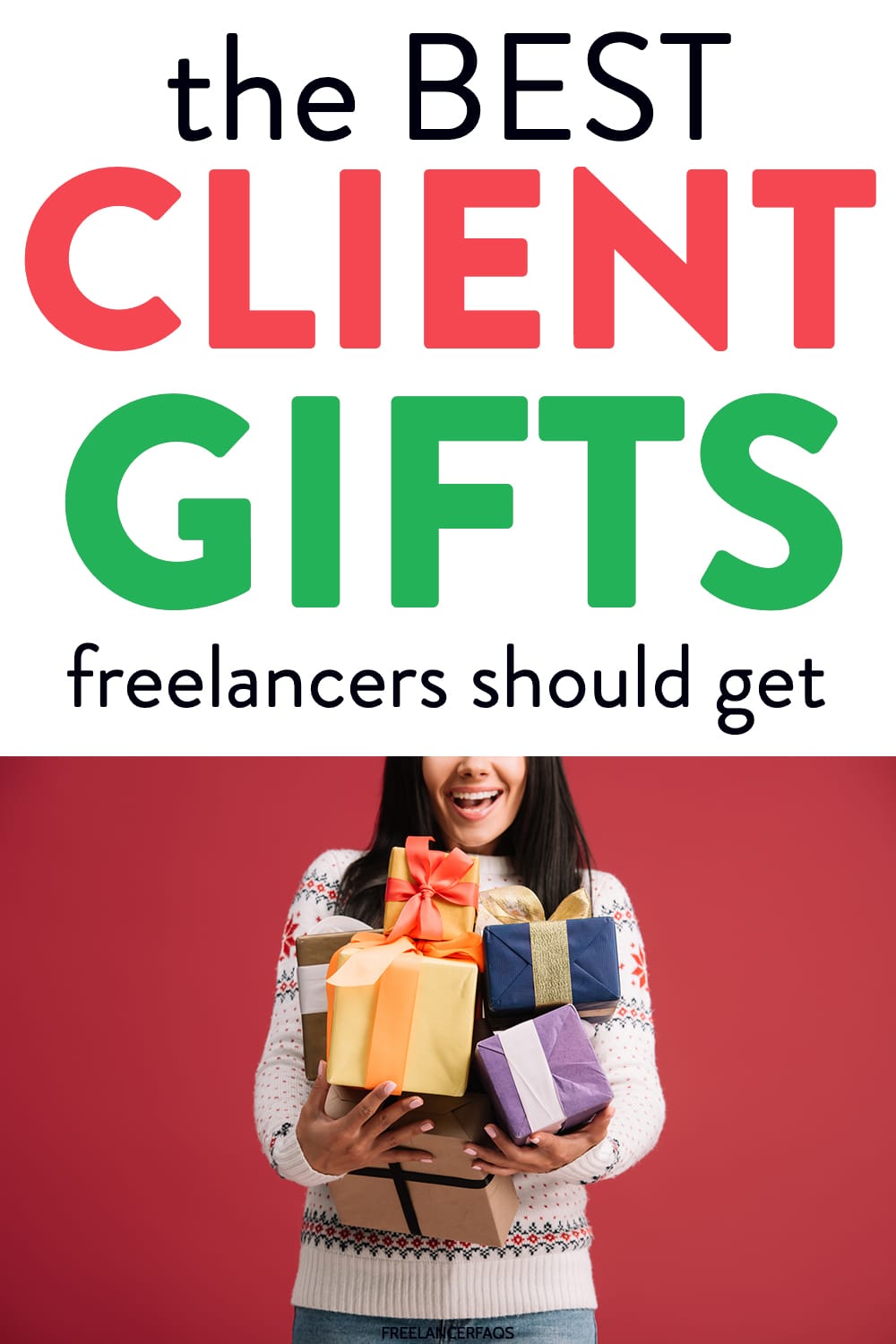 The one thing to be aware of when purchasing gift cards for your clients is to be sure that they will actually be able to use them.
So before buying a gift card, be sure to check that they will be able to use it in their state or country.
Now what about the amount?
Again, this is depending upon how much you have in your budget to spend and how much you like your clients.
It's generally acceptable to give a gift card between $25-$100 with a nice card or note.
Amazon
You pretty much can't go wrong with an Amazon gift card for client gifts.
You can use them no matter where you live and there are so many things that your clients can purchase with this gift card.
You can send an Amazon gift card in a number of different ways, as an eGift through email or text, print it from home, or have a physical gift card mailed to them.
The eGift ones are unique as you can send animated ones or include a fun photo.
With the eGift cards you can also send them to multiple recipients, which is nice if you have a few clients who are sending them too. Although I would highly suggest to send them a personalized message.
Etsy
Etsy is another great website to give gift cards too.
Anyone in the world can use them and find themselves the perfect gift. From personalized, handmade gifts to digital assets they can use in their business, your clients are sure to find something that they will love.
You can even consider getting them a personalized card to deliver the gift card in. The gift card can be emailed directly to them with a nice note.
Starbucks
Just about everyone loves a Starbucks gift card.
Whether they are a coffee, tea, or green juice drinker, there is a delicious beverage or snack for everyone available at this iconic coffee chain. While there are some international restrictions, you can use a Starbucks gift card in the following countries: UK, USA, Canada, Australia, Mexico, and the Republic of Ireland.
There are several ways to send Starbucks gift cards, from iMessages, email, and specific business and client gift cards.
You can send your clients a digital or physical card, a card with your logo, or even a business card gift card. A creative and unique way to be sure your clients remember you during the busiest time of the year.
Tech Ideas for Client Gifts
It's probably safe to say that if you are freelancing for a client they are going to appreciate some sweet tech for client gifts. While you might not want to spend a lot on client gifts, there are certainly many affordable and fun techie gift ideas.
Tile
I don't know about you, but I misplace stuff ALL THE TIME.
Whether it's because of my kids or I was too preoccupied with something else, as humans we tend to lose things a lot.
The Tile allows you to place a small device on an object so you can easily find it later on so you don't have to tear apart your house looking for it. They come in a variety of different sizes and can be attached to just about anything.
From your dog to your phone, there is a tile for all the things in your life. They are affordable, connect to other smart devices, and don't require a monthly fee.
Flic
Flic is a neat little device that connects to your smartphone (iOS or Android) and allows you to complete tasks without having to get your phone out for every single little thing.
You can easily set it up through the app to perform different functions.
This works great for any smart home and even has the ability to perform multiple tasks.
For example, place one right by your door to turn off your lights, lower the temperature in your home, and turn off the TV.
You can even place them in places like your car or on your bike to assist you in navigation and other tasks. It's the little things that make life easier!
Blue Light Blocking Glasses
We are staring at screens more and more today, everyone should have blue light blocking glasses if they don't already.
Plus, it never hurts to have an extra pair. Not only are blue light blocking glasses stylish, they also help to prevent eye strain and promote better sleep. They can and should be worn when looking at a computer, TV, phone, and tablet.
Light Therapy Lamp
We could all use a little more sunlight in our lives, but that isn't always possible.
Light therapy lamps are great for people that work in dark offices or when the weather is dull and gloomy. Having a light therapy lamp in your office helps to boost energy levels and will help your client to feel focused and revitalized.
A thoughtful and affordable gift.
Ember Mug
While this mug is a little on the pricier side, it is well worth it for anyone who likes to actually drink their hot drinks hot. Available in 10 or 14 ounces, your client's favorite hot beverage will stay the perfect temperature for up to 90 minutes.
Perfect for a client who is juggling multiple tasks at once while trying to stay caffeinated.
You can also throw in a non- spillable thermos too!
While purchasing gifts for your clients might not be the first thing on your holiday to do list, it is worth adding.
Giving client gifts lets them know how much you appreciate their business and ensures that you will remain their go to freelancer in the future.