When did you realize that being a freelancer also meant managing a business?
Probably soon after you got your first client.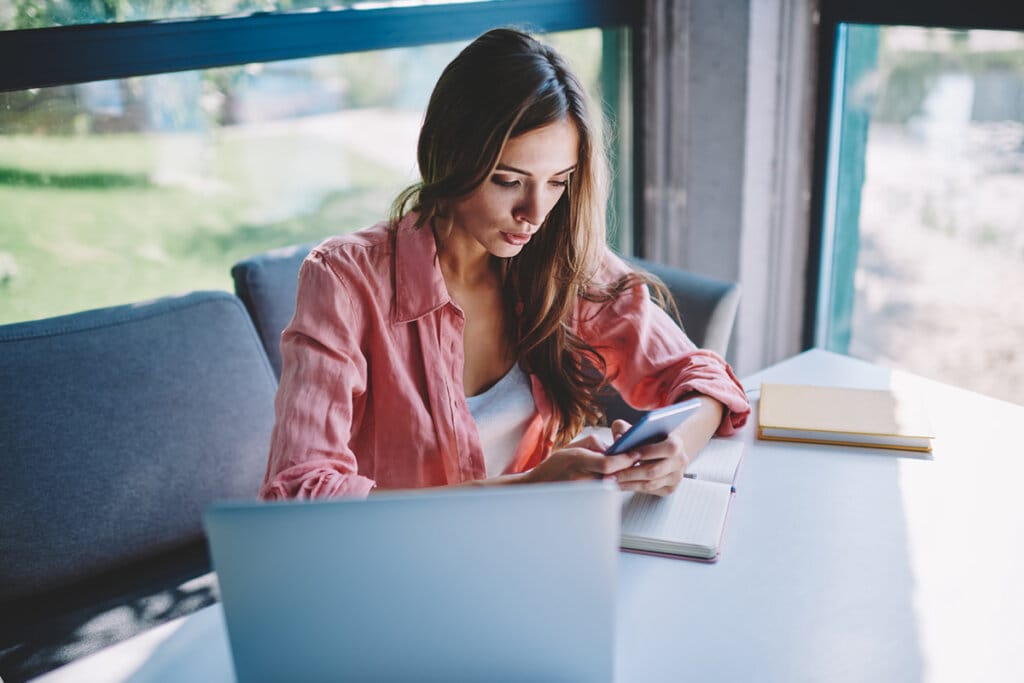 Many freelancers start off invoicing clients with a simple Word or Google doc. But are those the only invoice software for freelancers?
As you know, part of managing your business is making sure you get paid (that's why you write, right?).
The best way to simplify your payment process (and save you time) is to choose the best invoice software.
Keep Invoicing Simple
Many freelancers start off invoicing clients with a simple Word or Google doc. But is it simple?
These options seem quick and easy (at first) but end up becoming complicated and time-consuming.
Invoice software makes the billing process quick, simple, and streamlined so that you can focus on writing.
The question is, what features are you looking for in an invoice software?
To help in your decision making, we have rounded up some of the best invoice software options for freelancers.
These invoice software choices will fit any budget, save you time, and simplify your payment process.
Best Invoice Software for Freelancers
These invoice software programs have been recommended over and over by freelancers.
Each of these companies has made invoice software with freelancers in mind, and it shows in the products.
1. AND.CO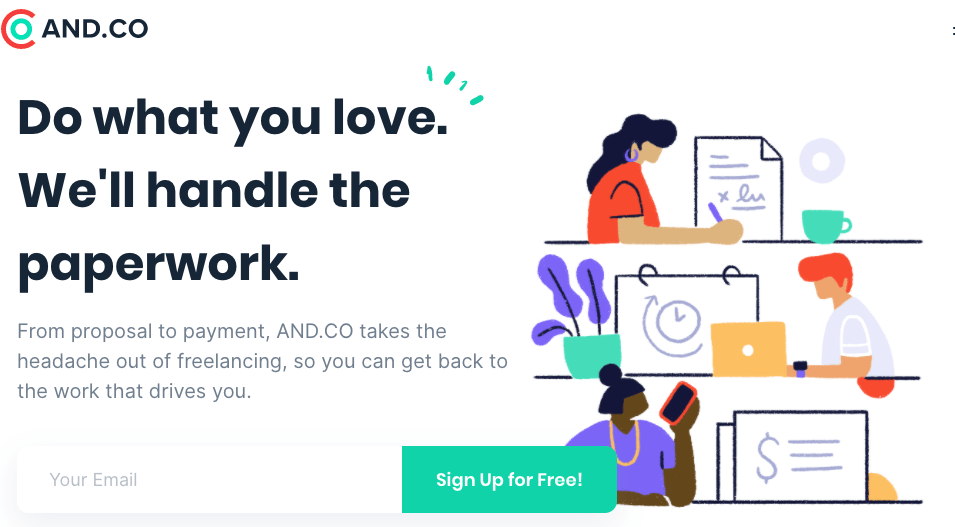 Are you familiar with Fiverr?
Most freelancers have heard of Fiverr (for better or worse), as its best known for its Freelance Marketplace.
Well, the gang at Fiverr created AND.CO, invoice software explicitly designed for freelancers.
AND.CO is a time tracking, payment app, and invoice software. AND.CO has a full range of options on its platform.
Even on its free version, you can customize your invoice and proposals with your brand logo and colors.
AND.CO offers basic accounting software as part of its platform.
For freelancers looking for basic bookkeeping and customizable options, AND.CO is a great fit.
Free Option: Yes
Pricing: Starts at $18/month (billed annually)
2. Freshbooks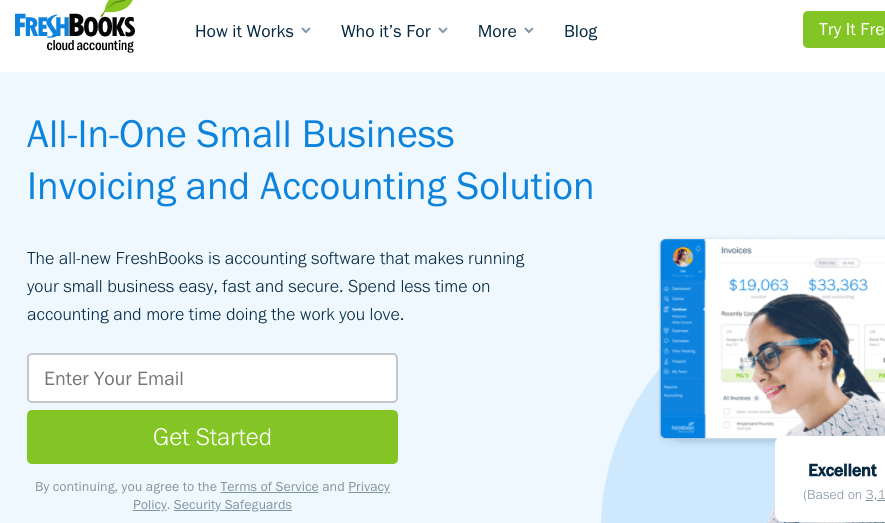 Freshbooks is one of the most well-known and best invoice software for freelancers.
Why?
Because Freshbooks is a business management suite. It gives you everything to manage the administrative part of the freelance business.
Freshbooks has an easy to use project management system so you can set up recurring invoices, payment reminders, charge late fees (if you want to), and customize invoices.
Do you want to link your invoices to your accountant? Freshbooks can do that too.
For the freelancer who wants invoice software with multiple tools to manage their business, Freshbooks is a perfect choice.
Free Option: No
Pricing: Starts at $6.00/month
3. HoneyBook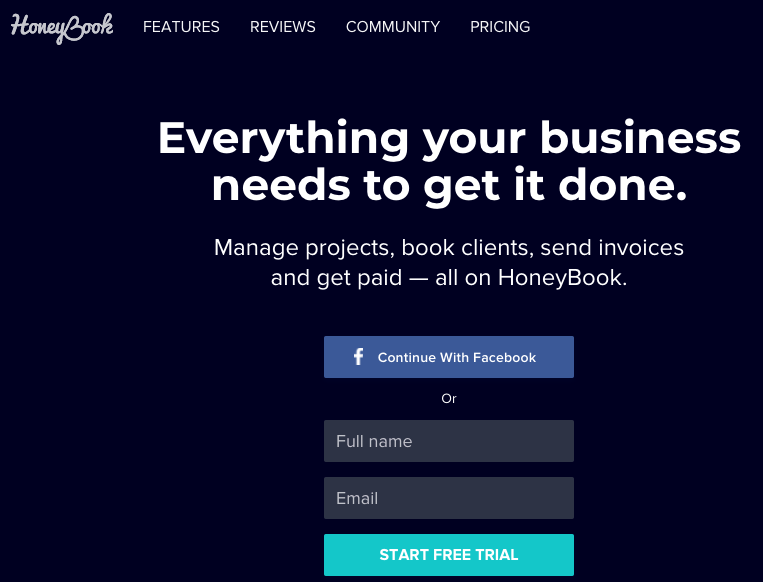 Are you a creative entrepreneur? If so, then have a look at HoneyBook. It has all the tools creative freelancers look for in invoice software.
Do you need a proposal? A contract? Task alerts? HoneyBook has them, and you can customize them specifically for your business.
HoneyBook's design interface is easy-to-use with a visual dashboard to stay on top of all your projects.
A unique feature with HoneyBook is a scheduling tool.
You can schedule meetings with clients, set your availability, share your scheduling link, and let your clients choose a meeting time that works best for them.
Instead of going back and forth with clients via email, you can do it quickly through HoneyBook.
For the creative freelancer who "wants it all" in an invoice software, HoneyBook is worth a look.
Free Option: No
Pricing: $34/month (billed annually)
Freelancers on a Budget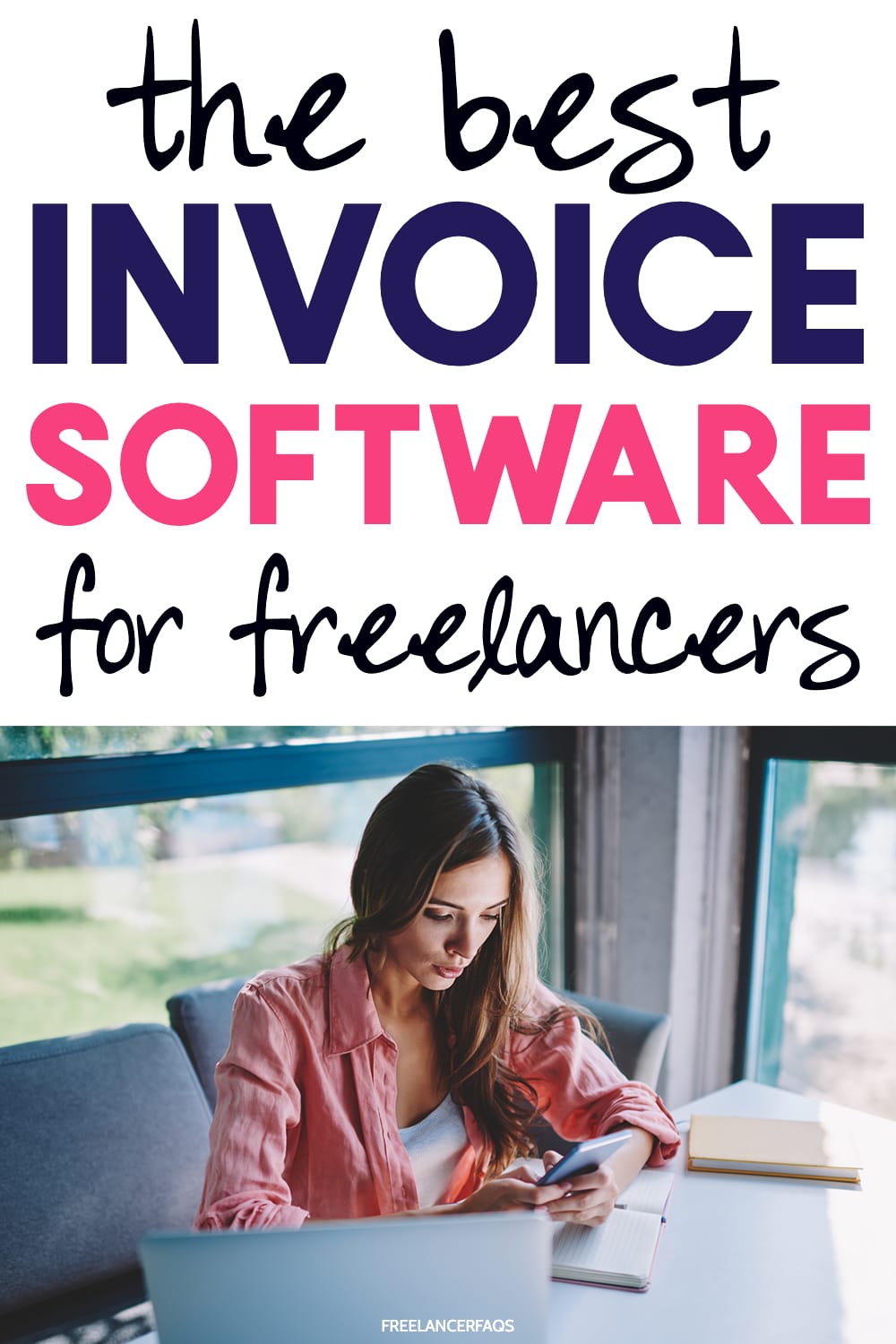 Don't want to spend a lot on invoice software? I completely understand.
Depending on the size and scale of your freelancing business, you may not have the budget (or desire) to pay for invoice software.
That's ok. There are some fantastic and free invoice software choices.
4. Harvest
Harvest is simple, easy to use, and reliable.
Are you always tracking your time for your clients? Harvest makes time tracking easy and integrates on your phone, tablet, or desktop.
Plus, Harvest's app works seamlessly on both Android and iOS.
Do you use other project management tools like Asana, Basecamp, or Trello?
Well, Harvest integrates with them too.
Harvest features include invoices, project estimates, time tracking, accounting integration, and project management.
If you are looking to get started immediately and want something easy to use, Harvest is the right pick.
Free Option: Yes
Pricing: Starts at $12/month
5. Wave
Wave is a professional invoice software with many customizable options. Wave is known for its financial services for small and micro-business owners.
Some of the basic features in Wave (all for free!) are estimates, receipts, recurring invoices, payment reminders, accounting integration, and cash flow insights.
Often free invoice software restricts the number of invoices you can send out. Not with Wave. For $0, you get unlimited invoicing, forever. Yes, free forever.
If you are looking for free invoice software to manage many clients, Wave is a strong contender.
Free Option: Yes
Pricing: Starts at $20-35/monthly
6. Zoho Invoice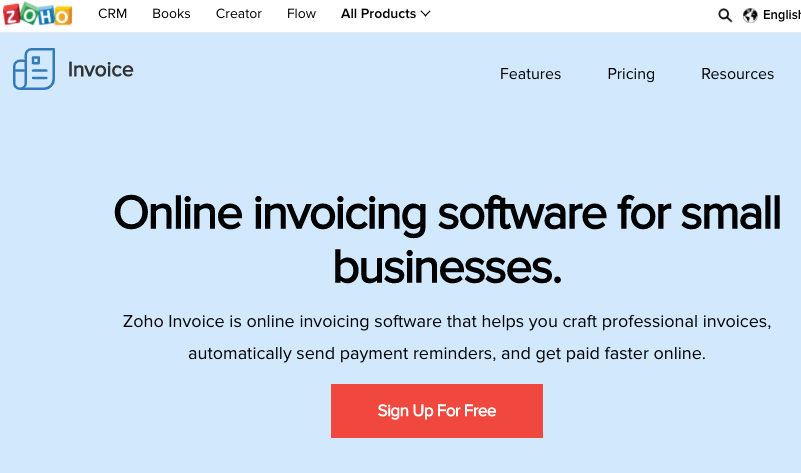 Zoho is a well-established cloud software suite with multiple tools like customer relationship management (CRM), email hosting, and accounting. A product they offer is Zoho Invoice.
Zoho Invoice is an intuitive operating system for business, and their basic plan is free!
In Zoho Invoice's basic plan, you can create invoices for up to 5 customers, set up automatic reminders, track time, and create custom proposal templates.
Zoho Invoice integrates seamlessly with other programs such as PayPal, Zoho CRM, G Suite, Stripe, One Drive, and Dropbox.
Also, you can manage all your invoices on your phone with their app.
Zoho is a trusted brand in cloud software.
Zoho Invoice an excellent option on its own or if you want to integrate into the Zoho software suite.
Free Option: Yes
Pricing: Starts at $9/month
7. Sighted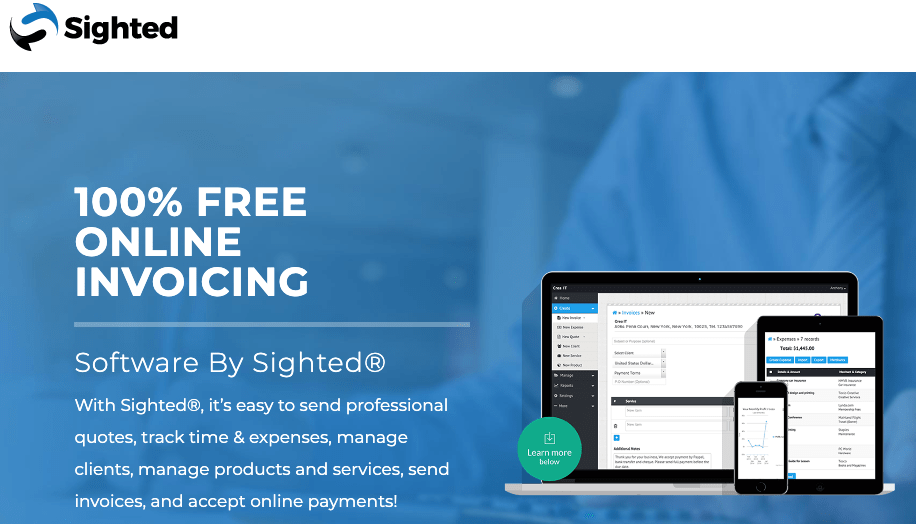 Sighted advertises as 100% Free Online Invoicing invoice software. It provides customized invoice and receipt design, professional quotes, and fast expense recording.
Sighted integrates with PayPal, credit/debit cards, and supports every primary currency.
Want a mobile-friend app? Sighted's app is fully supported on Android devices.
Sighted is a solid choice for the beginner freelancer looking for an entirely free and straightforward invoice software.
Free Option: Yes
Pricing: Starts at $4.99/month
Choosing the Right One
Say goodbye to those Word and Google docs, and level up your invoicing by switching to invoice software.
This list is full of some of the best invoice software for freelancers, but ultimately you need to choose which one is right for you.
The co-owner of FreelancerFAQs, Elna Cain, recommends going with Freshbooks as the best invoice software for freelancers.
However, she says that if you need to bootstrap your business, to go with And.co.
How do you know which is the right one?
When making a selection, choose whichever is going to make your life easier and less complicated.
Have you used any of these invoice software programs or have any others you recommend?
Let us know!