Freelancing opens the door to traveling.
It gives you the freedom, the lifestyle and the money to travel on short local trips or years-long journeys around the world.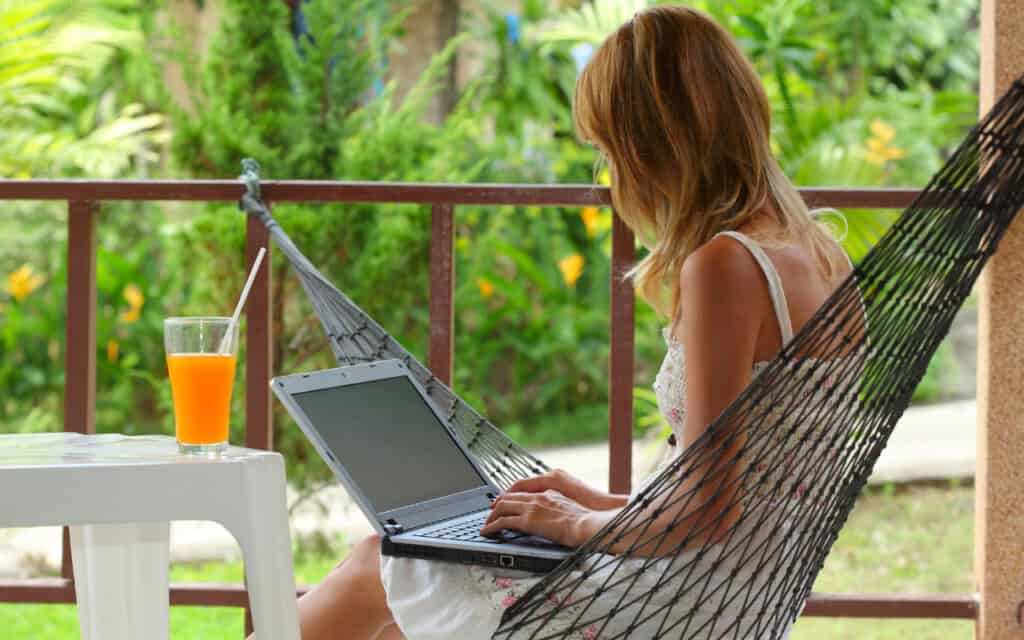 When you're a freelancer who wants to see the world, you don't have to use your savings to pay for your nomadic lifestyle; you can make money for your travels by working at digital nomad jobs as a freelancer while you're traveling.
While traveling in our post-pandemic world can unfortunately be a bit stressful and tricky, digital nomads are out there proving that it can be done.
Here is a look into the nomadic lifestyle and how you can earn money while you travel by doing freelance digital nomad jobs.
Anyone Can Enjoy a Nomadic Lifestyle by Working Online
Digital nomad jobs are simply online jobs that you can work at while traveling.
Most online jobs actually make great digital nomad jobs.
While many corporate employees have remote careers which allow them to travel, even more freelancers work online while traveling. As long as you have a computer and an internet connection, you can work and travel at the same time.
Pretty much anyone can live the nomadic lifestyle.
Many traveling freelancers hold university or advanced degrees. Many have no formal education at all. Some travel alone and some travel with their significant other. There are even digital nomad families traveling the world.
Some people who embark on a lifestyle of working and traveling have quit or have lost their corporate jobs, so they then begin freelancing in that same line of work.
Others don't have a job which they can turn into a freelance job, so they take skills training or teach themselves how to work in a new freelance career.
Some people become entrepreneurs in order to make money while they're traveling. Lots of digital nomads also start blogs from which they earn income.
A Look Into the Nomadic Lifestyle
While traveling in our post-pandemic world can unfortunately be a bit stressful and tricky, digital nomads are out there proving that it can be done.
Many have been doing this for years, so if you're interested in this lifestyle you'll be glad to know that there are lots of like-minded people you can turn to for advice and support and still gain some digital nomad jobs.
You can find these people on the internet even before you start traveling.
Do a search for digital nomad groups on Facebook. Search for the hashtag #digitalnomads and #digitalnomadlife on Twitter. See what people are saying, talk to them, and don't be shy about asking questions.
After you've begun traveling, you'll likely run across other digital nomads and find that it's easy to connect with them in person.
How to Balance Working Online with Traveling
When you're a freelancer living the nomadic lifestyle, it can be a bit of a challenge to balance your travels with your work.
You want to see and do as much as possible, and you also need to earn enough money in order to do that.
While it's important not to waste your travels by working all the time, it's even more important not to let your bank account empty out because you're spending all your money traveling.
One step you can take in order to successfully balance your work with your travels is to travel more slowly than you usually would. Don't rush from one place to the next.
You'll definitely need downtime in order to focus on your freelance work. The easiest way to have this downtime is by staying in one location for several days, weeks or even months.
Staying in one location for a while will give you more time, energy and ability to focus on your work.
You'll also be able to see the sights in that location not only once but many times if you so wish.
You'll get to know the local culture like you never would if you were just passing through. You may even make some local friends.
Also, be careful not to take on too much work when you're busy with a lot of travel. If you want to enjoy just traveling around for a while, cut back a bit on your work to the extent you can.
Be mindful and forward-thinking about all the projects you take on. Don't promise your clients too much while you're focusing on traveling because you may end up not wanting to follow through.
How to Be Safe and Secure While Working and Traveling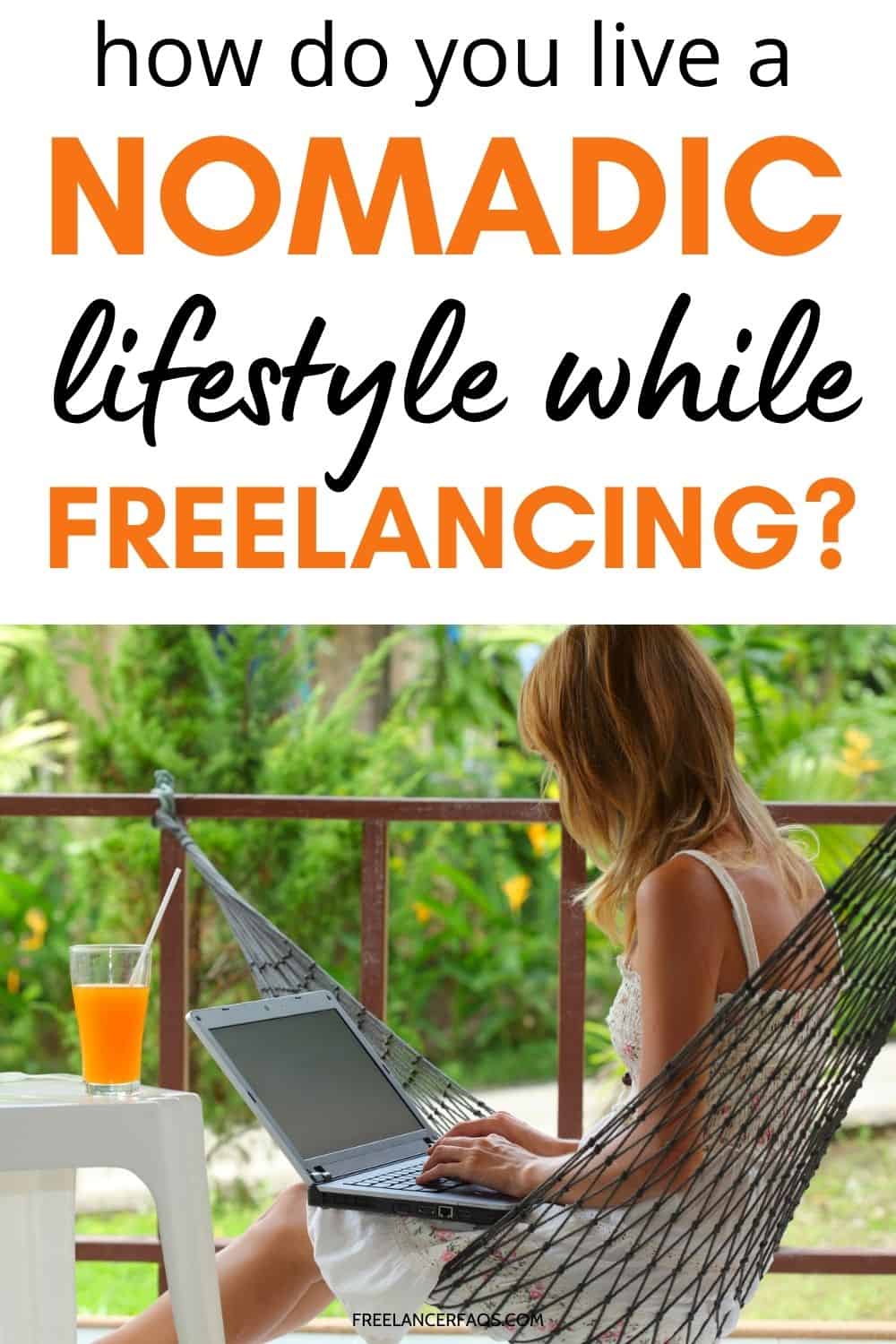 Personal safety and security is understandably one of most people's primary travel concerns living a nomadic lifestyle.
If you're feeling unsafe or are in an unsafe place, then you're not going to be very happy or comfortable. Safety does need to come first.
Fortunately, though, the world isn't as dangerous as many people make it out to be. Accidents and crime do happen, but many places are actually probably even safer than where you now live.
Still, different parts of the world do have different safety concerns, some big and some small.
Research the specific places you're heading in order to learn about any safety issues there. Find out from people who live in those locations as well as people who've recently traveled there what the safety situation is and any precautions you should take.
Digital nomads have the additional concerns of internet security and financial security with their freelance jobs.
When you're handling all of your financial transactions while you're traveling, you definitely need your data to be unquestionably secure. A VPN will give you a secure, encrypted internet connection. It's a very good idea to pay for one.
Also, make sure to keep your devices as well as credit and debit cards either with you or someplace safe at all times. There's no reason to be paranoid or hyper-vigilant about it. Just don't leave them lying around when you're with people you don't know, the same as you would at home.
Financial security is also important when you're traveling, just like it is at home.
Although you'll be earning money while you're traveling, you'll still want to have a safety net.
Set enough money aside before you begin your journey so you'll be able to support yourself if work slows down or dries up for a while or if something unforeseeable happens.
You'll be able to enjoy yourself a lot more if you're not worrying about money.
Enjoy the Nomadic Lifestyle While Doing Digital Nomad Jobs!
Keep all this advice in mind and you'll find that it's totally possible to live the nomadic lifestyle by doing freelance digital nomad jobs as well as freelance writing gigs while you travel.
Lots of freelancers around the world are doing this, and you can too!